---
Thomas' parents live in a small village nearby Amiens, a city located north from Paris in a region called Picardie. We spent our summer vacations there in 2016 and Thomas took me to visit the highlights of the region. I remember having asked him about Mont Saint-Michel since I read it is also located in the North of France, but he told me it was far from his parents' place, actually it is in another region called Normandie, so we did not go then. However, the idea of visiting Mont Saint-Michel did not leave my mind and we took the opportunity of the long weekend of All Saints' Day of 2017 to visit his parents and planned a trip for checking this magnificent master piece.
As it takes around 5 hours to go there by car from Amiens, we couldn't make it a day-trip and had to sleep one night nearby (we booked a nice B&B in a close-by city called Pontorson) and therefore we had time to visit one of the beautiful cities around. We looked for some options around and Thomas' parents suggested one they had visited and loved: Saint-Malo (check our post here).
---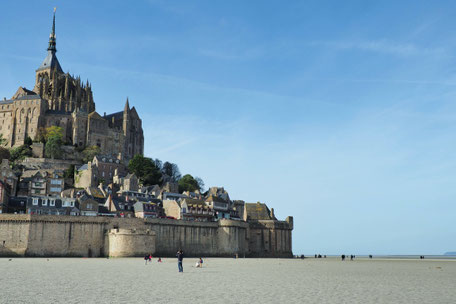 ---
---
GENERAL INFORMATION
Though there are some other cities nearby Saint-Malo which are worth visiting (heads up for Dinard and Cancale) we had very limited time, so we headed to our B&B in the nearby city of Pontorson to leave our luggage before going to check Mont Saint-Michel by night. There are many options to stay a night near Mont Saint-Michel: staying inside the walled city, near the parking lot from where the buses get off (2.5 km) or in nearby cities. For those seeking spiritual retreat, the abbey offers to stay with its monks and sisters.
When going to Mont Saint-Michel by car, you have to leave your vehicle in a parking lot nearby and from there you get a shuttle bus to the walled city. The price of the parking is between 9 and 14 EUR per day and there is no other alternative that allows you decent time to do a visit, but if you enter after 7 p.m it is free until 2 a.m. So, we decided to visit it by night as well and see its lights (lit till midnight). The views from outside are beautiful at night, but when inside, it is not as magic as in the morning, so we didn't stay long.
Opening hours - all year round | Admission (parking) - between 9 and 14 EUR per day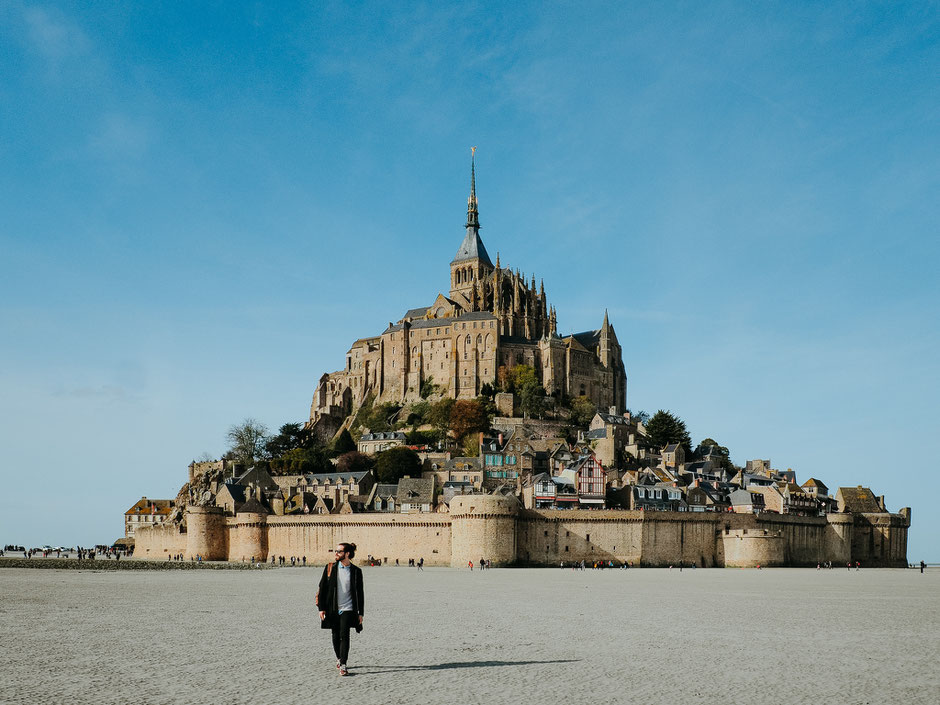 WHEN TO VISIT?
When visiting, we thought it would be nice to stay inside the walled city, though more expensive than other options, but at night the city gets super empty and loses a bit of its charm. Thus, as we had a car, we decided to stay in the nearby city of Pontorson.
Mont Saint-Michel is visited annually by more than 3 million people, the busiest months being during summer vacations (June to August). Though we visited in late October, we went during a holiday, so we returned early next morning to try to take some photos without a crowd. It was very difficult, but if you want to do the same we advise you to get there as early as possible to do so with a good lighting. I know when you hop off the bus and see it so close for the first time you want to take the perfect picture, but we would strongly advise you to try to control this urge to do so because the streets will get crowded and you can take photos from outside in your way out after visiting the abbey (in our case the weather was even better later so the waiting was worth).
The beauty and architecture of this UNESCO world heritage are impressive, but it gets even more impressive when the tide is high and there is the reflection of the whole walled city on the surface of the sea water. Unfortunately, we visited it during low tide, but you can check the tide schedule here to plan your visit during high tides.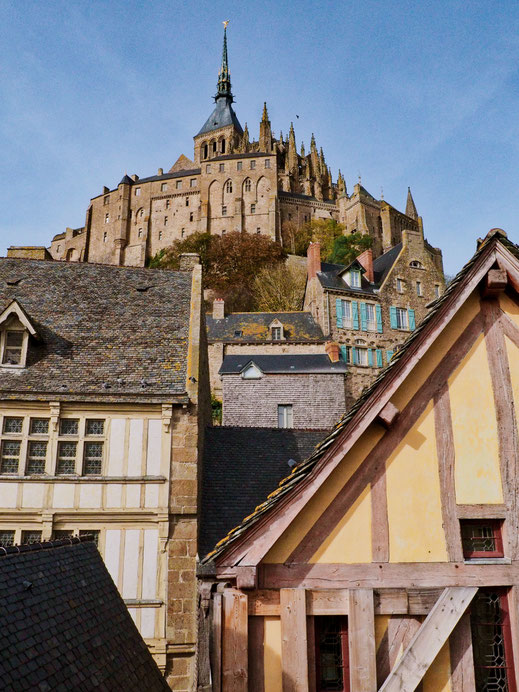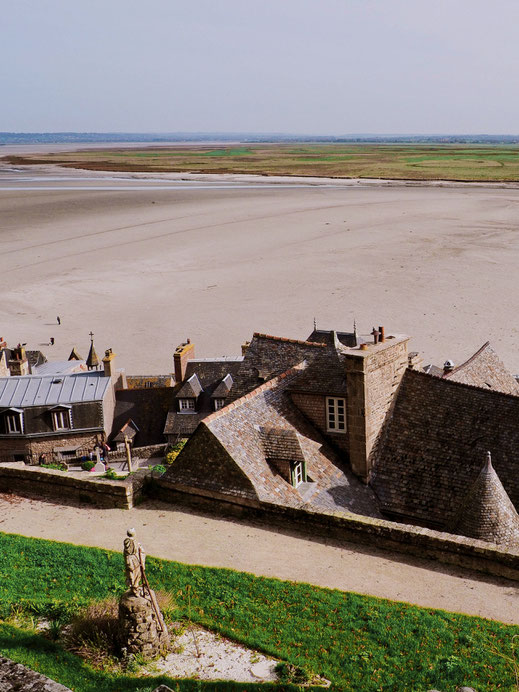 HISTORY
The history of this monument is very curious. The legend says that Aubert, Bishop of Avranches was visited three times by the Archangel Michel (the warrior angel known as the chief of the celestial militia) who requested him to build a temple on the top of a mountainous island originally called Mont-Tombe at the sea shore. The first small church was erected on 16th October 709 and, due to the dreams stories, it became a pilgrimage place. In 966, a community of Benedictines monks settled and started building a bigger church and an abbey that grew larger with the decades.
In the 14th century, with the Hundred Years War between England and France, Mont Saint-Michel turned into a strategical place for France's defense, so the abbey got protected by building walls and set of military constructions that enabled it to hold out against a 30-year siege. At the same time of the development of the abbey, a small village grew on the south-east side of the rock since the Middle ages due to the businesses brought by the pilgrimage and the military activities.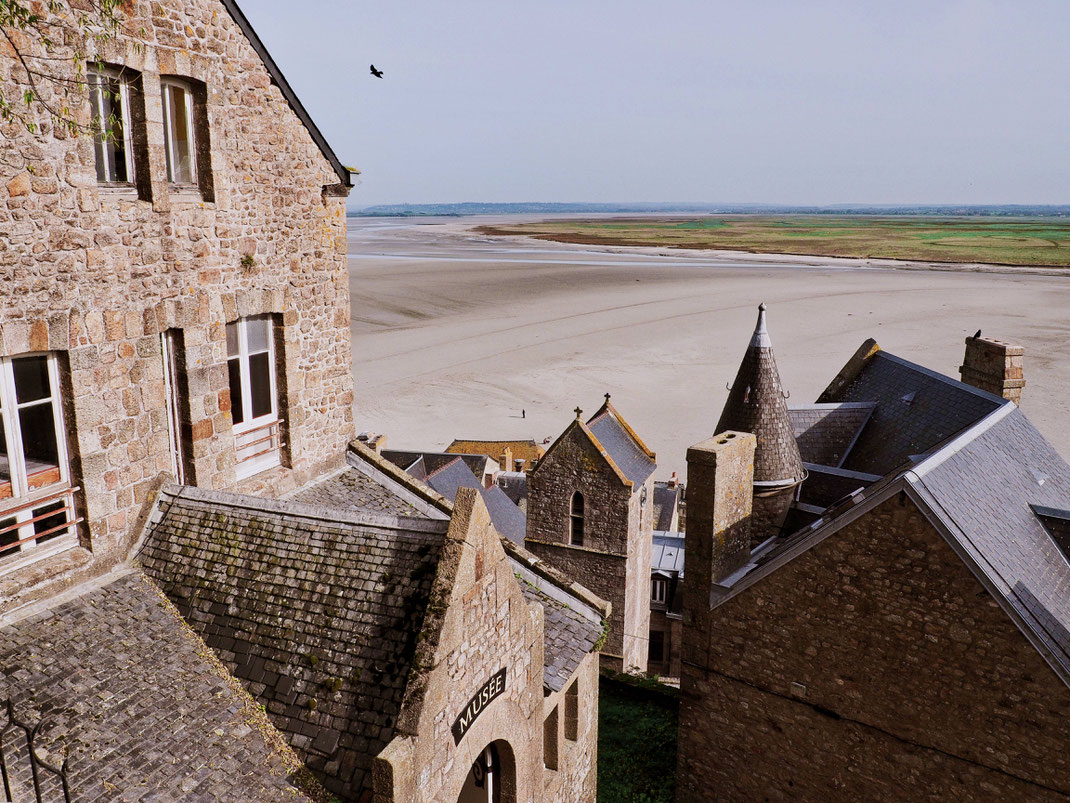 ONE DAY AROUND MONT SAINT-MICHEL
1. TAKE MAGICAL SHOTS FROM THE BRIDGE
Before you even get into the Mont itself and while heading to it, you can take great and iconic shots of this beautiful piece of architecture.
2. WALK THROUGH MAIN STREET AND HEAD TOWARDS THE ABBEY
We recommend you to start the visit going up through the main street until the abbey on the top. The narrow little ways reminded us of Diagon Alley, the cobblestoned wizarding alley and shopping area of Harry Potter, due to the displays of the stores and their decoration. You can stop for some photos on the way up, taking advantage of the interval of the shuttle bus arrivals so not to have a lot of people on the background. There are a lot of souvenir stores and restaurants serving the famous local specialty: souffléed ommelete cooked in an open fire. We were not really keen on trying this dish though... As it can be very expensive (an omelette can cost more than 30 EUR in La Mère Poulard), we decided to take snacks from home and also have more time to visiting.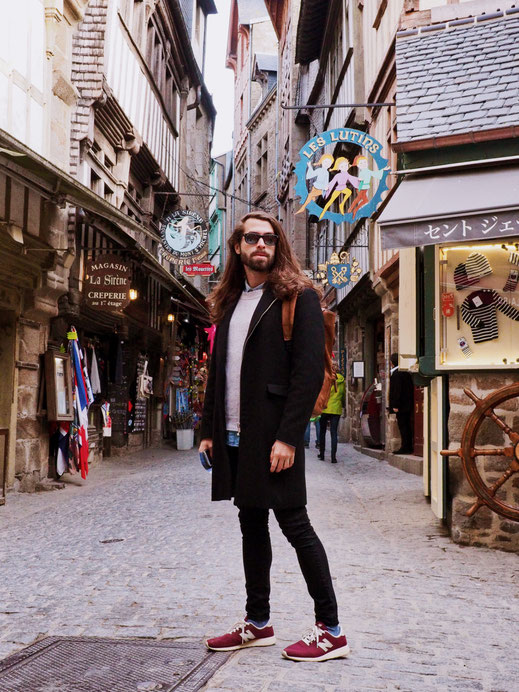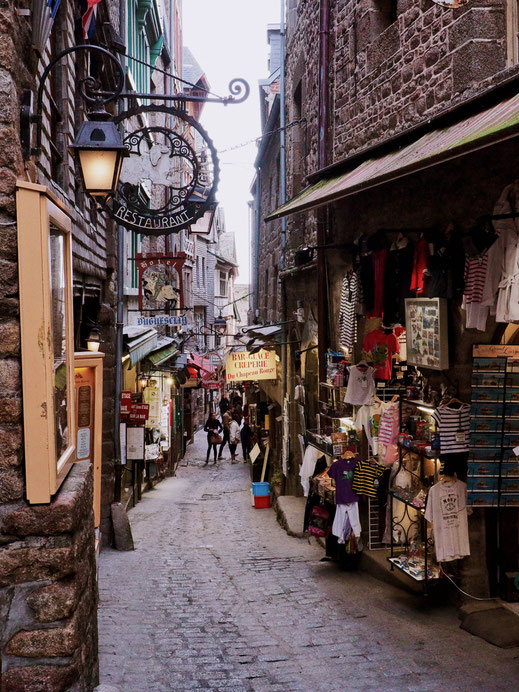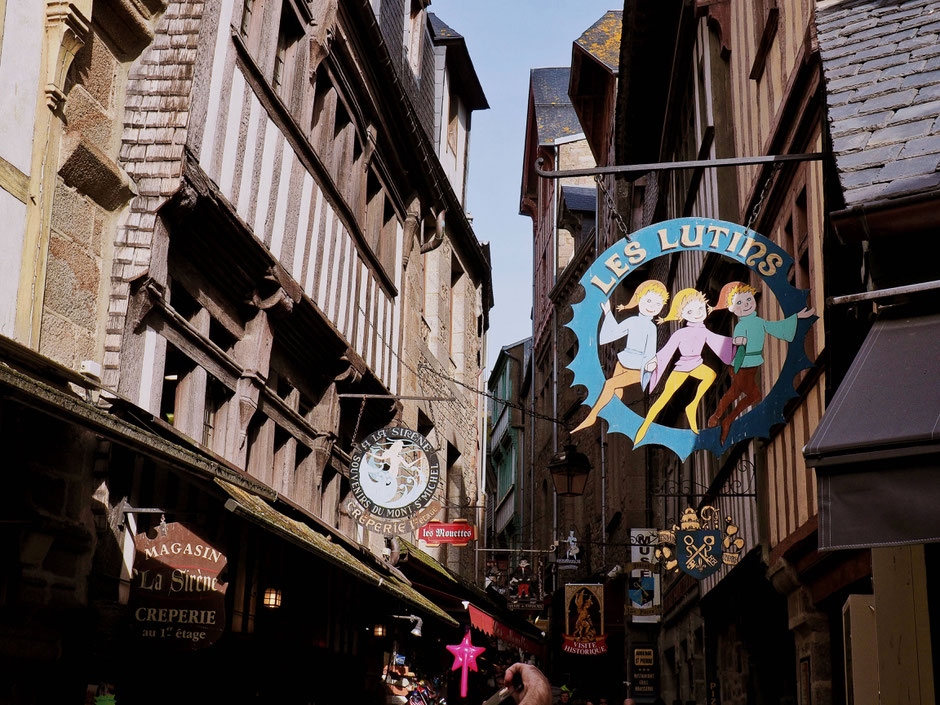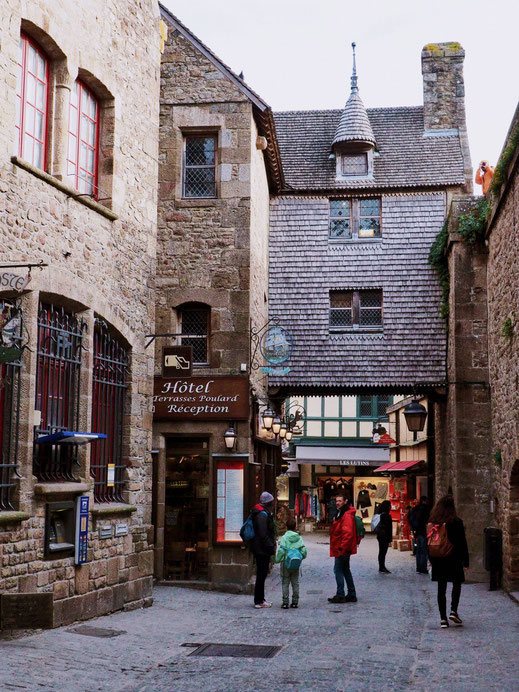 3. VISIT THE ABBEY
The Abbey is open for visit daily (more information here). There are included guided tours in French and English that do not require previous booking and can be checked in a timetable at the entrance (though I later discovered it is polite to tip the guide after the visit).
We checked that there was a guided tour just as we were entering, and it was very nice. Though it follows the same path as the normal visit, the guided tour gave us a lot of historic details while the guide made funny remarks and impersonation of the monks' lives in the abbey. Furthermore, as it was not holidays period, the group of English speaking tourists were very small, making it more personal and approachable. The only downside is that it follows a rhythm that does not allow us to enjoy and take as much photos as we would have liked. But oh well, you cannot get everything!
In contrast to the grandiosity of its architecture, the inside decoration of the Abbey reflects the simplicity and restraint of the daily life of Benedictines monks: grand common salons with little furniture, the cloister with a garden for the contact with nature and rooms and chapels for prayer and meditation.
Opening hours - 9.30 a.m. - 6 p.m. | Admission - 10 EUR (audio guide 3 EUR)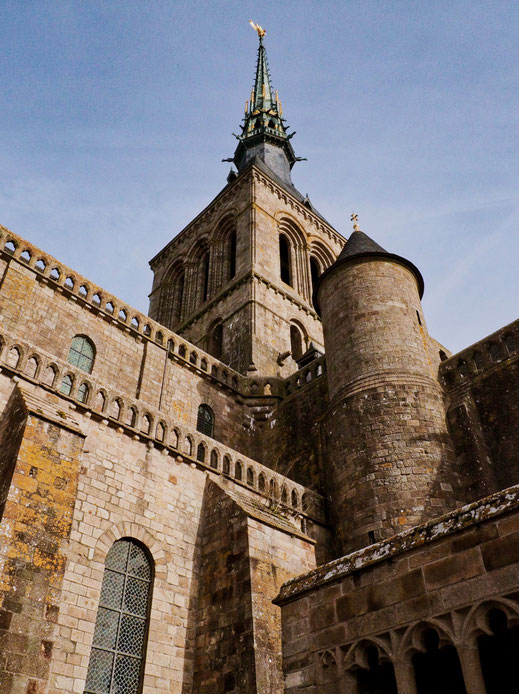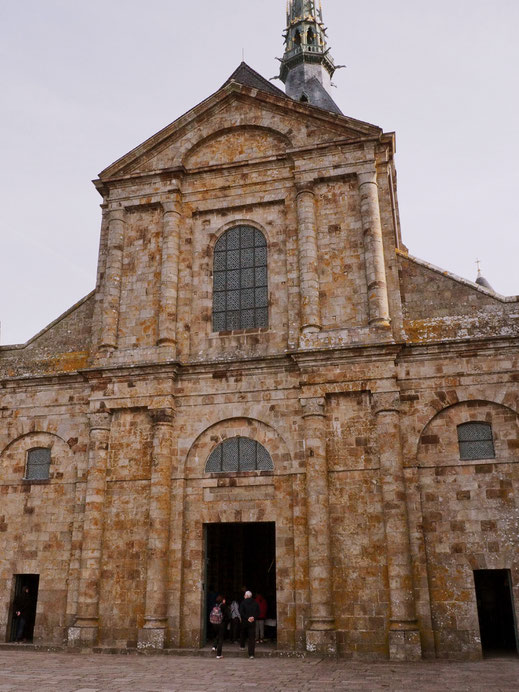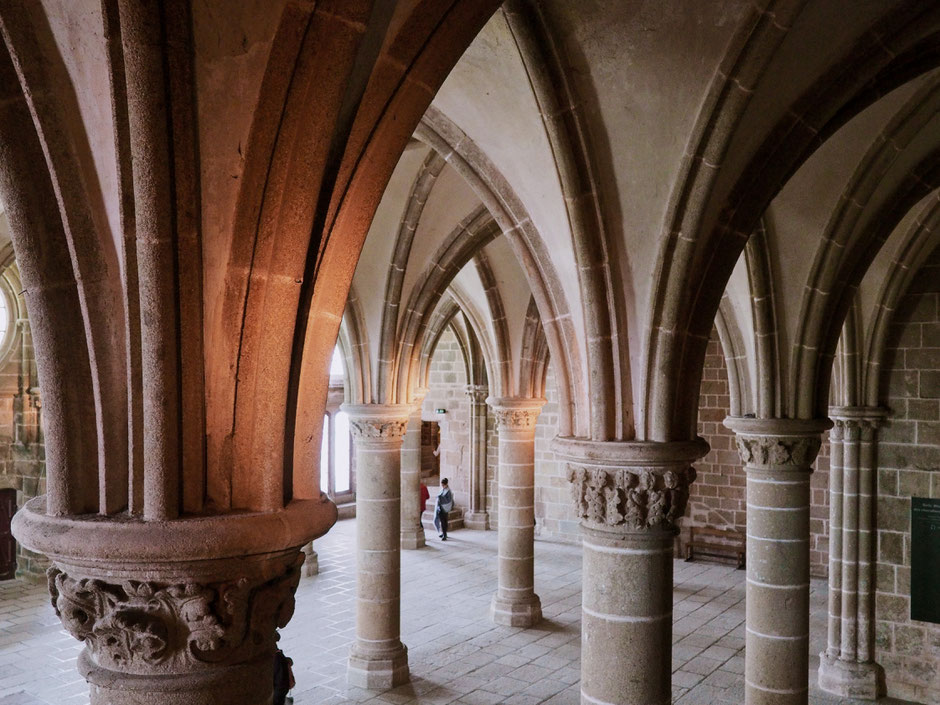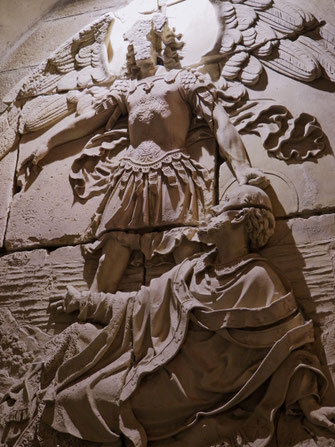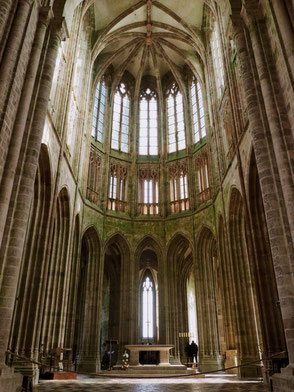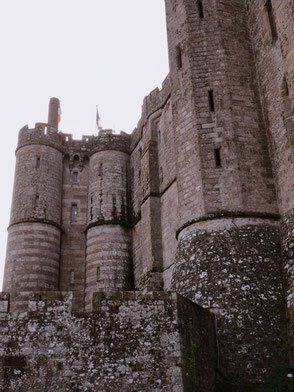 4. STROLL AROUND THE LITTLE STREETS AND ON THE RAMPARTS
The exit from the Abbey grounds is at a point of the walls from where you can start to do the way around the town and observe both its interior and exterior from a privileged point of view. Afterwards, you can go up and down through the narrow little streets and discover enchanting paths around the town and its gates, its towers and ramparts. We swear we could've spent hours strolling around taking pictures of all the beautiful details of this "potterish" village, but unfortunately we had to hit the road.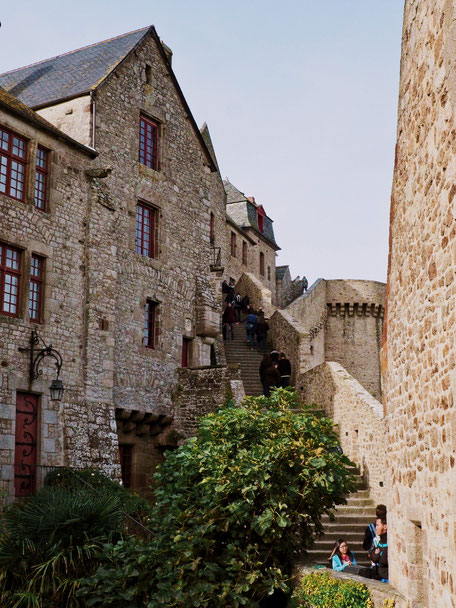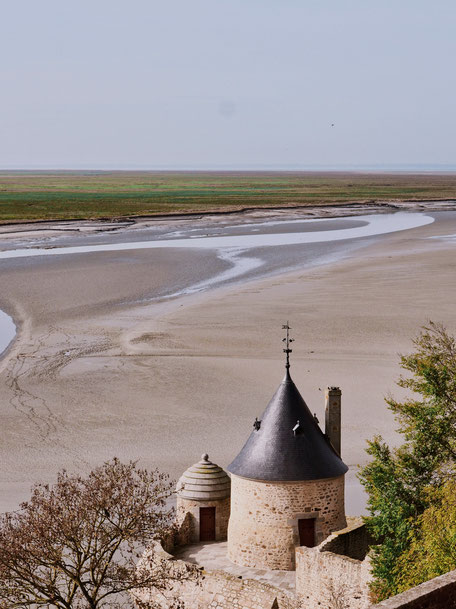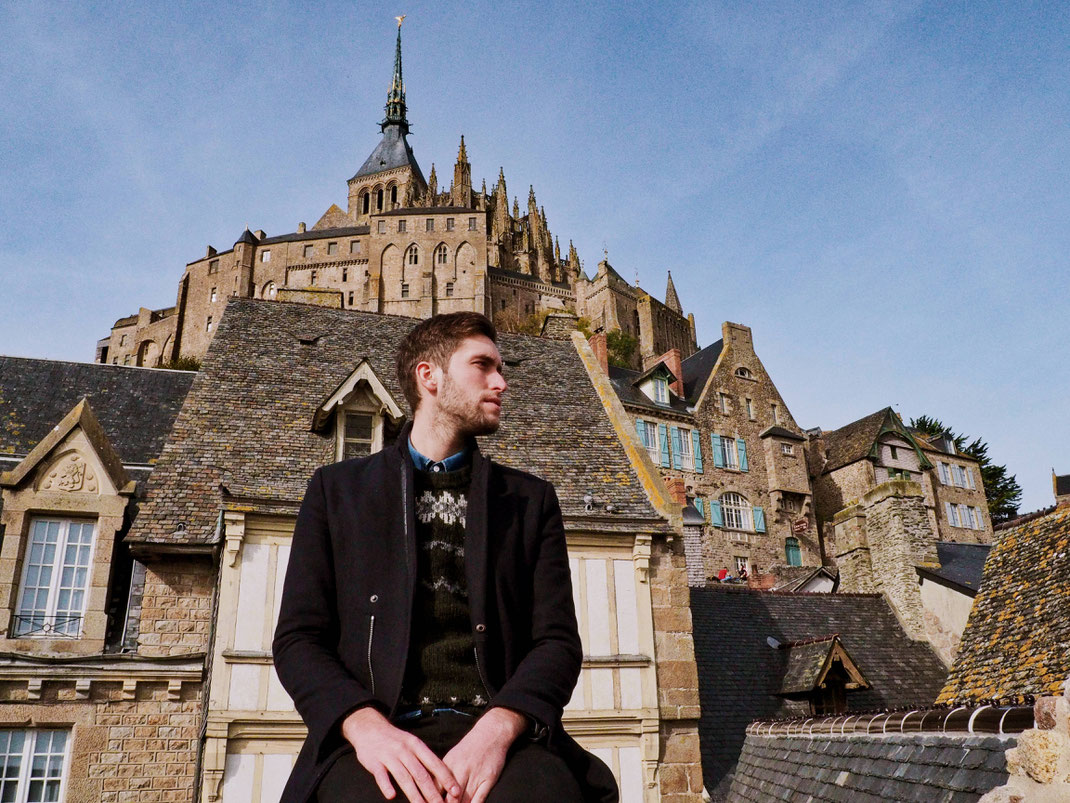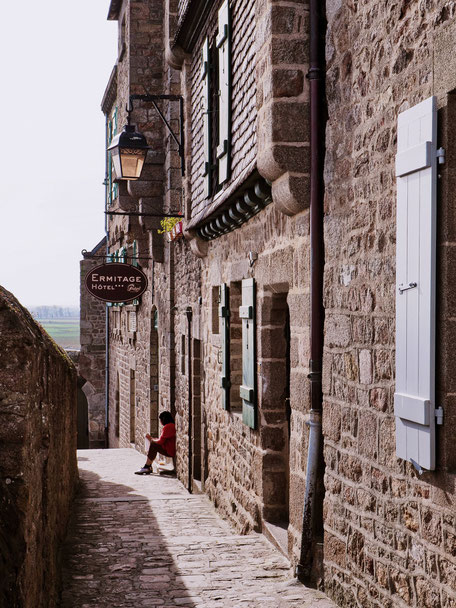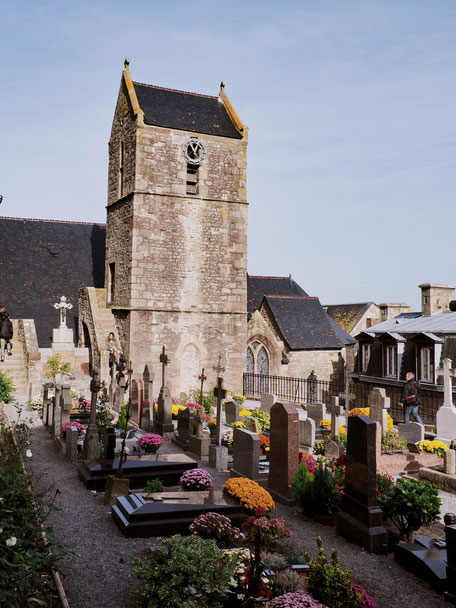 5. DO THE TOUR of MONT SAINT-MICHEL ISTELF
Before getting the shuttle back to the parking lot, however, as the tide was low and there was no risk of it getting higher, we decided to wander a bit through the sand to take some photos of Mont Saint-Michel from a different perspective and we were very happy with the result thus we recommend you to do it. We also did the whole tour around the Mont (while listening Thomas complaining all the way), but we wouldn't advise you to do the same. Instead, you can go out through the gate in Tour Gabriel and walk clock wisely to the Chapelle Saint-Aubert, a small chapel built outwards the walls to praise the bishop responsible for the construction of the first temple in honor of Saint-Michel. From there you can return anti clock wisely until a bit after the main gate to take a picture from the sandbanks and guarantee a nice memory from your visit to this wonder of faith and architecture.
While wandering freely around the bay is highly discouraged due to the perils of the tides, there are guided tours around it with professional guides that can guarantee your safety while enjoying unique perspectives and opportunity to see infrequent visited places (more information here).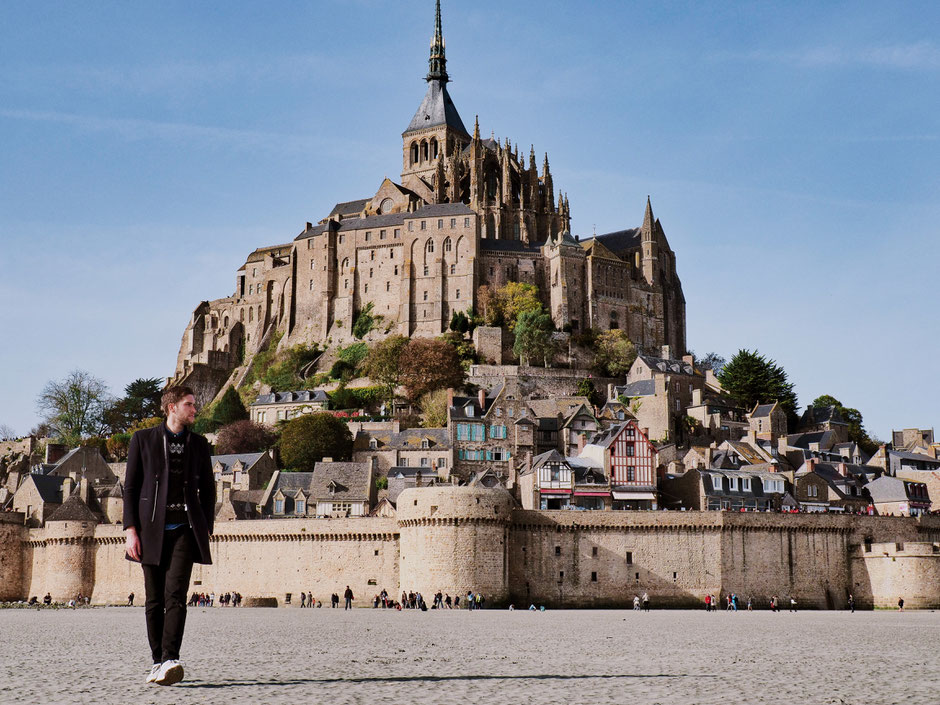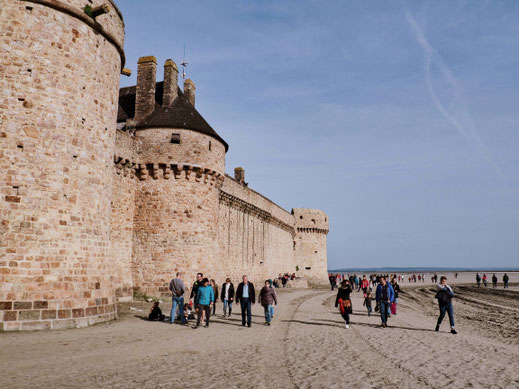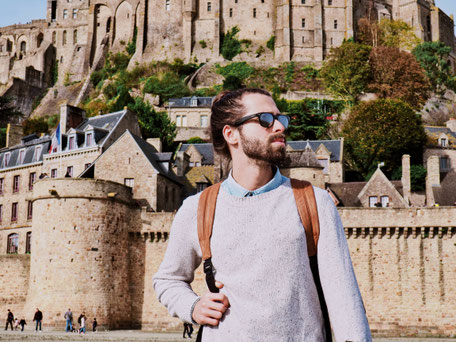 OUR VERDICT
We are not people of faith, but the greatness and awe brought by the Abbey and all the structure built around it on such early times is undeniably moving. For Harry Potter fans, it may seem your dreams came true and you finally got your Hogwarts' acceptance letter and are arriving for the first time for the Start-of-Term Feast while strolling around through the magic items' stores in Diagon Alley. No matter what you believe in, the only certainty is that Mont Saint-Michel will provide you the magic experience you are looking for!
To enjoy more about this beautiful region of France, why not heading to Saint-Malo for a day?! Check out here our post about this fortified town which has also a lot to offer. 
---
DETAILS OF THE TRIP
GETTING THERE
By car

: from Paris, you can go to Mont Saint-Michel by car (4 hours) which costs around 100 EUR round trip counting gas and tolls;
By train

: you can reach the city of Rennes, and from there you can get a bus to Mont Saint-Michel (the times of the trains and buses are synced);
By bus

: day-trips leaving in buses from Paris very early in the morning. They are organized by different companies (here is one of them with lunch included).
STAYING THERE
Many options: from the expensive option of staying inside the walled fort of Mont Saint-Michel to more affordable options in nearby cities.
Le Grenier du Jardin: a small and cozy B&B in Pontorson. We were very happy with the choice. The room was very spacious, comfy and clean. The breakfast was delicious and the owner very friendly and helpful.
EATING THERE
To enjoy this wonder to the fullest, we advise you to do as we did, that is to say to bring some sandwiches and snacks and have a picnic in the beautiful Jardin Sainte-Catherine. Everything that is sold in Mont Saint-Michel is a tourist trap and therefore very pricy.
Also, on your way back from Mont Saint-Michel, we advise you to stop to

Pontorson and enjoy some delicious salted galette and crêpes:

Le Grillon

:

 a restaurant with  crêpe bretonne

 that was recommended to us by our host. Local cuisine at a reasonable price.
*All prices are referred to January 2018
---
---
And now it's your turn to let us know your impressions, thoughts and also tips to visit the Hogwarts of the Muggle world. Have you already visited Mont Saint-Michel? We look forward to reading your comments in the section below.
---
---
YOU MIGHT ALSO LIKE..