---
During the All Saints' Day long weekend of 2017, we embarked on a journey to witness the stunning architecture of Mont-Saint Michel (check out our post about it here). However, with a five-hour drive from Thomas' parents' home, we had to spend a night in the nearby town of Pontorson. Fortunately, this gave us the opportunity to explore some of the beautiful cities in the area. We scoured the area for options and stumbled upon the charming town of Saint-Malo, recommended by Thomas' parents who had visited and fallen in love with it. Located in the Brittany region of France, Saint-Malo is a historic fully-walled port city that will transport you back in time to the thrilling era of corsairs and privateers.
As we walked through the completely-walled old town with its cobbled streets and historical buildings, we couldn't help but feel like we had been transported to a different time! The town is a beautiful representation of the city's colorful and varied history, and you can feel the energy and excitement of the corsairs and privateers who once called this place home. It wasn't initially our plan to visit Saint-Malo, but we are so glad we did! The town has a unique charm that will captivate you and transport you to a different time and world. Whether you're a history buff, architecture enthusiast, or just looking for a unique and exciting experience, Saint-Malo should definitely be on your travel list!
---
---
---
HISTORY
Are you excited to explore the fascinating history of Saint-Malo? This captivating port city has witnessed it all, from privateers and shipbuilding to imposing granite ramparts and protected quays. The "intra muros" section of the city, which means "inside the walls," offers a living testament to the city's rich maritime heritage and architectural styles from a bygone era.
During the 17th and 18th centuries, Saint-Malo was one of the three principal French ports, teeming with activity and opulence. Privateers, who were essentially authorized pirates commissioned by the government, sailed the seas and engaged in maritime warfare under the commission of war. Their daring exploits not only brought wealth and prosperity to the city but also made it a hub for shipbuilding and maritime commerce. Saint-Malo's maritime heritage is still evident today, and exploring the city's history is a must for any visitor.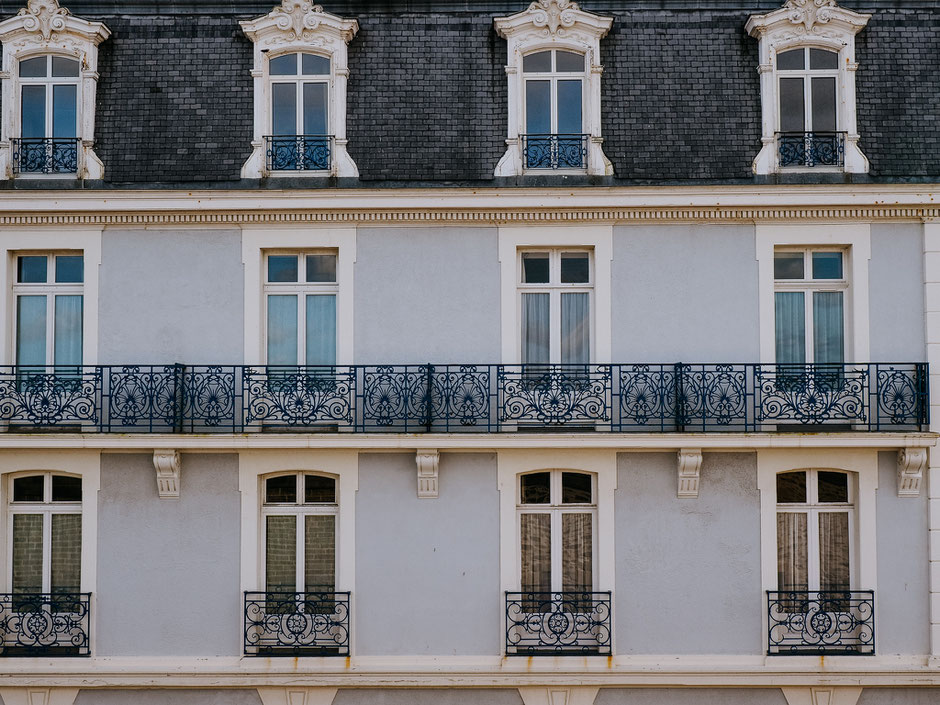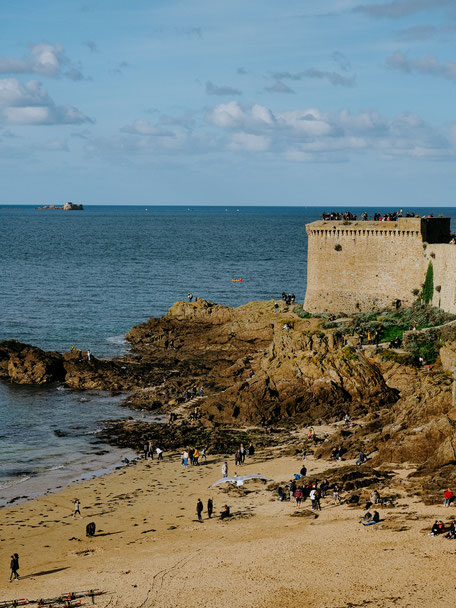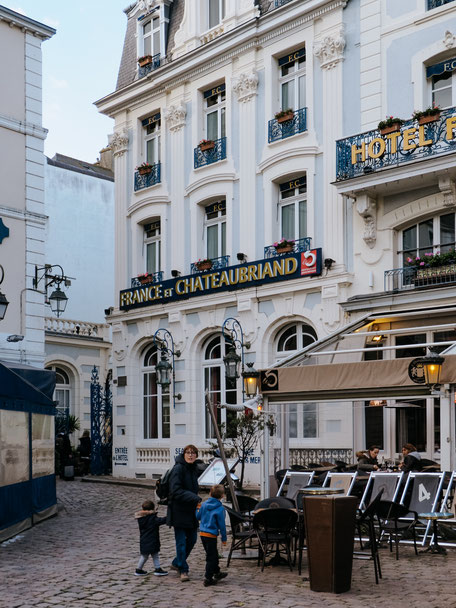 STROLLING THROUGH THE CITY
1. PORTE DE DINAN
To start your adventure, we recommend beginning at Porte de Dinan and walking all the way to Porte Saint-Thomas, taking in the breathtaking views of the city's narrow streets and charming buildings as you go! The entire circuit offers sweeping views of the city and the turquoise waters surrounding it, providing a stunning backdrop for your explorations.
If you don't feel up to walking the entire length of the ramparts, don't worry  there are plenty of spots along the way where you can climb up or down, allowing you to explore at your own pace. So why not lace up your walking shoes and head to the ramparts for an unforgettable view of this beautiful city?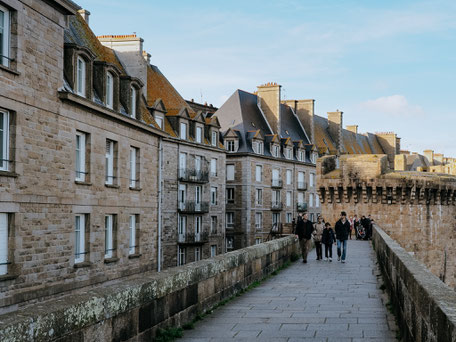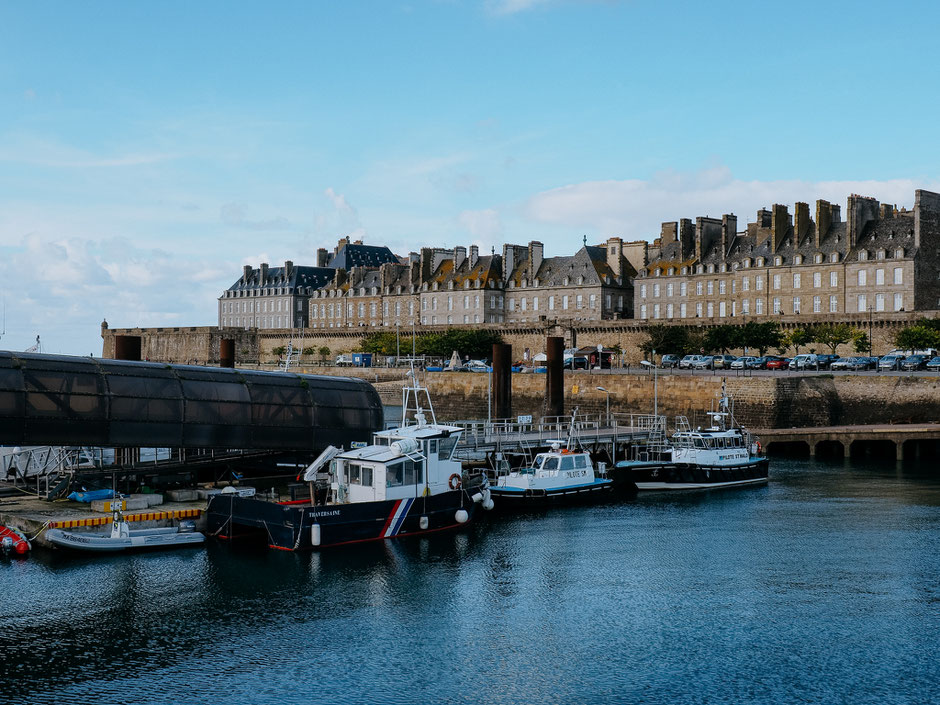 2. BASTION DE LA HOLLANDE
Located just a short walk from the ramparts, the Bastion de la Hollande is a must-visit for history buffs. This imposing fortified tower was constructed in the late 17th century and was armed with a staggering 24 cannons. Its purpose? To defend Saint-Malo against potential attacks from the Dutch fleet, which gave the tower its name. But that's not all – the tower also housed a kennel of fierce bull dogs that were trained to defend the nearby Porte Saint Pierre. As you explore the tower, take a moment to imagine what it must have been like to defend the city from this strategic vantage point.
3. BIDOUANE TOWER
For the next stop on our walking tour, we suggest heading to the impressive Bidouane Tower. Standing tall at 23 meters, this tower was originally built in the 15th century and served as a gun-powder storage facility. But today, it offers a breathtaking panoramic view of the shimmering turquoise waters surrounding the city. From the top, you can also admire the stunning cityscape of Saint-Malo, with the magnificent Cathedral of Saint-Vincent majestically dominating the skyline. Trust us, this is a view you won't want to miss!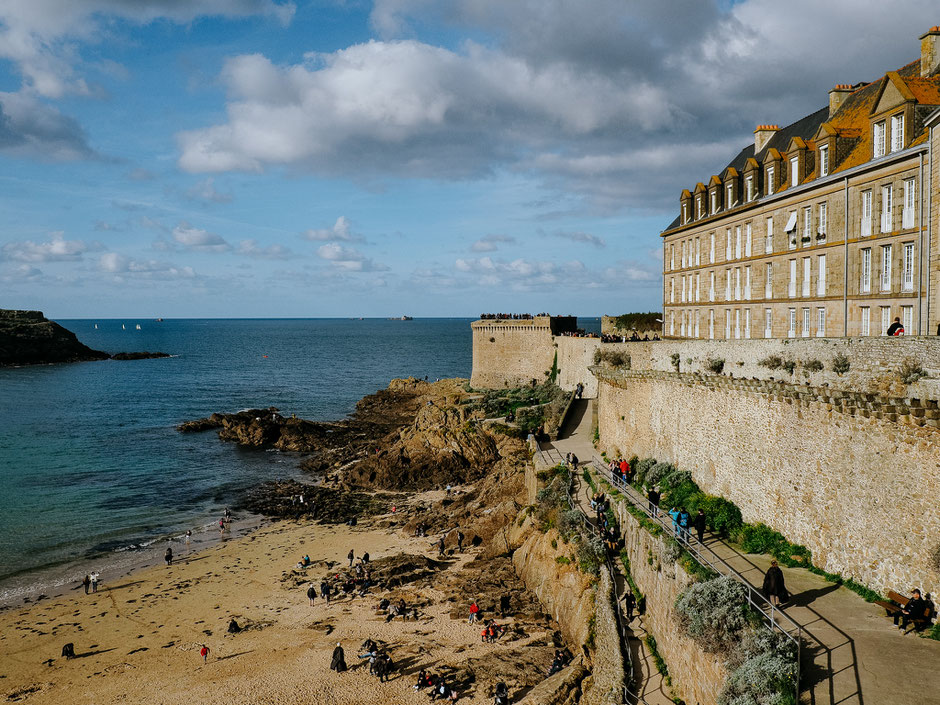 4. PLAGE DE L'ÉVENTAIL, PETIT BÉ, GRAND BÉ & FORT NATIONAL
Our next stop takes us to the charming Place Chateaubriand, where we suggest you make your way towards Porte Saint-Thomas and explore the picturesque Plage de l'Éventail, weather permitting. This small but delightful beach boasts stunning views of Petit Bé, Grand Bé, and Fort National, which are a few of the small fortified islands located just a stone's throw away. If the tide is low, you can even walk across to these islands, but do take heed of the warnings about rising tides to avoid getting stranded. On Grand Bé island, you'll find the tomb of the famous French writer François-René de Chateaubriand, who was a beloved local figure. In fact, the word "bé" in the local Celtic language means "tomb," making this island all the more significant.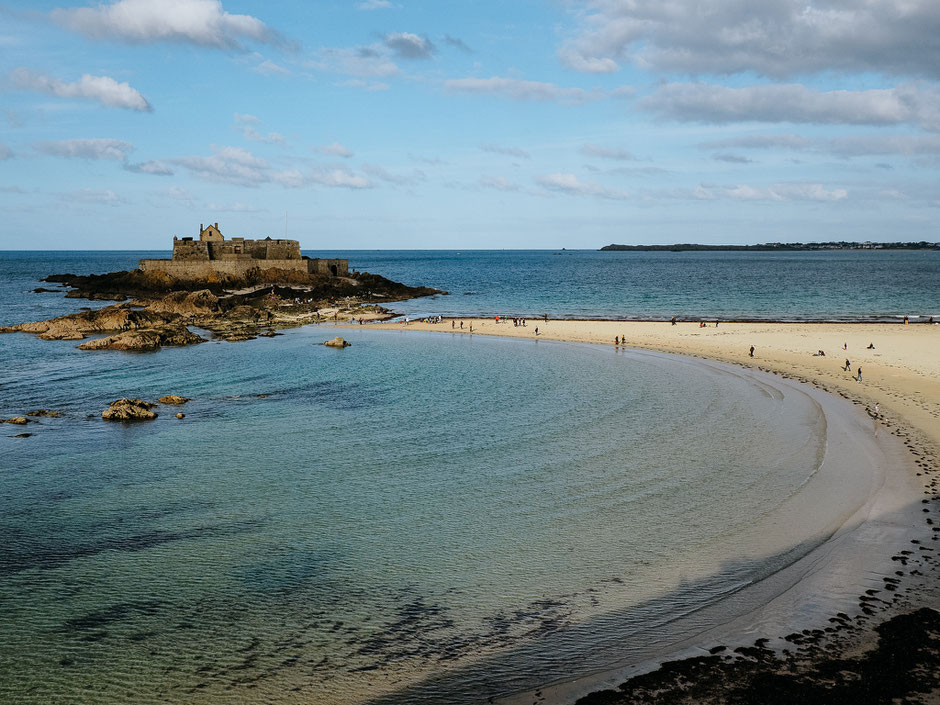 5. PORTE SAINT-VINCENT
From this beach you can continue east until the first exit that will lead you to the Port Saint-Vincent and the Grand Place in front (where the Tourist Center is located). It is a very nice location offering a privileged view of this entrance and the Château where nowadays is located the Town Hall and the Museum of the city. In a nearby quay, there is a typical corsair frigate called l'Étoile du Roy that can be visited for a glimpse of the life of a privateer in his most loved home and also offers rides through the surrounding sea to visit the beautiful shore of Bretagne (or Brittany region). Then you can stroll around the cute littles streets in the intra muros and imagine all the privateers business and commerce that would happen during the prime time of Saint-Malo.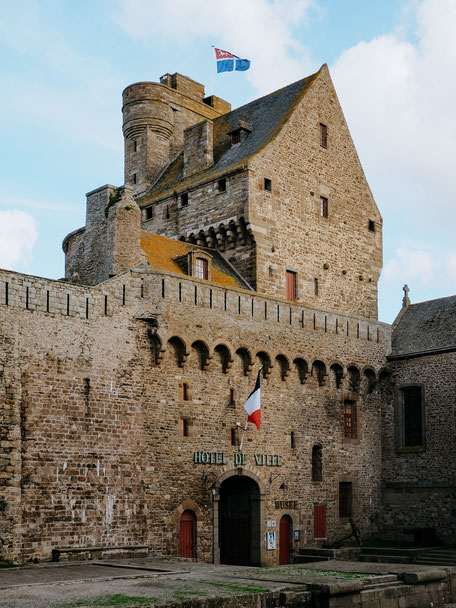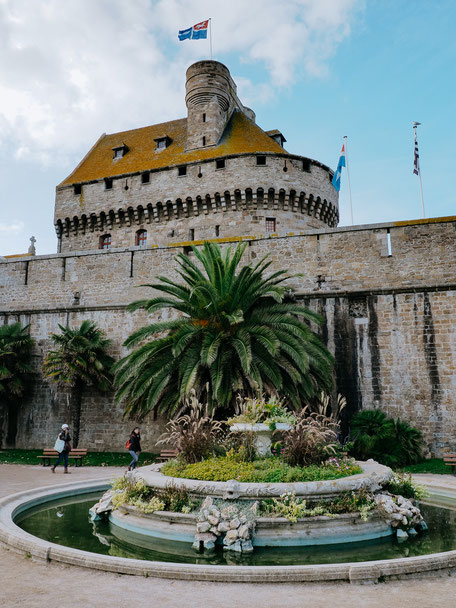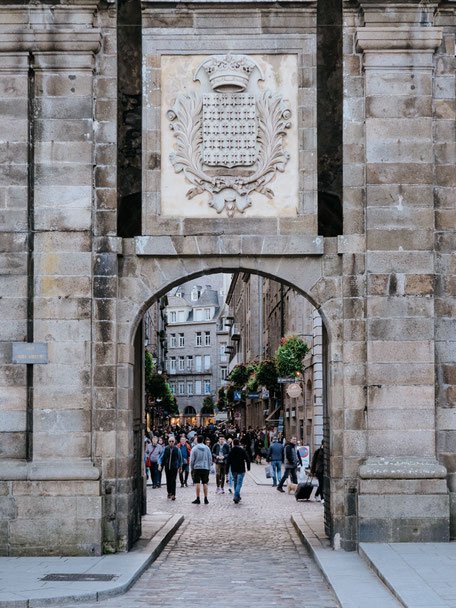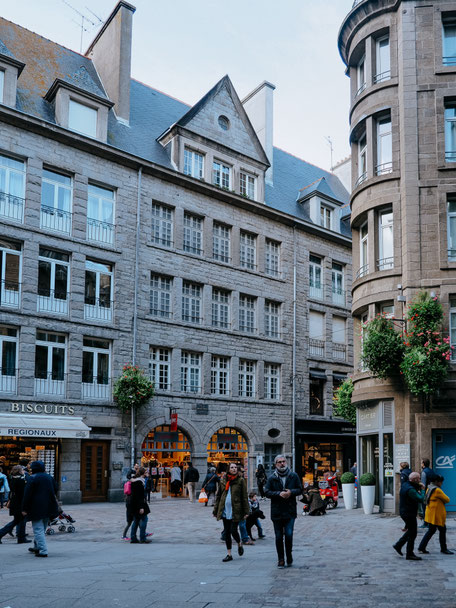 6. ENJOY LOCAL FOOD RUE JACQUES CARTIER
As you enter the heart of the city, get lost in the maze of charming narrow streets, and you'll find yourself wanting to snap a photo at every corner. Take a left turn into Rue Jacques Cartier, and you'll find a myriad of local restaurants offering authentic delicacies like moules-frites (mussels and fries) and crêpe Bretonne (Breton-style crepes). It's a perfect spot to take a break from walking and indulge in some delicious food while soaking up the ambiance of the city.
7. TASTE A DELICIOUS KOUIGN-AMANN
Now it's time for a food break! And we highly recommend trying the traditional Breton cake called Kouign-amann. This round cake is made up of layers of butter and sugar that are folded and cooked until they caramelize, creating a rich and decadent treat. You can find Kouign-amann at several places in the city, but we tried a regular one at Le Gouverneur, located near the cathedral, and it was absolutely delicious! Be sure to try out the different variations available, such as Nutella or salty caramel, for a flavorful experience.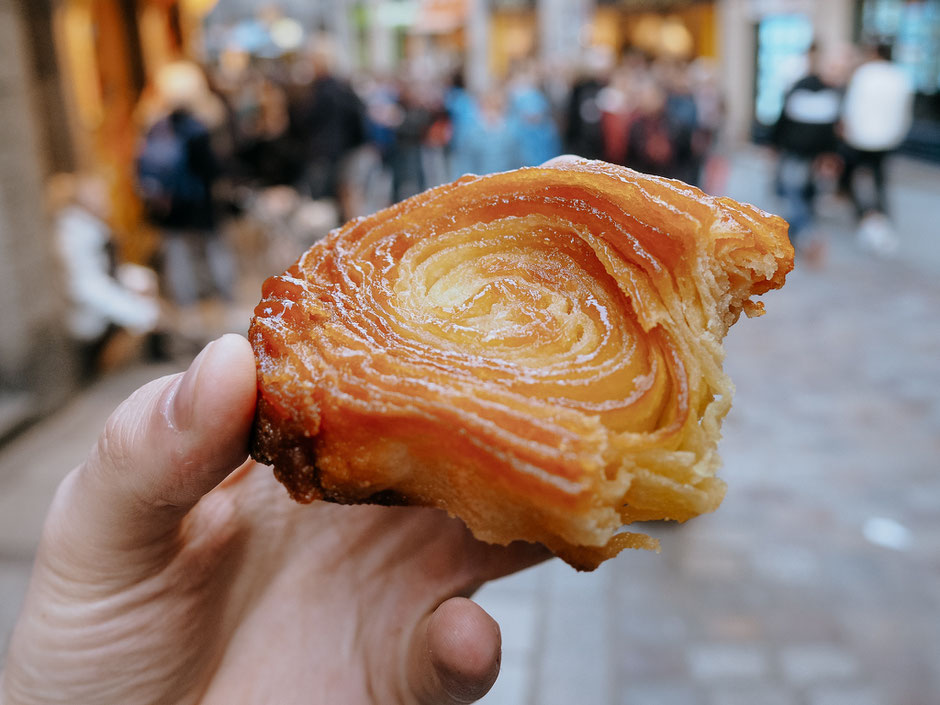 8. CATHEDRAL SAINT-VINCENT-DE-SARAGOSSE
After turning right, you can reach the impressive Cathedral Saint-Vincent-de-Saragosse de Saint-Malo, a stunning example of Roman and Gothic architectural styles. The cathedral has a rich history dating back to the 12th century. It was built between 1146 and 1174, during the reign of Bishop Jean de Chatillon.
Throughout the centuries, the cathedral underwent several significant renovations and additions. In the 15th century, a new choir and transept were added, and in the 17th century, the nave was rebuilt in the Baroque style. During World War II, the cathedral was severely damaged by bombing, but it was later restored to its former glory. The cathedral's interior features several notable artworks and artifacts, including a 15th-century triptych and an 18th-century organ. It also houses the tomb of Jacques Cartier, a French explorer who discovered Canada and claimed it for France.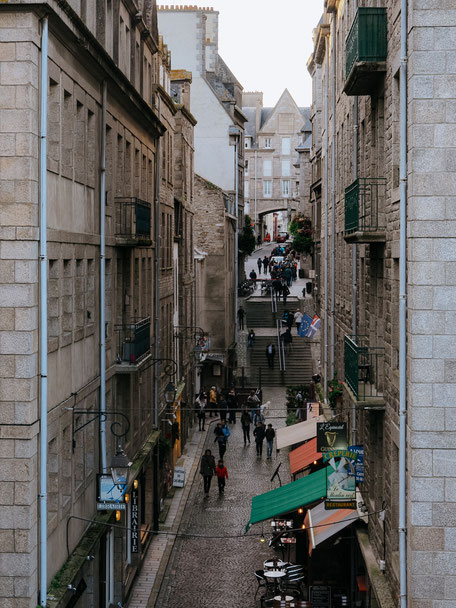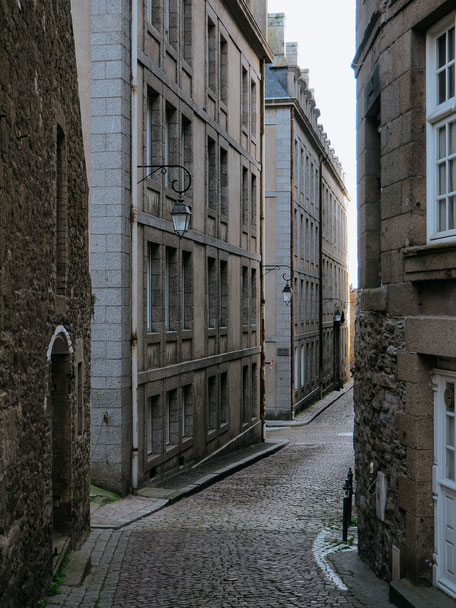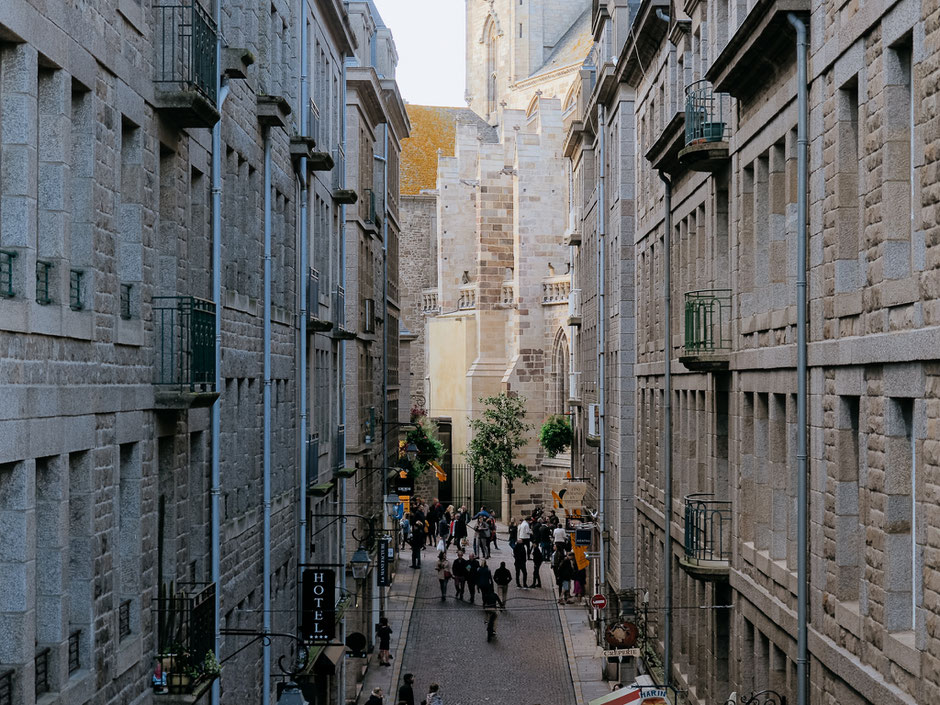 Make sure to take a look at our blog post on Mont-Saint-Michel and learn how to plan the ultimate day trip to this stunning architectural masterpiece (click here to check it out). With its proximity to Saint-Malo, it would be a missed opportunity not to pay it a visit!
---
TRAVEL ESSENTIALS
GETTING THERE
If you're planning a trip to Saint-Malo, it's important to consider the best way to get there. Luckily, there are several transportation options available, depending on your preferences and budget. One option is to drive, which takes about 4 hours from Paris. Alternatively, you can take the train. The journey from Paris to Rennes takes about 2 hours, and then you can catch a train to Saint-Malo which takes an additional hour. This option is not only convenient but also provides stunning views of the French countryside along the way.
STAYING THERE
Saint-Malo offers a wide range of accommodation options, from luxurious stays within the walls of the city to more budget-friendly options in the surrounding areas. During our visit, we chose to stay near Mont-Saint-Michel to experience the nighttime beauty of the island. We opted for Le Grenier du Jardin in Pontorson, and it did not disappoint. The room was spacious, clean, and comfortable. The breakfast was delicious, and the owner was friendly and helpful. Overall, it was a great choice for our stay.
EATING THERE
When it comes to eating options, there is no shortage of restaurants in Saint-Malo offering local cuisine. Within the walled city, you'll find a variety of lunch menus, featuring must-try dishes like mussels and fries and crêpe bretonne. For a sweet treat, make sure to visit Le Gouverneur and indulge in their famous Kouign-amann. This traditional Breton cake is made of layers of butter and sugar folded and cooked until caramelized, and comes in different variations including Nutella and salty caramel. So, be sure to save room for dessert!
---
Now we want to hear all about your juicy impressions, spicy thoughts, and sneaky tips for checking out Saint-Malo. Have you already visited this city? Drop your comments in the section below and give us the juicy details!
---
YOU MIGHT ALSO LIKE..