---
As explained in our post about Mont-Saint Michel (check it out here), we took the opportunity to visit this piece of architecture during the long weekend of All Saints' Day of 2017. And as the trip from Thomas' parents to this beautiful site takes around 5 hours by car, we couldn't make it a day trip and had to sleep one night nearby (we booked a nice B&B in a close-by little town called Pontorson) and therefore we had time to visit one of the beautiful cities around. We looked for some options around and Thomas' parents suggested one they had visited and loved: Saint-Malo, a historic fully walled-port city located in Bretagne, transporting us to the corsairs' times.
We must confess that even if it was not our first intention to go to Saint-Malo, we were really glad we followed the advice to go there. The completely-walled old town and its cobbled streets transport you to the time of the privateers, a private person or ship that were authorized by the government to engage in maritime warfare (pile up ships from other nationalities) under a commission of war. Or, as we understood, legal pirates.
---
---
---
HISTORY
The city thrived with privateers and its intra muros part ("inside the walls") turned into a live example of the navigation times and architecture of such an époque: granite ramparts gunned to protect from invaders, big gates which were closed at night or in case of siege and protected quays built for embarking and disembarking goods. At its peak (in the 17th and 18th centuries), it was figured as one of three main French ports, being active in shipbuilding and maritime trade.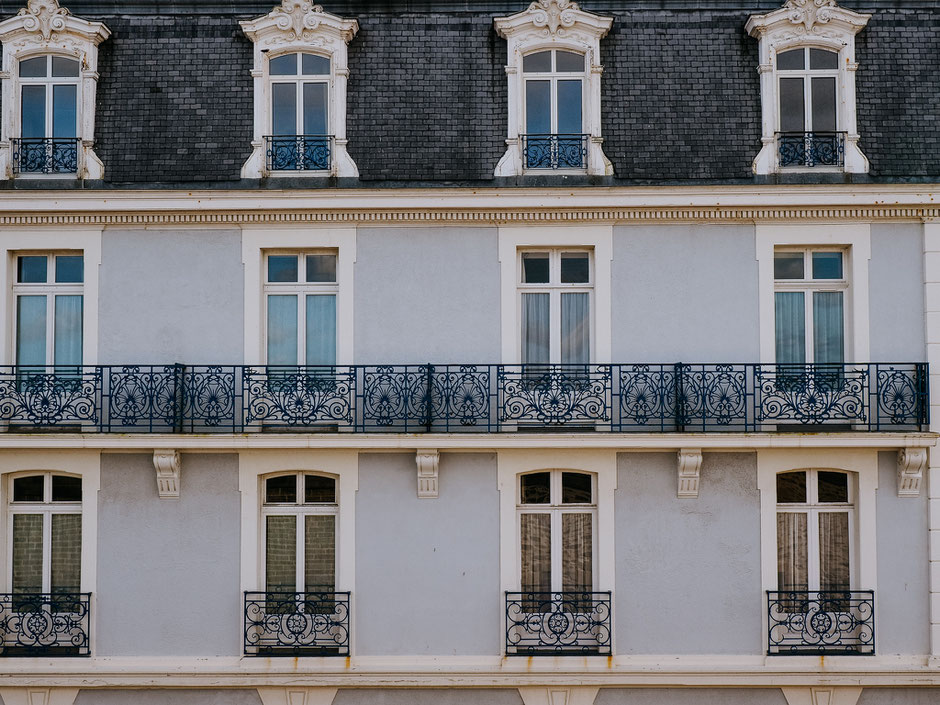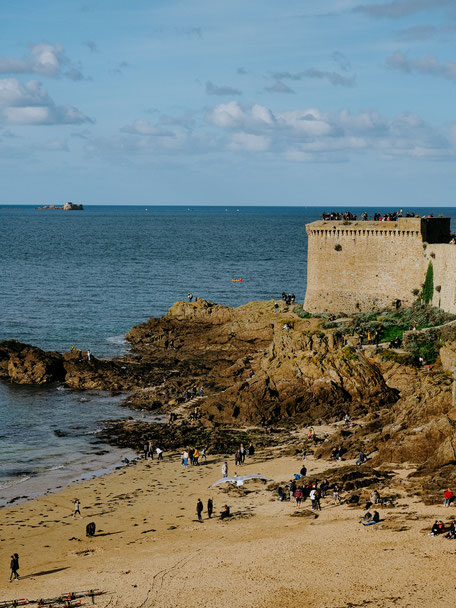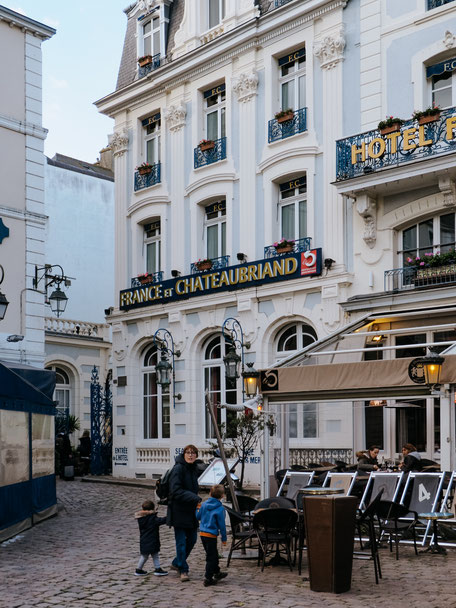 A WALKING TOUR THROUGH THE CITY
It is not permitted to park your car inside the walls, but there are parking lots all around it with electronic panels showing the availability of parking space. It is parking meter based so you must have in mind how long you plan to stay to leave a corresponding ticket. We would advise you something around 4 to 5 hours, so you don't need to be in a rush.
1. PORTE DE DINAN
To start-off having an overview of the city, we recommend you to go directly to the ramparts and do the full circle around. You can start the walk at Porte de Dinan and go until Porte Saint-Thomas. This walk provides great views of the buildings and narrow streets inside and of the turquoise water down at the surrounding beaches. There are different points you can climb up and down to the ramparts if you don't want to do the complete tour or if you want to just check out something you saw from up there.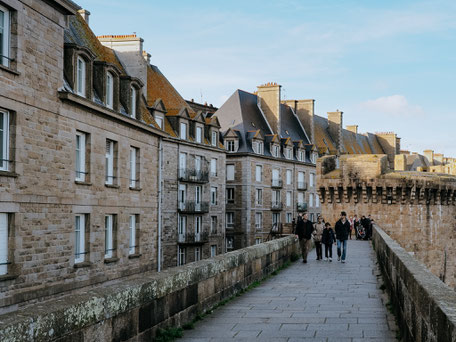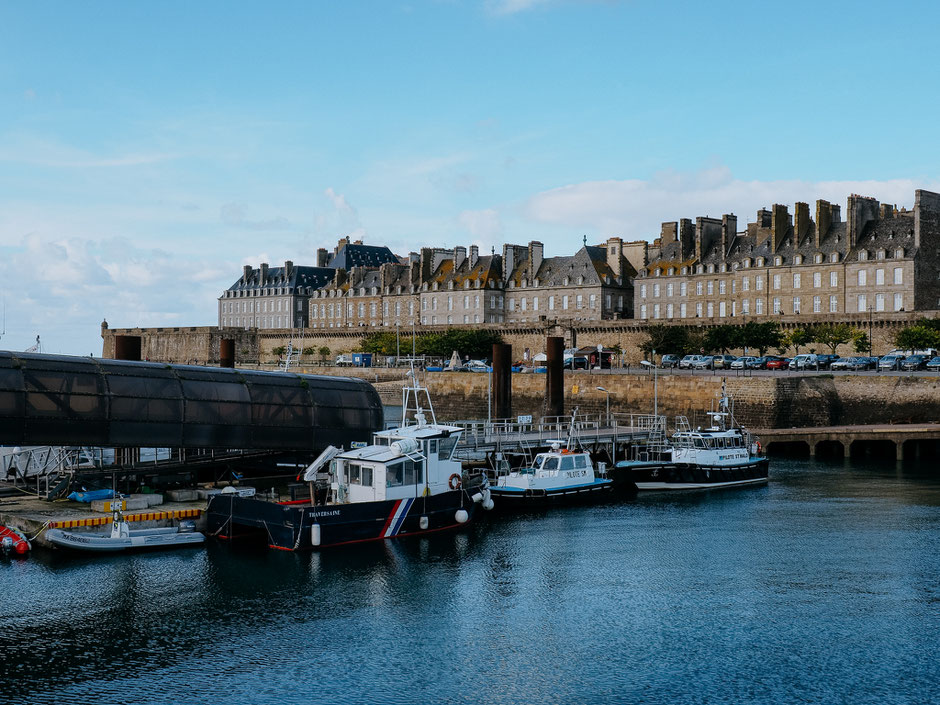 2. BASTION DE LA HOLLANDE
As part of the defense system of the city, this fortified tower was built in the end of the 17th century with 24 cannons to protect the city from attacks of the Dutch fleet, which gave the new tower's name. Under this tower there was a kennel of bull dogs used to defend the Porte Saint Pierre, the gate located just underneath the tower.
3. BIDOUANE TOWER
Being 23-meter high, this tower first built in the 15th century was also used as the storage of gun-powder. Not only it offers a privileged point of view of the surrounding turquoise sea water but it is also the finest perspective of the ramparts and the "cityscape" of Saint-Malo with the Cahedral of Saint-Vincent dominating it.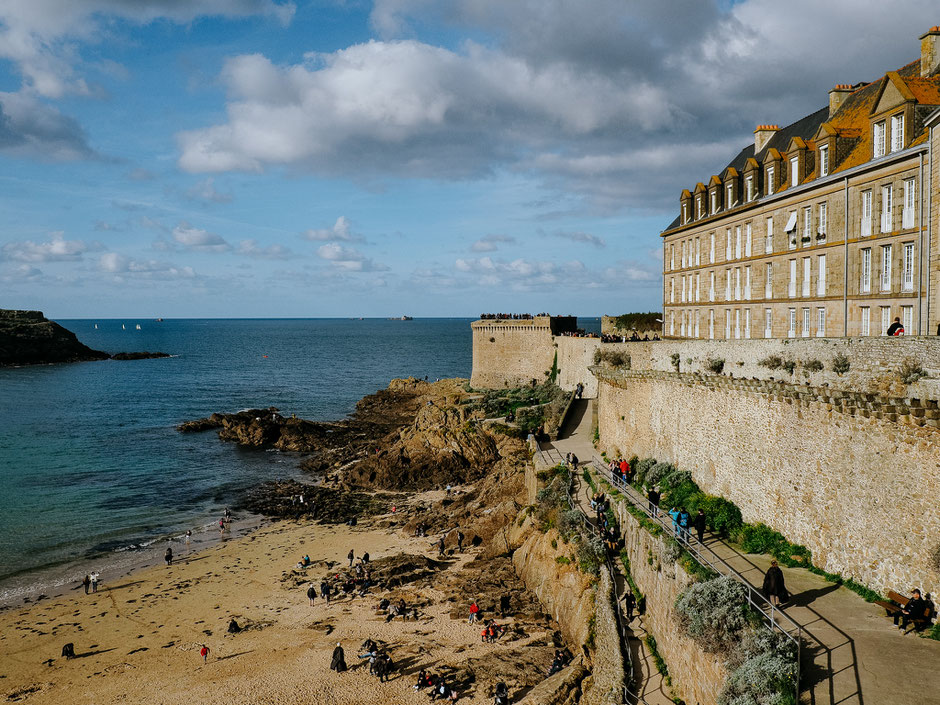 4. PLAGE DE L'ÉVENTAIL, PETIT BÉ, GRAND BÉ & FORT NATIONAL
We advise you to go down near the Place Chateaubriand so you can go out through Porte Saint-Thomas and check the Plage de l'Éventail if the tides allow. This tiny little beach offers a nice view of Petit Bé, Grand Bé and Fort National which are some small fortified islands located just a few hundred meters away and that can be accessed by walk if the tide is low (attention to the warnings of the rising tide). In Grand Bé island is located the tomb of the French writer François-René de Chateaubriand, a nationally famous local citizen ("bey" means tomb in Celtic language).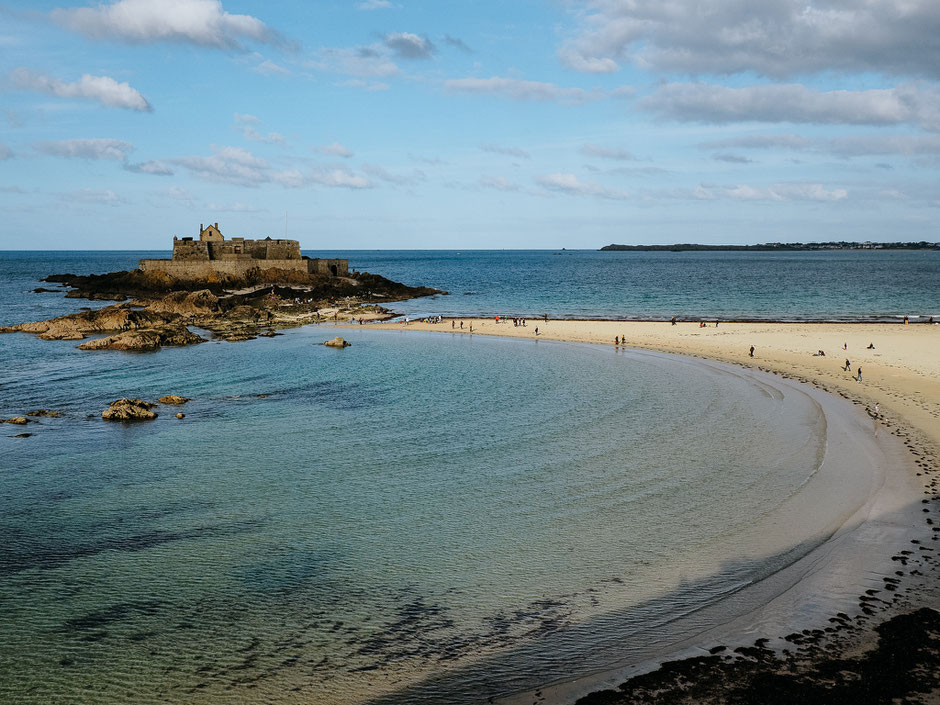 5. PORTE SAINT-VINCENT
From this beach you can continue east until the first exit that will lead you to the Port Saint-Vincent and the Grand Place in front (where the Tourist Center is located). It is a very nice location offering a privileged view of this entrance and the Château where nowadays is located the Town Hall and the Museum of the city. In a nearby quay, there is a typical corsair frigate called l'Étoile du Roy that can be visited for a glimpse of the life of a privateer in his most loved home and also offers rides through the surrounding sea to visit the beautiful shore of Bretagne (or Brittany region). Then you can stroll around the cute littles streets in the intra muros and imagine all the privateers business and commerce that would happen during the prime time of Saint-Malo.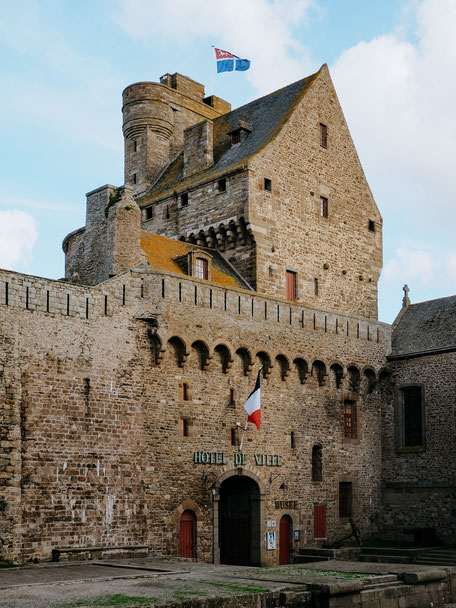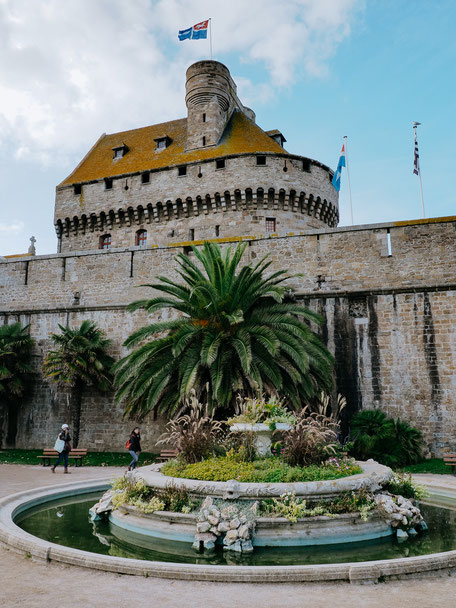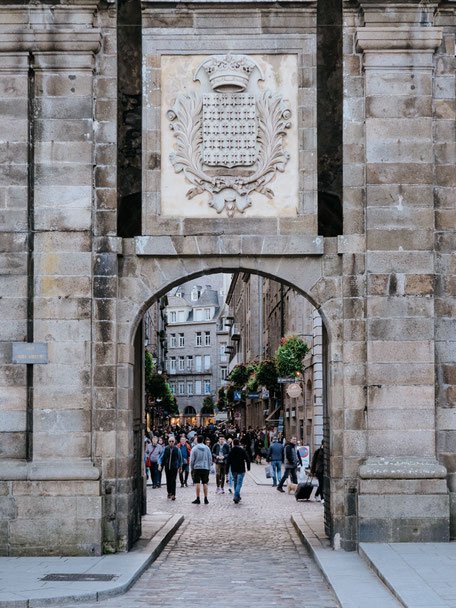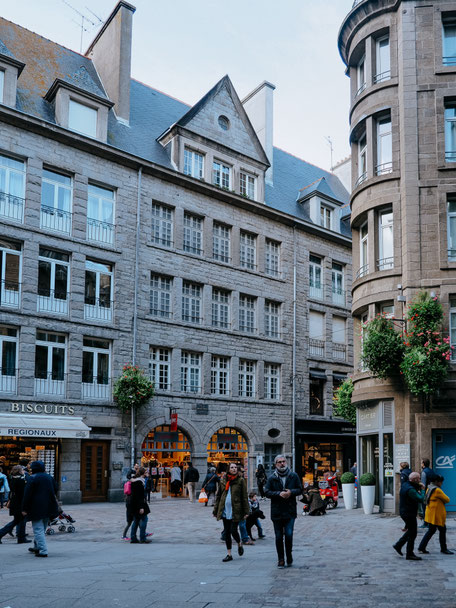 6. ENJOY LOCAL FOOD RUE JACQUES CARTIER
Entering the inner city, you can walk around by any small street and we can guarantee you will feel like taking photos of everything. If you turn left into Rue Jacques Cartier you will find many options of restaurants where you can eat local specialties (moules-frites and crêpe Bretonne).
7. TASTE A DELICIOUS KOUIGN-AMANN
Do not leave until you had a Kouign-amann which is a traditional Breton round cake consisting of layers of butter and sugar folded and cooked until caramelize. There are some places around where you can find it, but we tried a regular one at Les Délices du Gouverneur, just nearby the cathedral, and it was delicious. There are some variations with Nutella or salty caramel.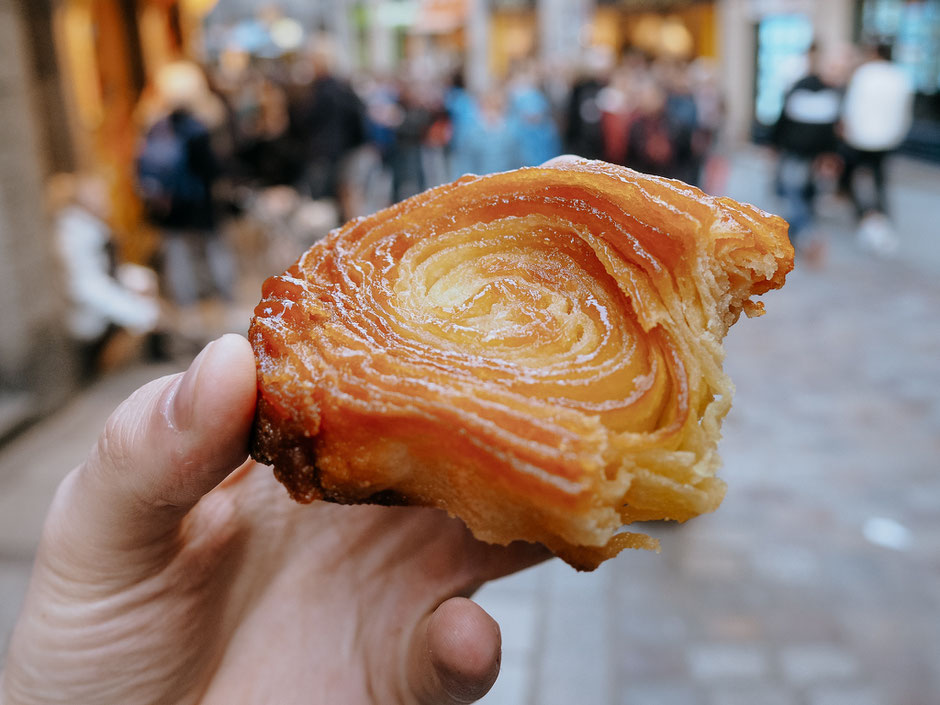 8. CATHEDRAL SAINT-VINCENT-DE-SARAGOSSE
Then you can turn right and go up to the Cathedral Saint-Vincent-de-Saragosse de Saint-Malo, an impressive Roman and Gothic styled church built during the 12th century.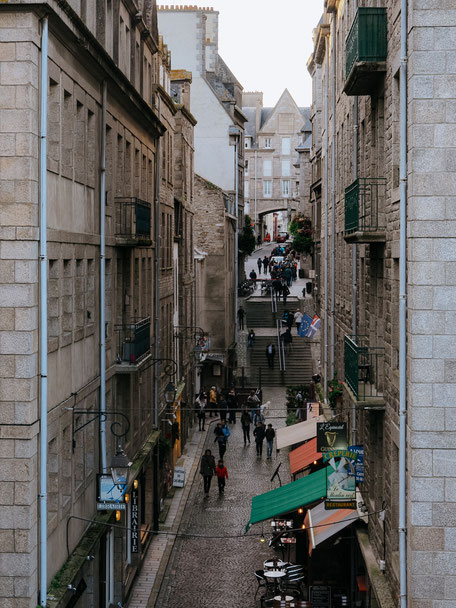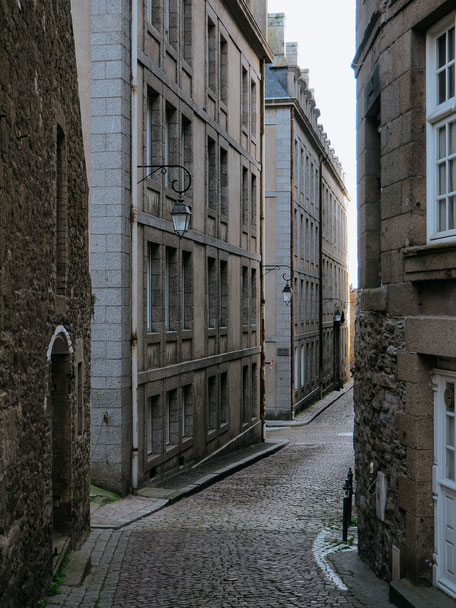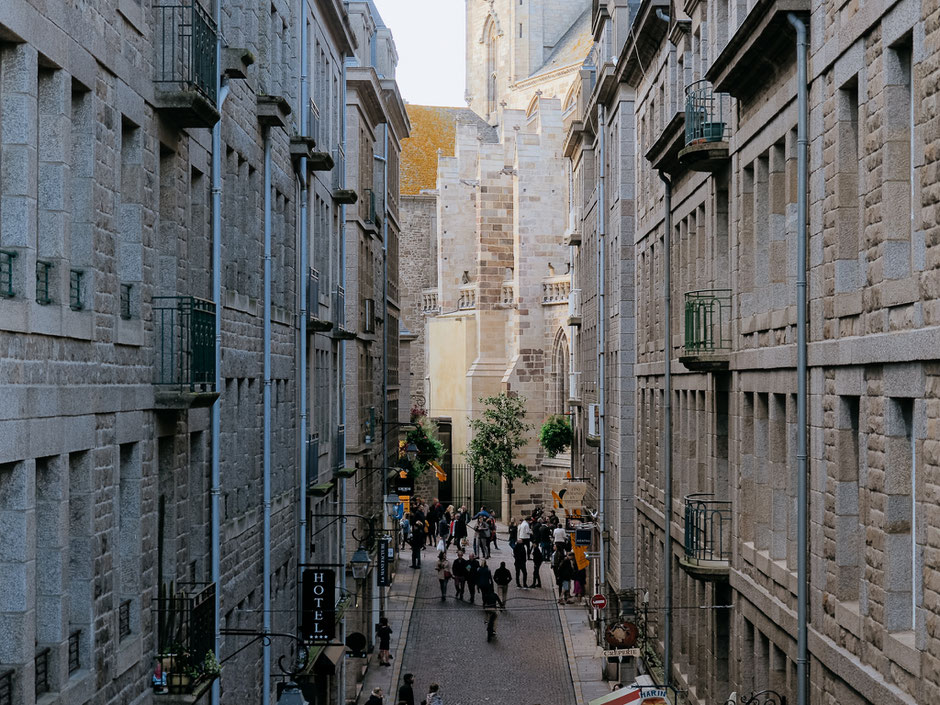 Don't forget to check out our post about Mont-Saint-Michel and how to plan the perfect day in this beautiful piece of architecture (check it out here). It would be a shame to be that close to it and not visiting it! ;-)
---
DETAILS OF THE TRIP
GETTING THERE
By car

: from Paris, you can reach Saint-Malo by car (around 4 hours) which costs around 120 EUR round trip counting gas and tolls;
By train

: you can reach the city of Rennes, and from there you can get another train to Saint-Malo, it takes around 3 hours.
STAYING THERE
Many options: from the expensive option of staying inside the walled city to more affordable options in the surroundings. As we wanted to visit Mont-Saint-Michel by night, we decided to opt for a stay close to it and thus stayed in Pontorson:

Le Grenier du Jardin: we were very happy with the choice. The room was spacious, comfy and clean. The breakfast was delicious and the owner very friendly and helpful.
EATING THERE
Many restaurants in the intra-muros part offering local cuisine: lunch menus ranging from 12 to 20 EUR with mussels and fries and crêpe bretonne.
*All prices are referred to January 2018
---
And now it's your turn to let us know your impressions, thoughts and also tips to visit Saint-Malo. Have you already visited the city of Saint-Malo? We look forward to reading your comments in the section below.
---
YOU MIGHT ALSO LIKE..