---
This blog post takes you on a journey to Mont-Saint Michel – a true masterpiece located in the Normandy region of Northern France. It all started when we spent our summer vacation with Thomas' parents in a small village near Amiens, Picardie, in 2016. While discussing the region's highlights, I asked about Mont-Saint-Michel, but was told it was too far away. However, the idea of visiting this magnificent landmark stayed with me, and in 2017, we finally planned a trip during the long weekend of All Saints' Day.
The journey from Amiens takes around five hours by car, so we decided to spend a night in a nearby city called Pontorson, which gave us the chance to explore one of the beautiful cities around. Upon asking for suggestions, Thomas' parents recommended Saint-Malo, which they had visited and loved. You can read all about our adventures in Saint-Malo in our blog post here. Join us as we discover the history, charm, and breathtaking beauty of Mont-Saint-Michel and the surrounding region.
---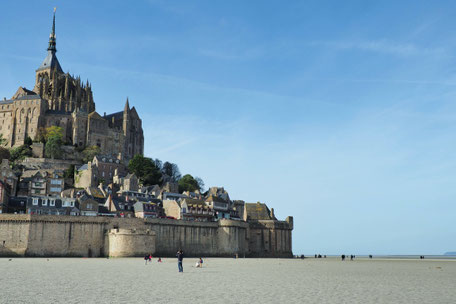 ---
---
GENERAL INFORMATION
We had limited time to explore the neighboring cities of Saint-Malo, like Dinard and Cancale, but we didn't let that stop us from experiencing the magic of Mont-Saint-Michel. After dropping our bags at a cozy B&B in nearby Pontorson, we headed straight for the walled city, under the cover of darkness! For those seeking a spiritual escape, the abbey offers lodging with its monks and sisters.
But for us, a nighttime visit was the perfect way to see the illuminated beauty of Mont-Saint-Michel. While parking can be pricey (between 9 and 14 EUR per day), we discovered a sweet deal – if you arrive after 7 p.m., parking is free until 2 a.m.! So we took advantage and caught the magical lights of the castle until midnight. While the views were stunning from the outside, we found the morning visit to be even more enchanting. But we still cherished our nighttime visit and wouldn't have had it any other way!
| Opening hours - all year round |
| Admission (parking) - between 9 and 14 EUR per day |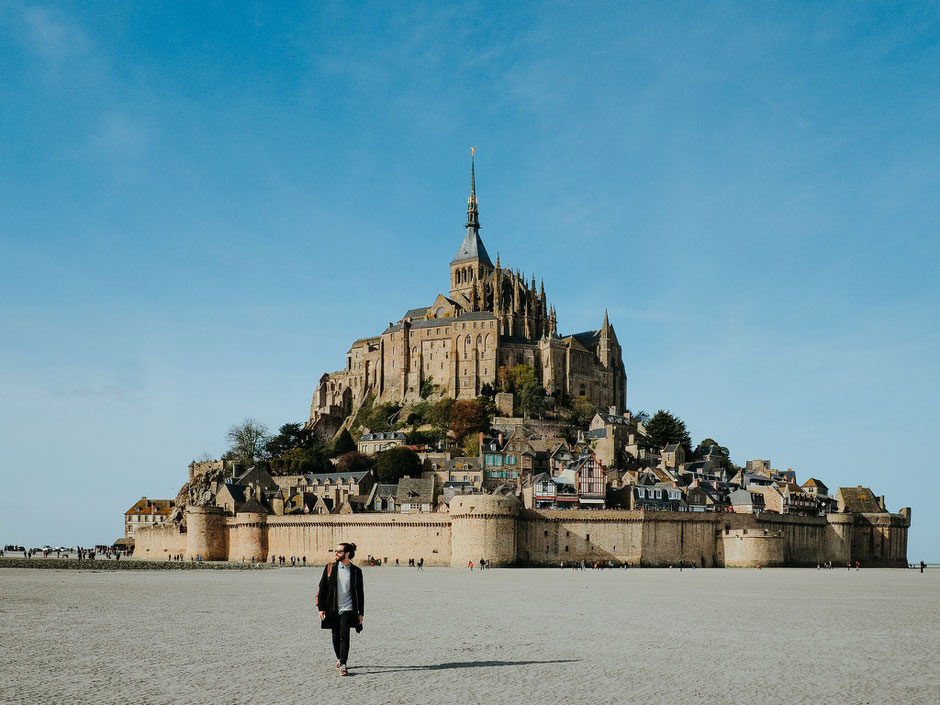 WHEN TO VISIT?
We wanted to make the most of our Mont-Saint-Michel experience and stay within the walled city, but we found out that at night the place turns into a ghost town, losing its magical atmosphere. So, we opted for a nearby city called Pontorson, which was a better choice for us, as we had a car to get around.
More than three million visitors flock to Mont-Saint-Michel every year, especially during the summer months. We visited in late October, which was supposed to be a quieter time, but it happened to coincide with a holiday, so the place was still packed. We decided to return early the next morning to take photos without the crowds. It was a challenge, but totally worth it. Our advice to you: resist the urge to snap the perfect shot as soon as you step off the bus, because the streets will soon be swarming with people. Instead, wait until you're leaving the abbey and take your pictures from the outside.
The architecture and beauty of Mont-Saint-Michel, a UNESCO World Heritage site, are breathtaking. But it gets even more spectacular during high tide when the walled city reflects in the sea water. Unfortunately, we were there during low tide, but you can check the tide schedule here and plan your visit accordingly.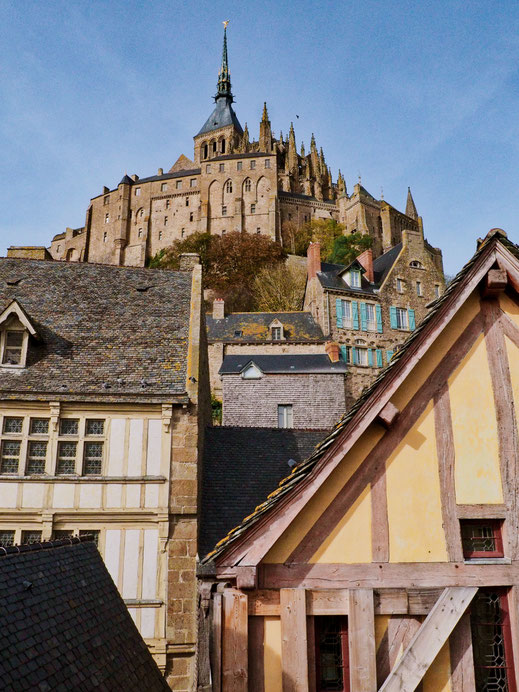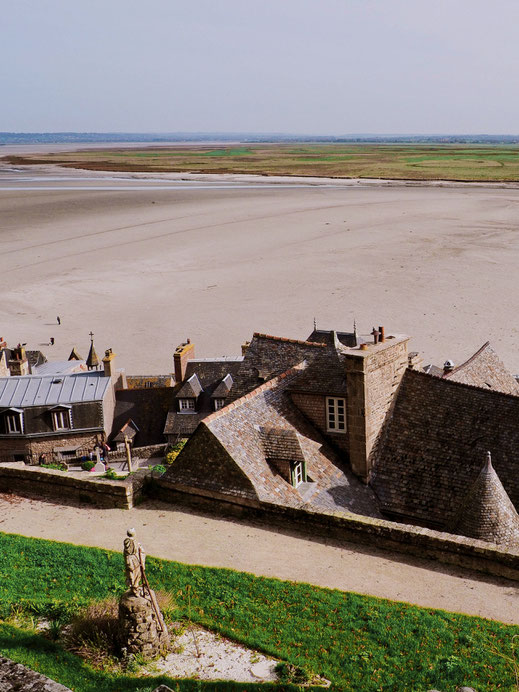 HISTORY
Mont-Saint-Michel has a fascinating history that dates back to the 8th century. Legend has it that the Archangel Michel appeared three times to the Bishop of Avranches, Aubert, instructing him to build a temple atop a mountainous island at the shore of the sea. Thus, a small church was erected on October 16th, 709, and it quickly became a popular pilgrimage site.
In 966, a group of Benedictine monks settled on the island and began constructing a larger church and an abbey. Over the years, the abbey continued to expand and became a prominent cultural and religious center.
During the Hundred Years War between England and France in the 14th century, Mont-Saint-Michel gained strategic importance as a fortress, and its abbey was fortified with walls and military constructions. Despite being under siege for 30 years, the abbey managed to withstand the English attacks.
The village of Mont-Saint-Michel, which grew on the southeast side of the rock during the Middle Ages, prospered due to the pilgrimage and military activities. The village included shops and inns and it became an essential part of the island's cultural and economic life.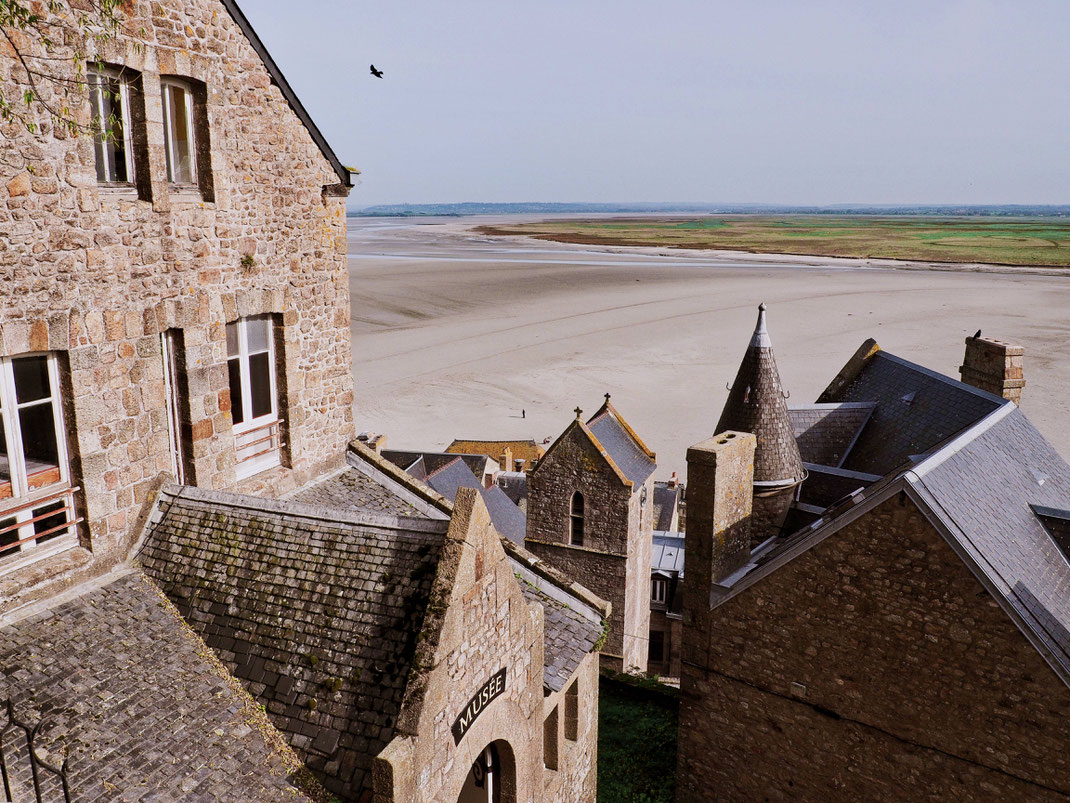 ONE DAY AROUND MONT-SAINT-MICHEL
1. TAKE MAGICAL SHOTS FROM THE BRIDGE
As you approach Mont-Saint-Michel, the anticipation builds as you catch your first glimpse of this stunning piece of architecture rising up from the horizon. The sight is truly unforgettable and you'll definitely want to snap some iconic shots of this beauty. The atmosphere is reminiscent of something out of a Harry Potter novel, with winding streets, stone walls and the occasional glimpse of the sea. As you get closer, the sound of seagulls and the scent of the salty sea air only add to the magical ambiance. It's no wonder that Mont-Saint-Michel has inspired artists, writers and travelers alike for centuries!
2. WALK THROUGH MAIN STREET AND HEAD TOWARDS THE ABBEY
To make the most of your visit, we suggest starting your ascent up the main street to the abbey. The charming narrow lanes and quaint storefronts on either side reminded us of Diagon Alley, the bustling wizarding marketplace in Harry Potter. Take advantage of the break in shuttle bus arrivals to snap some photos without too many people in the background. While making your way up, you'll come across many souvenir shops and restaurants that serve the local specialty dish – souffléed omelette cooked over an open fire. Although this dish can be quite expensive (with prices upwards of 30 EUR at La Mère Poulard), we opted to bring our own snacks and save some money, giving us more time to explore.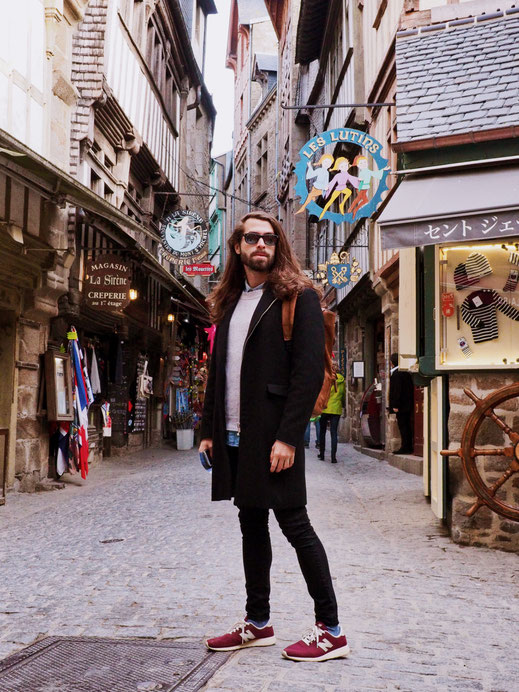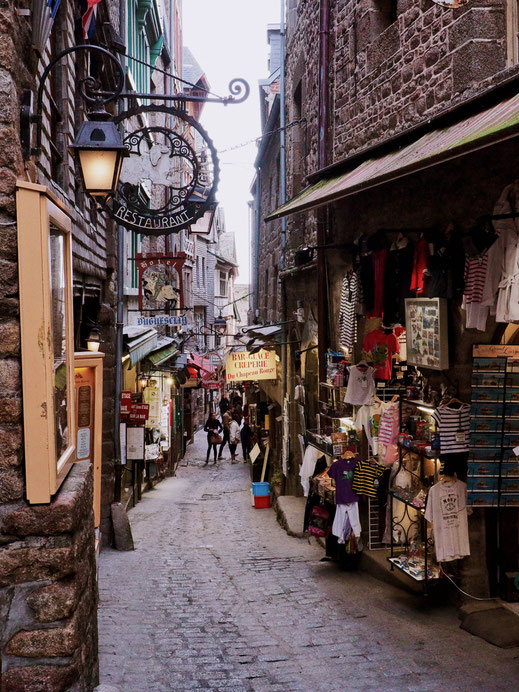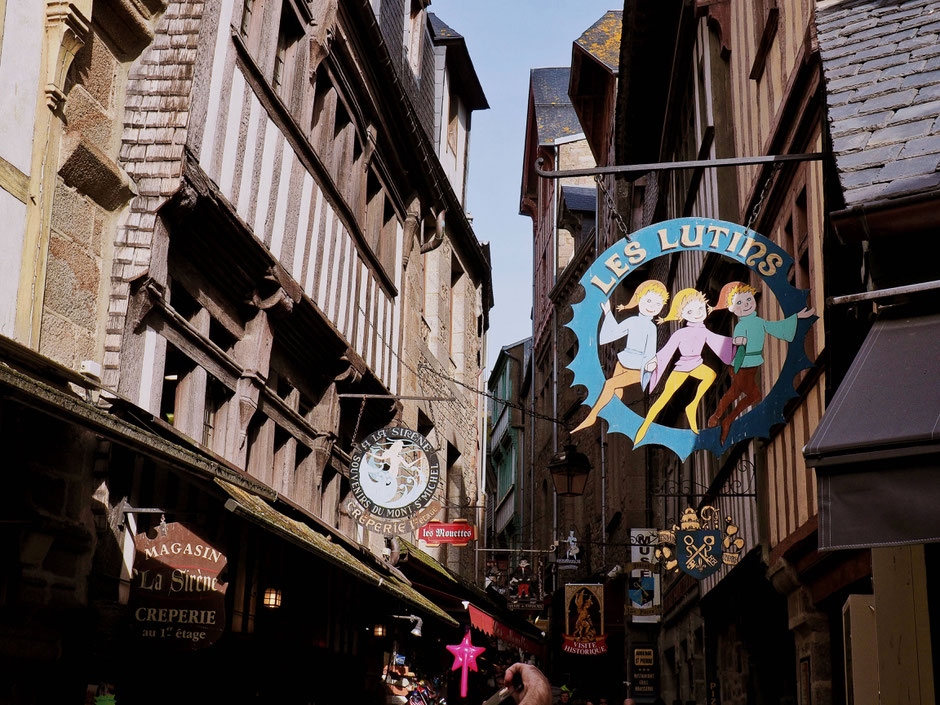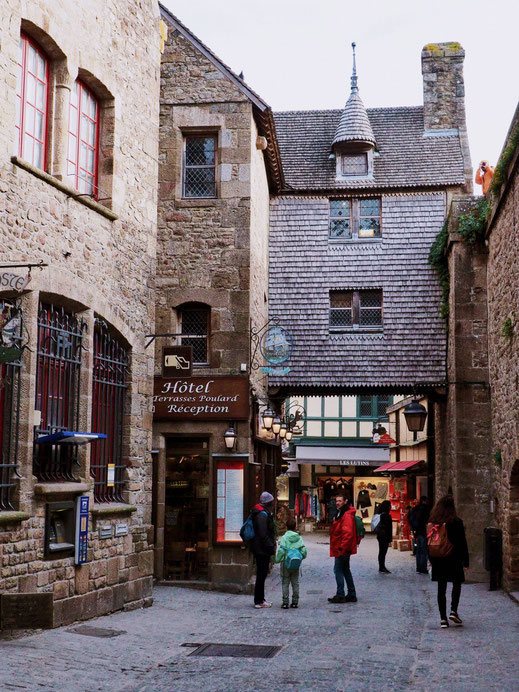 3. VISIT THE ABBEY
The Abbey is a must-see destination and fortunately, it is open for visits every day. You can easily check the timetable for guided tours in French and English at the entrance and they don't require any prior booking. However, it's good to know that it's polite to tip the guide after the visit. During our visit, we stumbled upon a guided tour and it was a wonderful experience. Despite following the same path as the normal visit, the guide provided us with fascinating historical details and even made some hilarious impersonations of the monks' lives in the abbey. As it wasn't during the holidays, the English-speaking tourist group was small, making it more intimate and approachable. The only downside was that we couldn't take as many photos as we wanted due to the tour's pace. Nevertheless, it was an unforgettable experience.
Inside the Abbey, we were impressed by the grand common salons with little furniture, the cloister with a garden for contact with nature, and rooms and chapels for prayer and meditation. The simplicity and restraint of the decoration reflect the daily life of the Benedictine monks who inhabited the Abbey. Founded in the 8th century, Mont-Saint-Michel Abbey is a UNESCO World Heritage site and a masterpiece of medieval architecture.
| Opening hours - 9.30 a.m. - 6 p.m. |
| Admission - 10 EUR (audio guide 3 EUR) |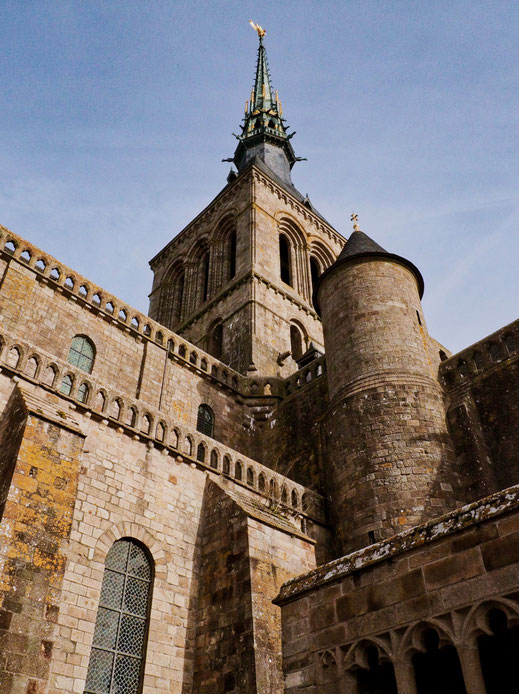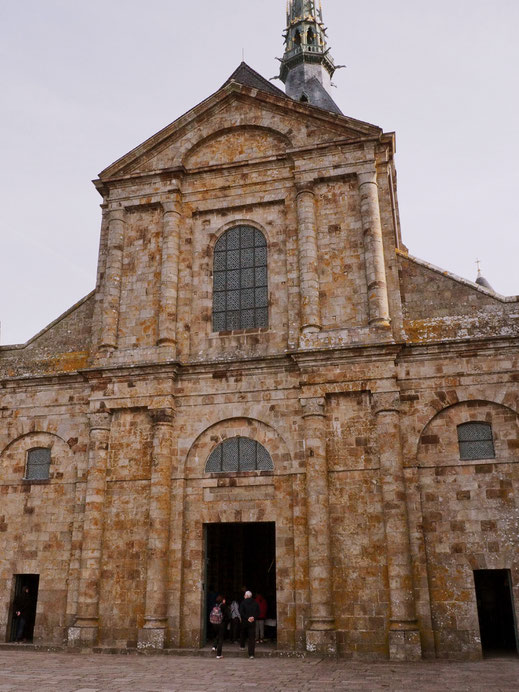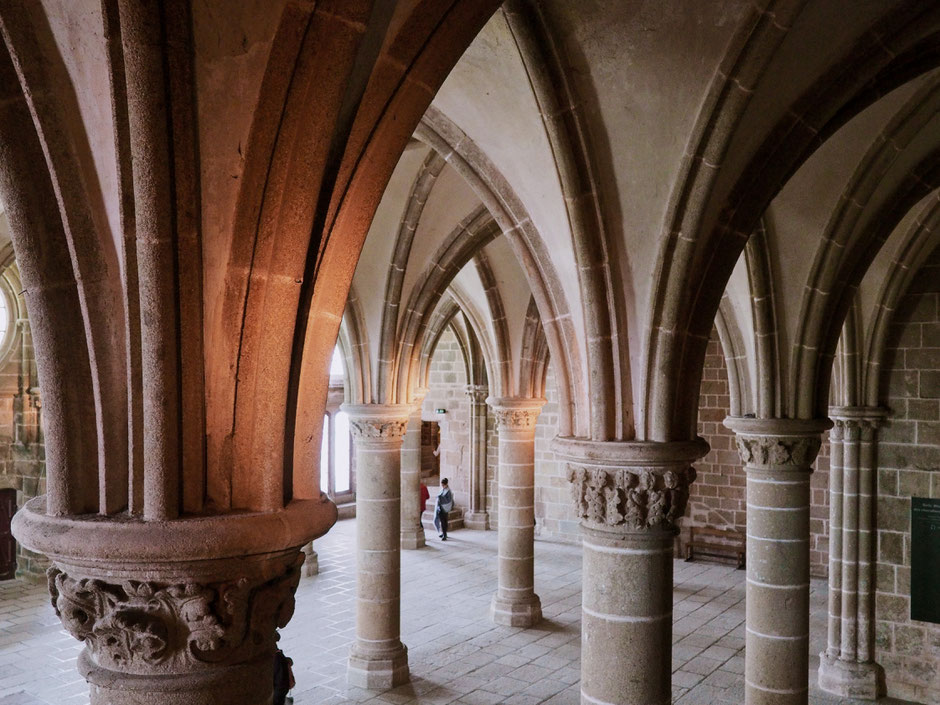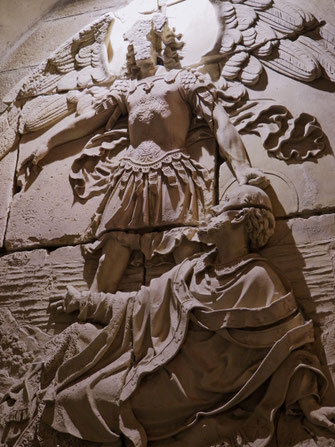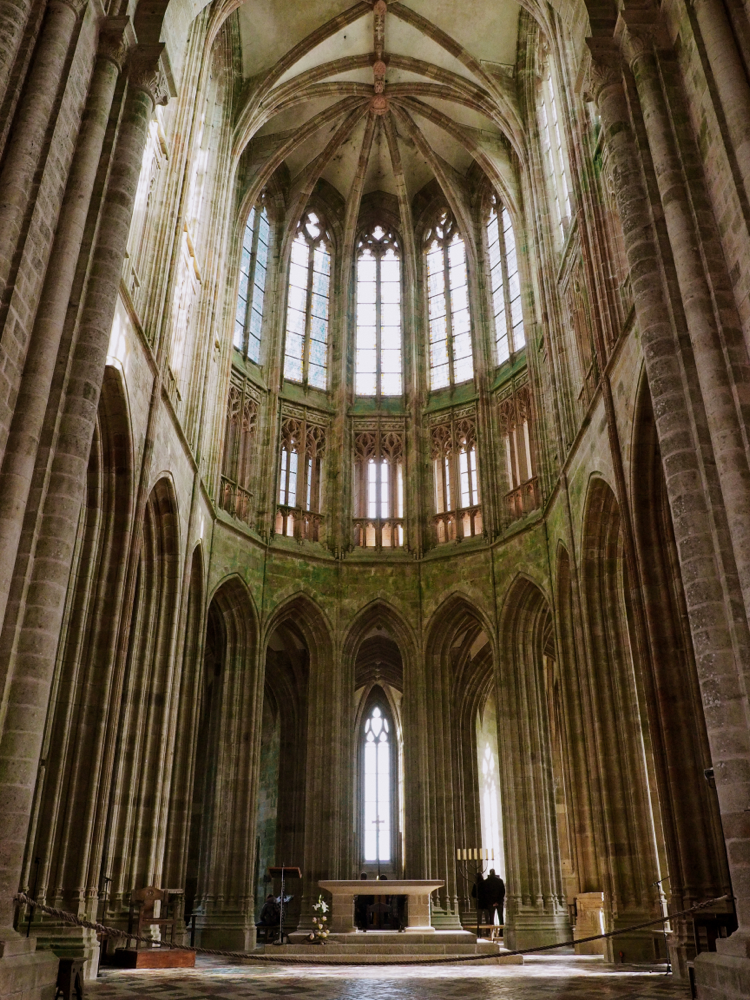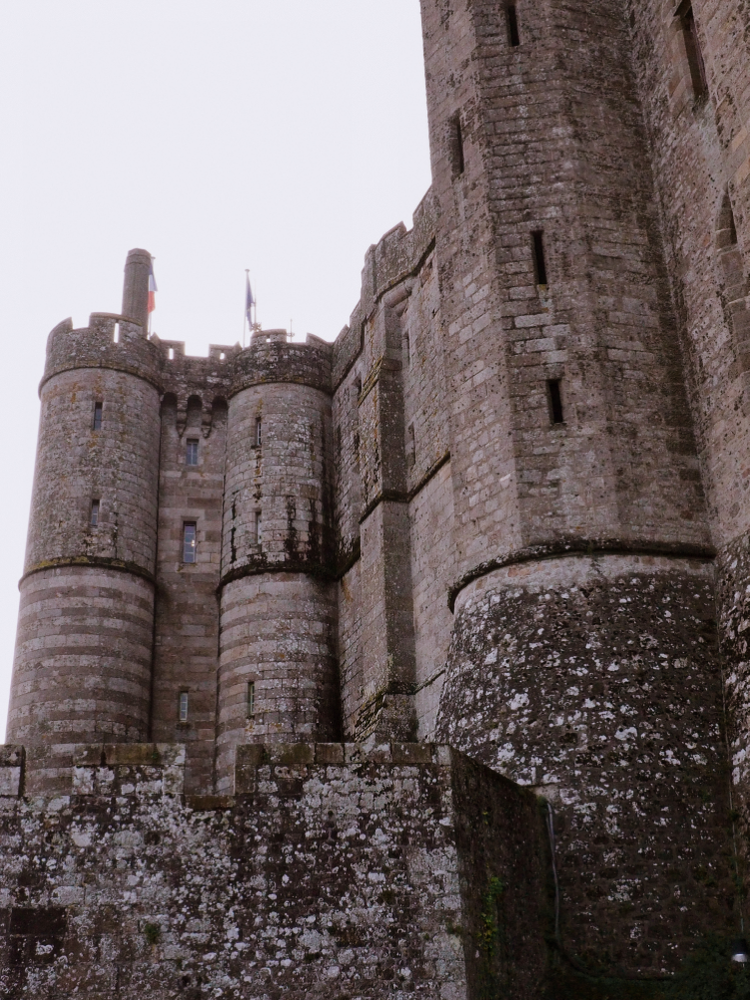 4. STROLL AROUND THE LITTLE STREETS AND ON THE RAMPARTS
Exiting the Abbey grounds, visitors are treated to a stunning view of the town from atop the walls. From this vantage point, you can see both the interior and exterior of the town, with its enchanting gates, towers, and ramparts. Taking in the breathtaking scenery, we couldn't help but feel like we had been transported to a scene straight out of a fairytale.
As we made our way through the narrow streets, we were constantly awed by the charming details of the town. Every corner seemed to hold a new discovery, from the quaint shops and restaurants to the picturesque alleys and pathways. It was like stepping into the world of Harry Potter, with its winding cobblestoned streets and charming storefronts. We could have easily spent hours strolling around, taking in the beauty of the town and capturing it all in photos!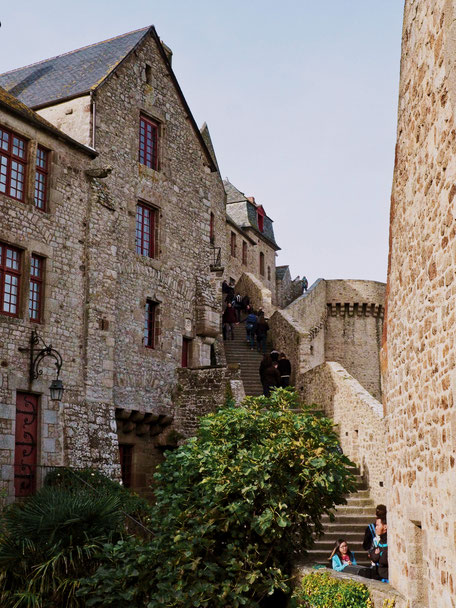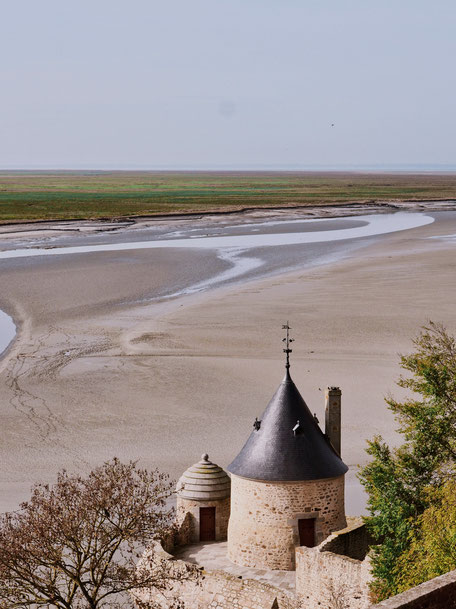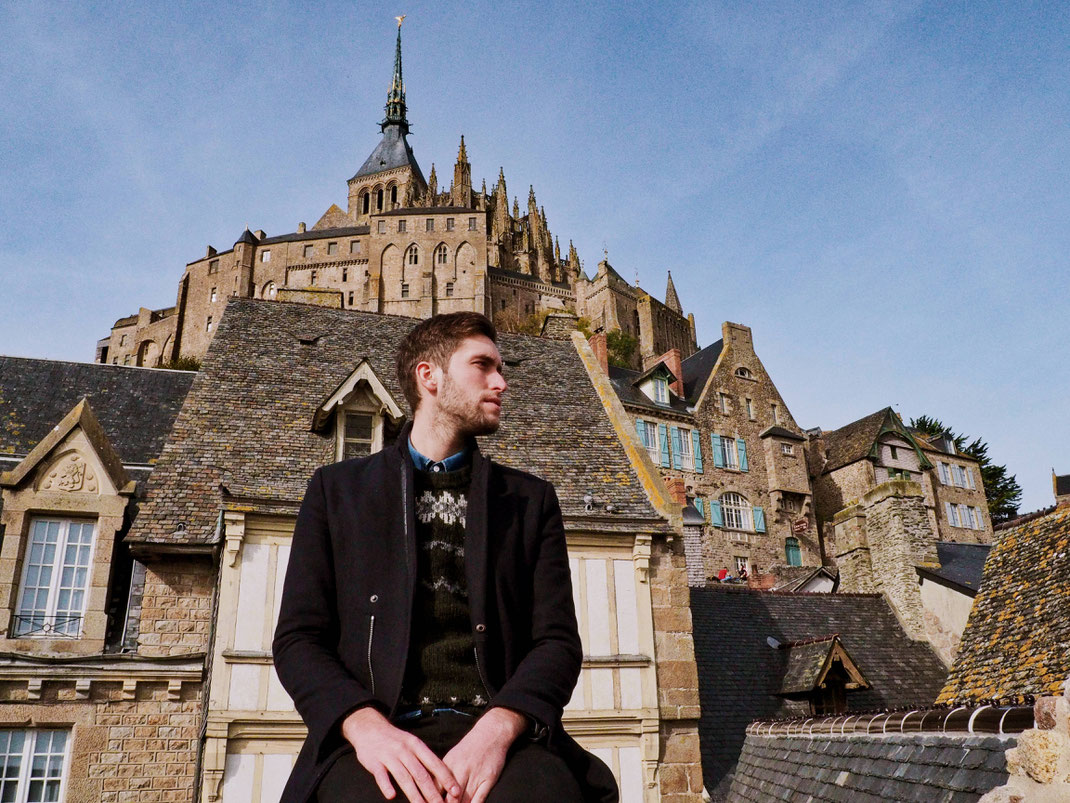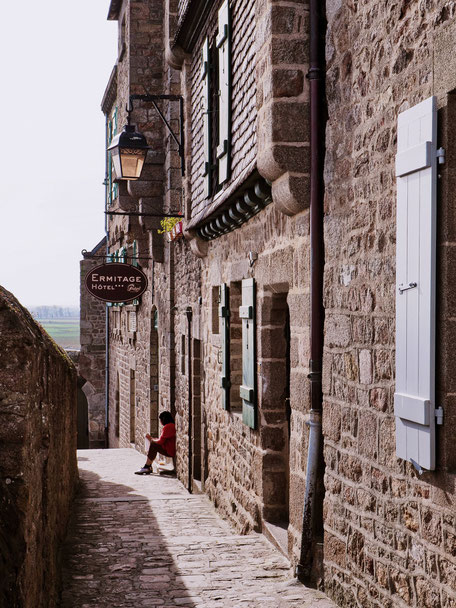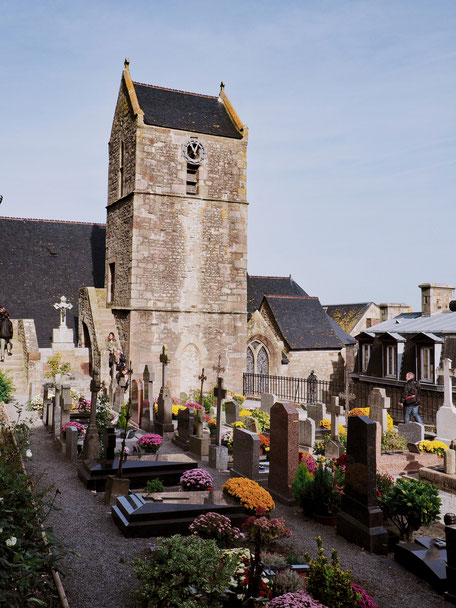 5. STROLL AROUND MONT-SAINT-MICHEL
As we were about to leave Mont-Saint-Michel, we couldn't resist taking advantage of the low tide and exploring the sandy surroundings to capture some stunning photos of the iconic structure from a different angle. It was a breathtaking sight and definitely worth the extra time.
However, we don't recommend following in our footsteps and completing the entire tour around the Mont. It can be a long and tiring walk, especially if you're with someone like Thomas, who complained the entire way! Instead, we suggest exiting through the gate in Tour Gabriel and heading clockwise towards the Chapelle Saint-Aubert. This small chapel was built outside the walls in honor of the bishop who oversaw the construction of the first temple dedicated to Saint-Michel. From there, you can return counterclockwise and stop a little after the main gate to snap a photo of the Mont from the sandbanks, which will undoubtedly be a cherished memory of your visit to this marvel of faith and architecture.
Exploring the bay area freely is not recommended due to the unpredictable and rapidly changing tides, making it extremely dangerous. It's best to avoid such a risk. However, if you're interested in further exploration of the area, you can opt for guided tours with expert professionals who can ensure your safety while offering unique viewpoints and access to seldom-seen locations. Additional information regarding such tours can be found here.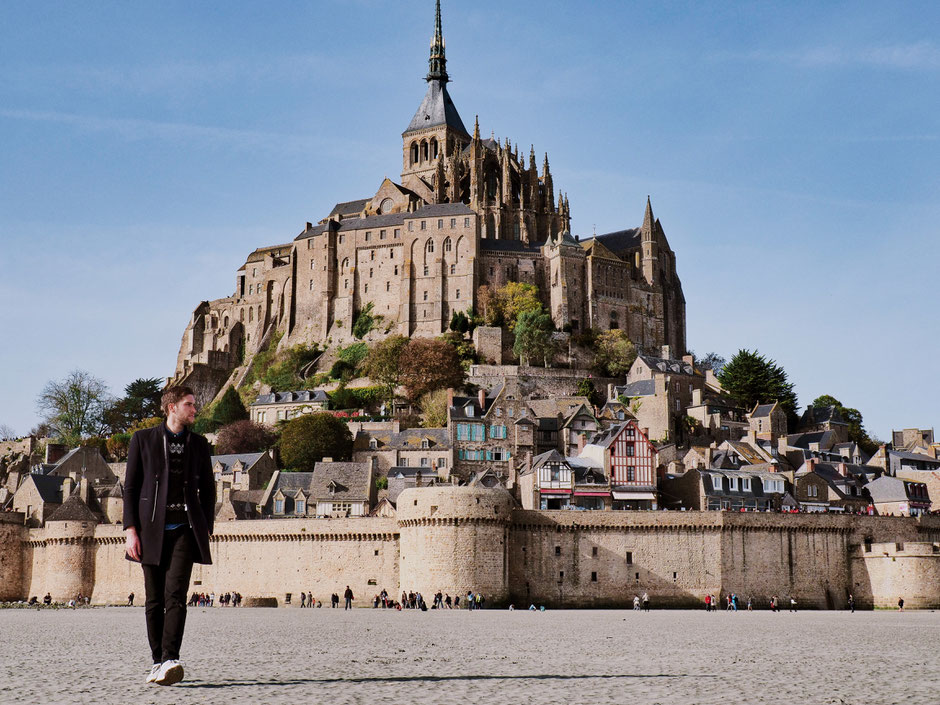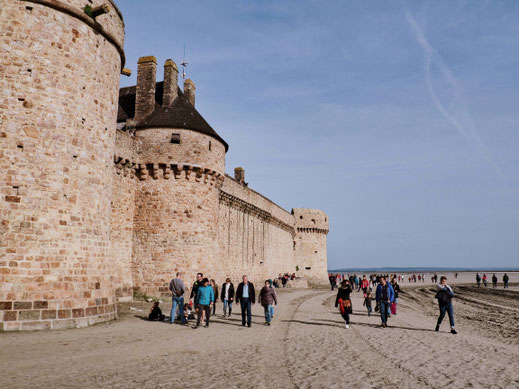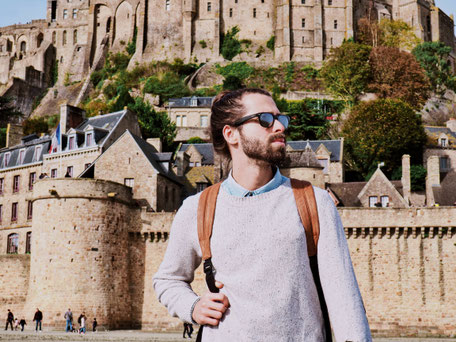 OUR FINAL THOUGHTS
Regardless of our personal beliefs, we couldn't help but feel moved by the grandeur and magnificence of the Abbey and the surrounding architecture built during such early times. For those who are fans of Harry Potter, it may feel like a dream come true to be walking around the magical shops of Diagon Alley and attending the Start-of-Term Feast at Hogwarts. Whether or not you hold a specific faith, one thing is certain: Mont-Saint-Michel has a way of enchanting and providing a magical experience for all who visit!
To fully experience the beauty of this region of France, consider taking a day trip to the fortified town of Saint-Malo. You can check out our post about this charming destination here, which has plenty to offer in its own right.
---
TRAVEL ESSENTIALS
GETTING THERE
To reach Mont-Saint-Michel, there are several transportation options available. If you prefer to travel by car, the journey from Paris takes about four hours, including gas and toll fees. Alternatively, you can take a train to Rennes and then transfer to a bus that will take you directly to Mont-Saint-Michel. Train and bus schedules are coordinated for your convenience. Another option is to take a day-trip by bus from Paris, which departs early in the morning and is organized by various companies, some of which include lunch in the package.
STAYING THERE
There are various accommodation options available around Mont-Saint-Michel, ranging from expensive stays within the walled fort to more affordable choices in nearby cities. Le Grenier du Jardin is a cozy and intimate bed and breakfast located in Pontorson, which we personally stayed at and highly recommend. The rooms were spacious, clean, and comfortable, and the breakfast was delicious. The owner was also very friendly and helpful.
EATING THERE
We recommend fully experiencing Mont-Saint-Michel by bringing your own sandwiches and snacks and enjoying a picnic in the beautiful Jardin Sainte-Catherine. As everything sold within Mont-Saint-Michel is geared towards tourists, prices tend to be quite high. Additionally, on your way back from Mont-Saint-Michel, we suggest stopping in Pontorson to try some delicious salted galettes and crêpes at Le Grillon. This restaurant was recommended to us by our host and offers reasonably priced local cuisine.
---
---
We'd love to hear your impressions, thoughts, and tips on visiting the Muggle world's version of Hogwarts. Have you had a chance to visit Mont-Saint-Michel yet? Please share your comments with us in the section below. We're excited to read your feedback!
---
---
YOU MIGHT ALSO LIKE..