---
Discovering a new city is always exciting, but exploring the city where you grew up is a different kind of adventure! Hello fellow travelers, Thomas writing here, and as you may have read in other posts, I'm from the North of France, more specifically, the cute city of Amiens, the capital of Picardie. I've been meaning to write about my hometown for a while now! After all, Amiens was my home for a long time, and it has witnessed my growth, as much as I have witnessed its evolution over the years.
So, let me take you on a journey to discover the most emblematic places in Amiens during a day trip. Our itinerary will include visiting the famous Cathedral of Amiens, wandering around the picturesque district of Saint-Leu, and ending the day with a visit to the tranquil Hortillonnages. This list is far from exhaustive, but it will provide you with a glimpse of my hometown's beauty. Are you ready to explore Amiens with me? Let's go!
---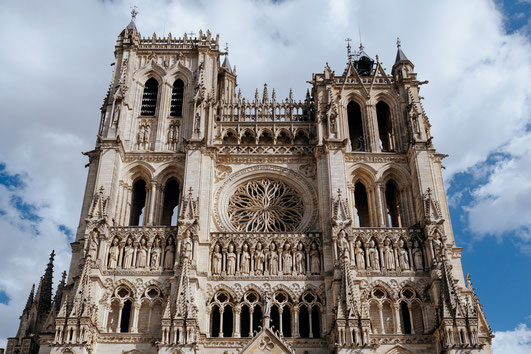 ---
---
GENERAL INFORMATION
Amiens is a hidden gem in the North of France that is often overlooked by travelers. Despite the city's heavy destruction during WWII, it has managed to preserve its remarkable heritage and charm. As one of France's oldest cities, Amiens boasts a rich history and culture that is definitely worth exploring.
The most famous attraction of Amiens is undoubtedly the magnificent Cathedral of Amiens, a stunning example of flamboyant Gothic architecture. It is the largest medieval building in France and the largest cathedral in Europe. But Amiens has much more to offer than just its cathedral! Take a stroll through the picturesque streets of the Saint-Leu district, and don't miss the floating market every Saturday morning. Take a leisurely walk along the banks of the Somme River and discover the Museum of Picardie and the House of Jules Verne, both of which are rich in history and culture.
One of the city's most famous and tranquil spots is the Hortillonnages, also known as the "Little Venice of the North". Covering an area of around 300 hectares, these floating gardens and canals offer a peaceful and natural escape from the hustle of the city. The tranquility of the site is truly impressive, with no traffic or city noise to be heard. It's the perfect place to unwind and relax.
If you're not already convinced to visit Amiens, we strongly encourage you to give it a chance. It's a wonderful gateway to the Baie de Somme (check our post here) and the Somme battlefields of WWI, which are definitely worth exploring (check our post here). Trust us, after a visit to Amiens, you'll come away with a newfound appreciation for this hidden gem of a city!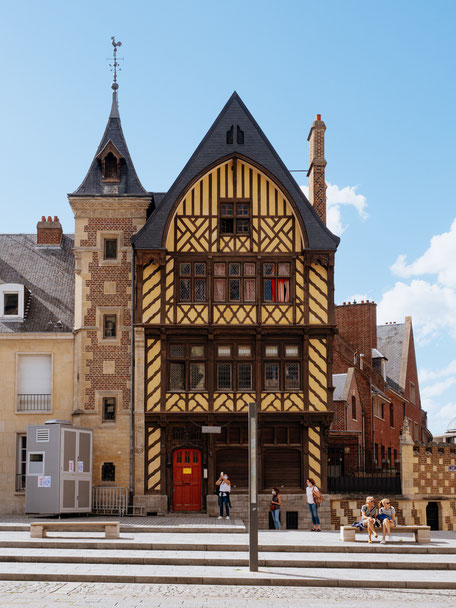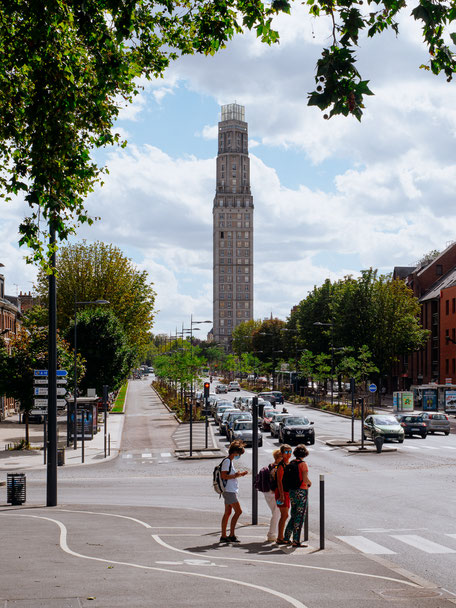 HISTORY
Let's take a step back in time and discover the rich history of Amiens. The city's story begins in the Palaeolithic era, around 500,000 years ago, as evidenced by archaeological remains. In pre-Roman times, it was known as "Samarobriva", which translates to "Bridge over the Somme river". The Romans recognized its strategic location and built roads connecting Amiens to other parts of their empire, leading to its growth as a center for trade and Romanization.
Fast forward to the 9th century, when Bishop Saint-Firmin christianized the region. Unfortunately, Amiens was plundered twice by the Normans in the following centuries. But the city's fortunes changed when King Louis VI of France recognised its importance in 1113 and annexed it to the French Crown in 1185.
However, Amiens was not immune to further occupations, including a deceptive attack by Spanish soldiers disguised as peasants who tricked the starving inhabitants to take over the city in 1597. But after a six-month siege, the French finally regained control under Henri IV. Despite the challenges faced by Amiens throughout history, the city has managed to preserve its rich heritage and culture, making it a fascinating destination for history enthusiasts.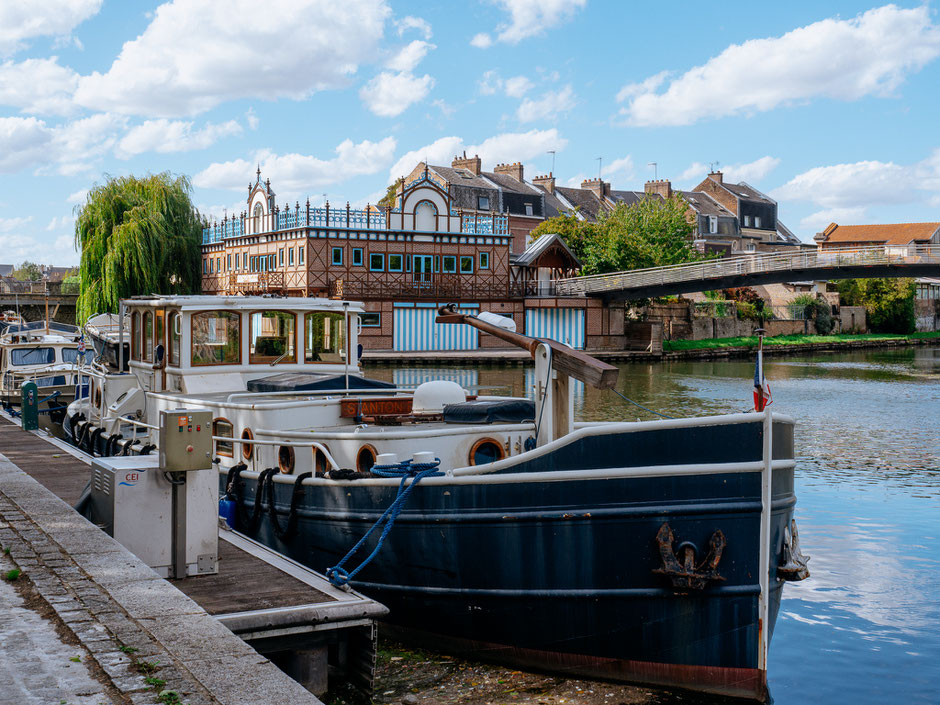 During the 18th century's Industrial Revolution, Amiens experienced a prolonged period of peace, leading to its economic growth in the velvet textile industry. The city council initiated major urban planning projects, gradually demolishing the city walls to create broad boulevards around the city center. The railway was also quickly developed, with the first line linking Amiens to Paris built in 1846.
The 20th century cast a dark shadow over Amiens' history, bringing some of its bleakest times. In 1914, with its strategic location to protect Paris, Amiens suffered greatly during WWI. The city bore witness to the bloodiest confrontation of the Great War during the Battle of the Somme in 1916, resulting in 1.2 million casualties. In March 1918, intense bombardments destroyed significant parts of the city, causing its inhabitants to evacuate. Despite efforts to reconstruct the city center, which was already severely damaged during WWI, WWII brought further destruction to Amiens. In 1940, the Germans invaded the city, and even though French and British units put up a fight, the German troops broke through their defenses. The Wehrmacht continued its march towards Paris, and Amiens fell. The British army liberated the city on August 31, 1944, but Amiens had sustained massive damage, with 60% of its buildings destroyed.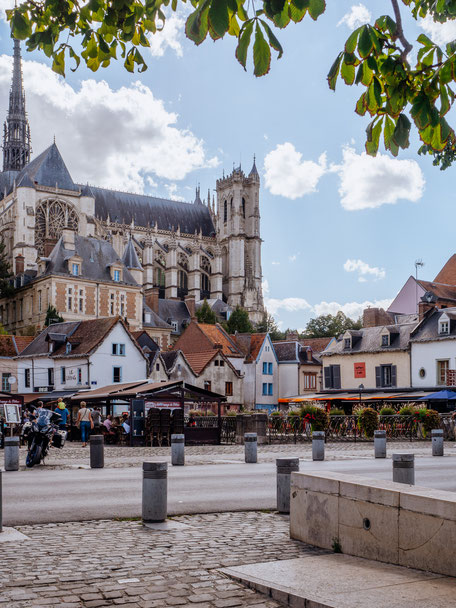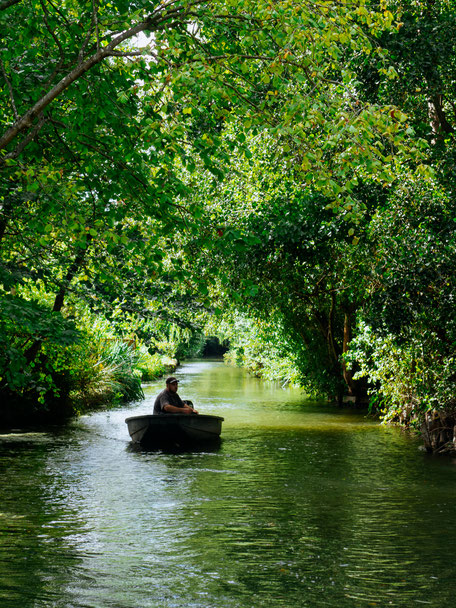 HOW TO GET TO AMIENS?
Amiens, the capital of Picardie, is situated in the Somme department of the Hauts-de-France region (formerly known as Picardie). The city is conveniently located midway between Paris and Lille, making it easily accessible through various transportation modes. By train, it takes around 1 hour from Paris (with more than 20 daily return trips) and 1 hour and 20 minutes from Lille. Alternatively, by car, it takes about 1 hour and 30 minutes to drive from Paris, 1 hour and 40 minutes from Lille, 2 hours from Reims, and 1 hour and 30 minutes from Rouen.
With its strategic location, Amiens is an ideal destination that serves as a hub connecting various cities. It offers a peaceful retreat from the bustling big cities, allowing visitors to spend a relaxing day in the heart of Picardie.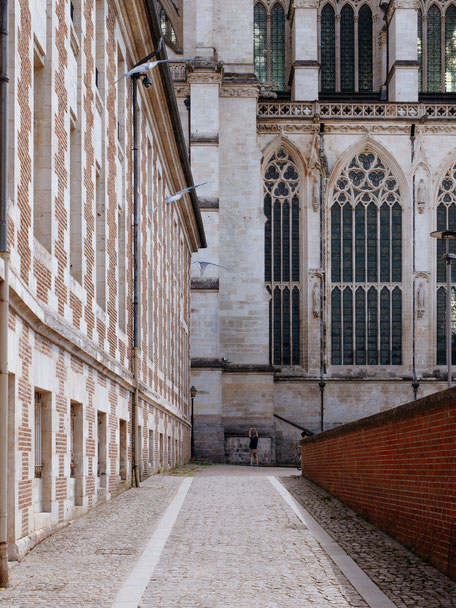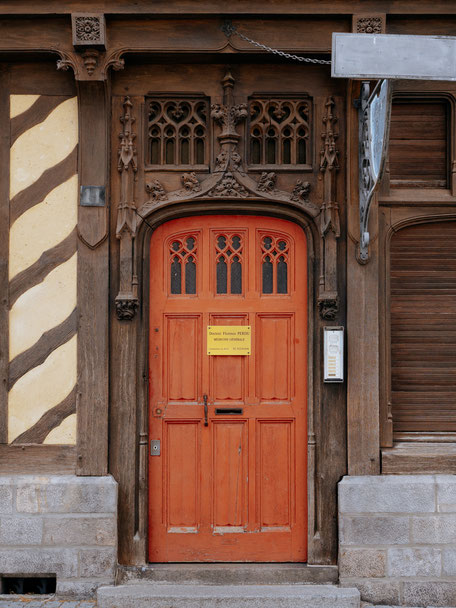 TOP 3 THINGS TO DISCOVER
1. CATHEDRAL OF NOTRE-DAME D'AMIENS
The Cathedral of Amiens is the most famous attraction of the city and a true gem of Gothic architecture. Standing tall and proud, it is the emblem of Amiens, grandiose, imposing, and magnificent. The intricate and ornate façade of the cathedral is a masterpiece of Gothic art and architecture. While it bears some similarities with Notre-Dame de Paris, the Cathedral of Amiens is a true marvel that stands out for its beauty and grandeur. 
Let's dive into some fascinating history! The construction of the Cathedral of Amiens began in 1220 under Bishop Evrard de Fouilloy's guidance and was completed around 1290, taking only 70 years to build. This is quite an impressive feat, considering the cathedral's immense size and grandeur. To put things into perspective, Notre-Dame de Paris took a staggering 182 years to construct from 1163 to 1345. Interestingly, three previous buildings stood on the same site, but they were destroyed by various disasters. Despite this, the Cathedral of Amiens miraculously survived both the French Revolution and two World Wars. 
The sheer scale of the Cathedral of Amiens is truly awe-inspiring. Standing at a height of 42.30 meters under the vaults and stretching 145 meters in length, it is the largest cathedral in France by interior volume, boasting an incredible 200,000 cubic meters of space. To put that into perspective, it could hold two cathedrals the size of Notre-Dame de Paris! But it's not just the size that's impressive – the style of the cathedral is a masterpiece in its own right. It perfectly showcases the transition from the classical Gothic to the more decorative "rayonnant" Gothic, with a facade adorned with countless sculptures. It's no wonder that it was declared a UNESCO World Heritage Site in 1981, recognizing its cultural and historical significance.
| Opening hours - daily from 8.30 a.m. - 5.15 p.m. |
| Admission - free of charge (guided tour: 6 EUR) |
---
 | For more information about Amiens Cathedral, check our post here |
---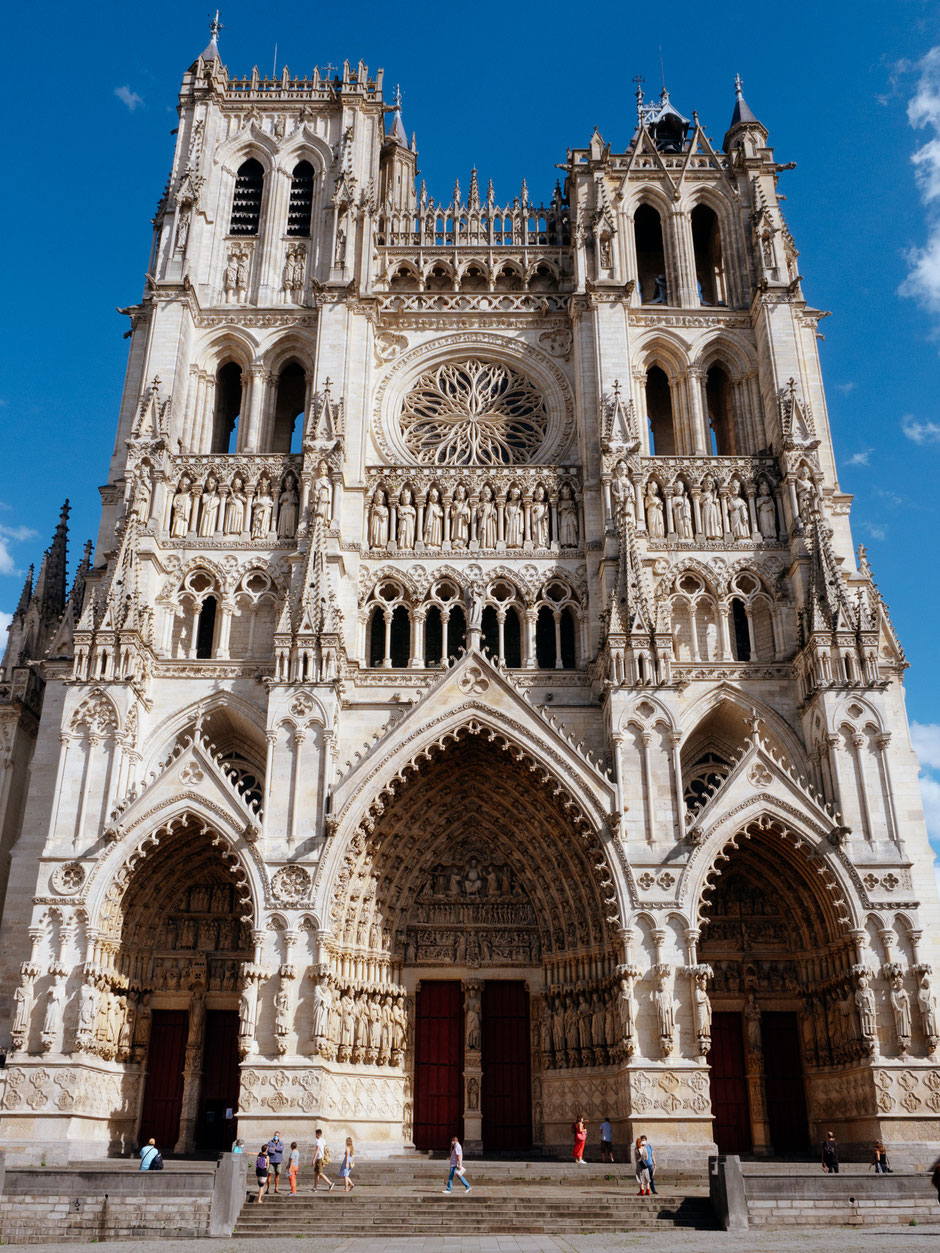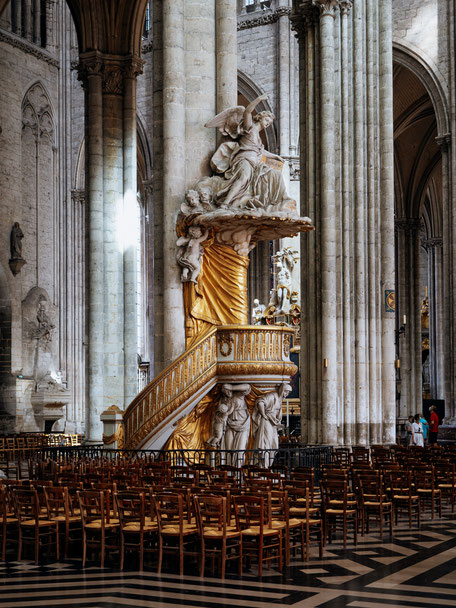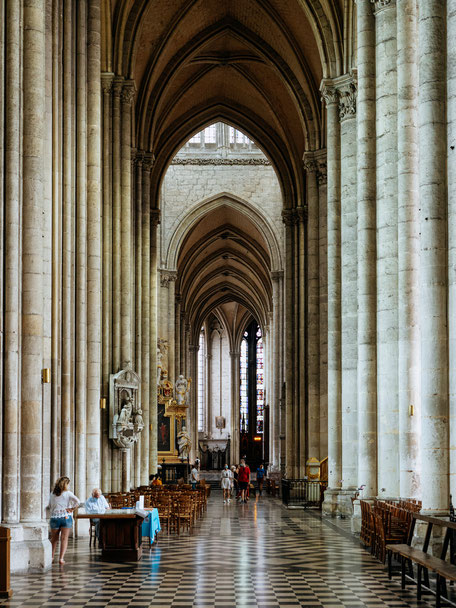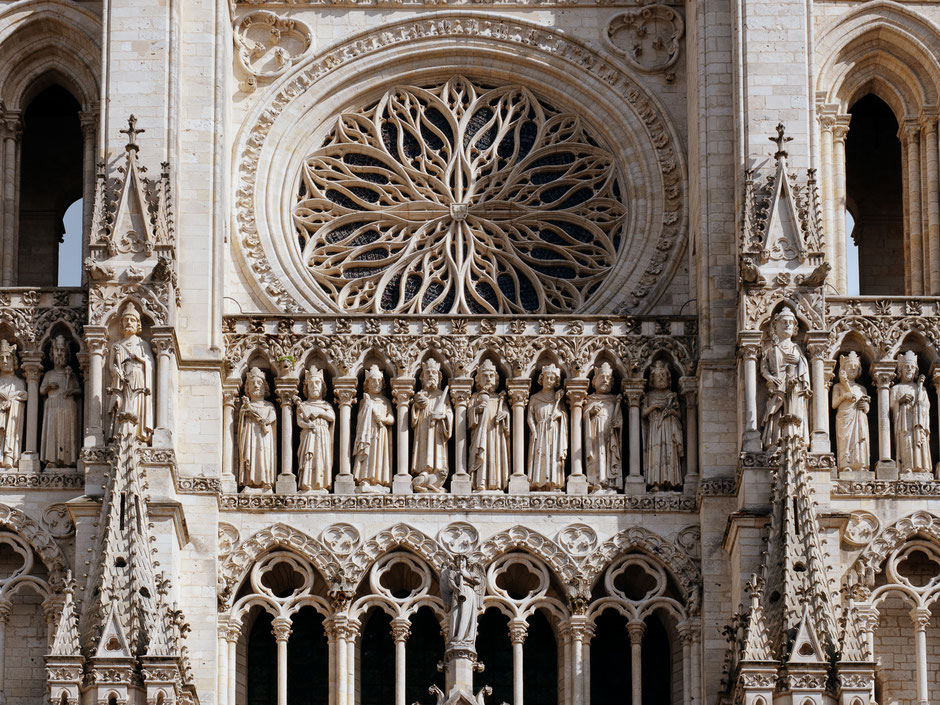 2. SAINT-LEU & QUAI BÉLU
Located between the majestic Amiens Cathedral and the gentle waters of the Somme River, the Saint-Leu neighbourhood is one of the most picturesque areas of the city. Its narrow cobbled streets, colourful half-timbered houses, and lively atmosphere make it a must-visit destination for tourists and locals alike.
Saint-Leu's history dates back to the Middle Ages, when the district was built on the water's edge to house the city's many craftsmen and artists. Its location on the river allowed easy access to the mills that were crucial to the work of weavers, dyers, and tanners who flocked to the area. Today, Saint-Leu remains a hub of artistic activity, with many galleries and studios showcasing the works of local artists.
In the mid-twentieth century, the neighbourhood began to suffer from neglect, but the town council's decision to establish universities in the area breathed new life into Saint-Leu. This move attracted a young and dynamic population, and the neighbourhood regained its charm and vitality. In the 1990s, a comprehensive revitalization plan was put in place, including the demolition of some old buildings and the creation of new public spaces such as Quai Bélu, a lively riverside promenade lined with restaurants, bars, and theaters. Today, Saint-Leu is a vibrant and cosmopolitan neighbourhood that showcases the best of Amiens' cultural and architectural heritage.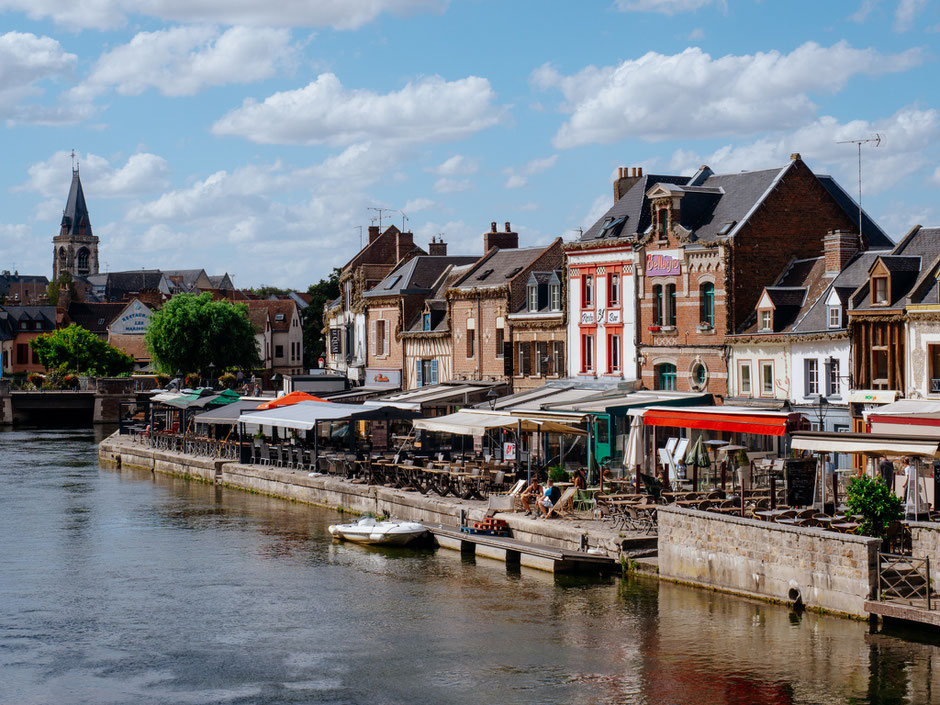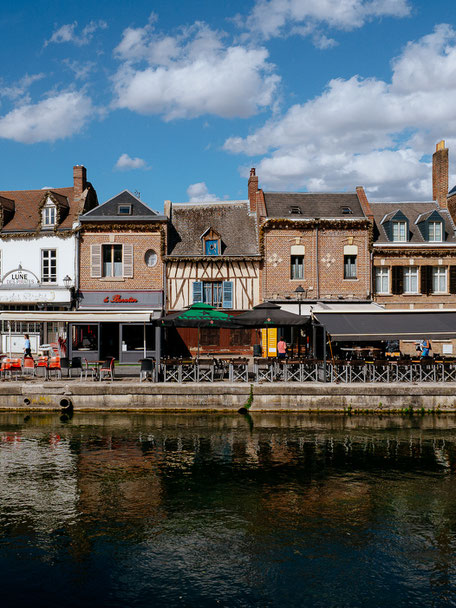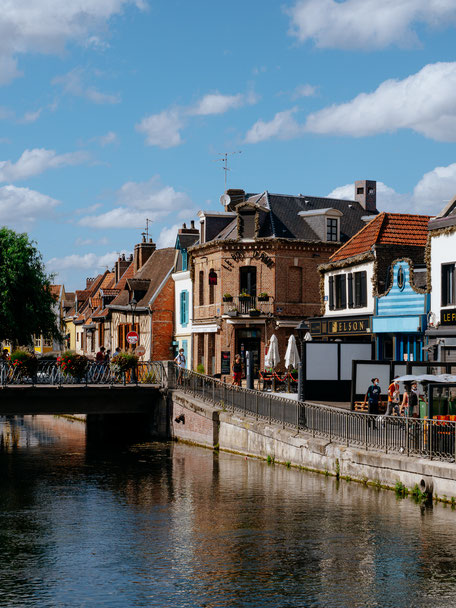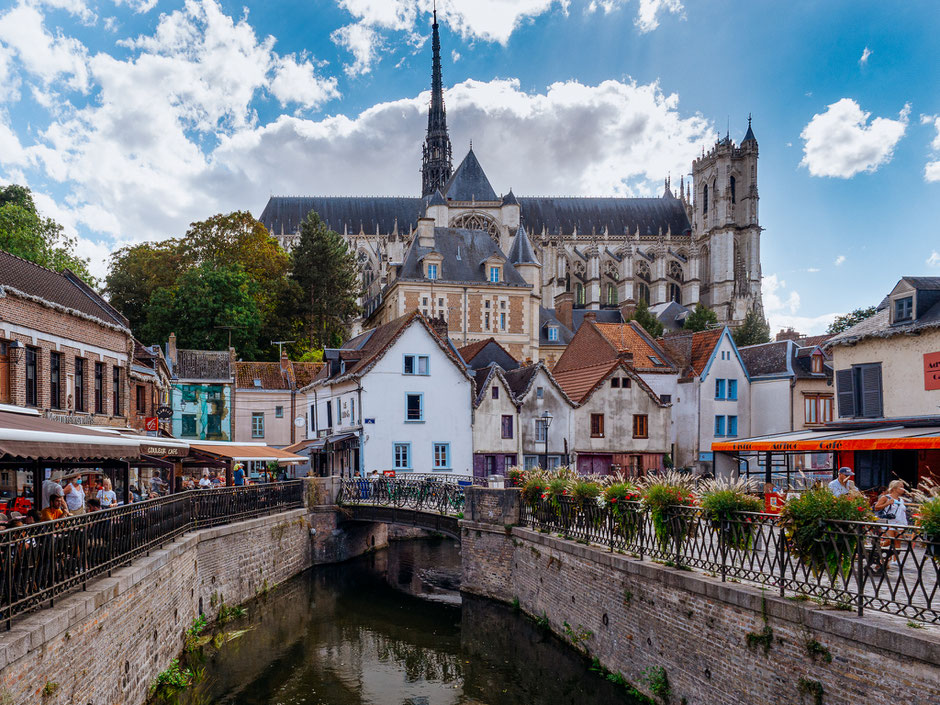 3. LES HORTILLONNAGES
As mentioned earlier, while Amiens is well-known for having the largest Cathedral in France, it is the Hortillonnages that truly make the city stand out! Often referred to as the "green lungs" of Amiens, the Hortillonnages are located just a few steps away from the old town, yet offer a tranquil and peaceful environment that is surprising to find so close to the bustling city center.
Let's now dive into the history of the Hortillonnages! These lush wetlands and tiny islands on the Somme river were already a prime location for Roman vegetable cultivation. Back then, the Hortillonnages sprawled beyond their current boundaries, covering a whopping 10,000 hectares. But over time, their size dwindled. By 1900, they had shrunk to a mere 500 hectares, and today, they span 300 hectares. Despite this dramatic decrease in size, the Hortillonnages have thankfully managed to avoid being wiped off the map entirely!
Exploring the Hortillonnages by foot may seem tempting, but trust me, the only way to truly experience these enchanting floating gardens is by hopping aboard one of the iconic "barques à cornets" (horn-shaped boats). These traditional boats are equipped with eco-friendly electric motors that won't harm the local flora and fauna. During your 45-minute journey, a knowledgeable boatman will steer you through the intricate network of canals, regaling you with fascinating stories about the history of this place.
The Hortillonnages offer a diverse landscape that can transport you to a magical forest with soaring trees and birdsong, or to an open garden adorned with breathtaking wildflowers and perfectly manicured lawns. Along the way, you'll come across charming cottages and huts that have been passed down from one generation to the next, adding to the area's rustic charm.
| Opening hours - daily from 9 a.m. to 12. p.m. - 1.30 p.m. to 6 p.m. (from April 1 to October 31) |
| Admission - 5.90 EUR |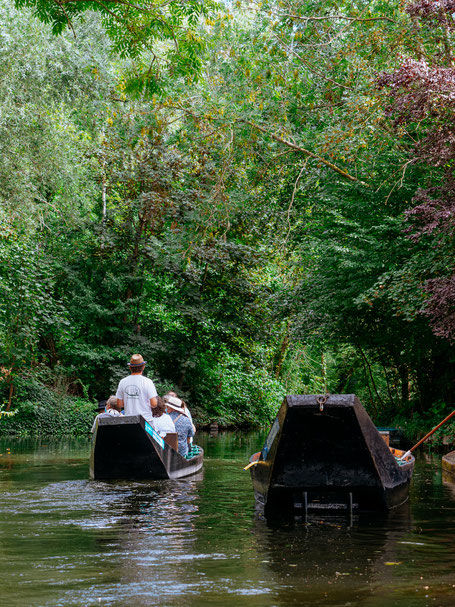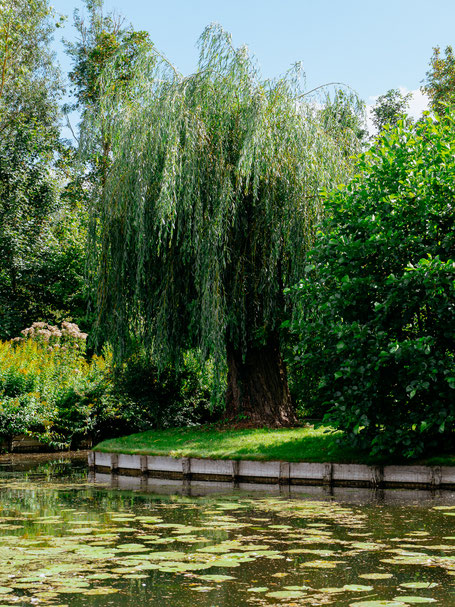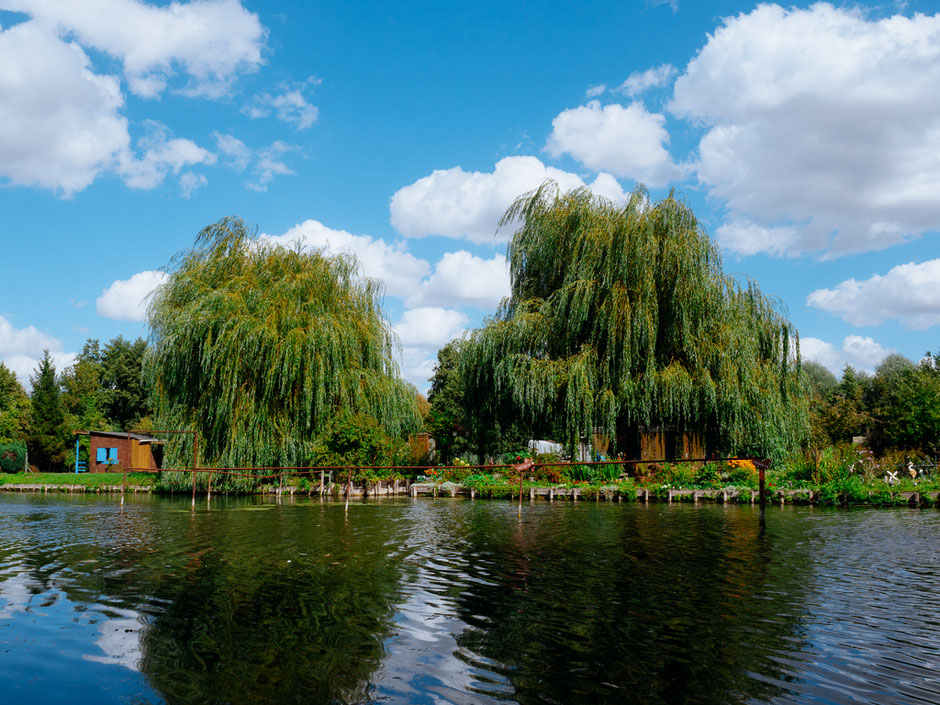 EATING THERE
Discover some delightful spots in Amiens that we personally recommend. Step into La Manufacture, a local brasserie where you can enjoy traditional regional dishes. A must-try is the Welsh, a delightful specialty made with cheddar cheese, bread, and beer. For a mountain escape in the heart of Amiens, head to Le Ch'ti Charivari. This hidden gem specializes in hearty delights like raclette and fondue, creating an ambiance reminiscent of alpine getaways. It's a preferred choice for those seeking a warm and comforting dining experience. For an Asian culinary odyssey, venture to Pho du Dragon, where a diverse menu, featuring our personal favorite, ramen, transports you to the vibrant streets of Asia. It's a must-visit for enthusiasts of Asian cuisine. Indulge in the authentic flavors of Italy at Chez Rosa, our go-to spot for mouthwatering pizzas. The inviting atmosphere, coupled with the tantalizing aroma of freshly baked crusts, makes it the perfect place to unwind and savor a slice of la dolce vita. And for a delightful Lebanese experience, Snack El Balad is a standout spot known for its delectable takeaways, with the garlicky French fries being an absolute must-try.
Discover a haven of relaxation at Green Corner and Café Pinson, two distinct addresses that offer unique experiences in the realm of beverages. At Green Corner, the atmosphere is laid-back, creating the perfect backdrop to enjoy everything from soothing coffees to refreshing cocktails. Whether you're looking for a cozy spot to catch up with friends or a quiet corner to dive into a good book, Green Corner caters to your beverage desires. Meanwhile, Café Pinson invites you to a chic and trendy space, adding a touch of culinary sophistication to your exploration of Amiens. Here, sip on carefully crafted drinks while immersing yourself in the stylish ambiance, making it an ideal choice for those interested in a refined and sophisticated drinking experience.
OUR FINAL THOUGHTS
In short, Amiens is a city that is often overlooked, but it truly has a remarkable and rich history. Although this post has covered just three main attractions, there is so much more to see and explore! Make sure to check out our post on the Notre-Dame d'Amiens Cathedral (check it here) and don't forget to visit other noteworthy spots such as the Museum of Picardie and the House of Jules Verne.
---
Let's hear from you! Have you had the chance to explore Amiens and uncover its hidden gems? Share your tips, experiences and thoughts with us in the comments section below. We can't wait to hear from you!
---
YOU MIGHT ALSO LIKE..