---
It's certainly not the first time we're telling you this but Rafael is a real winter maniac, I (Thomas) am a little less so! Maybe because in my home region (North of France), snow generally means chaos since everything stops working as soon as a snowflake falls from the sky. Growing up in Rio (Brazil), Rafael saw snow in movies and series - especially during Christmas time - so for him it is something very special, almost magical! This is why every winter, he insists that we go on holiday somewhere snowy. After Füssen and the Taunus Mountains in 2018, Oslo in 2019, and Chamonix in 2020, we decided to go to the French Alps (again) last year. We stayed in the La Clusaz area for a week but decided to go on a day-trip to one of the most famous French ski resort: Megève!
Megève is a charming Alpine town located in the Rhône-Alpes region and is often overlooked by big tourist companies, which in the end makes it one of France's most elegant and exclusive ski resorts. This Megève travel guide is designed to give you a glimpse of what to expect from this chic ski resort in just a single day by showcasing some of the best clichés we took of this town. Whether you're willing to go on a stroll through the streets of the village or looking for an unforgettable ski experience, we've got you covered!
---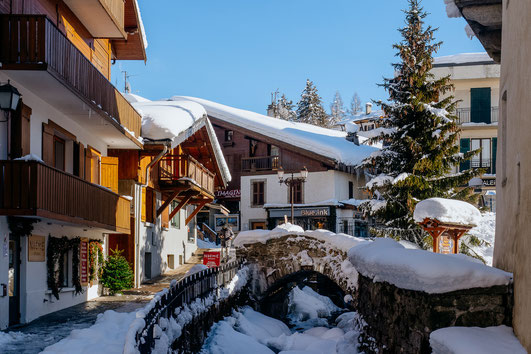 ---
---
GENERAL INFORMATION
As mentioned above, Megève is located in the famous Alps region, more particularly in Haute-Savoie. Haute-Savoie is a French département which is internationally known for its mountains, lakes and numerous ski resorts such as Chamonix, Morzine or La Clusaz. Megève's ski resort is located at the crossroads of the pre-Alpine massifs of the Giffre to the north, the Aravis chain to the west and the Alpine massif of Beaufortain to the southeast, which makes it an ideal place for skiing and hiking enthusiasts who can quickly immerse themselves in the surrounding mountainous nature.
This chic ski resort town is located at an average altitude of 1113 meters (3650 feet). Due to its altitude, the village offers a magnificent panorama of Mont Blanc and Megève's ski slopes offer breathtaking views on the surrounding mountain ranges. Megève is a tiny urban center located at high altitude and has just over 3,000 inhabitants; although this number seems relatively small, its population increases dramatically during the high tourist season. In short, as soon as you set foot in this mountain village and stroll through its streets and alleys, you quickly understand why it became so popular!
HISTORY
Since the dawn of time, legends around the foundation of Megève did not stop spreading! One of these legends is the one involving Sire Faulignac de Gibertain, a knight who killed a dragon, whose blood formed the valley where the current town stands. But an even more famous legend is the one of Muffat and Grosset, two journeymen who are considered today as the founders of Megève. When they arrived in Megève, the place was a dreadful desert, haunted by horrible monsters and where thieves often came. And legend has it that a "flying viper" that devoured everyone it met was the reason why Megève was so uninhabitable. Muffat faced the ugly beast with his arrow while Grosset, his faithful companion, followed him with his heavy stick full of iron spikes. It was not without pain and fear that both of them managed to crush the big head of the viper and were finally able to kill it. From that moment, shepherds from the surroundings came to cultivate the land and settle in the village; this is how Megève was born.
However, as it was the case for most villages in the French Alps, Megève has been forgotten by history throughout the centuries. It was only during the Roaring Twenties (1920's) that the modern history of Megève began. In post-war France, the increase in salaries and the adoption of labor laws led to a new idea: vacation travel. And the richest did not want to be left out of this new era. This is why the famous Rothschild family decided to change Megève's peaceful peasant lifestyle. The family's goal was to build a French ski resort to compete with the neighboring Swiss resort of Saint-Moritz. Their desire was to create a winter sports resort bearing the symbols of the French art of living: luxury hotels, gourmet restaurants and art galleries. The resort developed fast and the first gondola was built in 1933, it was France's first gondola to be built for the sole purpose of bringing tourists to the top of the mountains so they could slide it down. Since then, Megève has been highly coveted by people from all over the world who come to visit this almost century-old chic resort.
HOW TO GET TO MEGÈVE?
Below you will find some information on the different ways to reach Megève:
By plane: the 

nearest airports

 Megève are located in 

Geneva

(70 km, approx. 1 hour), Chambéry (85 km, approx. 1 hour 15) and Lyon (190 km, approx. 2 hours 20).
By

 

train

: 

travelling to Megève is possible but is not the easiest journey since the ski resort is not equipped with a train station. From the main French cities (such as Lyon, Paris or Marseille), a stop to Annecy is necessary. From there, you can take a regional train to St-Gervais-les-Bains, which is the closest station to Megève. Regional trains from Annecy to St-Gervais run everyday and take approximately 2 hours 10. From St-Gervais-les-Bains, you can then catch a bus or arrange a taxi to reach Megève.
By car: travelling to Megève by car is a very attractive option as it allows you to discover the surroundings. It is one of the easiest ski resorts to reach by car. Below are some information for the travelers who decide to come to Megève by car:

From Chamonix: 34 km, approx. 45 minutes.
From Annecy: 60 km, approx. 1 hour and 20 minutes.
From Geneva: 70 km, approx. 1 hour and 10 minutes.
From Lyon: 190 km, approx. 2 hours 20 minutes.
WHAT TO DO IN MEGÈVE?
1. STROLL AROUND TOWN
As mentioned above, Megève is a very coveted ski resort, in other words, life in Megève is expensive. The village is home to rustic yet chic chalets, upscale hotels, designer boutiques, art galleries and more. Its pedestrianized center includes medieval cobblestone streets that make for a pleasant stroll through the village.
During winter, we highly recommend strolling down the streets, stopping at cafés for a hot chocolate and basking in the warm sunlight on a chilly day! We think a whole day can be spent on a nice, slow walk through the city, just take it easy and enjoy the peaceful atmosphere that emanates from this charming little village! If you have some time, try to climb at the top of the ascent of the Calvary (Calvary Nature Trail), the walk lasts about 1 hour for 1.8 km and is can be easily done by families with kids.
2. HORSE-DRAWN CARRIAGE
Les Traîneaux de Megève invite you to discover the charming village of Megève, its picturesque streets and the beautiful surrounding landscapes to the sound of the horses' bells. It is a good way to discover the town, although we must say that the price is quite high. The meeting point for the carriage is located in the main square of the village (Place de l'Église).
| Opening hours - all year round from 10.30 a.m. - 7.30 p.m. (more information here) |
| Admission - 35 EUR (15 minutes) |
3. MEGÈVE SKI RESORT
As we already mentionned above, Megève is internationally famous for its ski slopes. The ski resort is part of a larger group of 8 ski resorts which form a ski resort with a total of more than 160 slopes: the "Evasion Mont Blanc" resort. This resort has more than 450 km of slopes with exceptional panoramas and a permanent view on the Mont Blanc. The resort offers a wide variety of slopes: 29 green slopes for beginners but also 23 black slopes for the more experienced.
| Admission - 47 EUR for a one day ski pass (more information here) |
OUR FINAL THOUGHTS
We really enjoyed the day we spent in Megève! This chic little village is absolutely charming! If you are looking for a mountain retreat and/or for a skiing destination, Megève is a great destination to go to! However, keep in mind that it is one of the most expensive ski resort in the French Alps, so be prepared to spend quite a lot of money if you intend to stay for more than just one day there!
---
And now it's your turn to share your experience, thoughts and also tips to visit the chic town of Megève. Have you already been there? We look forward to reading your comments in the section below.
---
YOU MIGHT ALSO LIKE..