---
Hey, fellow snow-lovers! As you may know from my previous posts, I'm a winter fanatic! Growing up in Rio, I didn't get to experience much snow, so every time I see those precious flakes falling from the sky, I am filled with wonder! On the other hand, Thomas is not as crazy about snow as I am, probably because he's from an area where snow causes more chaos than joy. But I managed to convince him to join me in my snow adventures, and we've been planning at least one snowy trip every winter! We've already hit up Füssen in 2018 and Oslo in 2019, and in 2020, we decided to conquer the Alps!
Our Chamonix travel guide is here to help you make the most of your two-day stay in this breathtaking mountain resort city. Whether you're a skiing enthusiast, a foodie looking to indulge in some of the best local dishes, or simply want to take a leisurely stroll around town, we've got you covered! And if you're planning to stay an extra day in Chamonix and want to explore more of the area, be sure to check out our other post, where we spill all the juicy details about visiting the Aiguille du Midi and the Mer de Glace (you can find it here).
---
---
---
GENERAL INFORMATION
Chamonix is a charming alpine town that promises to leave you spellbound with its stunning natural beauty. Nestled amidst the towering peaks of the French Alps, it exudes a magical ambiance that sets it apart from other destinations. What's more, it is home to the Mont-Blanc, the highest peak in Europe, towering over the town at an incredible 4,809 meters (15,780 ft).
Despite its small size, Chamonix is easy to explore and is an absolute must-visit destination. As soon as you step foot into this charming mountain village, you will immediately understand why it has gained such widespread popularity. Take a leisurely stroll around the quaint streets, sample some hot chocolate at the local cafés, and bask in the warm sunlight on chilly days. We recommend dedicating an entire day to simply taking in the town's unique charm and character.
While exploring the village is undoubtedly an unforgettable experience, you cannot miss the opportunity to explore two of its most iconic attractions – the Aiguille du Midi and the Mer de Glace. Known as the roof of Europe, Mont-Blanc and the Valley of Chamonix are home to these popular gems that are bound to leave you spellbound. If you have an extra day to spare in Chamonix or wish to maximize your time in the area, we strongly recommend visiting these two top attractions.
---
 | For more information about the Aiguille du Midi and the Mer de Glace, check our post here |
---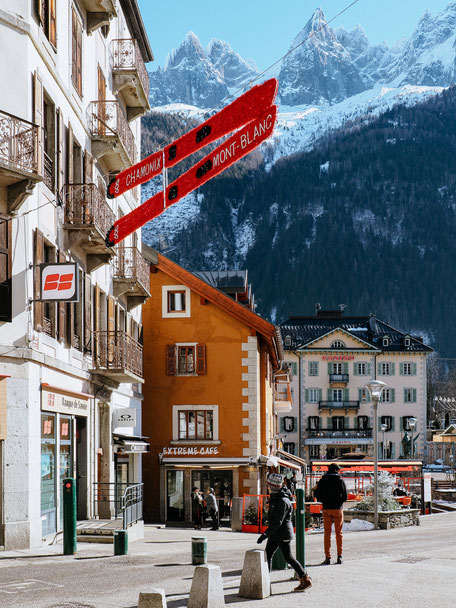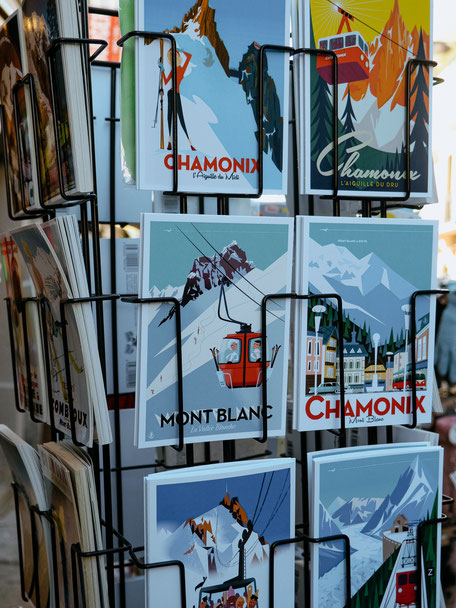 HISTORY
Chamonix's history can be traced back to the 11th century when it was a part of the feudal domain of the House of Savoy. However, due to its harsh climate and isolation, the town didn't gain much historical significance until the 18th century. It was in this century that two Englishmen, Richard Pococke and William Windham, visited the valley in 1741 and published an article about its stunning natural beauty. This sparked a surge of visitors eager to explore the picturesque village, and Chamonix began to gain prominence as a tourist destination.
Over time, the tourism industry in Chamonix grew, starting with Alpine mountain guides who led visitors on adventurous expeditions. Later, hotels and a ski station were developed to cater to the increasing number of tourists. In 1924, Chamonix had the honor of hosting the first Winter Olympic games, which not only boosted its international fame but also helped to establish it as a classy, old-style ski resort that we know and love today.
From humble beginnings as a small feudal town, Chamonix has evolved into a world-renowned tourist destination with a rich history and stunning natural beauty.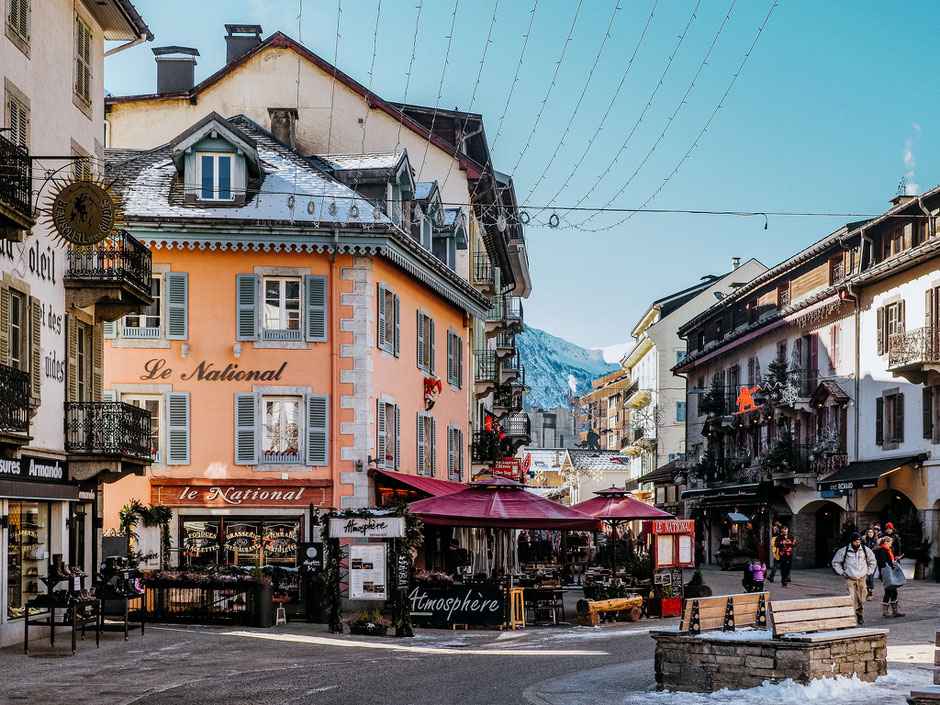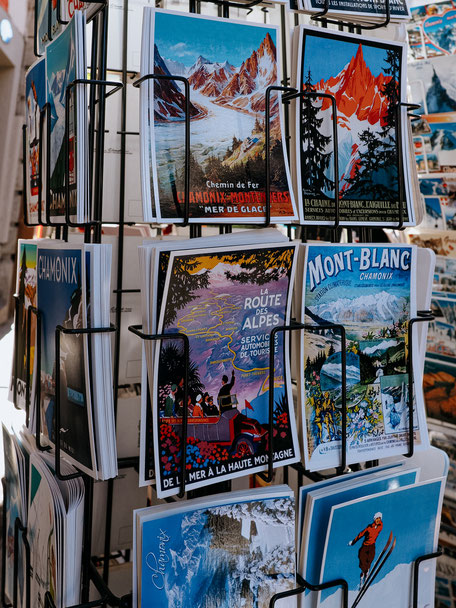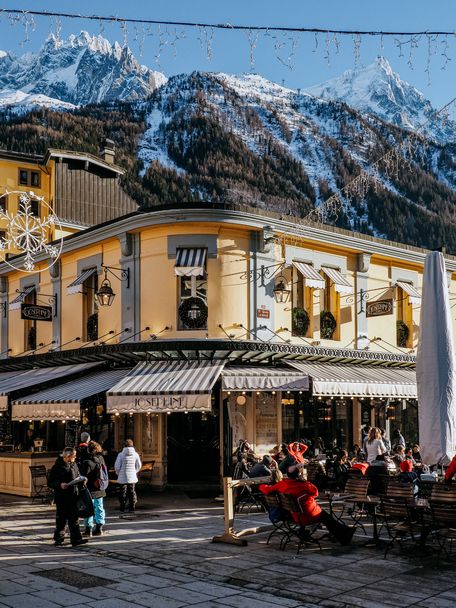 DAY 1 - WALK IN THE VILLAGE
1. PLACE BALMAT
Our itinerary of Chamonix begins at the heart of the town – Place Balmat. This charming square, located right in front of the post office, is named after Jacques Balmat, who was the first person to climb Mont Blanc. With its picturesque French alpine architecture and breathtaking views of the surrounding mountain peaks, this square is the perfect starting point for your adventure in Chamonix. From here, you can explore the streets that lead to some of the town's most popular attractions and soak in the delightful ambiance of this quaint alpine town. The stunning views and the charming buildings are sure to leave a lasting impression on you!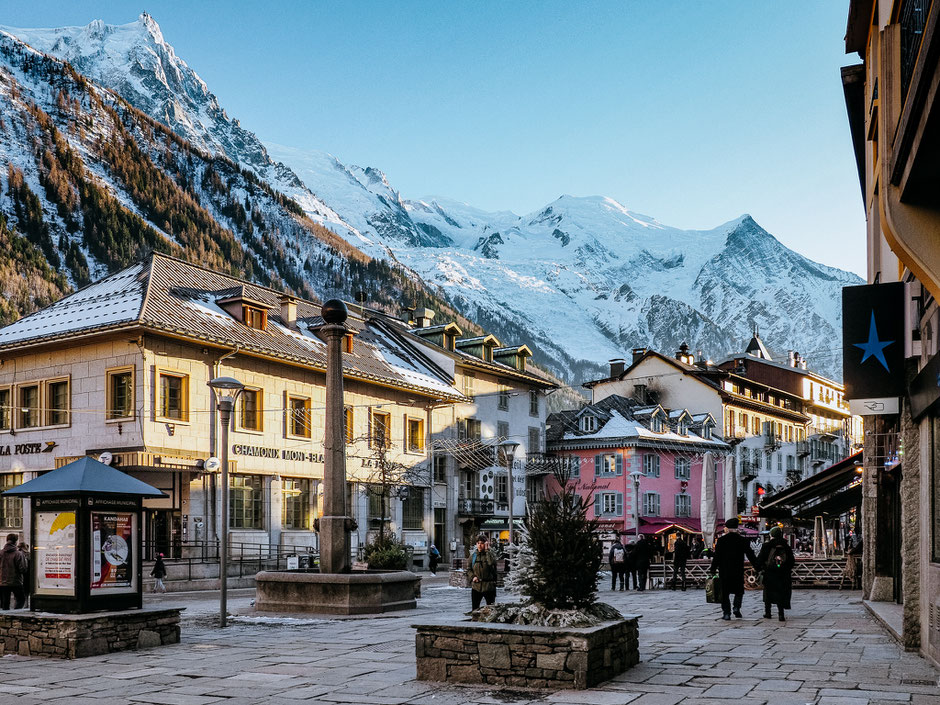 2. STATUE OF HORACE BÉNÉDICT DE SAUSSURE & JACQUES BALMAT
Located at the bustling heart of Chamonix, our second stop takes us to the iconic statue of Horace Bénédict de Saussure and Jacques Balmat on Place Balmat. This sculpture commemorates the captivating tale of how the first two men conquered Mont-Blanc and all the controversies that ensued. Jacques Balmat, a local mountaineer, and Horace Bénédict de Saussure, a wealthy Genevan who was passionate about alpinism, shared the common dream of conquering the highest peak in Western Europe. Saussure, who was willing to offer a financial reward to anyone who could make it to the top, played an instrumental role in the first ascent.
The bronze statue was erected in 1887 to celebrate the centenary of the first ascent and captures a proud and jubilant Balmat pointing out to the top of Mont-Blanc and a determined and well-equipped Saussure. However, there is a twist to this tale! Though Saussure was able to reach the summit the following year, he only financed the journey of the first two men who did it. So, who was the second man and why is he missing in the statue? Well, Balmat's partner on the first ascent was Doctor Michel Pacard, a physicist who was keen on running weather measurements at the highest point of the region. Pacard had been attempting to reach the summit since 1783 and is believed to have led the successful expedition three years later, becoming the first to reach the top along with Balmat.
Despite the controversy, both Balmat and Pacard deserve immense credit for their remarkable achievement. They reached the summit without the advanced alpine equipment available today, unroped, only with iron batons and heavily loaded with meteorological equipment for Pacard's experiments. Later on, in honor of the bicentennial of the first climb, a statue homaging Michel Pacard was erected a few meters away from the original statue, finally giving him the recognition he deserved!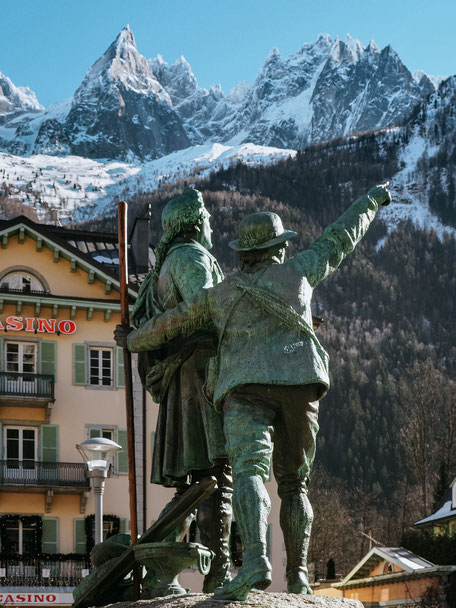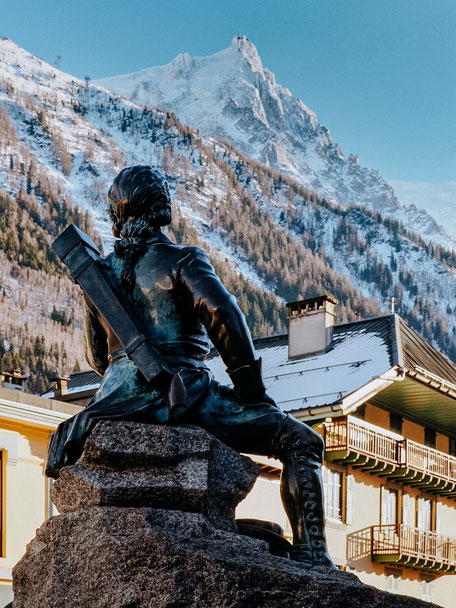 3. THE BRIDGE
Continuing our Chamonix adventure, the third stop takes us on a lovely stroll along the river Arve. The sound of the flowing water and the fresh mountain air provide the perfect setting for a peaceful walk. Following the river upriver, we reach a charming covered wooden bridge that leads to the Place du Mont-Blanc. The bridge offers a breathtaking view of the snow-capped peaks and provides a perfect backdrop for a romantic photo!
The Place du Mont-Blanc is a more modern square with a minimalist architecture that complements the surrounding mountains perfectly. The lack of buildings provides an unobstructed view of the majestic peaks, making it a must-visit spot for photography enthusiasts. During the summer, the square is adorned with colorful flowers that add a touch of vibrancy to the already picturesque scenery. This is the perfect spot to take a break and simply bask in the beauty of nature before continuing on our journey through Chamonix.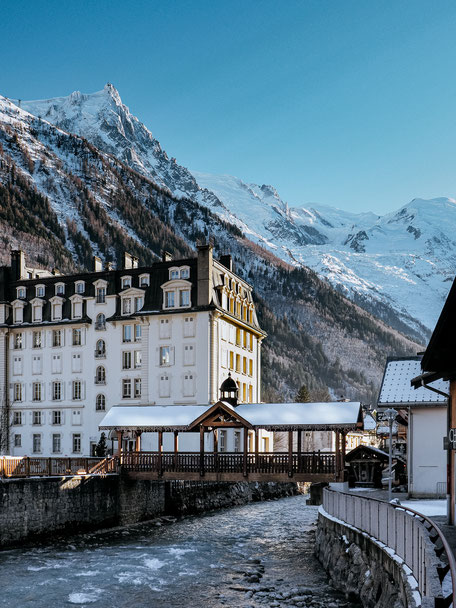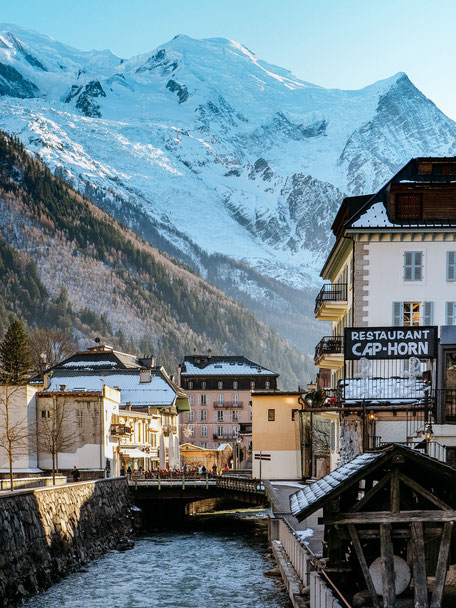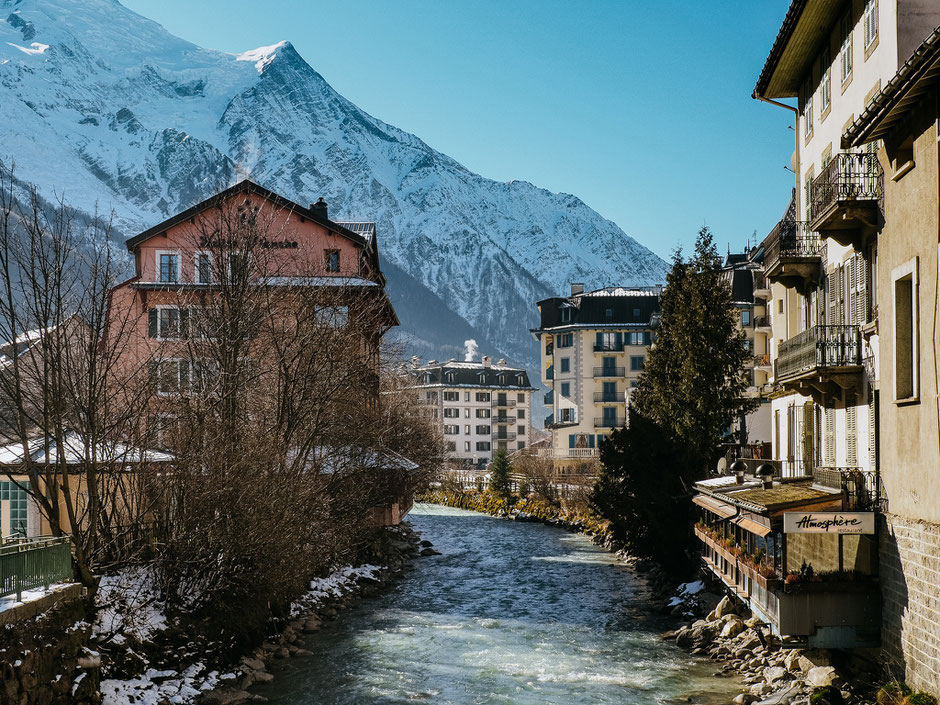 4. RUE JOSEPH VALLOT
Our itinerary now takes us to Rue Joseph Vallot, named after the 19th-century French astronomer and alpinist. Let's delve a bit more into the view from this street. As you stand on this picturesque street, you'll be mesmerized by the stunning backdrop of the French Alps. The snow-capped peaks are a sight to behold and seem to stretch out endlessly into the horizon. The quaint, alpine-style buildings in the foreground only add to the charm of the scenery.
Now, let's talk a bit more about Joseph Vallot. Not only was he an accomplished alpinist, but he was also a pioneering astronomer who made significant contributions to the study of the atmosphere at high altitudes. He was one of the first scientists to conduct meteorological studies on Mont-Blanc, and his observatory at the summit played a vital role in advancing our understanding of the upper atmosphere.
But perhaps one of his most daring feats was spending three days and three nights in a tent on the summit of Mont-Blanc in 1887. This was a bold move at the time since doctors believed it was dangerous to sleep at such high altitudes. But Vallot's successful expedition proved that it was indeed possible to live, sleep, eat, and work at such heights. He also had a vision for bringing tourists to the summit of Mont-Blanc, and his work on the Aiguille du Midi cable car project laid the foundation for the cable car that was inaugurated in 1924, making it the first of its kind in France.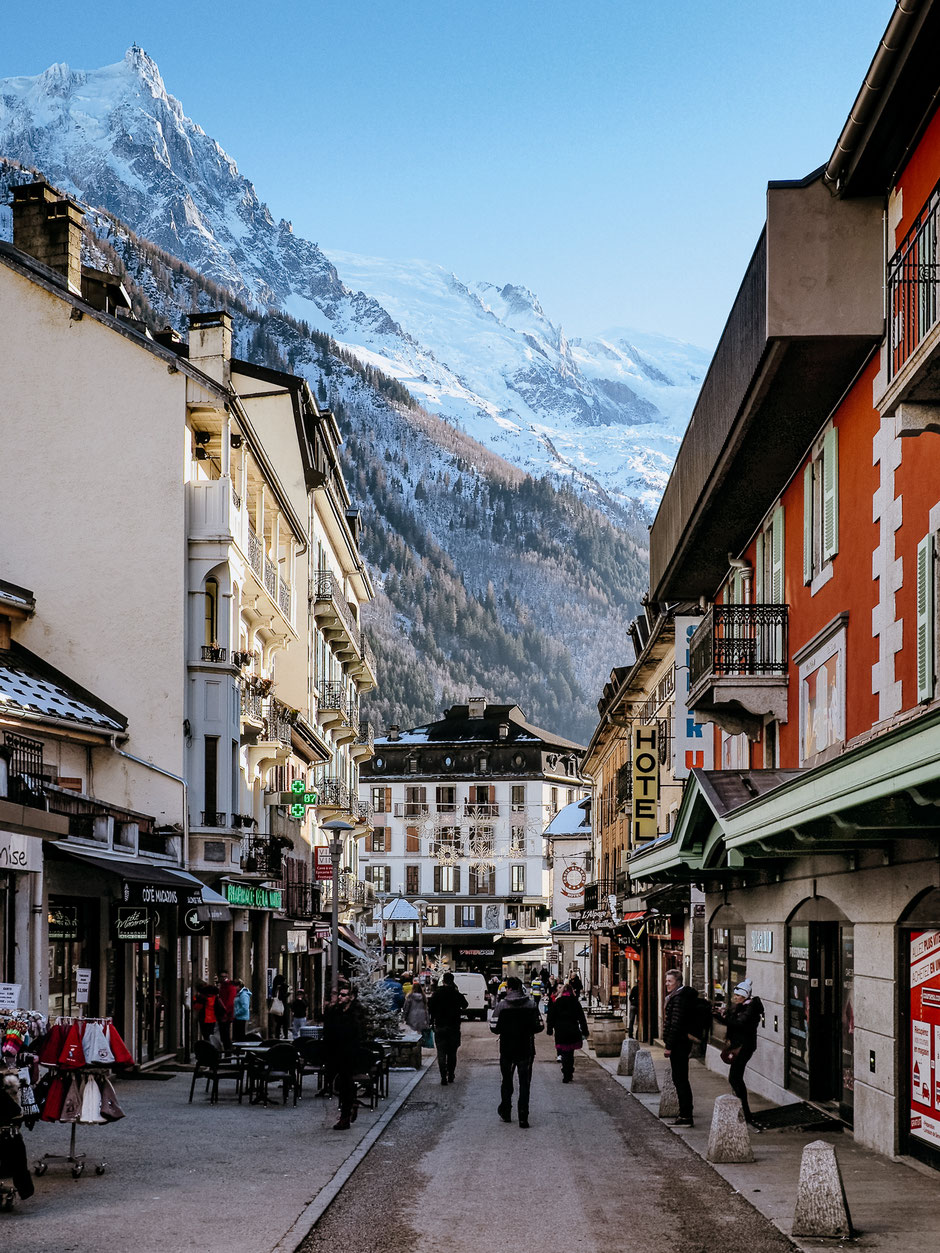 5. CATHOLIC CHURCH OF ST. MICHEL
As we continue our leisurely stroll through the picturesque streets of Chamonix, we come across the Church of Saint-Michel, a stunning example of Savoyard Baroque or Alpine style architecture. This Catholic church boasts a unique bulbous bell tower and a fascinating history dating back to the 11th century. Legend has it that Count Aymon I of Geneva gifted the Valley of Chamonix to the Abbey of Saint-Michel-de-la-Cluse in Piedmont, with the monks establishing the Priory of Chamonix on the right bank of the Arve river in 1204. Since then, the church has played a significant role in the local community.
Each year, on August 15th, the Church square is the site of the traditional Fêtes des Guides ceremony, which honors the new mountain guides and pays tribute to those who have lost their lives in the mountains. This is just one of the many ways in which the Church of Saint-Michel continues to play an integral role in the life and culture of Chamonix.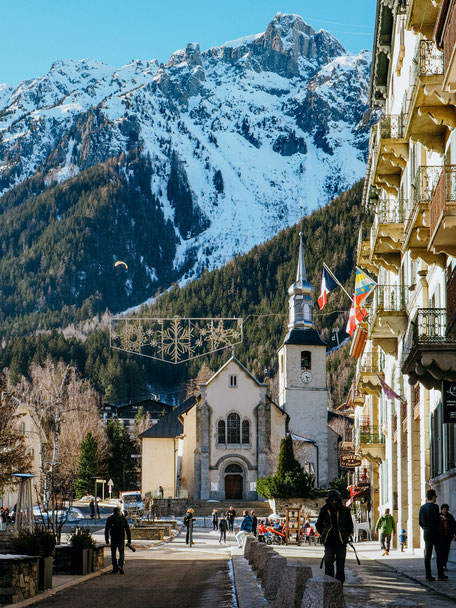 6. DINNER AT LE MONCHU RESTAURANT
Our final stop on this wonderful walk is a culinary delight. After a day of exploring the breathtaking city of Chamonix, it's time to unwind and savor a delicious traditional dinner at one of the many restaurants this charming city has to offer. Our top choice is Le Monchu, an alpine-themed restaurant with a warm and inviting atmosphere that exudes a cozy mountain charm.
The food at Le Monchu is simply amazing! We highly recommend their 26.50 EUR menu, which includes a generous serving of soupe à l'oignon for starters (which was so filling that we were almost full!), followed by the mouthwatering and substantial tartiflette (a classic French dish made with potatoes, bacon, and lots of cheese) as the main course, and a chocolate mousse for dessert. We also had the pleasure of sampling the local beer, Brasserie du Mont-Blanc, which perfectly complemented the hearty and authentic flavors of the dishes.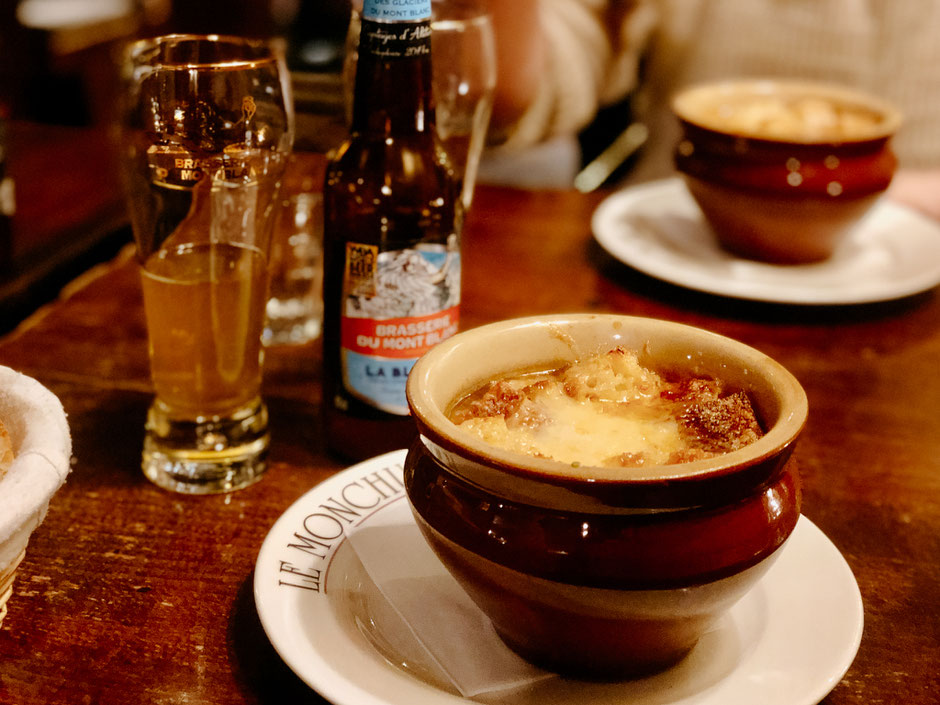 DAY 2 - A PERFECT SKI DAY
1. MONT BLANC NATURAL RESORT
Let's hit the slopes together on this second day itinerary in Chamonix! Since the early 19th century, Chamonix has been a popular tourist destination and the Chamonix Guides Association was formed in 1821 to regulate access to the slopes, primarily for mountain climbers. As winter sports grew in popularity towards the end of the 19th century, cable cars and lifts were built to accommodate skiing. Today, the Mont Blanc Natural Resort encompasses five ski resorts in the Chamonix Valley, with a total of 152 km of slopes (check out the map here).
Our top recommendation for your stay in Chamonix is to purchase the Mont Blanc Unlimited Pass. This pass is essential whether you plan to ski all day or visit the Aiguille du Midi or the Mer de Glace. The pass costs 65 EUR per person for one day and provides access to all ski areas (including Brévent, Flégère, etc.), all attractions in Chamonix, and all public transportation. While it may seem a bit pricey at first, considering all the inclusions, it's actually quite reasonable. If needed, the pass can be purchased for more than one day. We purchased the two-day pass (130 EUR per person) to ski on one day and visit the Aiguille du Midi in the morning and the Mer de Glace in the afternoon on the other day. If you're staying in Chamonix for two days, we recommend doing the same!
| Opening hours - daily from 8.50 a.m. - around 5 p.m. |
| Admission - 65 EUR (one-day pass) |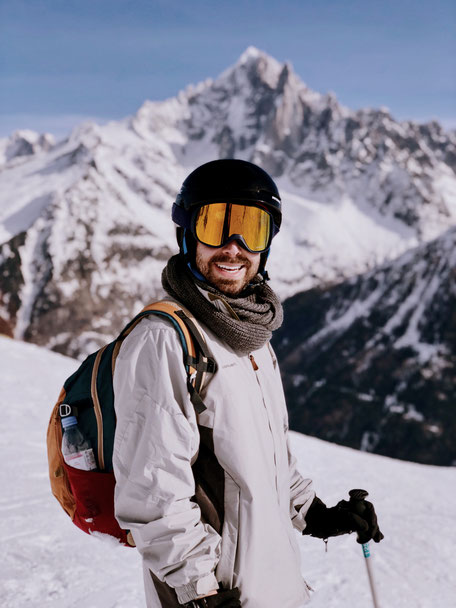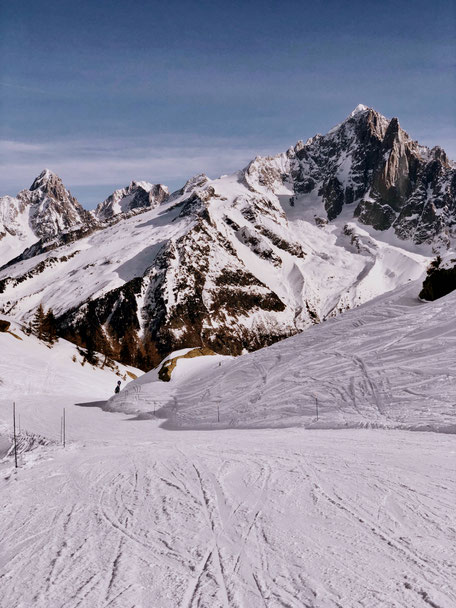 2. PLANPRAZ
The Télécabine de Planpraz provides a scenic ride from Chamonix to the 2,000 meters (6,562 ft) level of Planpraz. This is the perfect starting point for skiing in winter or embarking on hiking adventures in summer. In addition to skiing and hiking, the area is also a popular spot for paragliding, providing an adrenaline-fueled experience for thrill-seekers.
In addition to these thrilling activities, there are also restaurants and toilets available here for your convenience. Take in the marvelous view of the valley while you enjoy a meal or refreshment. For beginner skiers, the Funi 2000 lift provides access to a couple of small green slopes, perfect for practicing your moves before tackling bigger and more challenging ones.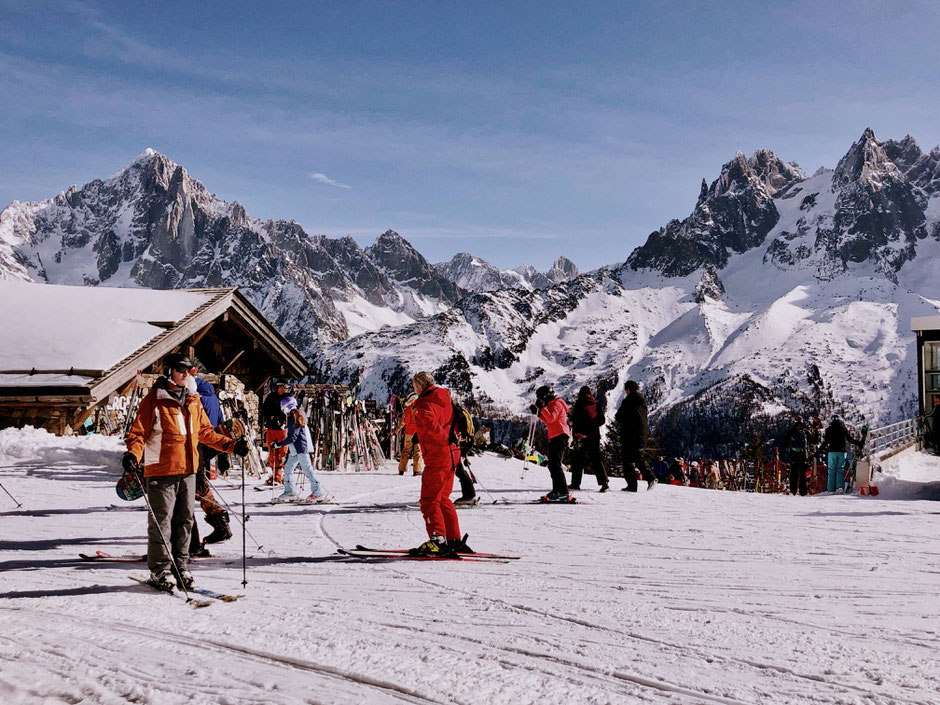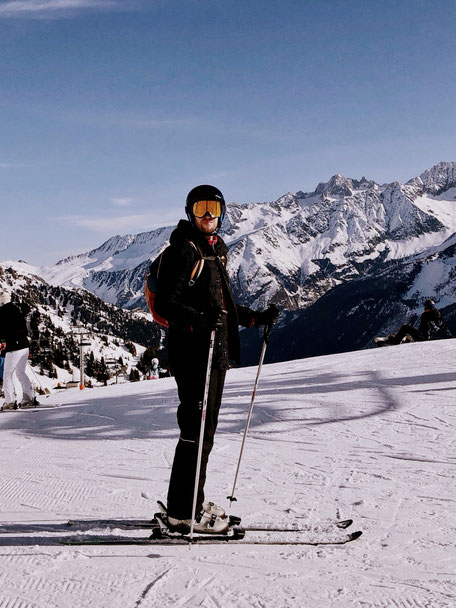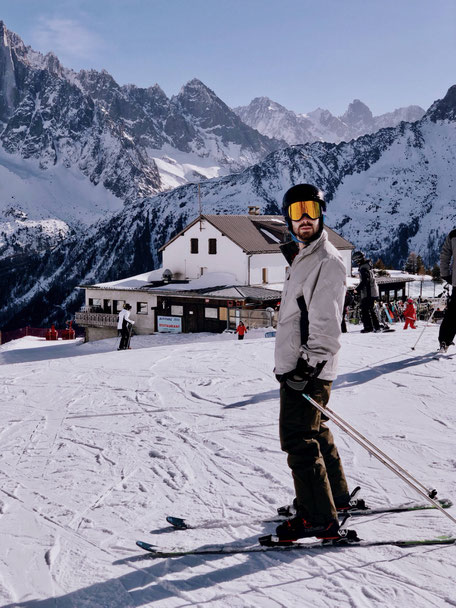 3. LE BRÉVENT
After a few descents on the green slopes to hone our basic skiing skills, we headed over to Brévent. Located in the south part of the valley, the Brévent cable car took us to the resort's highest point, situated at an impressive 2,525 meters (8,284 ft). The view from up there is simply breathtaking! A restaurant with a terrace is available and offers a stunning panoramic view of Mont Blanc. If you're on a budget, there's also a food truck a little further ahead where you can grab some hot and cold drinks, hot sandwiches, and desserts for a more reasonable price. They even have beach chairs laid out for you to enjoy your meal while admiring the unforgettable view! From the top of Brévent, you can either descend through a black ski slope or take the cable car back to Planpraz if you're not up for the challenge!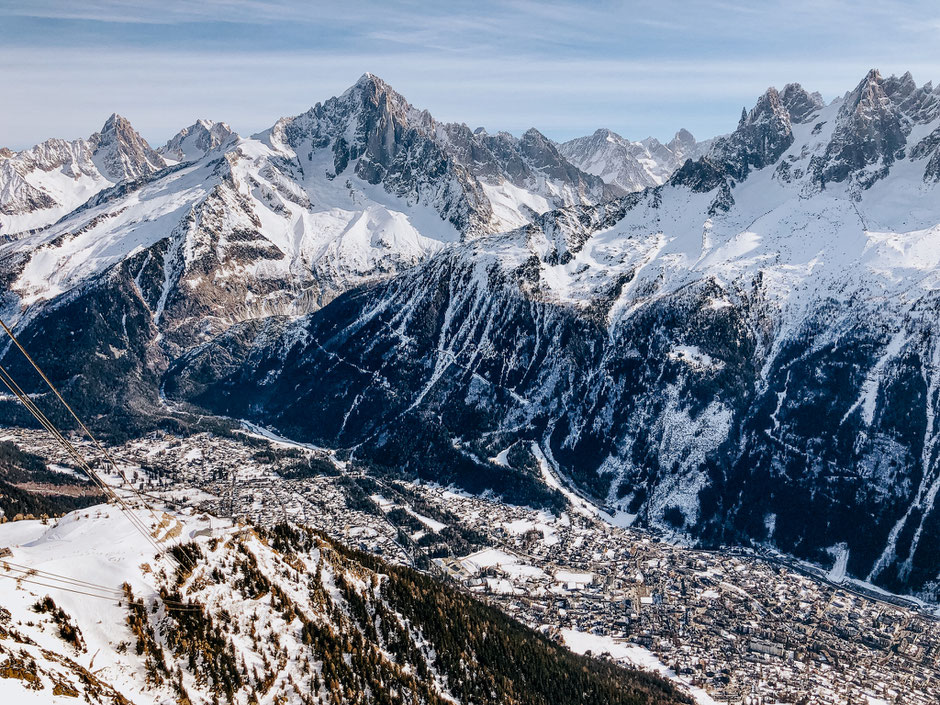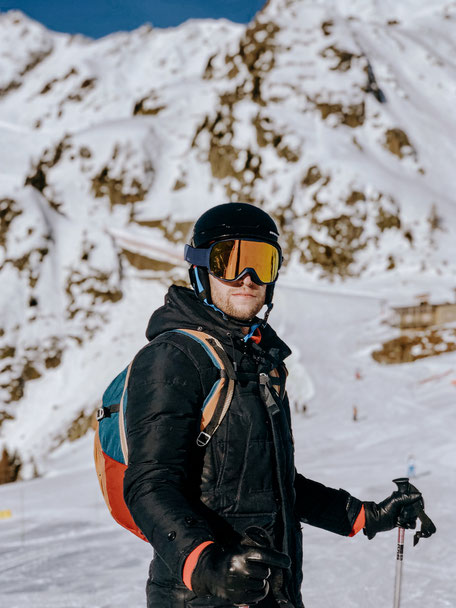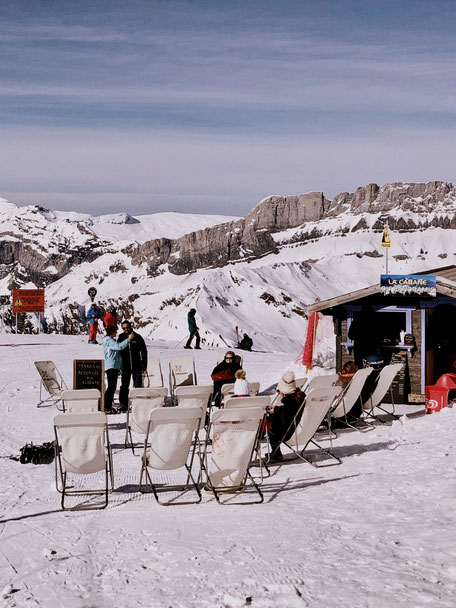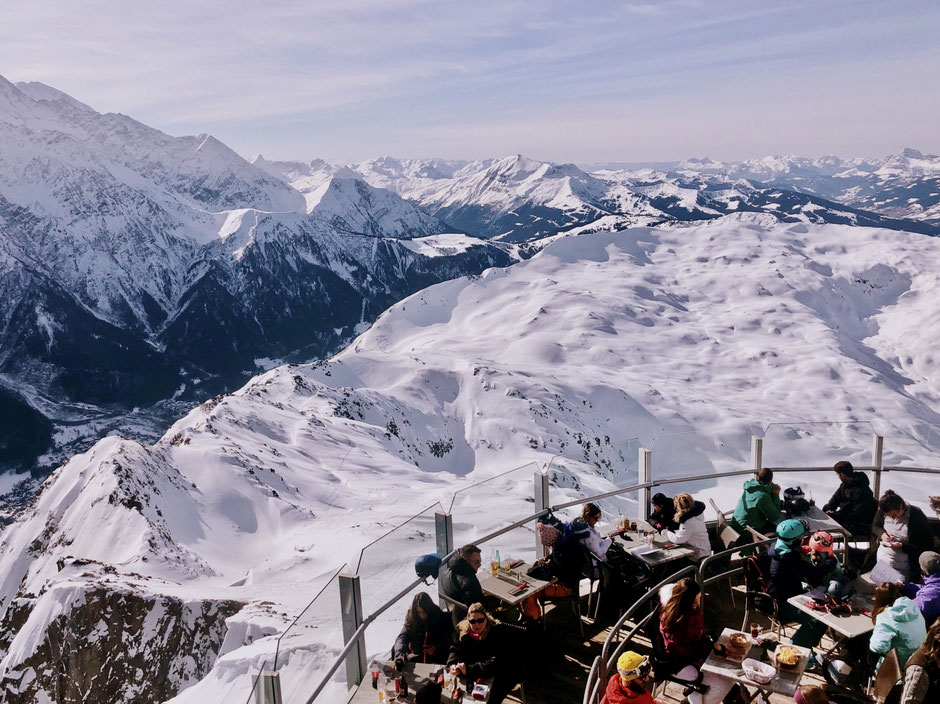 4. LA FLÉGÈRE
After skiing a few times on the green slopes and feeling more confident in our abilities, we decided to explore different slopes in the ski station without endangering ourselves (or others). We consulted the map and noticed there was another green slope at La Flégère, a nearby ski area accessible via cable car (view map here). However, to get there, we had to navigate through blue slopes. The issue was that there's a saying in Chamonix that the difficulty of the slopes is downplayed, so a blue slope might actually be a red one. Needless to say, we fell multiple times and had to slide down a few meters on our butts! Nonetheless, we made it to the other side and it was well worth it! The green slopes at La Flégère were longer and more challenging, and we even savored a cold beer while admiring a different view of the valley. Additionally, from this spot, we caught a glimpse of the Mer de Glace glacier on the opposite side of the valley. As the day drew to a close, we took the Flégère cable car down with shaky legs but happy faces!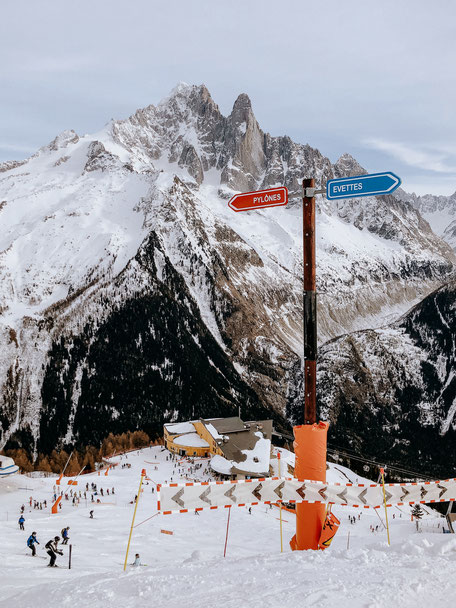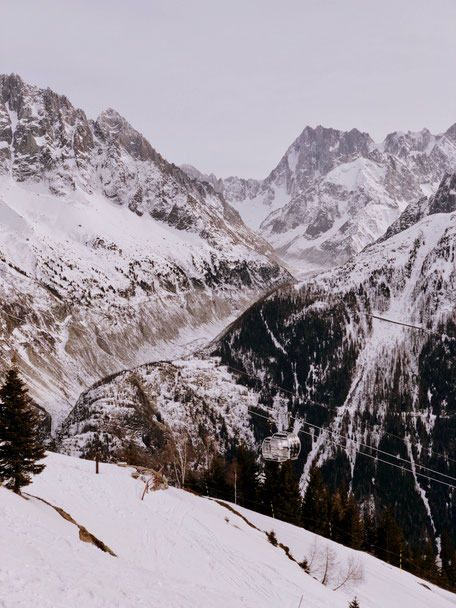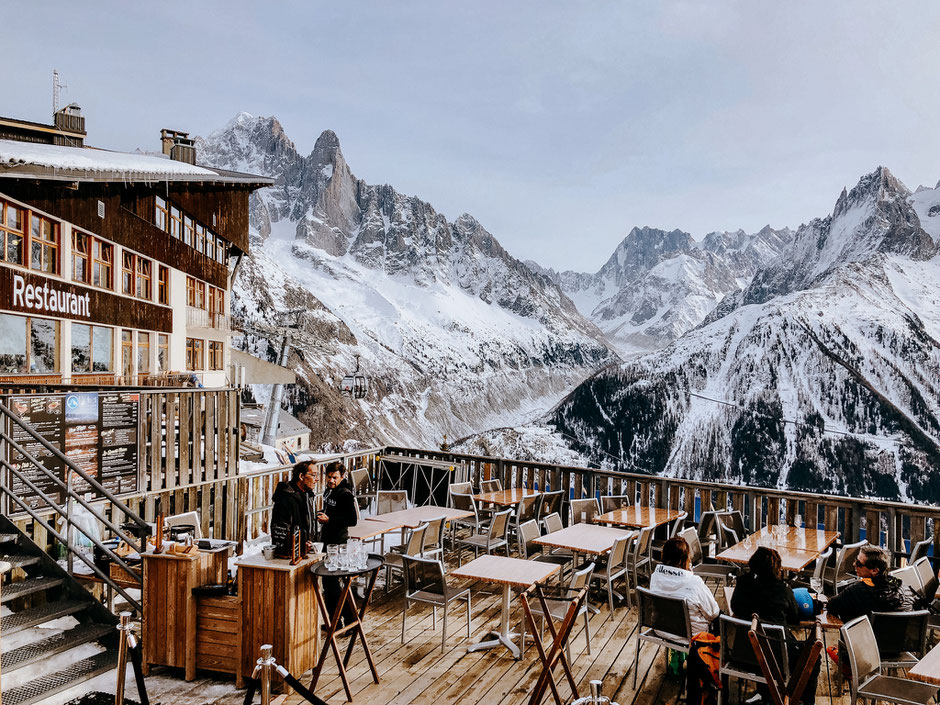 OUR FINAL THOUGHTS
Our overall impression of Chamonix is that it is simply enchanting! The breathtaking views of the mountains and valleys are truly unforgettable! If you are seeking a mountain escape or a skiing adventure, we highly recommend planning a trip to this charming village. We will always cherish the time we spent in Chamonix and believe it to be one of the most awe-inspiring destinations in Europe. We are already looking forward to our next visit!
In case you have an additional day to spend in Chamonix and are eager to explore more, we suggest taking a look at our other post where we provide all the necessary information to visit the Aiguille du Midi and the Mer de Glace (click here to access it).
---
TRAVEL ESSENTIALS
GETTING THERE
To reach Chamonix, the nearest airport is located in Geneva, which is approximately 100 km away. There are several options to travel from the airport to Chamonix, and one of them is by taking a bus. Many bus companies offer transfers from Geneva Airport to Chamonix, and we chose Swiss Tours, which has four departures per day. The one-way cost varies from 10 to 15 EUR, and the journey takes around 1 hour and 10 minutes. This is an affordable and convenient way to get to Chamonix from the airport.
STAYING THERE
Chamonix offers a plethora of accommodation options, but keep in mind that prices fluctuate depending on the season. During peak periods, such as Christmas and New Year, rates can skyrocket. It is recommended to book well in advance and avoid French school holidays if possible. For our stay, we opted for an Airbnb, which provided a charming chalet just a short 10-minute walk from the city center. This cozy nest provided an amazing view of the Aiguille du Midi and cost around 100 EUR per night, with a minimum stay of 2 nights. We suggest staying for at least 3 nights to fully experience everything Chamonix has to offer.
EATING THERE
Chamonix is not only famous for its stunning landscapes and skiing, but also for its delicious local cuisine. The mountainous region is known for its hearty dishes that are perfect for warming up after a day on the slopes. Traditional dishes often feature ingredients such as cheese, potatoes, and cured meats, with influences from both French and Swiss cuisine. Below is a list of the restaurants where we enjoyed delicious food in Chamonix:
*All prices are referred to February 2020
---
---
And now it's your turn to share your experience, thoughts and also tips to visit the enchanted town of Chamonix. Have you already visited it? We look forward to reading your comments in the section below.
---
---
YOU MIGHT ALSO LIKE..