---
Ciao! Our wanderlust has taken us to one of the most charming neighborhood of Florence – the Oltrarno. Unlike the bustling historic center, Oltrarno offers a more relaxed and laid-back vibe, making it the perfect place to unwind and immerse yourself in the local culture. As we explored the winding streets and charming piazzas of Santo Spirito, we couldn't help but feel like we had stumbled upon a hidden gem. The neighborhood is less touristy than the other side of Florence, giving us a chance to interact with locals and experience the true essence of the city.
And that's not all – Oltrarno is home to some of Florence's most beautiful and tranquil spots, such as the lush Boboli Gardens and the breathtaking Piazzale Michelangelo, which offers stunning sunset views over the city. In this blog post, we'll be sharing our insider tips and recommendations on how to make the most of your time in this neighborhood. So, join us on this journey and get ready to fall in love with the charming neighborhood of Oltrarno in Florence!
---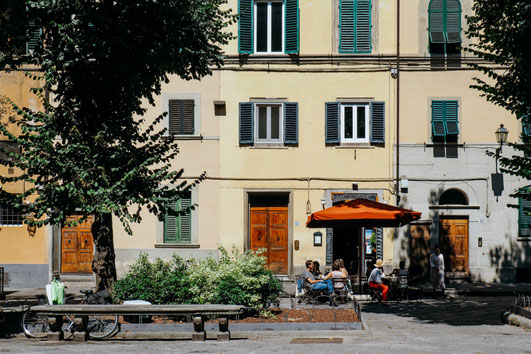 ---
---
GENERAL INFORMATION
Did you know that Florence, also known as Firenze, is more than just a city? It's a magical place where history, art, and cuisine come together to create an unforgettable experience. As we stepped foot in this charming capital of Tuscany, we couldn't help but feel a sense of excitement and wonder. Nestled in the heart of central Italy, Florence is surrounded by rolling hills, vineyards, and olive groves. It's a place where the past meets the present, where Renaissance art collides with modern-day culture. And let's not forget about the food – Florence is a foodie's paradise, with delicious dishes like the famous Florentine steak, melt-in-your-mouth gelato, and exquisite wines. But Florence is more than just a pretty face – it's a city with a rich history dating back to the Roman times. And yet, Florence still manages to maintain its unique charm and character, making it a must-visit destination for any traveler.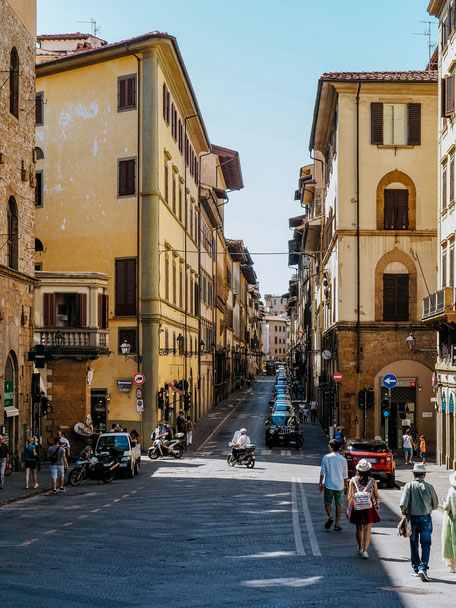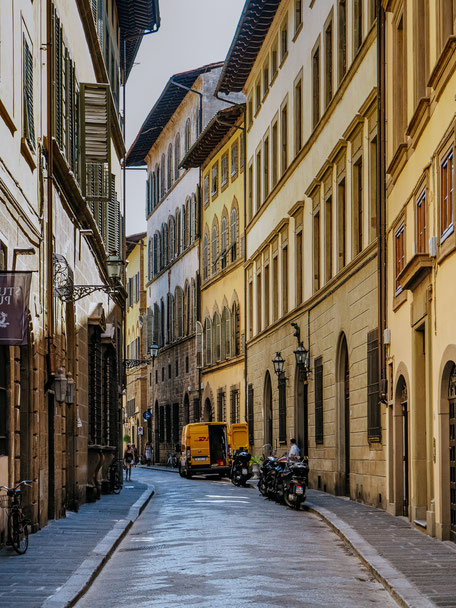 HISTORY
You can't talk about Florence without mentioning its rich history. From the Roman times to the Renaissance period, this city has seen it all. It's a place where every street corner tells a story and every building has a tale to tell. As we wandered through the winding streets, we couldn't help but imagine what life was like centuries ago.
Florence's history dates back to the Roman times when it was founded as a military colony in 59 BC. In the Middle Ages, it became a city-state and played a crucial role in the development of the Italian language and culture. But it wasn't until the Renaissance period that Florence truly came into its own. In the 15th century, Florence was one of the wealthiest and most powerful cities in Europe. The Medici family, who ruled the city for several generations, were major patrons of the arts and played a significant role in shaping the city's cultural heritage. It was during this time that some of the world's most famous artists, including Leonardo da Vinci, Michelangelo, and Botticelli, created their masterpieces.
But Florence's history isn't just about power and wealth - it's also about the struggles and triumphs of the people who lived here. The city has faced numerous challenges over the years, from devastating floods to political upheaval. And yet, it has always managed to bounce back, thanks to the resilience and determination of its people.
Today, Florence is a vibrant and thriving city that's steeped in history and culture. Its streets are lined with magnificent palaces, churches, and museums, each one a testament to the city's rich heritage. It's a place where the past meets the present, where every corner tells a story, and where visitors can't help but feel inspired by the beauty and majesty of this incredible city.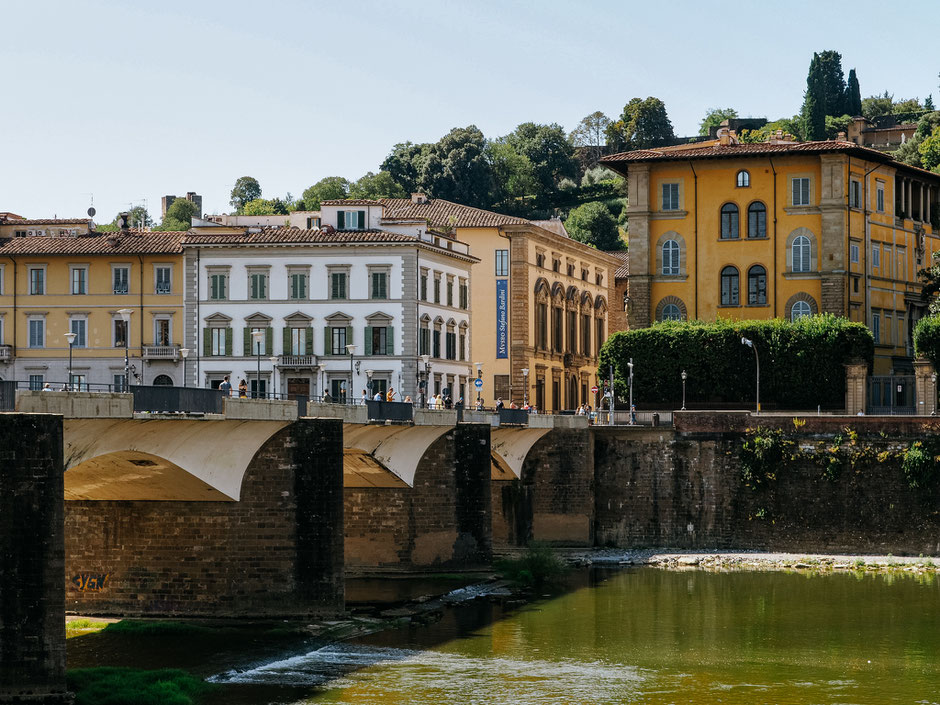 EXPLORING THE OLTRARNO NEIGHBORHOOD
1. PONTE ALLA CARRAIA
Let's kick off this walking tour in the charming Oltrarno neighborhood, starting at the iconic Ponte alla Carraia. This picturesque bridge spans over the Arno River in Florence. It connects the Oltrarno district with the rest of the city and is one of the oldest and most charming bridges in Florence. The bridge was originally built in 1218, but has undergone several renovations throughout the centuries. The name "Carraia" comes from the carrabile road that runs across the bridge, which was used for transportation of goods and merchandise in the past. Today, the bridge is used mainly for pedestrian and vehicle traffic, but it still retains its historic charm and beauty. From the bridge, visitors can enjoy stunning views of the Arno River, the hills of Florence, and the iconic Ponte Vecchio. It is also a great spot to take some pictures and soak in the atmosphere of Florence.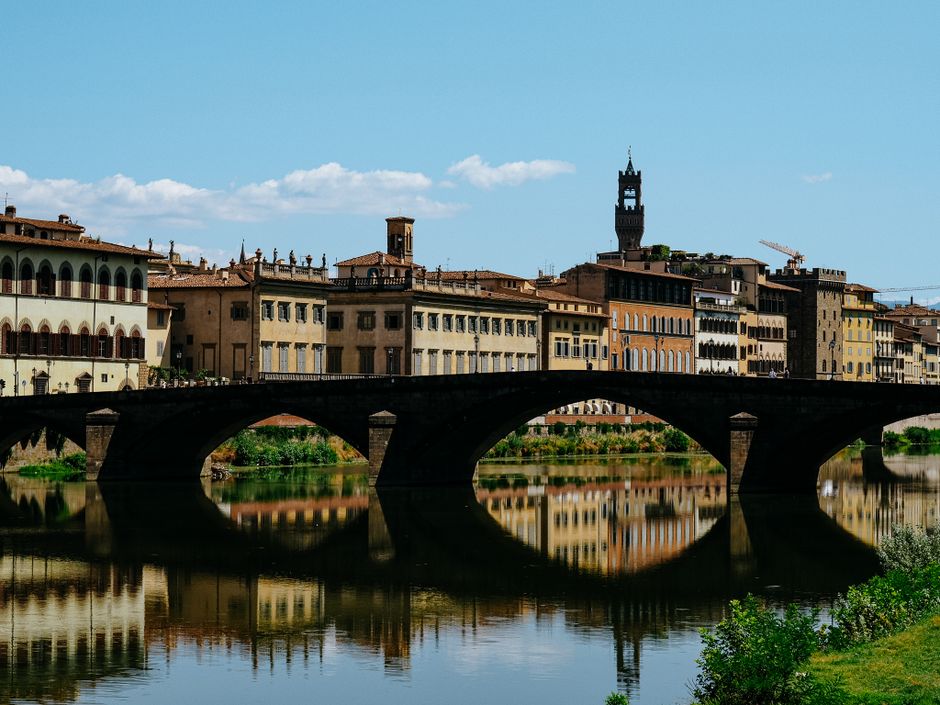 2. VIA DI SANTO SPIRITO
Head towards Via di Santo Spirito which is a charming street located in the heart of the Oltrarno neighborhood. It is known for its laid-back atmosphere and is a favorite spot among locals. The street is lined with small shops, art galleries, and cafes, which make it a great place to wander around and soak up the vibe of the neighborhood.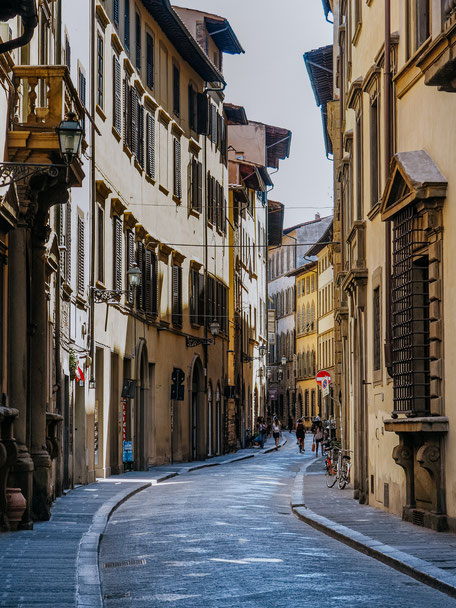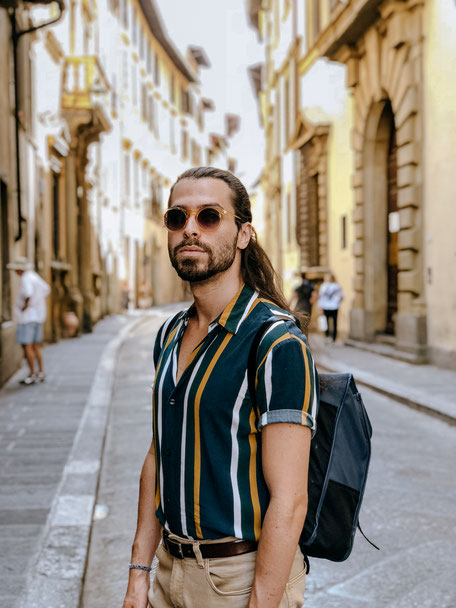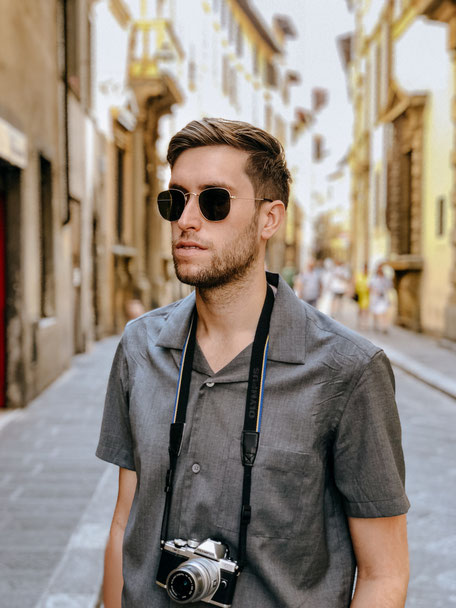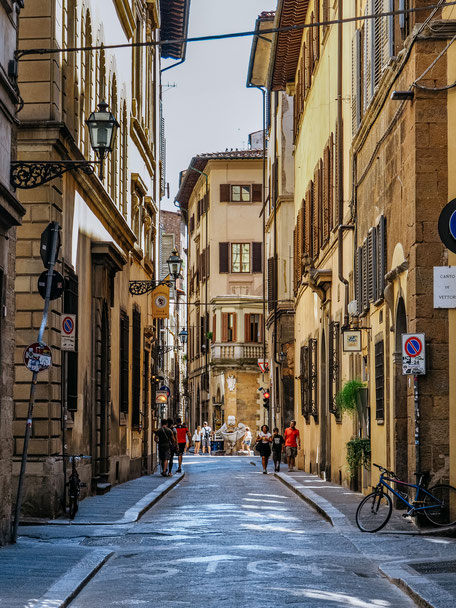 3. PONTE SANTA TRINITA
As you continue your walk through the charming streets of Oltrarno, your next stop is the Ponte Santa Trinita. This historic bridge spans the Arno River and connects the Oltrarno neighborhood to the city center. From here, you can enjoy breathtaking views of the river and the iconic Ponte Vecchio. The Ponte Santa Trinita has a rich history dating back to the 16th century when it was first built. It was destroyed during World War II and later rebuilt in the 1950s using the original stones salvaged from the river. Today, it stands as a symbol of the city's resilience and determination to preserve its cultural heritage. Take a moment to admire the elegant design of the bridge, with its three arches and graceful curves. Notice the intricate details of the statues that adorn the bridge's pillars, each representing a different historical figure. As you cross the bridge, you'll feel as though you've stepped back in time to another era.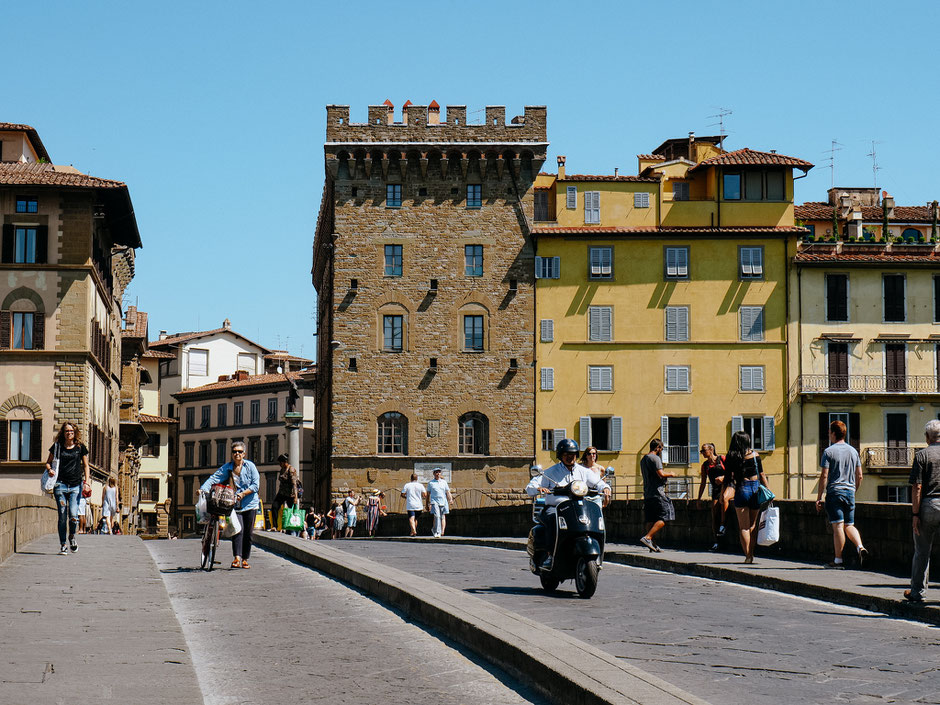 4. PIAZZA DI SANTO SPIRITO
Next stop on our tour is the lively Piazza di Santo Spirito. This piazza lies at the heart of the Oltrarno neighborhood and is a popular spot for locals to hang out and enjoy a drink or a meal. As you approach the piazza, you'll notice the lively atmosphere and the many outdoor cafes and restaurants. This is the perfect place to sit and soak up the authentic Florentine atmosphere while sipping on a cappuccino or enjoying a delicious gelato. One of the most unique features of Piazza di Santo Spirito is the nightly food market, where you can taste some of the best local street food in Florence. From savory treats like pizza and panini to sweet treats like gelato and cannoli, there's something for everyone! It's a great spot to grab a quick bite to eat or to sit and enjoy some live music with a glass of wine.
5. BASILICA DI SANTO SPIRITO
The Basilica di Santo Spirito is a must-see attraction in the Oltrarno neighborhood. This beautiful church is known for its simplistic and elegant design, which is typical of the Renaissance style. As you step inside, the vast interior will leave you in awe. The high ceilings and natural light create a tranquil atmosphere, perfect for reflecting and taking a moment of peace. Take some time to admire the intricate details of the altar and the stained-glass windows. You will also notice a beautiful wooden crucifix, which is believed to be created by Michelangelo when he was just 17 years old. Make sure to keep your eyes peeled for this hidden gem!
| Opening hours - daily from 8.30 a.m. to 1 p.m. - 3 p.m. to 7 p.m. |
| Admission - free of charge |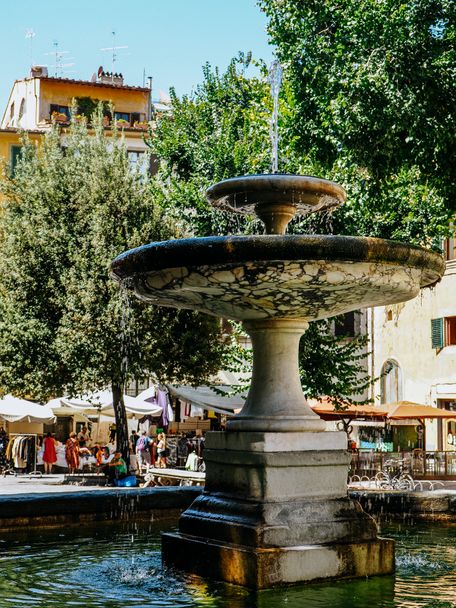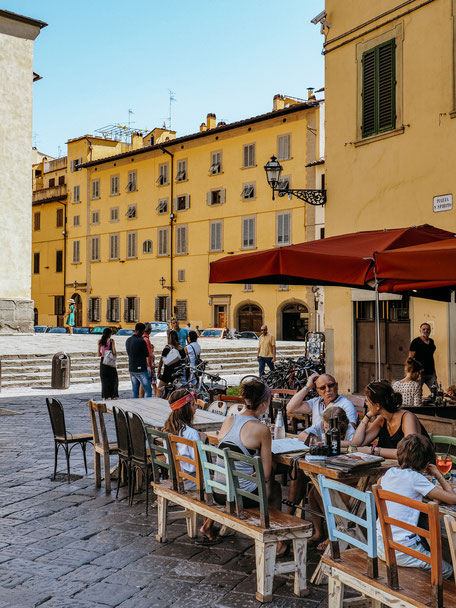 6. PALAZZO PITTI
The next stop on our Oltrarno walking tour is the grand Palazzo Pitti. This palace was once home to the powerful Medici family and now houses several museums and galleries. The Palazzo Pitti is an imposing structure with a striking Renaissance façade and a massive courtyard. As you enter the palace, you will feel like you've stepped back in time to the height of the Medici era. Inside, you'll find an impressive collection of art, including works by Raphael, Titian, and Caravaggio, as well as stunning frescoes and tapestries. Don't miss the opulent apartments of the Medici family, which have been preserved in their original state.
| Opening hours - from Tuesday to Sunday from 8.15 a.m. - 6.30 p.m. |
| Admission - 16 EUR (combined ticket with the Giardino di Boboli 22 EUR) |
7. GIARDINO DI BOBOLI
Don't forget to also visit the Boboli Gardens, the palace's vast and magnificent outdoor space. The gardens are a true oasis in the heart of the city, with a variety of different paths and trails to explore. From the terraced gardens with their impressive sculptures and fountains, to the peaceful and shaded areas where you can relax and take in the beauty of the surroundings, the Boboli Gardens are a must-see attraction in Florence.
| Opening hours - daily from 8.15 a.m. - 4.30 p.m. (winter) and 7 p.m. (summer) |
| Admission - 10 EUR (combined ticket with the Palazzo Pitti 22 EUR) |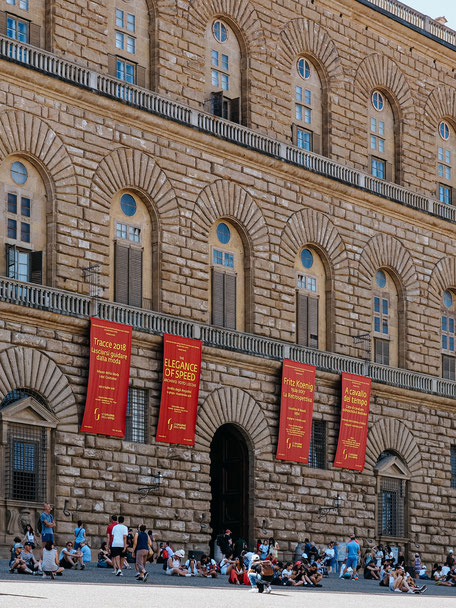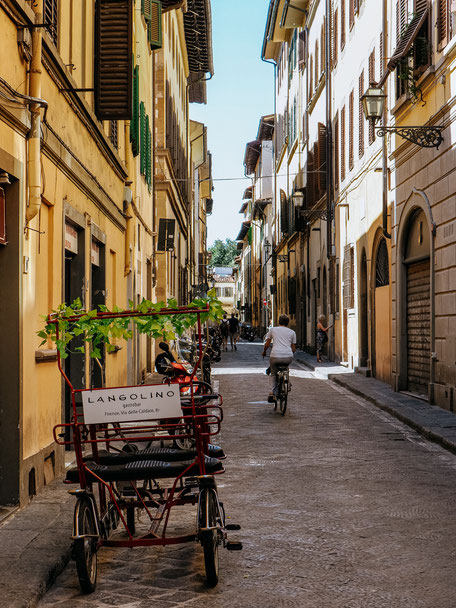 8. PIAZZALE MICHELANGELO
The last stop of our Oltrarno tour takes us to one of the most breathtaking viewpoints in Florence – the Piazzale Michelangelo. This spot is the perfect way to end your day in Florence and catch an unforgettable sunset over the city. As you make your way up the hill to Piazzale Michelangelo, you'll be surrounded by lush greenery and stunning panoramic views. When you arrive, you'll be greeted with a large terrace that overlooks the city, offering an unrivaled view of the Florence skyline. You'll be able to spot some of the most iconic landmarks of Florence, such as the Duomo and the Ponte Vecchio.
There are plenty of places to sit and enjoy the sunset, but if you're looking for the perfect spot, head to the left side of the terrace. You'll find a quiet spot to sit and relax while taking in the stunning view. As the sun sets and the city lights come to life, you'll feel like you're in a fairytale. The ambiance is magical and romantic, making it the perfect spot for a date or just to soak up the beauty of Florence. Don't forget to bring your camera to capture the stunning view and memories that will last a lifetime.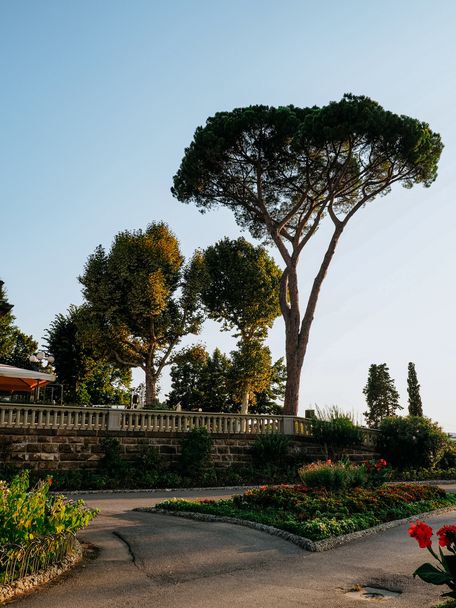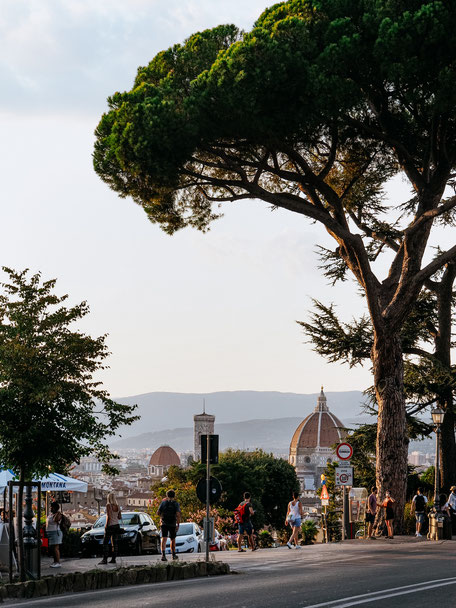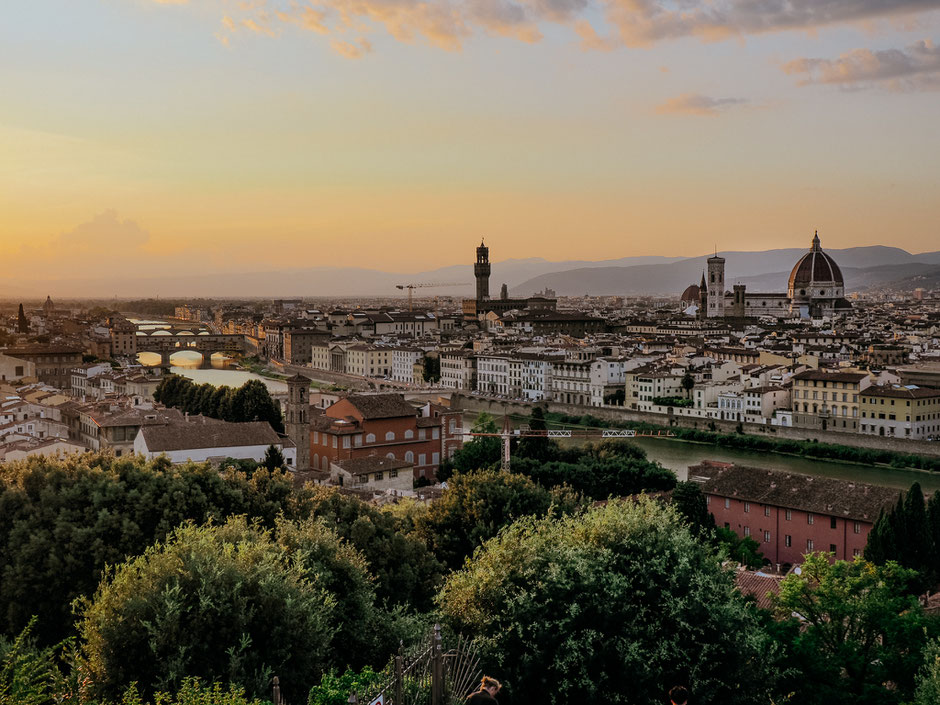 OUR FINAL THOUGHTS
As we reach the end of our second day in Florence's charming Oltrarno, we reflect on the quaint streets we've explored, hidden gems we've discovered, and delicious food and drink we've indulged in. The neighborhood's unique charm sets it apart from the more touristy areas of Florence, allowing you to slow down and savor a true Italian experience. From the picturesque Ponte alla Carraia to the stunning panoramic views of Piazzale Michelangelo, we've witnessed the best of what this enchanting neighborhood has to offer. We hope this walking tour gave you a taste of the magic that is Florence, and that you enjoyed every moment of it.
---
TRAVEL ESSENTIALS
GETTING THERE
To get to Florence, there are several options available. If you're flying, Florence has its own airport which is just 4 km from the city center. However, keep in mind that budget airlines such as Ryanair may fly into Pisa Airport, which gives you the opportunity to see the famous Leaning Tower. From Pisa, Trenitalia connects Pisa train station to the Santa Maria Novella train station in Florence in just an hour, for around 8-9 EUR. Finally, there are also bus options available which cost around 14 EUR and take 1 hour and 10 minutes to reach Florence from Pisa. Regardless the option you choose, you'll be able to enjoy the beautiful scenery of Tuscany along the way.
STAYING THERE
Finding the perfect accommodation in Florence is a breeze with the vast array of options available. Whether you're a budget traveler or a luxury seeker, you can easily find something to suit your needs. On a tight budget? Airbnb and hostels offer affordable choices that won't break the bank. For those looking for a more luxurious experience, Casa Howard Guest House is an excellent option. We had the pleasure of staying in a beautifully decorated and comfortable double room just a stone's throw away from Piazza di Santa Maria Novella. For around 150 EUR per night, we enjoyed a private terrace and the convenience of air conditioning. And let's not forget about the delicious breakfast! From toasts with honey from farmland Tuscany to homemade marmalade and cappuccino, coffee or tea, Casa Howard Guest House truly knows how to start your day off right.
EATING THERE
We couldn't leave Florence without indulging in some of the city's world-renowned gelato, and Gelato dei Neri did not disappoint. This artisanal gelateria is a must-visit for anyone with a sweet tooth. Their gelato is truly exceptional, with a creamy texture that melts in your mouth and a range of unique flavors that will have you wanting more. The fior di latte flavor is a classic, but we also loved the nocciolata and caramello al burro salato flavors. Each bite was a delightful explosion of taste, and we can't recommend this gelateria enough. Another great spot for gelato is La Carraia, where you can find a variety of classic and unique flavors. We particularly enjoyed the dark chocolate and stracciatella flavors, which were incredibly rich and flavorful.
Moving on to street food, we couldn't resist visiting All'antico Vinaio, one of the most famous street food joints in Florence. The sandwiches here are truly amazing, with generous portions of high-quality ingredients that are bursting with flavor. The prosciutto and mozzarella sandwich was a standout, but the real winner was the crema di tartufo sandwich, which had a truffle cream that was simply divine.
Finally, we couldn't leave Florence without trying some of their famous pizzas. Berbere San Frediano did not disappoint. Their pizzas are made with fresh, locally sourced ingredients and cooked to perfection in a wood-fired oven. We loved the simplicity of the margherita pizza, which allowed the quality of the ingredients to shine, but we also enjoyed trying some of the more adventurous flavors, such as the spicy salami and pecorino pizza.
---
And now it's your turn to let us know what you think about Florence and its beautiful treasures. Did you also fall in love with this incredible city? We look forward to reading your comments in the section below.
---
---
YOU MIGHT ALSO LIKE..