---
Ciao! Our wanderlust has taken us to the magical city of Florence, Italy – a place where history, art, and food collide to create an unforgettable experience. As we strolled along the cobblestone streets, our eyes widened at every turn. The awe-inspiring architecture and stunning scenery made us fall in love with the city instantly. We couldn't wait to share our journey with you and give you a taste of what Florence has to offer!
In this blog post, we'll be dishing out some hot recommendations on how to experience this amazing city like a local. From exploring the world-renowned landmarks like the Ponte Vecchio and Duomo to discovering hidden gems like the best sandwich and gelato spots, we've got you covered! So, grab a cappuccino and join us as we take you on a great journey through Florence!
---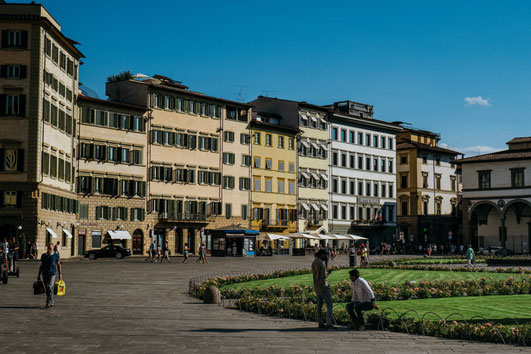 ---
---
GENERAL INFORMATION
Nestled in the heart of central Italy, Florence is surrounded by rolling hills, vineyards, and olive groves. It's a place where the past meets the present, where Renaissance art collides with modern-day culture. And let's not forget about the food – Florence is a foodie's paradise, with delicious dishes like the famous Florentine steak, melt-in-your-mouth gelato, and exquisite wines. But Florence is more than just a pretty face – it's a city with a rich history dating back to the Roman times. And yet, Florence still manages to maintain its unique charm and character, making it a must-visit destination for any traveler.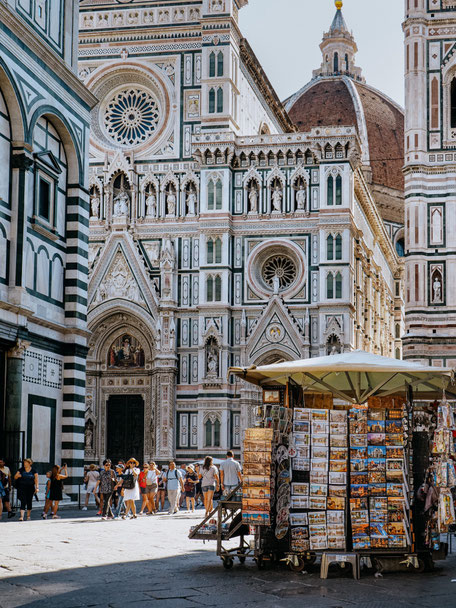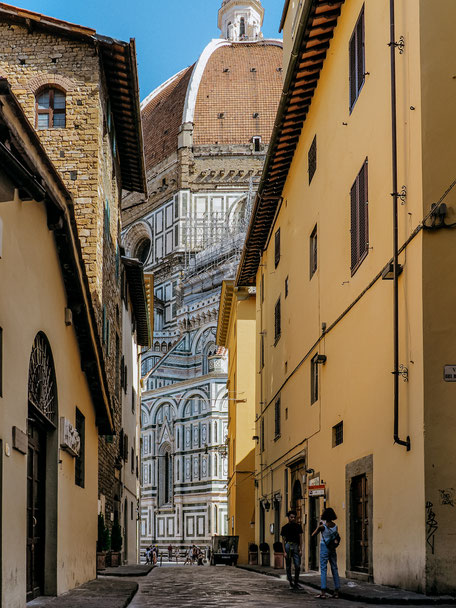 HISTORY
You can't talk about Florence without mentioning its rich history. From the Roman times to the Renaissance period, this city has seen it all. It's a place where every street corner tells a story and every building has a tale to tell. As we wandered through the winding streets, we couldn't help but imagine what life was like centuries ago.
Florence's history dates back to the Roman times when it was founded as a military colony in 59 BC. In the Middle Ages, it became a city-state and played a crucial role in the development of the Italian language and culture. But it wasn't until the Renaissance period that Florence truly came into its own. In the 15th century, Florence was one of the wealthiest and most powerful cities in Europe. The Medici family, who ruled the city for several generations, were major patrons of the arts and played a significant role in shaping the city's cultural heritage. It was during this time that some of the world's most famous artists, including Leonardo da Vinci, Michelangelo, and Botticelli, created their masterpieces.
But Florence's history isn't just about power and wealth – it's also about the struggles and triumphs of the people who lived here. The city has faced numerous challenges over the years, from devastating floods to political upheaval. And yet, it has always managed to bounce back, thanks to the resilience and determination of its people.
Today, Florence is a vibrant and thriving city that's steeped in history and culture. Its streets are lined with magnificent palaces, churches, and museums, each one a testament to the city's rich heritage. It's a place where the past meets the present, where every corner tells a story, and where visitors can't help but feel inspired by the beauty and majesty of this incredible city.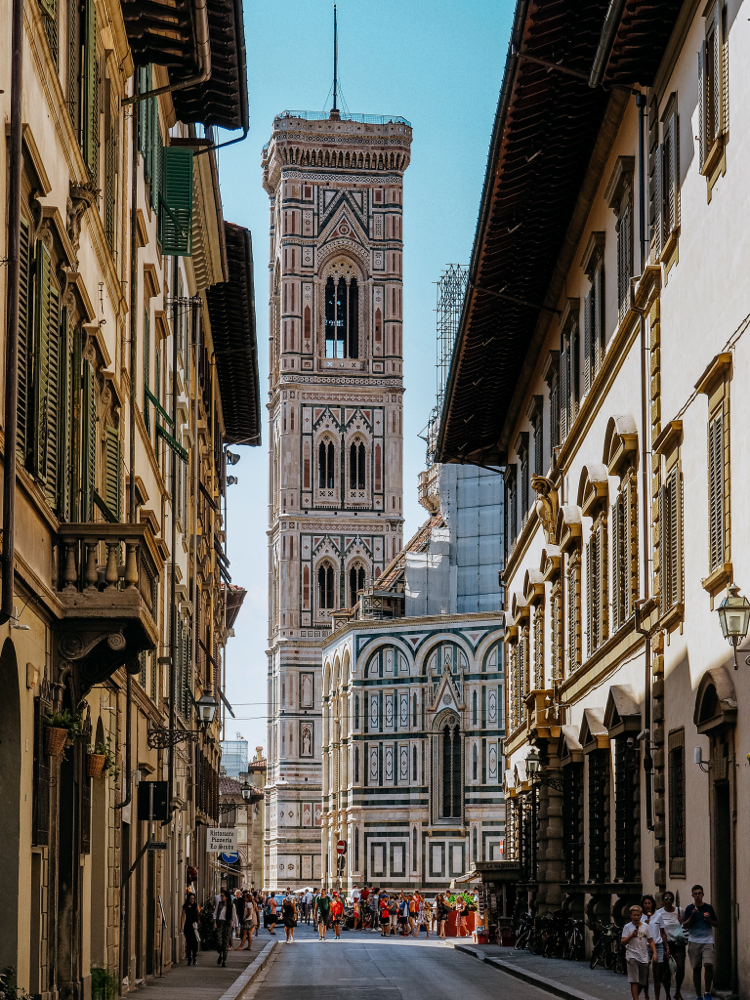 DISCOVERING FLORENCE'S HISTORIC CENTER
1. PIAZZA DI SANTA MARIA NOVELLA
Our first stop on this Florence walking tour takes us to the beautiful Piazza di Santa Maria Novella. This stunning square is steeped in history and boasts some of the most beautiful architecture in Florence. As you arrive at the Piazza, you'll notice the towering Basilica di Santa Maria Novella, which has been an important religious site in Florence for over 700 years. The square is also home to a towering obelisk that dates back to the 16th century and was brought to Florence from Egypt. Take some time to explore the Piazza and soak in its unique beauty before we move on to the next stop on our tour.
2. PALAZZO STROZZI
Next, make your way towards Palazzo Strozzi, a palace fit for royalty. This stunning Renaissance building was constructed in the 15th century for the wealthy Strozzi family and designed by the famed Florentine architect, Benedetto da Maiano. As you approach the Palazzo, take a moment to admire its impressive size and grandeur. Once inside, be sure to explore the various exhibitions and events that are hosted here throughout the year. Whether you're a fan of contemporary art or classical sculpture, there's bound to be something that catches your eye at Palazzo Strozzi.
     | Opening hours - daily from 10 a.m. - 8 p.m. |
| Admission - 15 EUR |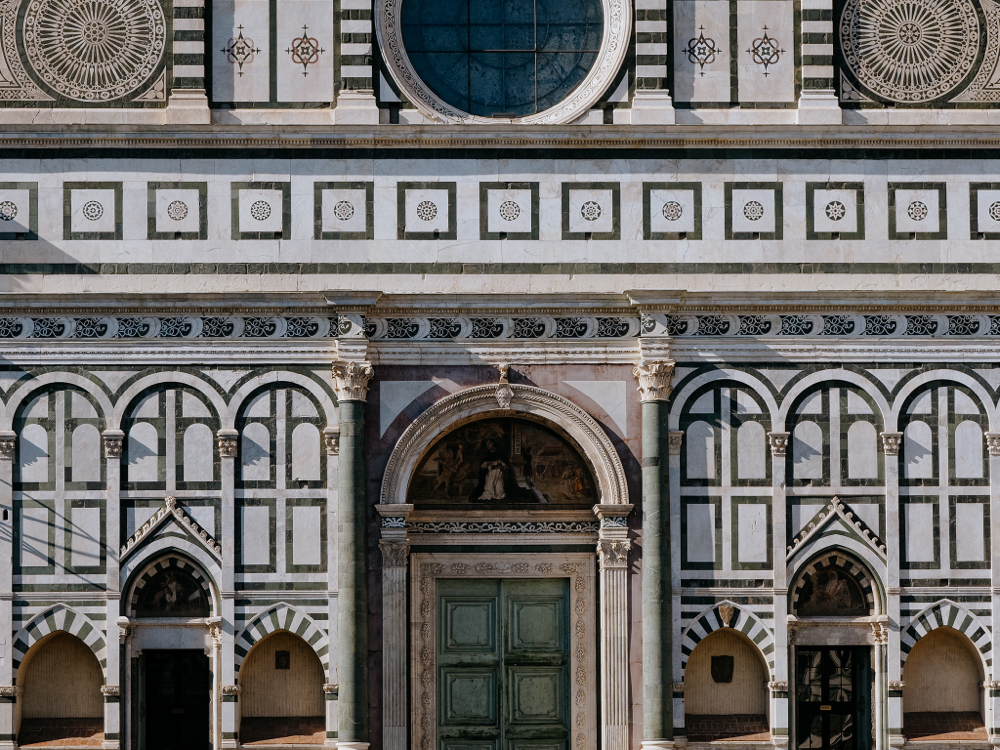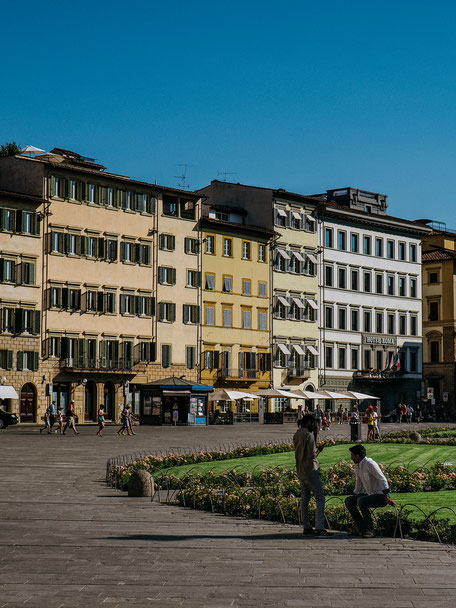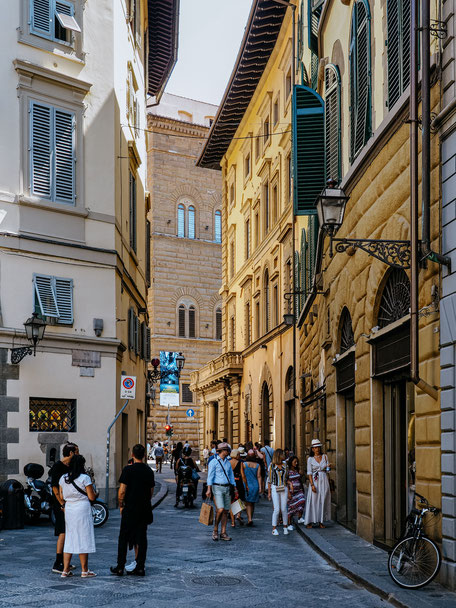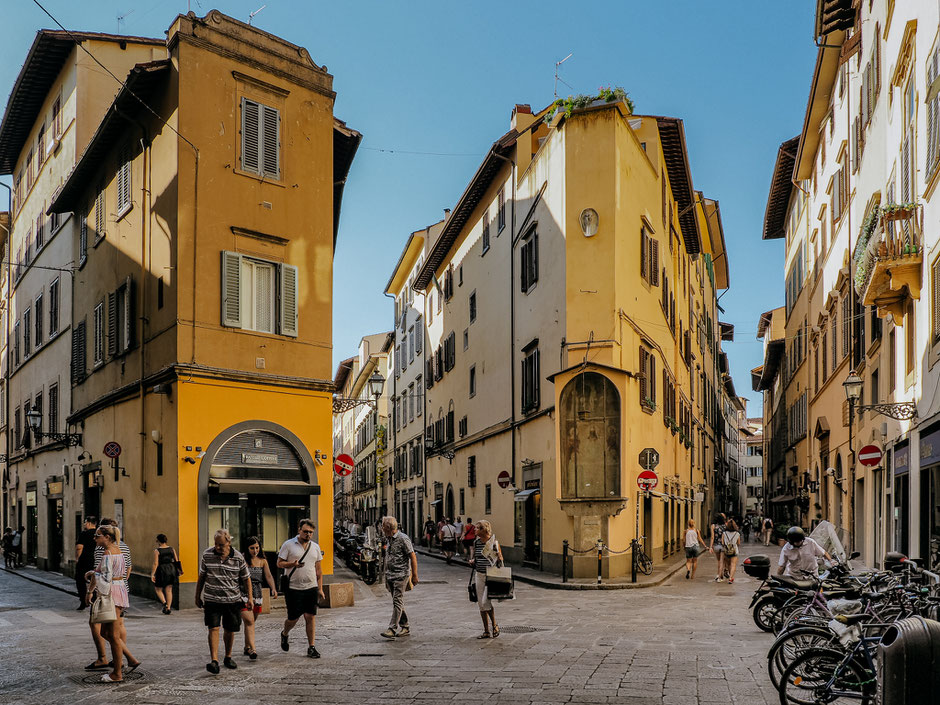 3. PIAZZA DI SANTA TRINITA
Our next stop on this walking tour brings us to the elegant Piazza di Santa Trinita, located in the heart of Florence's historic center. This picturesque square is named after the Church of Santa Trinita, which is situated on one side of the piazza. As you make your way through the square, take a moment to appreciate the stunning architecture that surrounds you. Admire the impressive façade of the church, which features three arches and a beautiful rose window.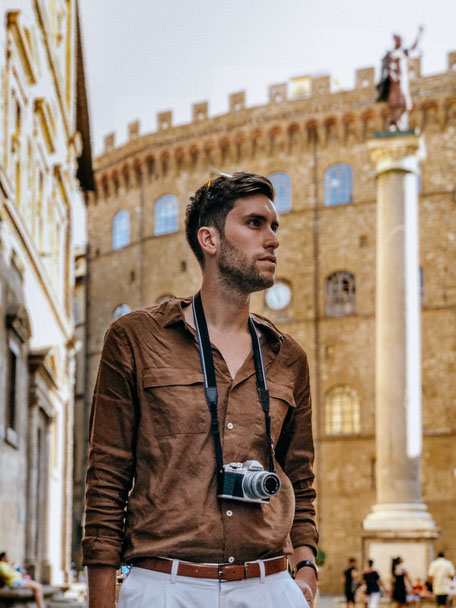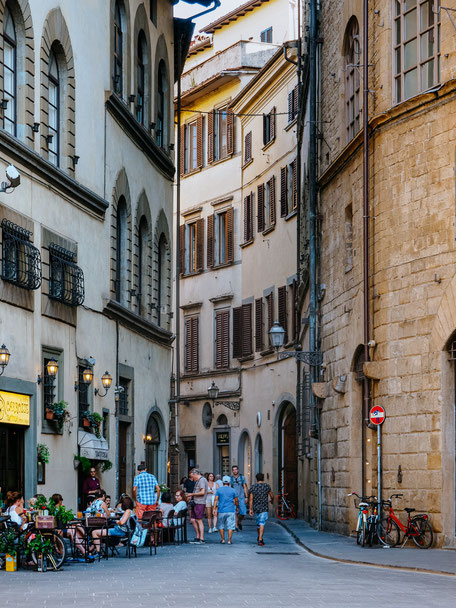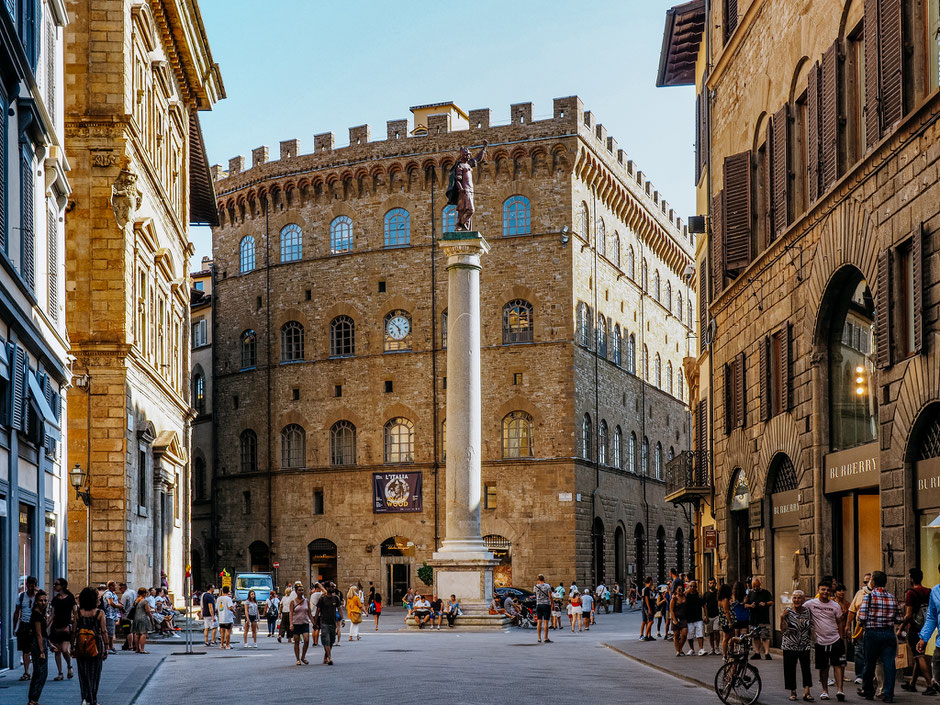 4. PONTE VECCHIO
Now head towards the iconic Ponte Vecchio. This bridge is not only one of the most famous landmarks in Florence, but it also has a rich history that spans over centuries. Originally built in Roman times, the bridge has been destroyed and rebuilt several times due to natural disasters and wars. However, it managed to survive the bombings of World War II, which destroyed all other bridges in Florence except the Ponte Vecchio. Legend has it that Hitler himself ordered the bridge to be spared, as he was so enamored by its beauty.
As we stepped onto the bridge, we were struck by the stunning views of the Arno river and the cityscape beyond. The bridge is home to many jewelry shops, which have been a fixture on the bridge since medieval times. In the past, the shops were mostly occupied by butchers and tanners, but they were eventually replaced by jewelers at the request of the Medici family, who wanted to elevate the status of the bridge. It's amazing to think that these shops have been in business for centuries, and they continue to draw in crowds of tourists and locals alike with their exquisite displays.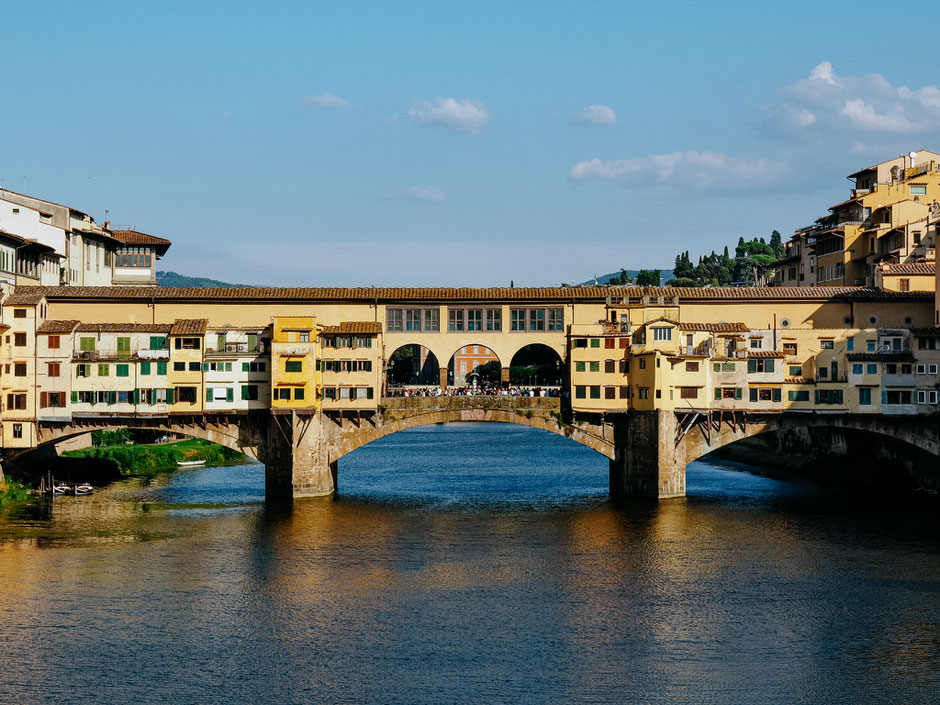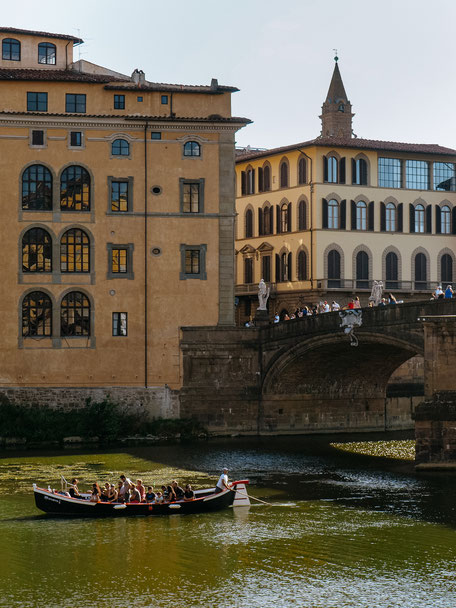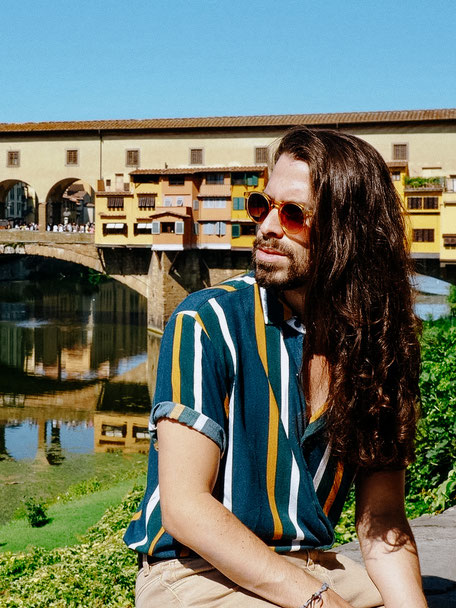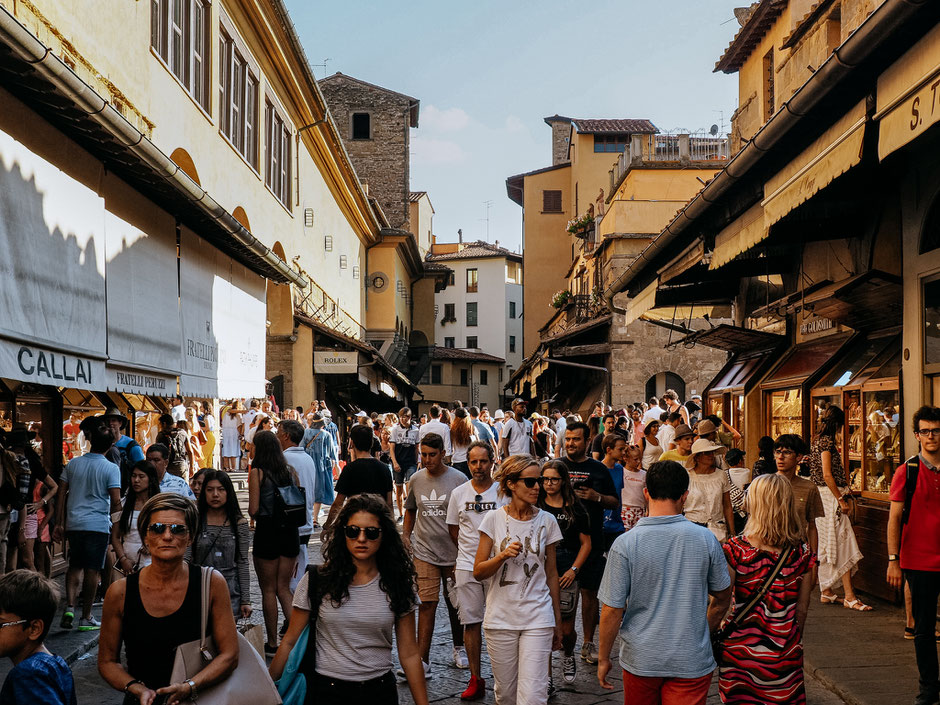 5. MERCATO CENTRALE & FONTANA DEL PORCELLINO
Our next stop brings us to the bustling Mercato Centrale and the nearby Fontana del Porcellino. The market is a true foodie's paradise, with endless stalls offering fresh produce, artisanal cheeses, and mouth-watering pastries. And don't forget to grab a quick espresso to energize yourself for the rest of the day! Just a stone's throw away from the market lies the Fontana del Porcellino, a fountain featuring a bronze statue of a wild boar. Legend has it that if you rub the boar's nose, you will be guaranteed a return trip to Florence. Of course, we couldn't resist trying our luck – we definitely plan on coming back to this incredible city!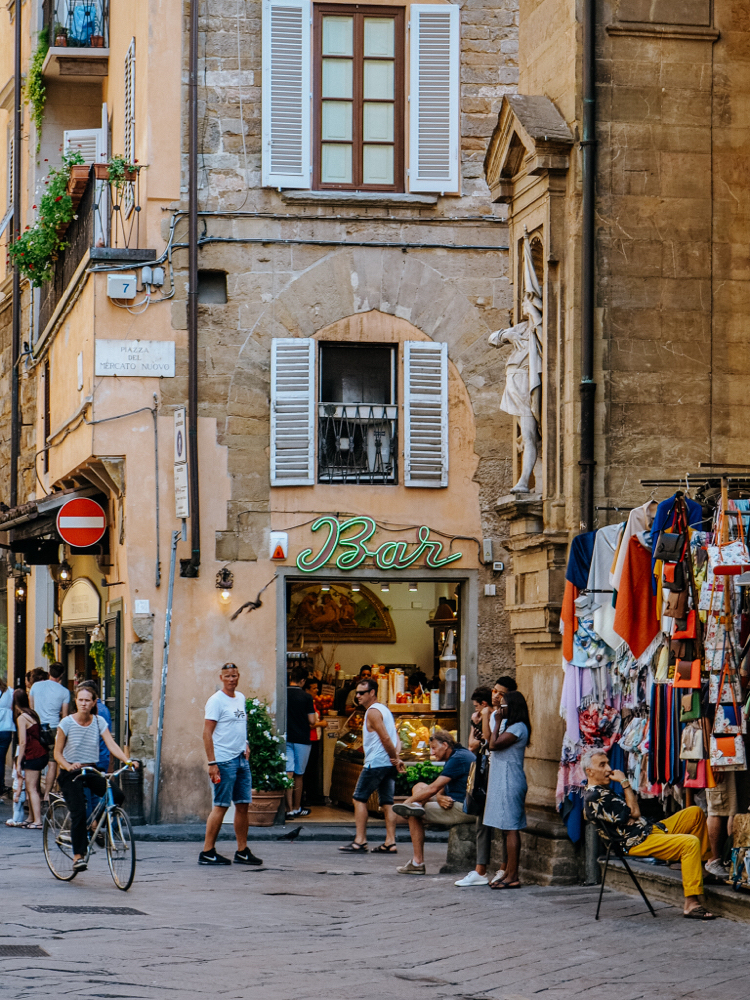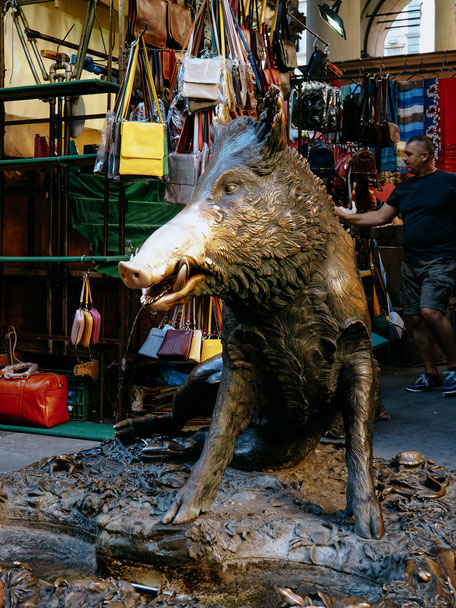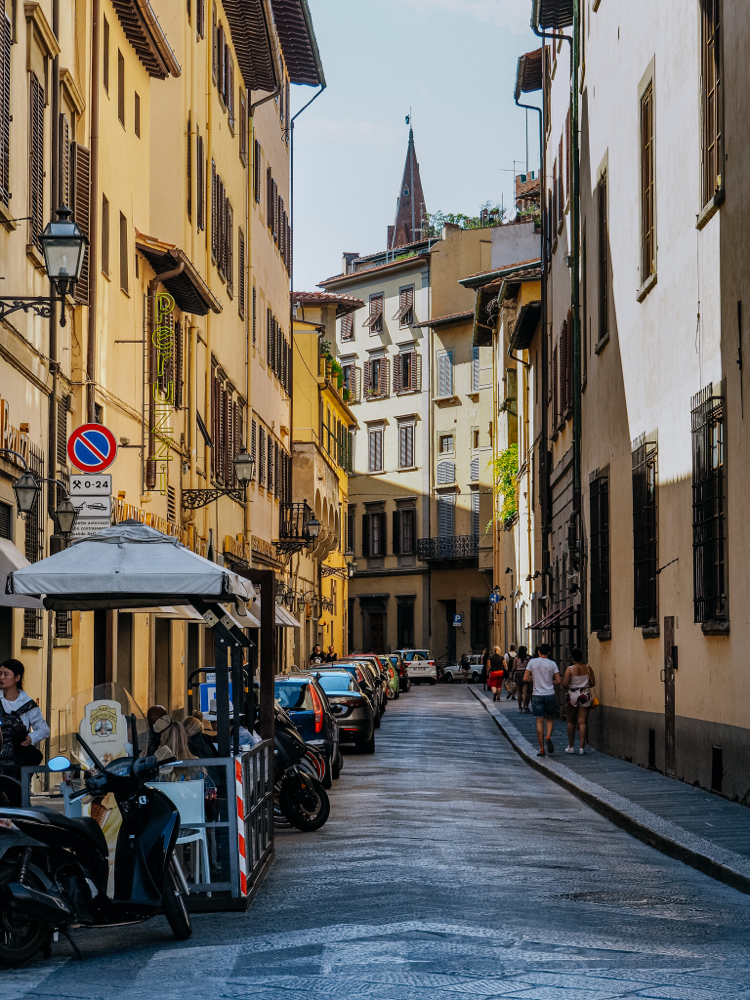 6. PIAZZA DELLA SIGNORIA
Head towards the magnificent Piazza della Signoria. This historic square is home to some of the city's most iconic landmarks, including the Palazzo Vecchio and the Loggia dei Lanzi. The former is an impressive palace that served as the seat of power for the Medici family during the Renaissance, while the latter is an open-air museum featuring an array of stunning sculptures.
7. PALAZZIO VECCHIO
Let's now talk about Palazzo Vecchio. This impressive structure, which translates to "Old Palace", has been a symbol of political power in Florence for centuries. Its towering fortress-like exterior is a masterpiece of medieval design, with crenelated towers and sturdy walls that evoke a sense of awe and wonder. The palace has played a central role in the history of Florence, serving as the seat of government and hosting numerous famous figures throughout the centuries, including Leonardo da Vinci and Machiavelli. Although we didn't have time to explore the interior of Palazzo Vecchio on this trip, we can only imagine the grandeur and history that lies within its walls.
| Opening hours - daily from 7 a.m. - 7 p.m. |
| Admission - 15 EUR |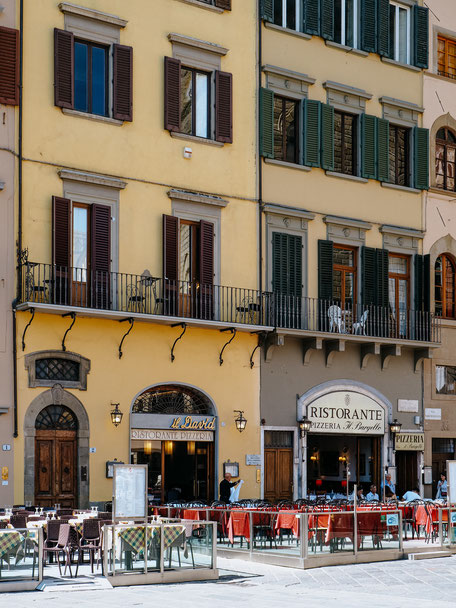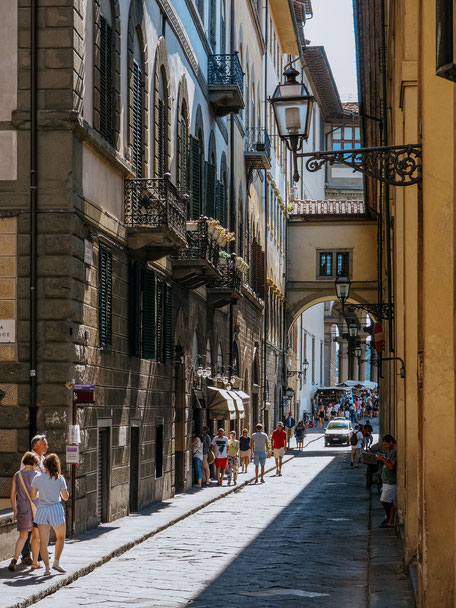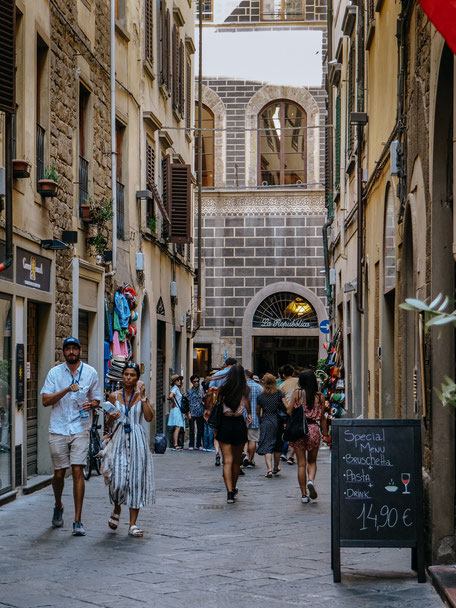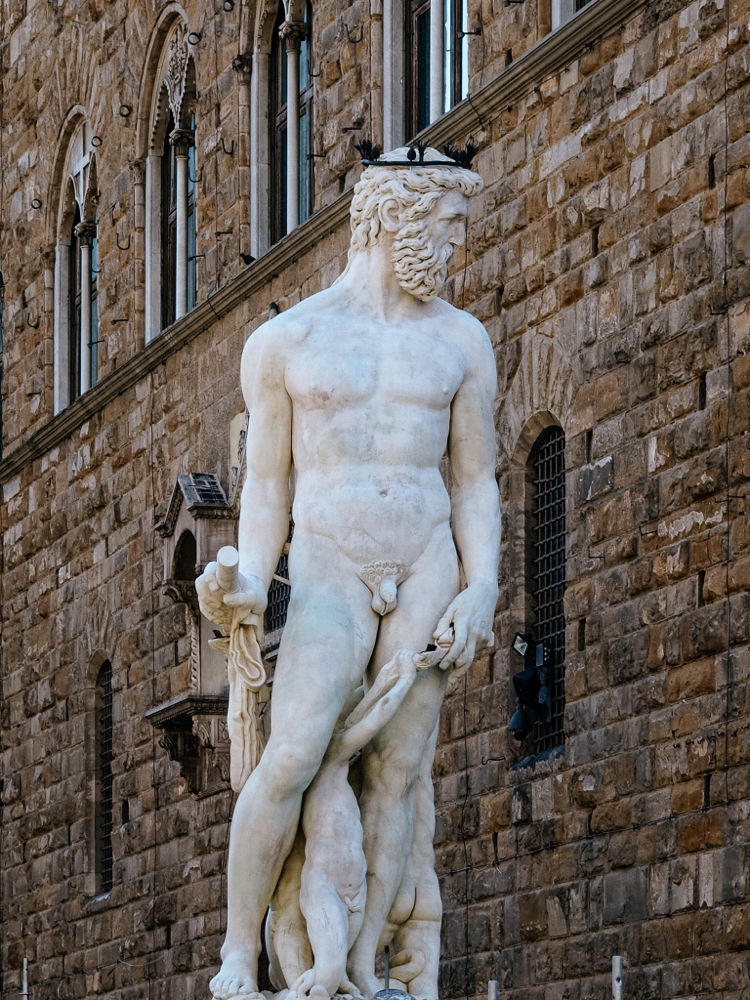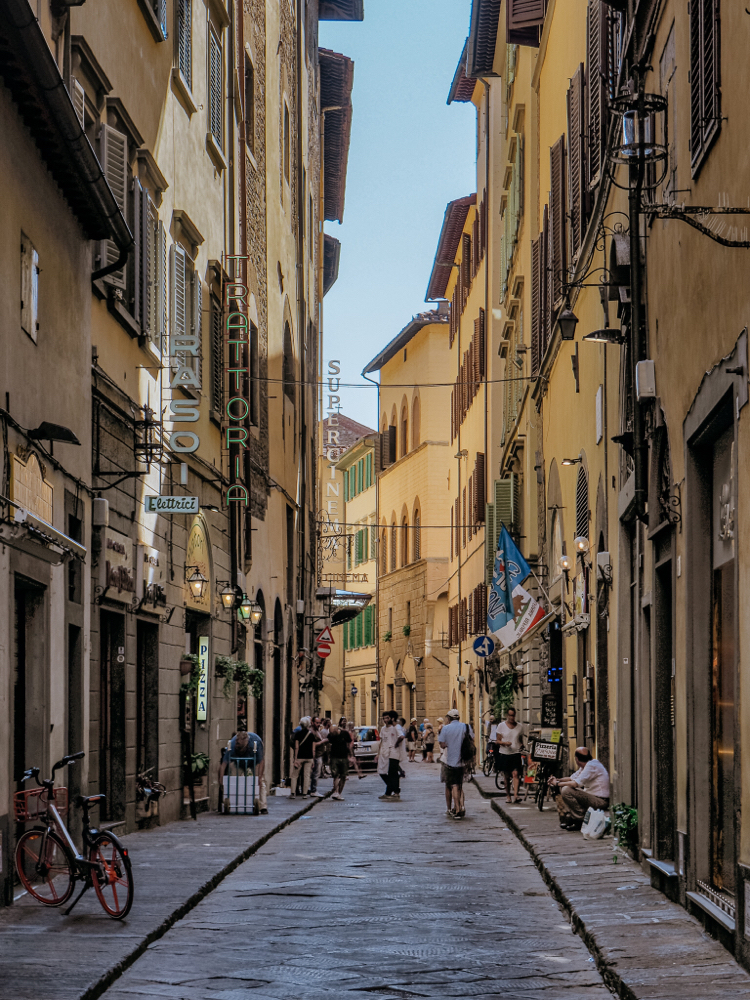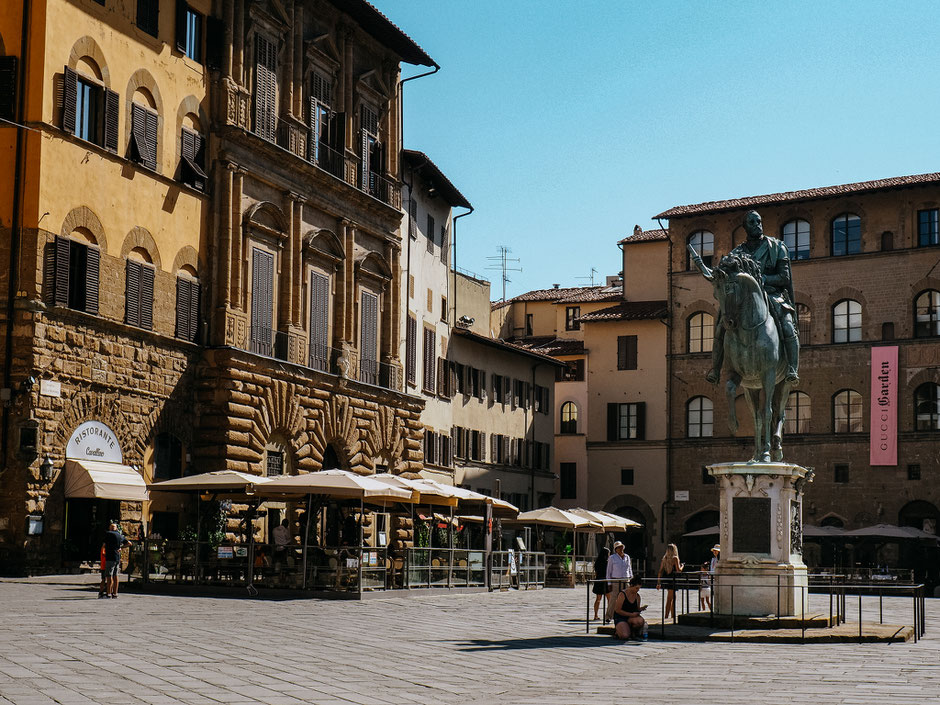 8. LOGGIA DEI LANZI
Next up is Loggia dei Lanzi. It's located in the same square as Palazzo Vecchio, so you don't have to walk far. The Loggia dei Lanzi is an open-air sculpture gallery and a perfect place to take a break from walking and admire some amazing works of art. It was built in the late 14th century and has been home to several famous sculptures, including the "Rape of the Sabine Women" by Giambologna and "Perseus with the Head of Medusa" by Benvenuto Cellini. As we stand here, we can't help but feel amazed at the intricate details of the sculptures and the skill required to create such masterpieces. It's a must-visit spot for any art lover or history buff in Florence.
| Opening hours - daily from 8 a.m. - 7 p.m. |
| Admission - free of charge |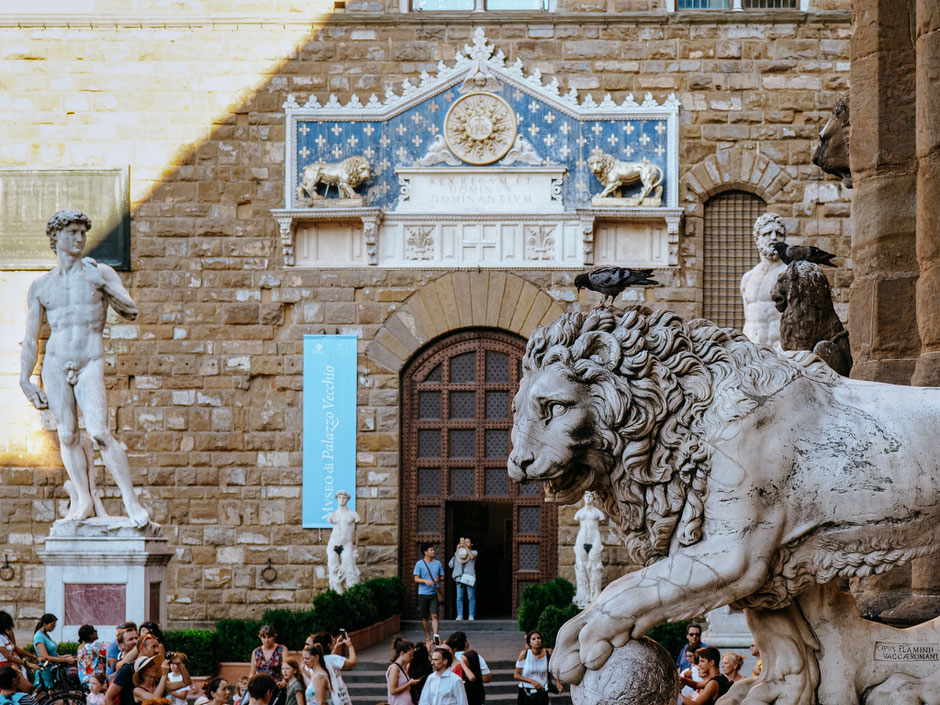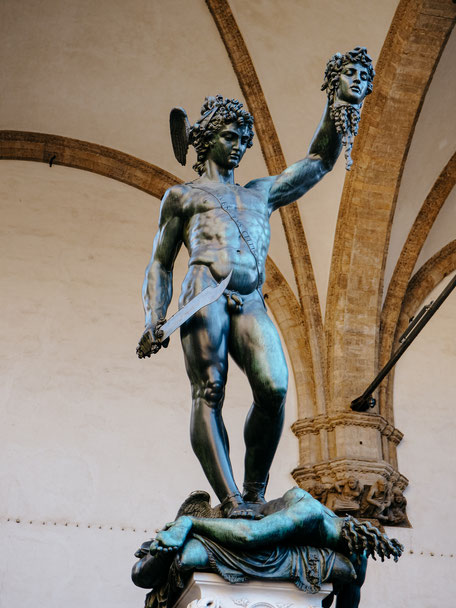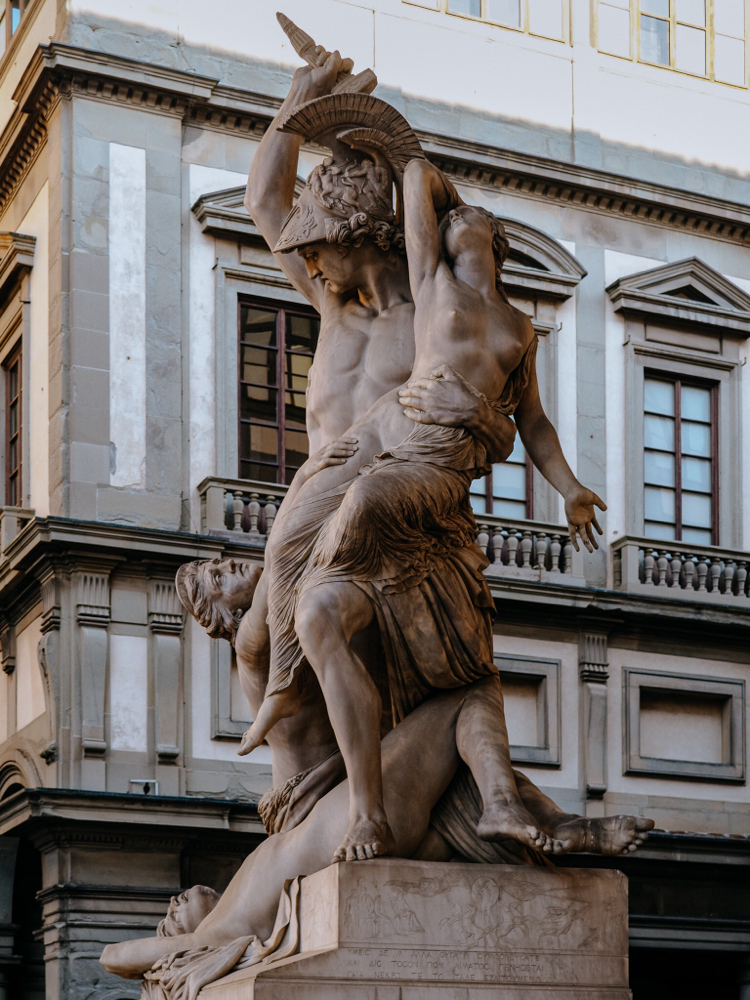 9. OSTERIA ALL'ANTICO VINAIO
What about a much-needed lunch break at Osteria All'Antico Vinaio? This sandwich shop has become a must-visit destination in Florence for locals and tourists alike. The line can be long, but it's worth the wait. We recommend getting there early to beat the crowds. The sandwiches are huge and delicious, filled with fresh ingredients and homemade bread. We tried a few different options and they were all amazing, but our favorites were the "Tartufo 1" with truffle mortadella, stracchino soft cheese, cream of mushrooms, and rocket leaves, and the "Favolosa" with salami, pecorino cheese, cream of artichokes and spicy eggplants. They also have vegetarian options available.
10. GELATERIA DEI NERI
After a hearty lunch, make your way towards Gelateria dei Neri, a popular gelato spot in the heart of Florence. The range of flavors was overwhelming, and we couldn't decide which ones to try. After some deliberation, I went for the classic stracciatella and fior di latte, while Rafael opted for the fruity and refreshing lemon sorbet. We were not disappointed – the gelato was smooth, creamy, and bursting with flavor! And a pro tip: be prepared for a line, as the shop is always busy. But trust us, the wait is worth it! Enjoy your gelato while strolling the streets of Florence, and take in the city's beauty with every lick.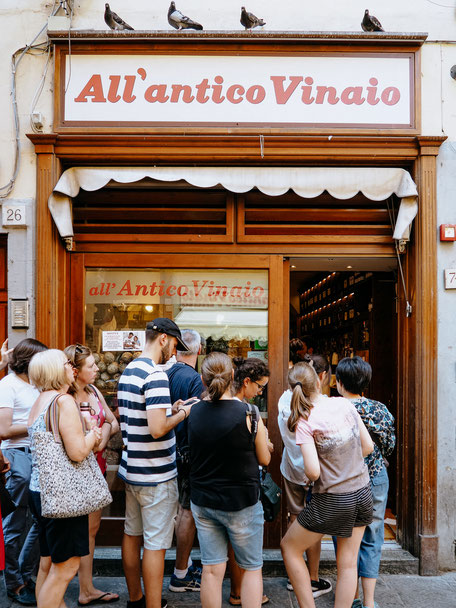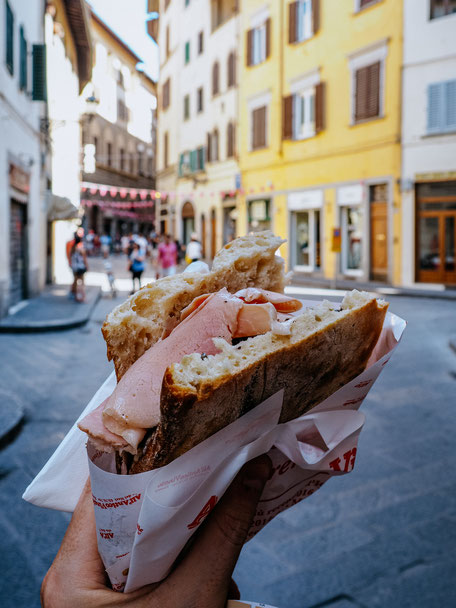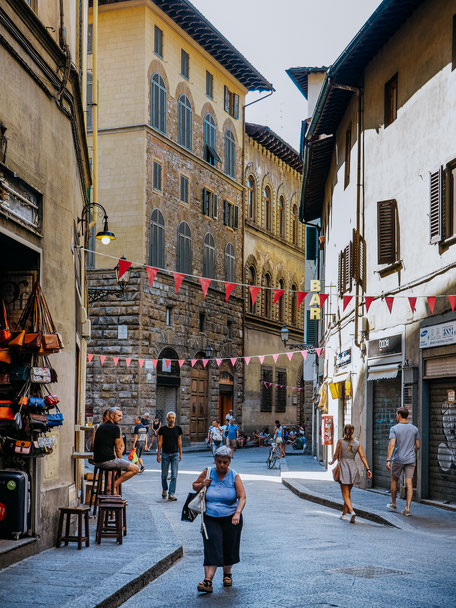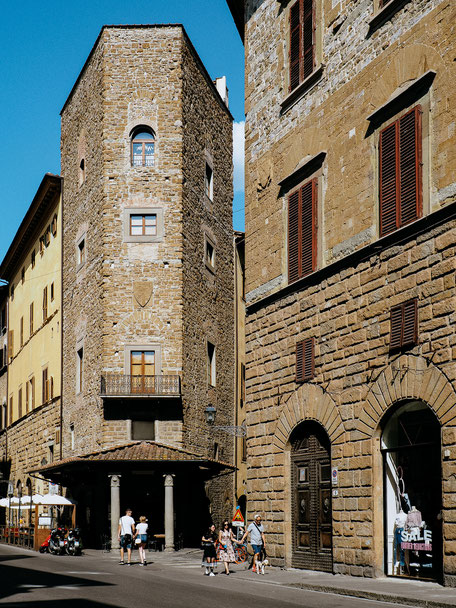 11. BASILICA SANTA CROCE DI FIRENZE
After indulging in all that delicious food, it's time to stretch your legs and explore more of Florence. Our next stop is the stunning Basilica Santa Croce di Firenze, located in the bustling Piazza di Santa Croce. This beautiful church is a must-see attraction for any visitor to Florence, with its striking Gothic architecture and impressive collection of artwork and tombs. As you approach the basilica, you're greeted by the impressive façade adorned with intricate carvings and ornate details. Inside, you're immediately struck by the sheer size and grandeur of the space. The soaring ceilings and ornate chapels are truly awe-inspiring, and we take our time admiring the stunning frescoes and sculptures that adorn the walls. But what really sets Santa Croce apart is the incredible collection of tombs and memorials dedicated to some of Italy's greatest artists and thinkers, including Michelangelo, Galileo, and Dante Alighieri. It's truly humbling to stand in the presence of these legendary figures and reflect on their immense contributions to art, science, and literature.
| Opening hours - daily from 9.30 a.m. - 5.30 p.m. |
| Admission - 8 EUR |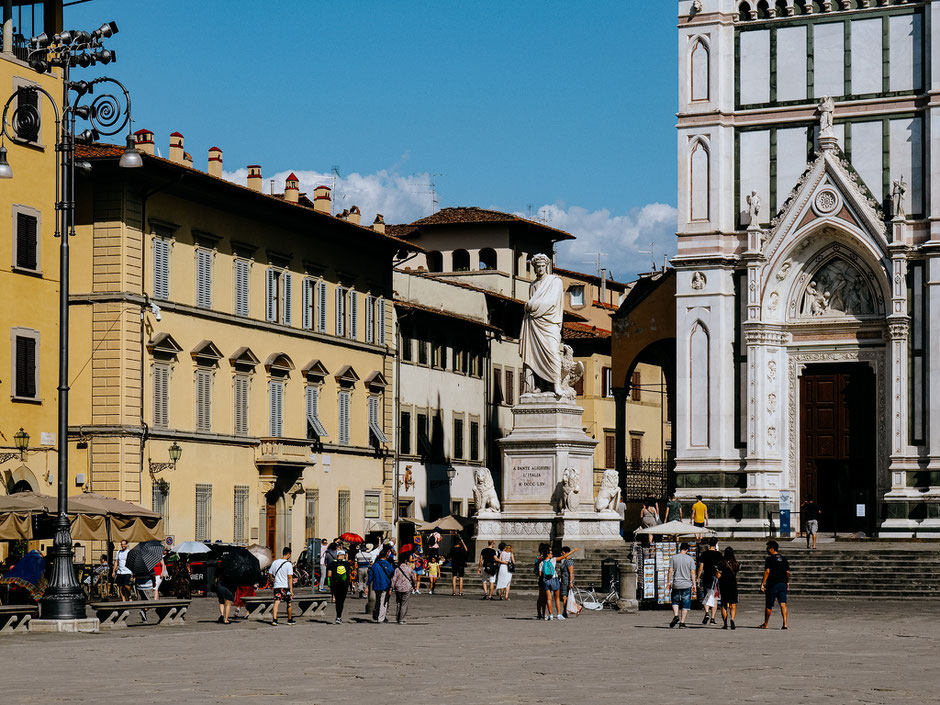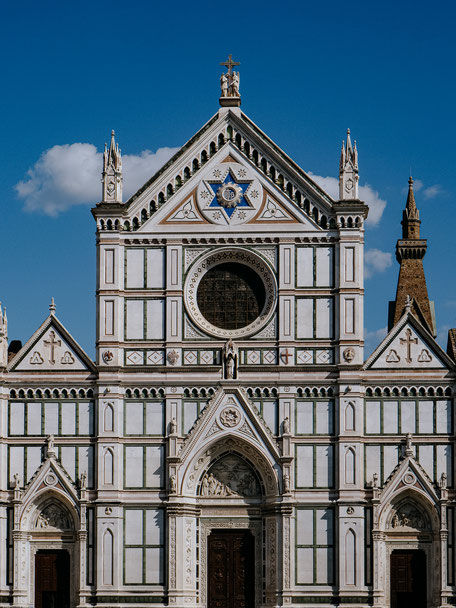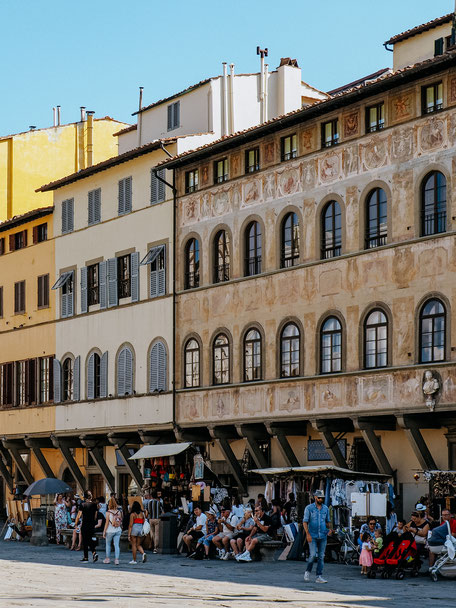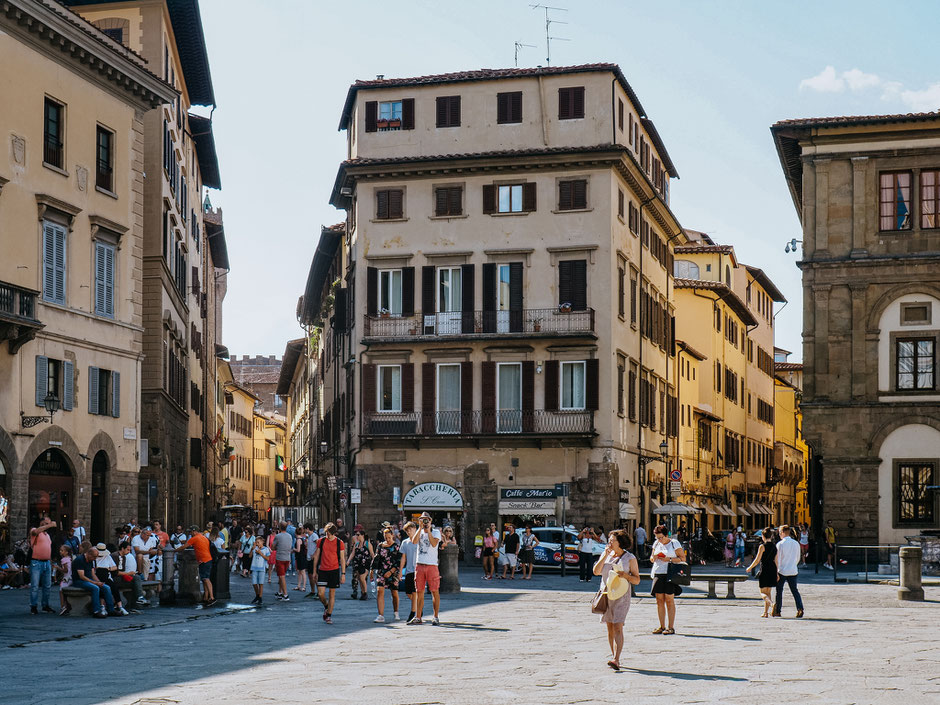 12. PIAZZA DI SAN FIRENZE
Let's now head towards Piazza di San Firenze, the next stop of our itinerary. This charming square is tucked away in a quiet corner of the city and is often overlooked by tourists, making it a hidden gem. The piazza is surrounded by beautiful old buildings, including the 17th-century Palazzo San Firenze and the Church of San Filippo Neri. As you wander through the square, admire the picturesque architecture and the peaceful atmosphere. It's a great place to take a break from the bustling crowds and soak up some authentic Florentine charm.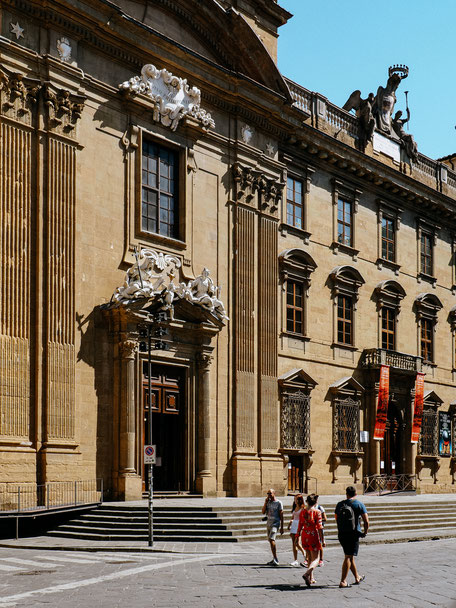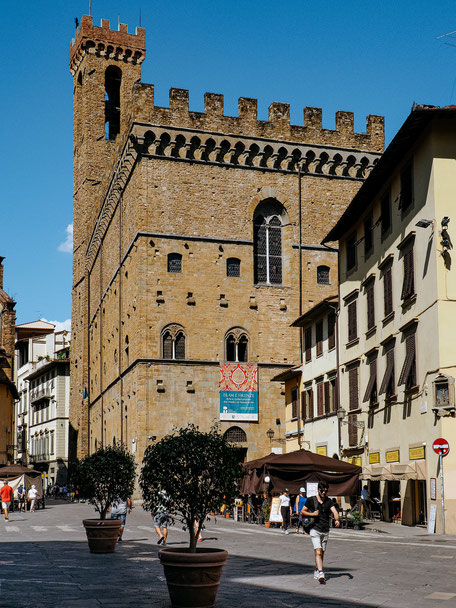 12. CATTEDRALE DI SANTA MARIA DEL FIORE (IL DUOMO)
Last but not least, Il Duomo, or the Cathedral of Santa Maria del Fiore, is an architectural masterpiece that has stood the test of time. The church was built in the 13th century, and its iconic dome was added in the 15th century. As you approach the Cathedral, you are struck by the size of the building, with its towering façade adorned with intricate marble carvings. The pink, green, and white marble creates a stunning contrast against the clear blue sky. It's hard not to be in awe of the creativity and craftsmanship of the architects and artisans who designed and built this magnificent structure.
The exterior of Il Duomo is a visual feast, with its intricate details and imposing presence. The façade features intricate sculptures and bas-reliefs, depicting various religious scenes and figures. The imposing bell tower, or Campanile, stands tall next to the Cathedral, providing an even more dramatic backdrop to the already stunning scene. We can't help but feel a sense of reverence and humility as we stand in front of this awe-inspiring monument.
| Opening hours - daily from 10 a.m. - 4.30 p.m. |
| Admission - 18 EUR |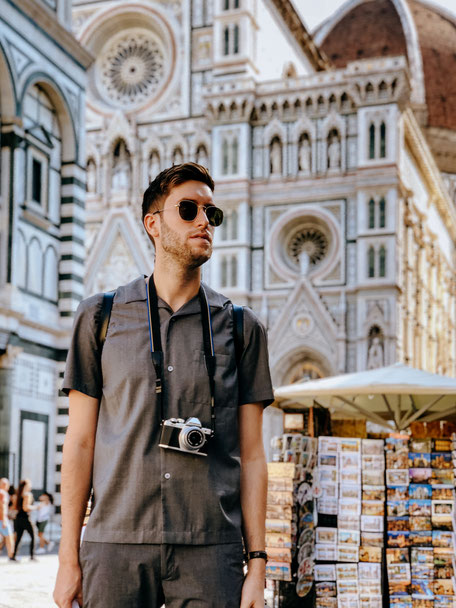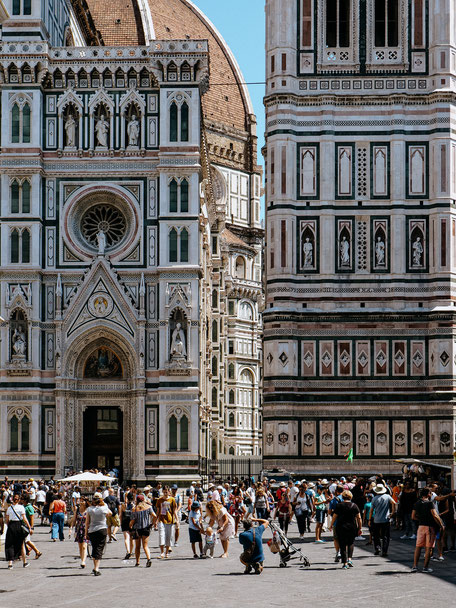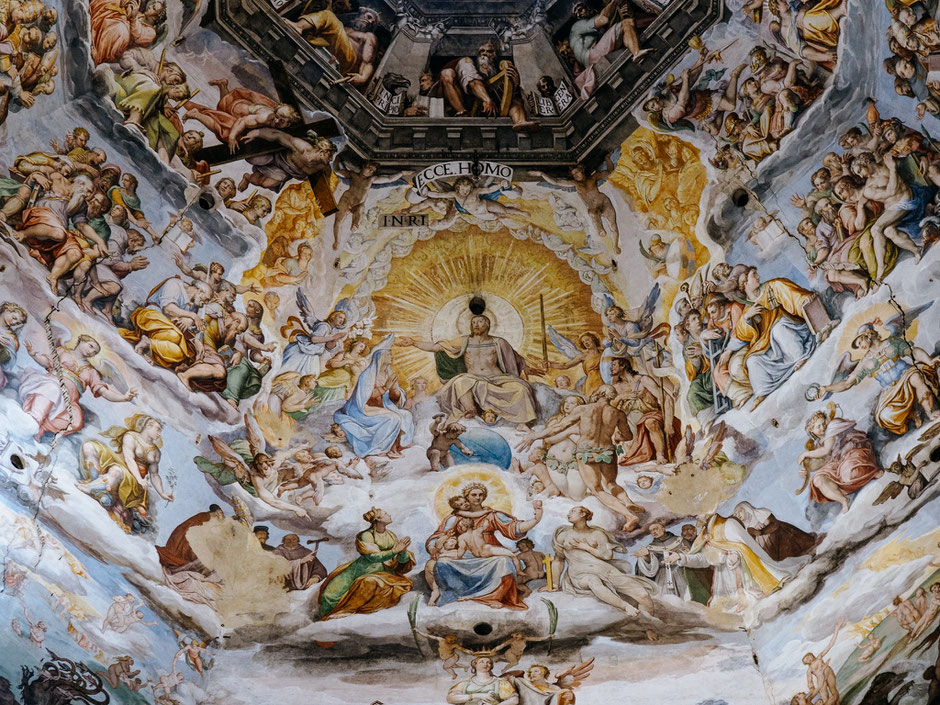 Stepping inside Il Duomo is an experience that takes your breath away! The interior is just as stunning as the exterior, with intricate frescoes, stunning stained glass windows, and an incredible sense of grandeur. The size of the nave and the intricate details of the marble floor are simply awe-inspiring. The incredible dome was designed by Filippo Brunelleschi in the 15th century, it's such an impressive piece of work! The colors and patterns of the stained glass windows seemed to dance around us!
Il Duomo is not only a testament to the skill and dedication of the artists and architects who built it, but it is also a symbol of the rich history and culture of Florence. It has witnessed the city's ups and downs, its triumphs and tragedies, and has served as a beacon of hope and faith for generations. Whether you're a history buff, an architecture enthusiast, or simply someone who appreciates beauty, a visit to Il Duomo is an absolute must!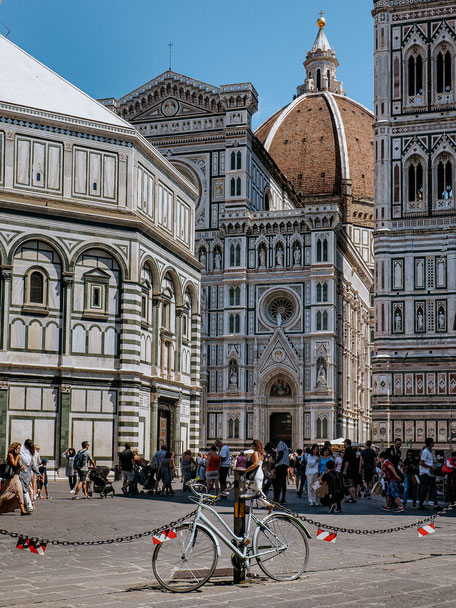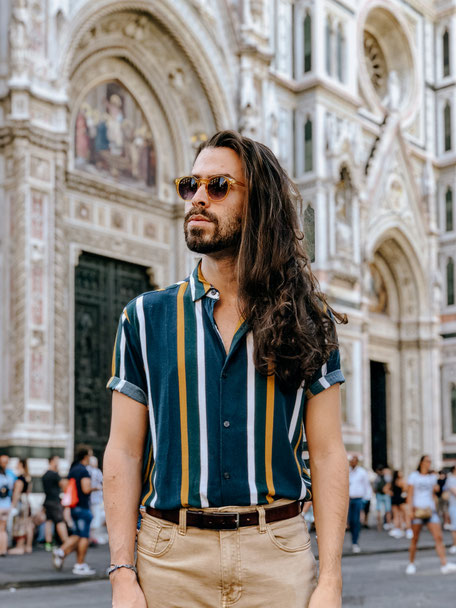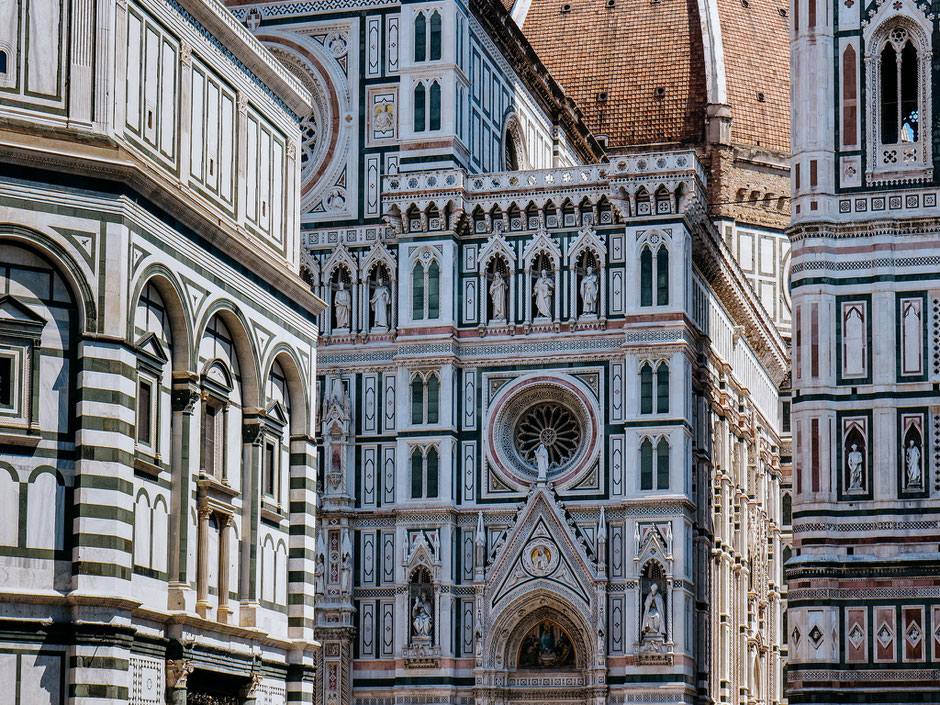 OUR FINAL THOUGHTS
This first day in Florence was a whirlwind of stunning sights and delicious food. We got to experience some of Florence's most famous landmarks, like the Duomo and the Ponte Vecchio. And we tasted some of the best culinary offerings this city has to offer, from gelato to street food to authentic pizza. But there's still so much more to see and do in this beautiful city! Click here to check our next post, where we take you on the second day of this itinerary to explore the Oltrarno neighborhood with its own unique charm and hidden gems.
---
TRAVEL ESSENTIALS
getting THERE
To get to Florence, there are several options available. If you're flying, Florence has its own airport which is just 4 km from the city center. However, keep in mind that budget airlines such as Ryanair may fly into Pisa Airport, which gives you the opportunity to see the famous Leaning Tower. From Pisa, Trenitalia connects Pisa train station to the Santa Maria Novella train station in Florence in just an hour, for around 8-9 EUR. Finally, there are also bus options available which cost around 14 EUR and take 1 hour and 10 minutes to reach Florence from Pisa. Regardless the option you choose, you'll be able to enjoy the beautiful scenery of Tuscany along the way.
STAYING THERE
Finding the perfect accommodation in Florence is a breeze with the vast array of options available. Whether you're a budget traveler or a luxury seeker, you can easily find something to suit your needs. On a tight budget? Airbnb and hostels offer affordable choices that won't break the bank. For those looking for a more luxurious experience, Casa Howard Guest House is an excellent option. We had the pleasure of staying in a beautifully decorated and comfortable double room just a stone's throw away from Piazza di Santa Maria Novella. For around 150 EUR per night, we enjoyed a private terrace and the convenience of air conditioning. And let's not forget about the delicious breakfast! From toasts with honey from farmland Tuscany to homemade marmalade and cappuccino, coffee or tea, Casa Howard Guest House truly knows how to start your day off right.
EATING THERE
We couldn't leave Florence without indulging in some of the city's world-renowned gelato, and Gelato dei Neri did not disappoint. This artisanal gelateria is a must-visit for anyone with a sweet tooth. Their gelato is truly exceptional, with a creamy texture that melts in your mouth and a range of unique flavors that will have you wanting more. The fior di latte flavor is a classic, but we also loved the nocciolata and caramello al burro salato flavors. Each bite was a delightful explosion of taste, and we can't recommend this gelateria enough. Another great spot for gelato is La Carraia, where you can find a variety of classic and unique flavors. We particularly enjoyed the dark chocolate and stracciatella flavors, which were incredibly rich and flavorful.
Moving on to street food, we couldn't resist visiting All'antico Vinaio, one of the most famous street food joints in Florence. The sandwiches here are truly amazing, with generous portions of high-quality ingredients that are bursting with flavor. The prosciutto and mozzarella sandwich was a standout, but the real winner was the crema di tartufo sandwich, which had a truffle cream that was simply divine.
Finally, we couldn't leave Florence without trying some of their famous pizzas. Berbere San Frediano did not disappoint. Their pizzas are made with fresh, locally sourced ingredients and cooked to perfection in a wood-fired oven. We loved the simplicity of the margherita pizza, which allowed the quality of the ingredients to shine, but we also enjoyed trying some of the more adventurous flavors, such as the spicy salami and pecorino pizza.
---
And now it's your turn to let us know what you think about Florence and its beautiful treasures. Did you also fall in love with this incredible city? We look forward to reading your comments in the section below.
---
---
YOU MIGHT ALSO LIKE..