---
Located in the heart of the Netherlands, the charming city of Amersfoort is a hidden gem waiting to be explored! A colleague of Rafael who had recently moved to the city invited us to visit, and with Amersfoort being awarded European City of the Year in 2023, it seemed like the perfect occasion to finally discover what this town was all about. We had heard whispers of its medieval charm and quaint architecture, and so we eagerly accepted the invitation.
In this post, we invite you to join us on our journey through Amersfoort as we discover what makes this city a must-see destination in the Netherlands. We've curated a list of eight best things to see during your visit to this Dutch medieval town. From exploring iconic landmarks to discovering hidden gems, Amersfoort offers a diverse range of attractions for all interests. Join us on our journey as we uncover the reasons why Amersfoort stands out as a must-visit destination in the Netherlands!
---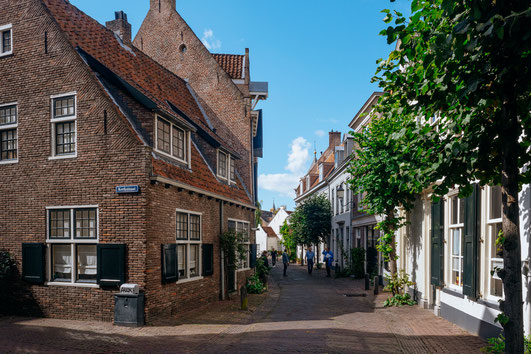 ---
---
GENERAL INFORMATION
Amersfoort, located in the heart of the Netherlands in the province of Utrecht, has truly won us over! This Dutch town is a blend of charm and character, and what makes it particularly special for us is the cozy and intimate atmosphere it exudes. Despite its population surpassing 150,000, Amersfoort manages to maintain the feel of a small, tight-knit community where familiar faces abound. As we strolled through its streets, the allure of its stunning medieval architecture transported us back in time, leaving us enchanted by the town's unique magic!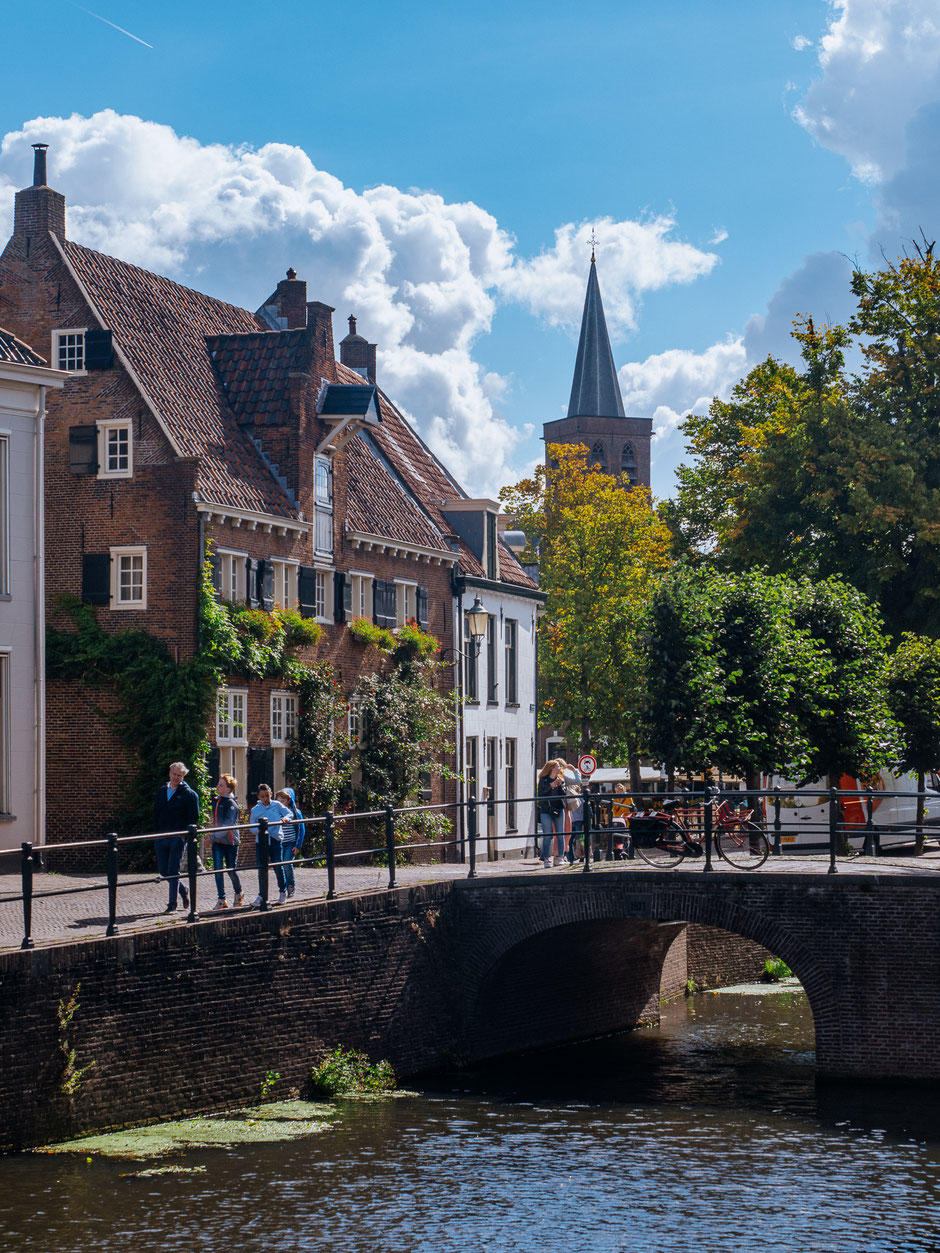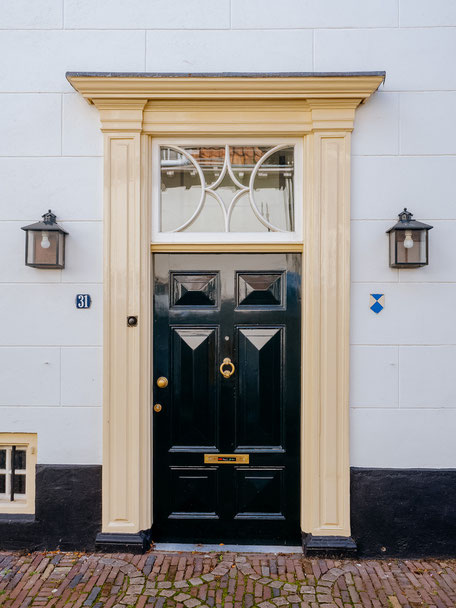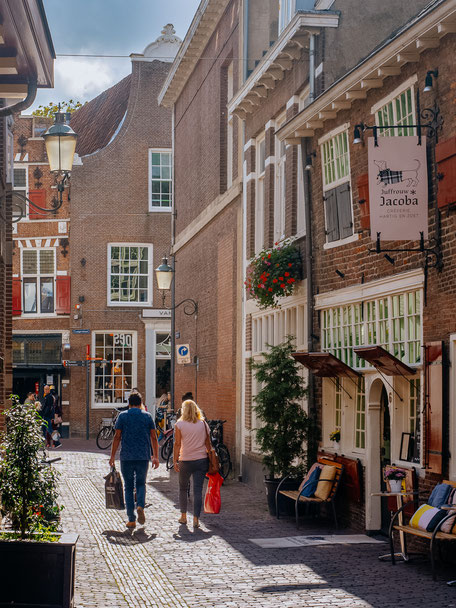 HISTORY
Amersfoort unfolds a rich and captivating history dating back to the medieval era. Established in the 13th century, it swiftly evolved into a pivotal hub for trade and commerce in the Netherlands. The 14th and 15th centuries witnessed remarkable expansion and affluence, evident in the breathtaking architecture like the Onze-Lieve-Vrouwetoren (Our Lady Tower), finalized in 1470. This tower served dual purposes as a watchtower and an alarm signal during wartime. Another iconic landmark, the Koppelpoort (Coupling Gate), was completed in 1425 and was used to control access to the city.
Amersfoort's strategic location also made it an important military stronghold. The city played a significant role in many of the wars that took place in the Netherlands over the centuries, including the Eighty Years' War, which lasted from 1568 to 1648. In the 16th century, the city emerged as a center for the Reformation movement, hosting pivotal religious figures and institutions. 
Despite enduring the challenges of war and the damages incurred during the Second World War, Amersfoort has admirably preserved its historical allure. Today, visitors can meander through its winding streets, marvel at its architectural treasures, and bear witness to Amersfoort's resilience — a testament to its determination to forge ahead. Whether you're a history buff or simply appreciate the beauty of a well-preserved medieval city, Amersfoort is definitely worth adding to your bucket list!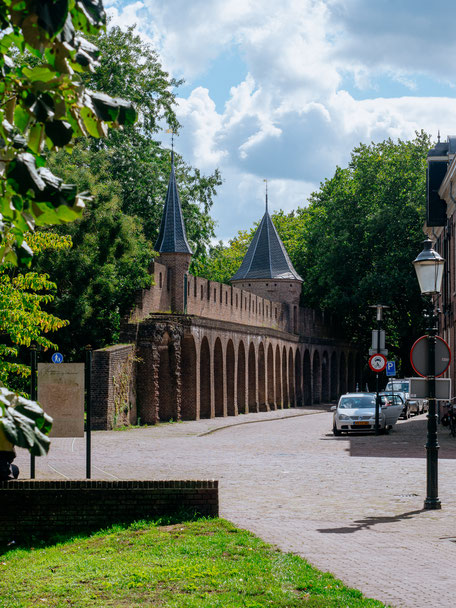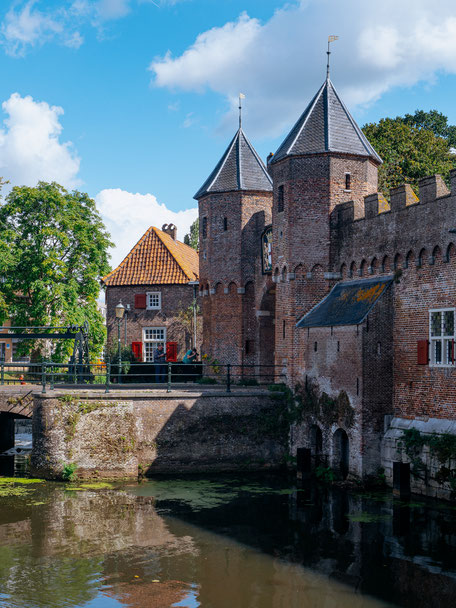 HOW TO GET THERE?
Reaching Amersfoort is a breeze, thanks to its central location and the Netherlands' efficient public transportation system, connecting seamlessly to major Dutch cities. Whether you're departing from Amsterdam, Rotterdam, Utrecht, or The Hague, direct trains to Amersfoort are readily available. Here's a breakdown of travel times and approximate costs for one-way tickets:
Utrecht: a quick 15-20 minutes, with fares around €5-€7.
Amsterdam: a swift 35-minute journey at a cost of €9-€12.
Rotterdam: approximately an hour's travel, with expenses ranging from €17-€23.
The Hague: approximately 1.5 hours, with ticket prices ranging from €15-€20.
Trains run frequently throughout the day, offering flexibility in planning your itinerary. Upon arriving in Amersfoort, the city is easily navigable on foot or by bike, as many key attractions are within walking distance of the train station. For those seeking adventure, bike rentals are available, allowing exploration of the city's scenic countryside and nearby nature reserves.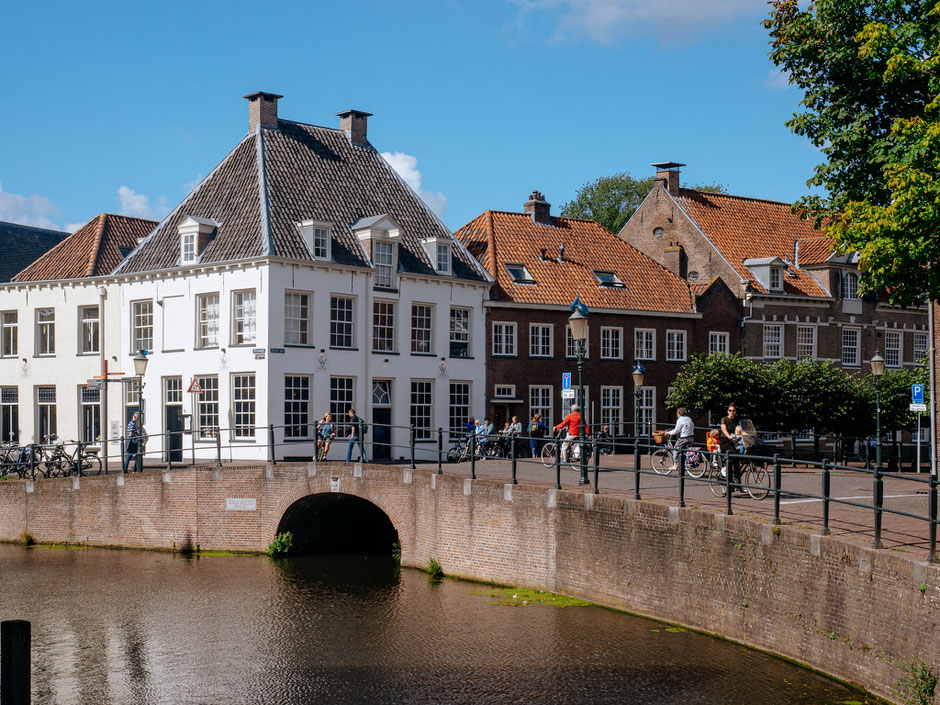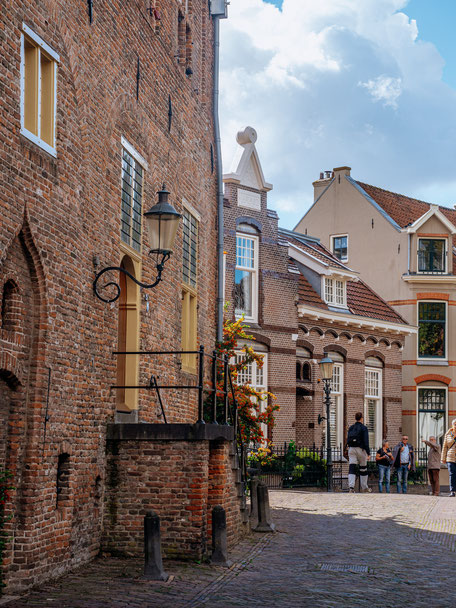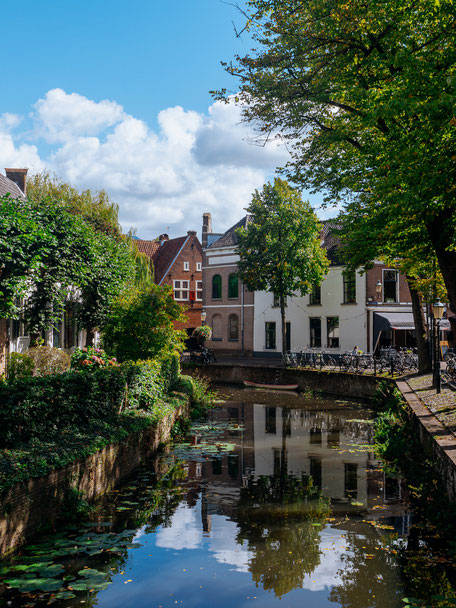 8 BEST THINGS TO DO
1. KOPPELPOORT
Get ready to step back in time and discover the first of the 8 best things to do in Amersfoort we've selected for you! The iconic Koppelpoort is an absolute must-see for anyone visiting the city. This medieval gate, whose name means "coupling gate", was built in the 14th century as a defensive structure to protect the city and collect tolls from passing traders. Its Gothic architecture is jaw-dropping, with towering turrets, intricate details, and imposing archways. But what sets Koppelpoort apart from other gates is that it's both a land and water gate, with a drawbridge spanning a moat and a canal. When the sun sets, Koppelpoort comes to life with stunning illumination, making for a romantic and picture-perfect scene. Besides admiring the architecture and learning about the city's history, a visit to Koppelpoort is a chance to discover the incredible ingenuity and resourcefulness of the people who built it. Don't miss the opportunity to marvel at one of the most impressive examples of medieval architecture in the Netherlands!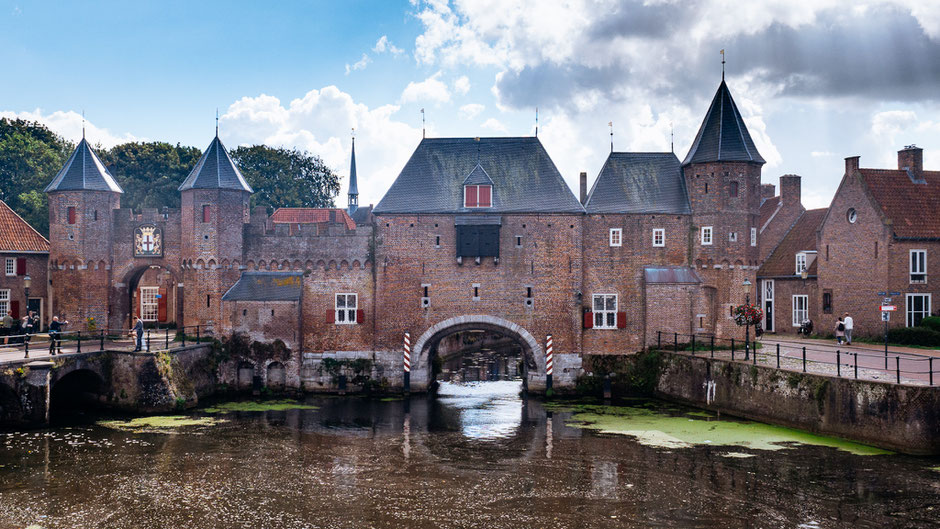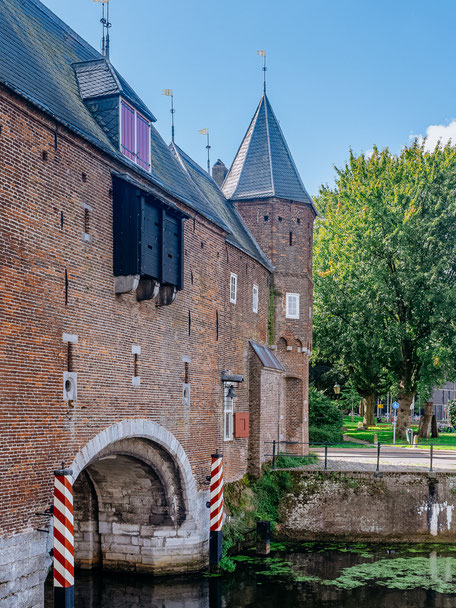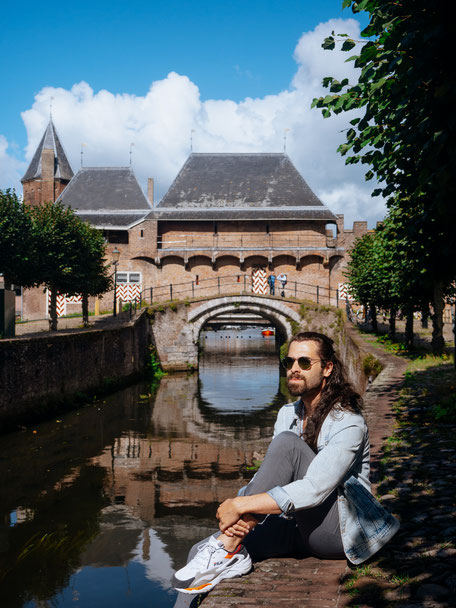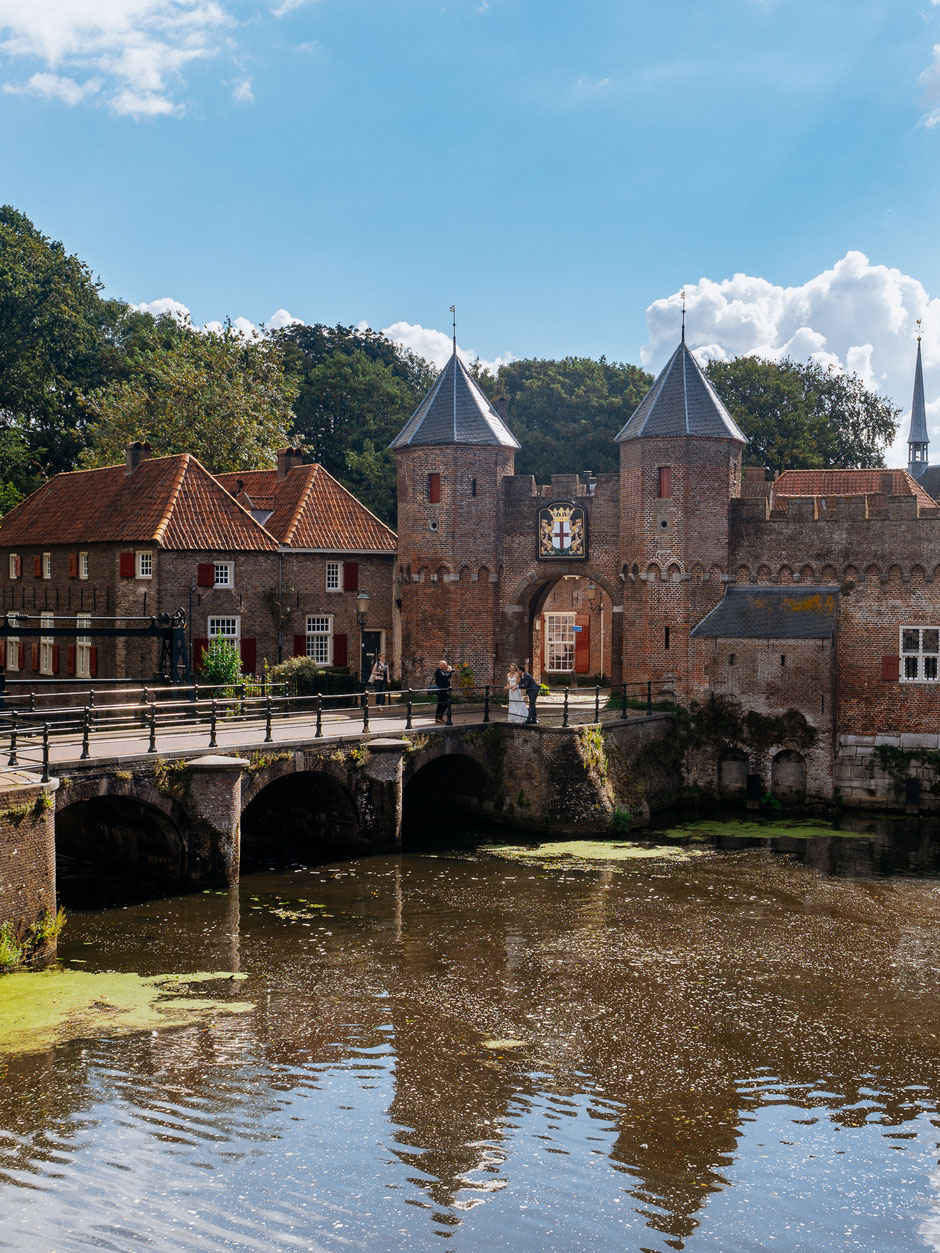 2. ONZE LIEVE VROUWETOREN
As we continue our journey through the best things to do in Amersfoort, the Onze Lieve Vrouwentoren, also known as the "Our Lady Tower," comes in at number two on our list. This imposing landmark is hard to miss, towering over the city at 98 meters tall and offering breathtaking views of the surrounding countryside. The tower was built in the 15th century and served as a watchtower for the city, providing an early warning system against potential attacks. Today, visitors can climb the tower's 346 steps to take in the stunning views of the city and surrounding countryside. At the top, you'll be rewarded with breathtaking panoramic views that are well worth the climb. The tower is also home to a carillon, which rings out every quarter hour and is one of the largest and most impressive in the Netherlands. If you're lucky, you may even catch a live performance by a carillonneur, who plays the bells using a keyboard and pedals.
| Opening hours - daily from 10 a.m. - 4 p.m. |
| Admission - 8.5 EUR |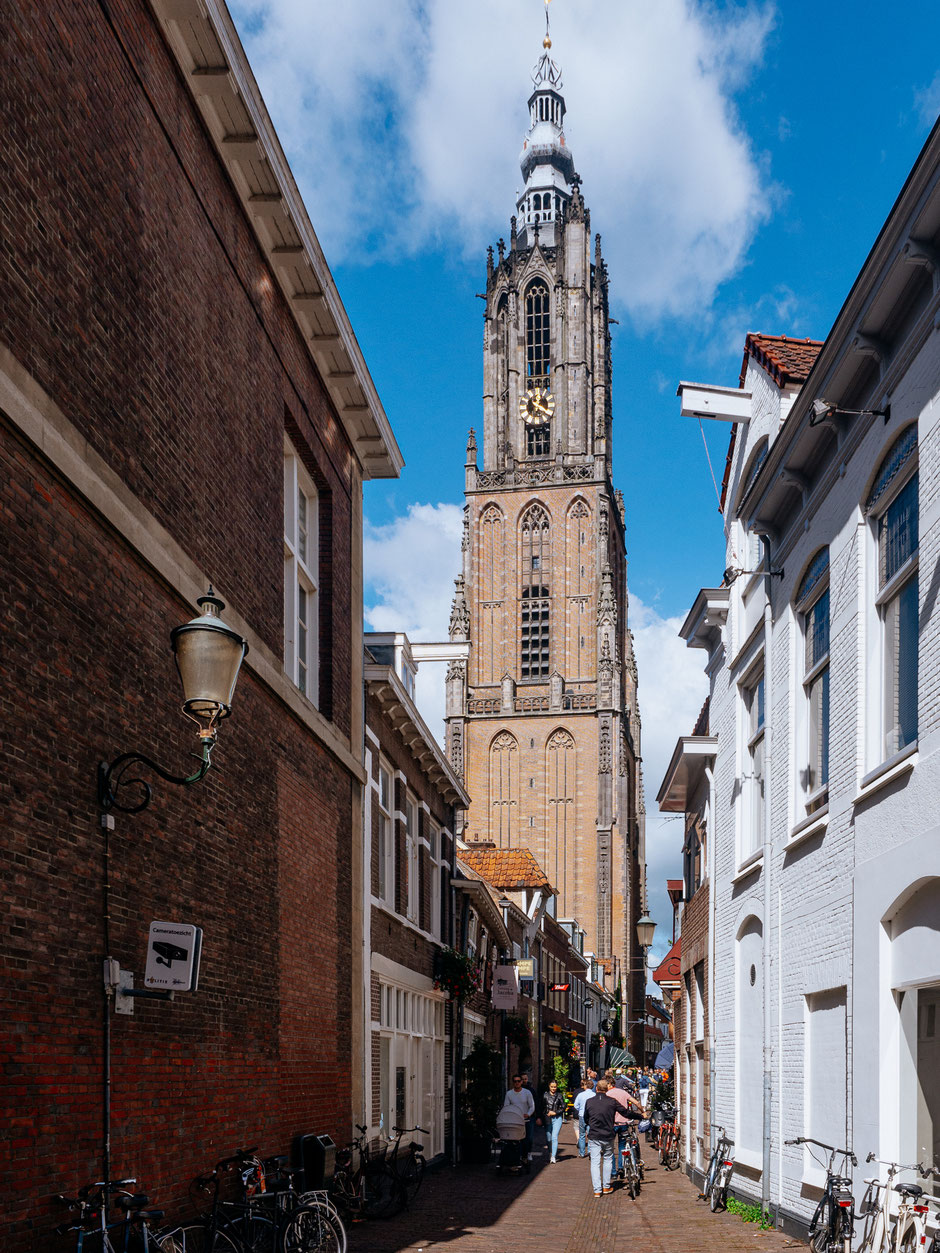 3. MUURHUIZEN
Get ready for a charming and delightful experience with the third best thing to do in Amersfoort – a visit to the picturesque neighborhood of Muurhuizen! This neighborhood is located along the former city wall and is known for its unique and stunning architecture. The houses, many of which date back to the 16th and 17th centuries, boast of stepped gables, bay windows, and ornate details that are unique to Amersfoort. A leisurely stroll through the cobbled streets will transport you back in time and offer you a glimpse into the city's rich history. Don't miss the opportunity to visit the Museum Flehite, where you can learn about the city's cultural heritage, and the Mondriaanhuis, which celebrates the life and work of the Dutch artist Piet Mondrian. Whether you're an art enthusiast or simply love to wander around charming neighborhoods, a visit to Muurhuizen is a must-do in Amersfoort!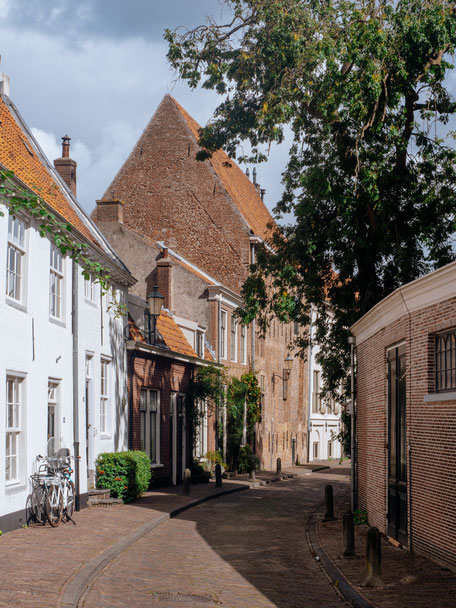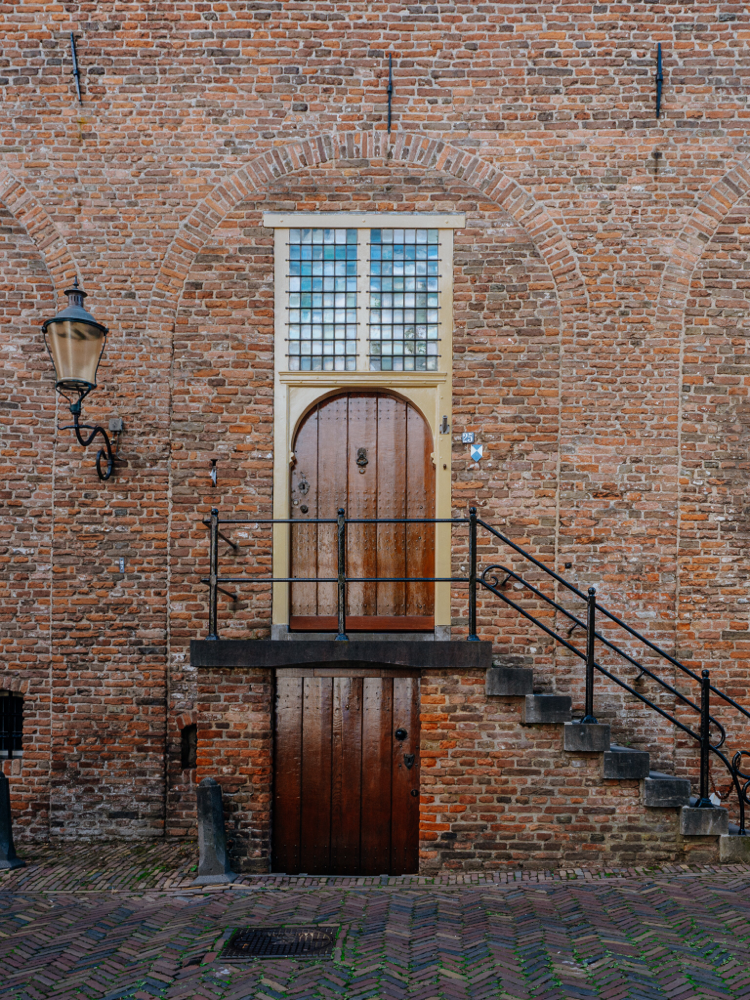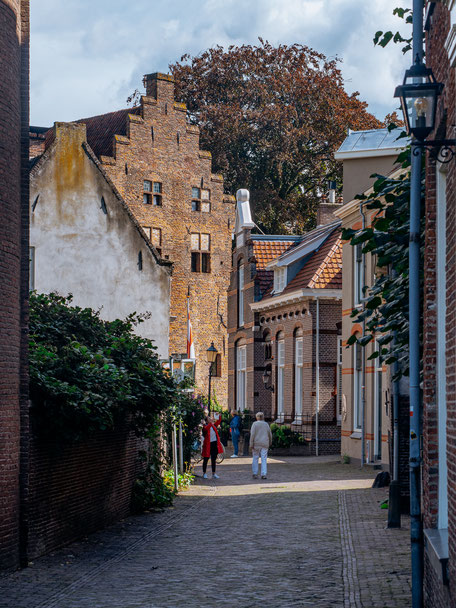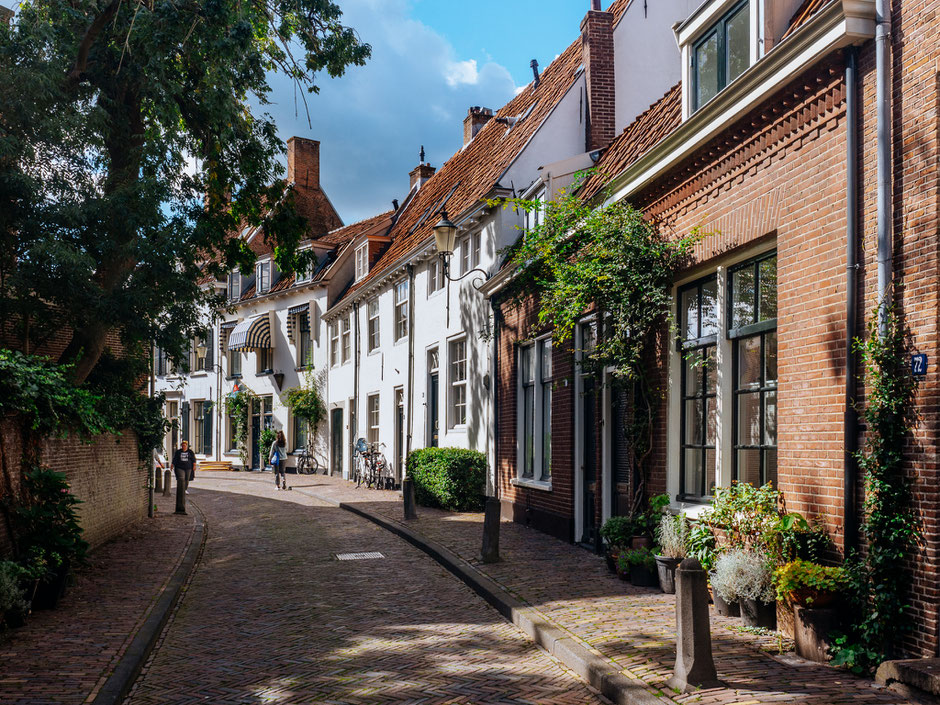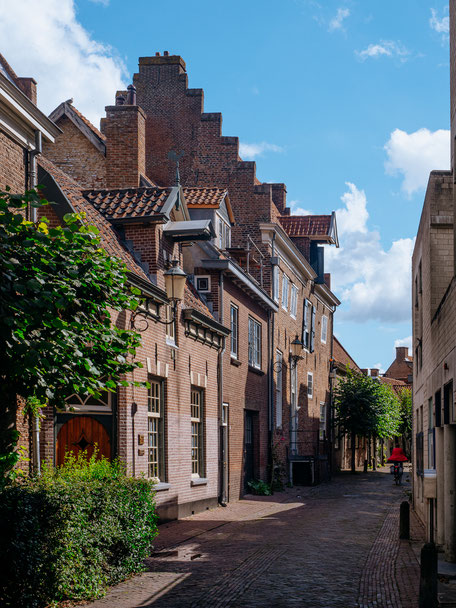 4. HUIS TINNENBURG
Huis Tinnenburg is a hidden gem in Amersfoort that's definitely worth a visit. Built in the 17th century as a residence for wealthy merchants and nobles, this beautifully preserved building is now a hub for cultural events, art exhibitions, and concerts. Its stunning façade is a true masterpiece, with intricate carvings and ornate decorations that will leave you in awe. Take a leisurely stroll through the gardens, or pack a picnic and enjoy the tranquility of this hidden oasis in the heart of the city.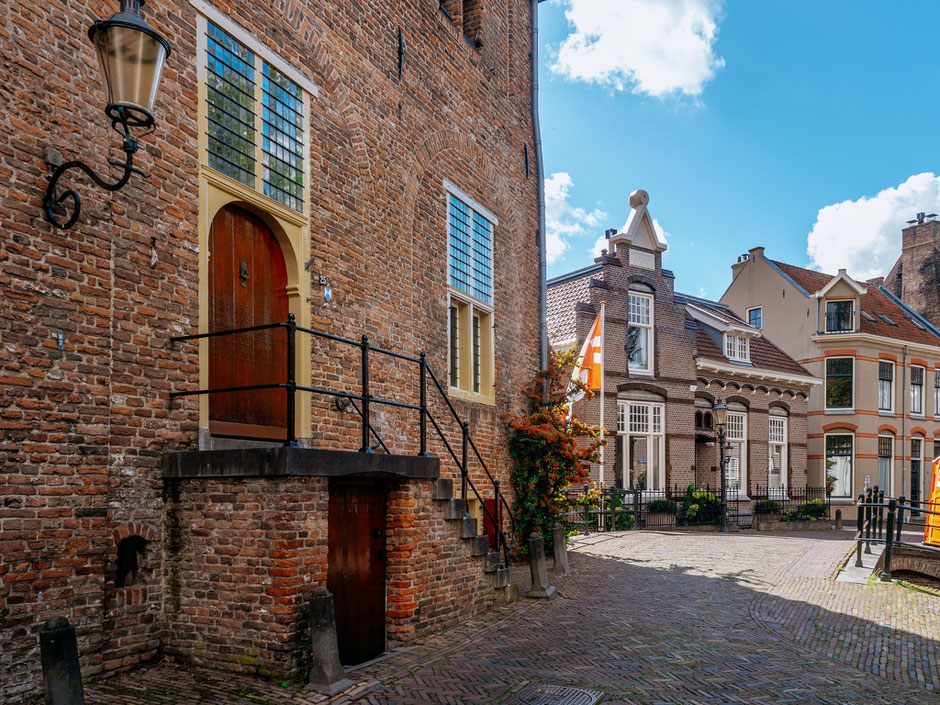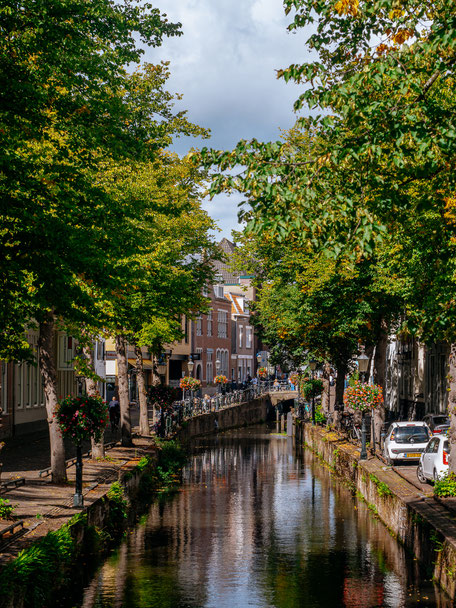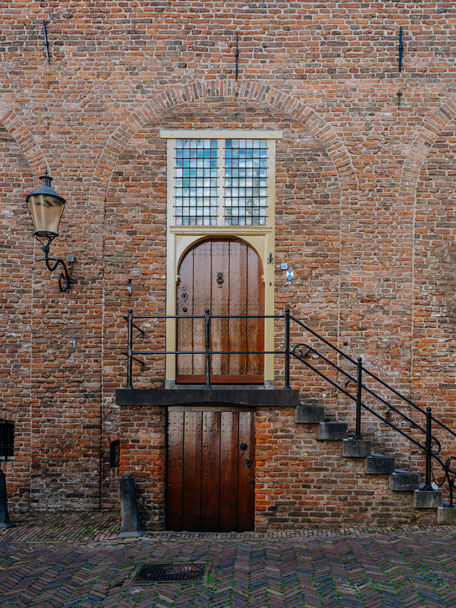 5. OLD TOWN HALL
The Old Town Hall of Amersfoort is undoubtedly one of the best things to see in the city, and a stunning example of Gothic architecture. Serving as the center of government for the city, this magnificent building was constructed in the late 17th century and features a striking façade with intricate carvings and ornate decorations. Its beautiful courtyard is perfect for a leisurely stroll, while the interior boasts a grand staircase, beautiful murals, and stunning stained-glass windows. Today, the Old Town Hall hosts a variety of cultural events, including weddings, concerts, and art exhibitions, making it a must-visit attraction for anyone interested in history, architecture, or the beauty and charm of Amersfoort.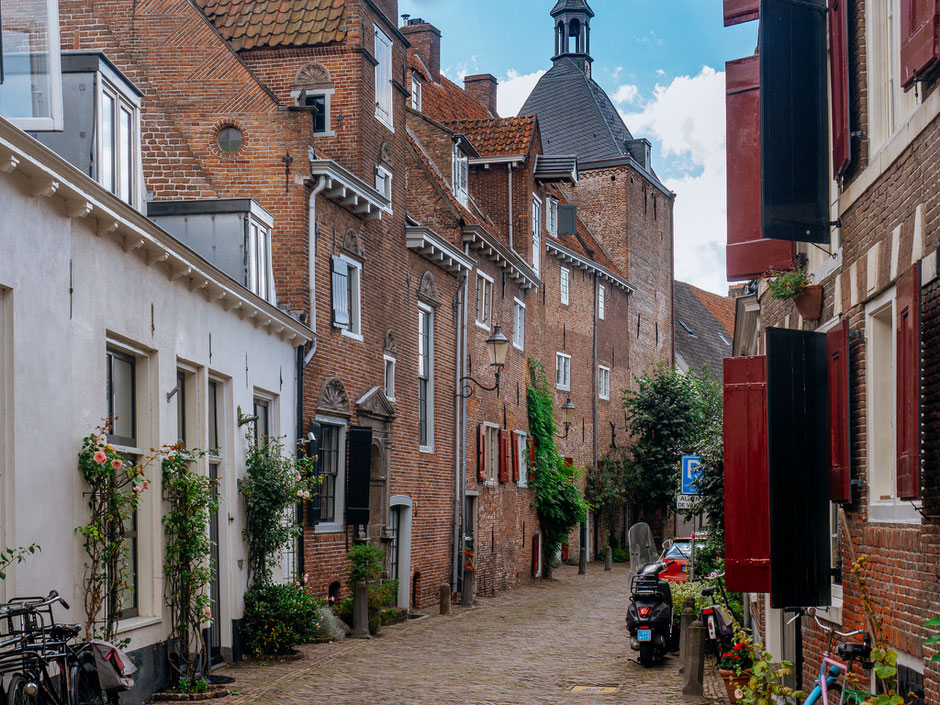 6. KAMPERBINNENPOORT
The Kamperbinnenpoort is a fascinating piece of history and an iconic landmark in Amersfoort. This beautiful gate was constructed in the 14th century and served as a defense mechanism for the city. It is one of the few remaining gates that were part of the original city walls, and it is located at the end of the historic shopping street called Kamp. The Kamperbinnenpoort features a stunning archway with intricate carvings and decorations, and it is flanked by two imposing towers that are sure to leave a lasting impression. Today, the Kamperbinnenpoort is a popular tourist attraction, and visitors can climb the stairs to the top of the towers for a spectacular view of the city.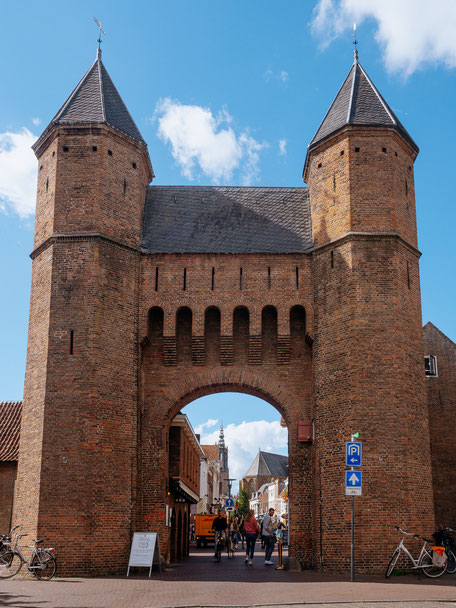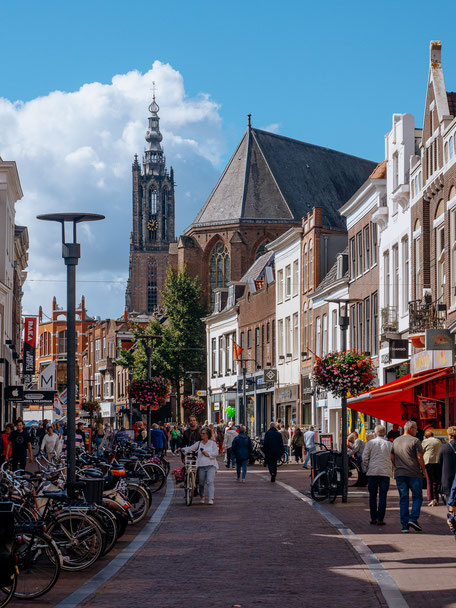 7. SAINT GEORGE'S CHURCH
Next up is Saint George's Church, or Sint Joriskerk, a beautiful Gothic church located in the heart of Amersfoort. It was built in the 13th century and is named after Saint George, the patron saint of soldiers. The church is known for its stunning stained-glass windows, elaborate choir screen, and a magnificent pipe organ that dates back to the 17th century. It also houses an impressive collection of religious art and artifacts. Saint George's Church played an important role in the history of Amersfoort, as it was used for military purposes during times of war. Today, it serves as a place of worship and a popular venue for cultural events and concerts.
| Opening hours - 10 a.m. - 5 p.m. from Tuesday to Saturday |
| Admission - 5 EUR |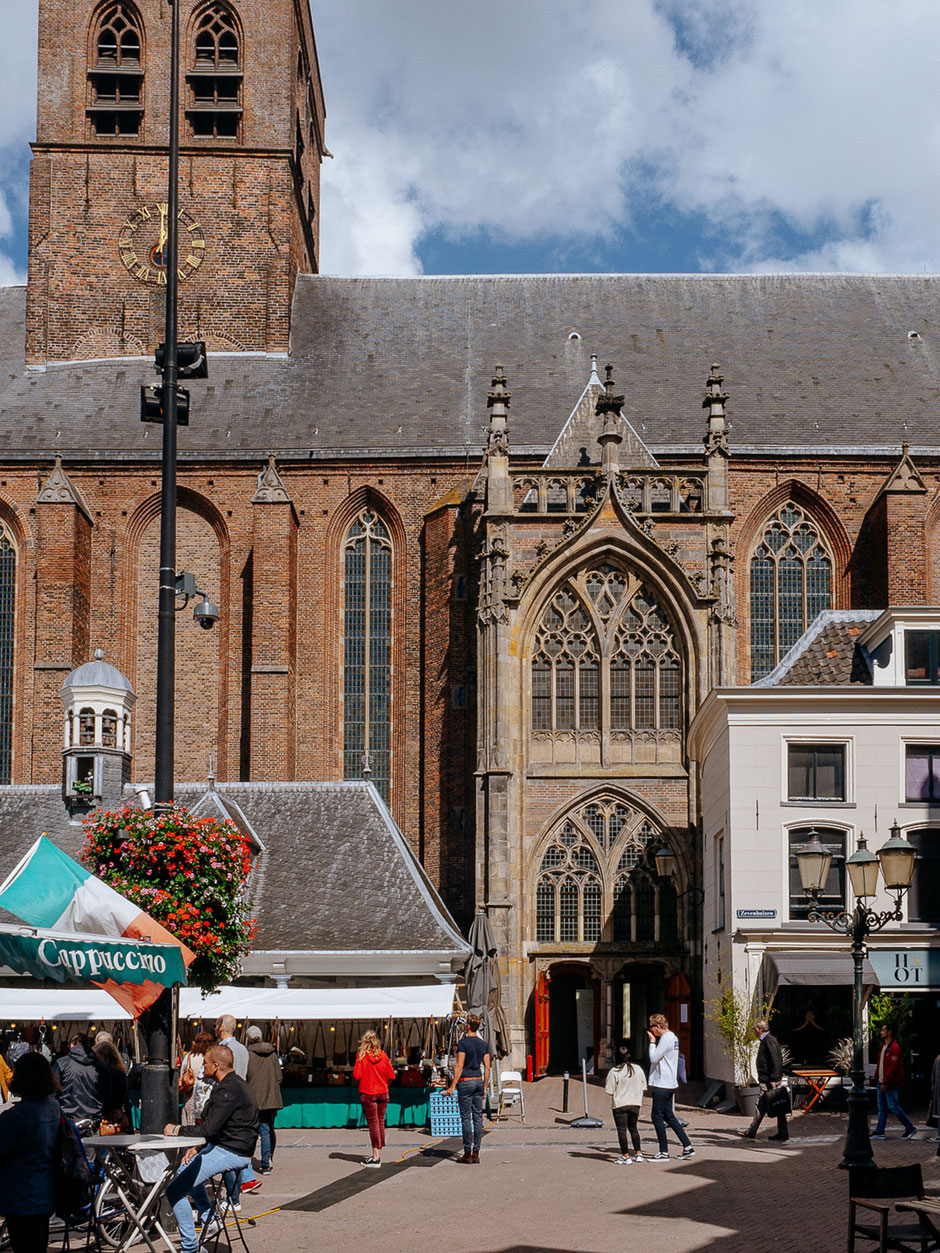 8. LANGEGRACHT
Our final stop in Amersfoort is Langegracht, a picturesque canal lined with charming cafes, shops, and historic buildings. This lively street is a favorite among locals and visitors alike, offering the perfect spot for a leisurely stroll or a relaxing drink by the water. During our visit, we were struck by the beautiful architecture of the surrounding buildings, which date back to the 17th and 18th centuries. We also enjoyed exploring the various shops and boutiques that line the canal, offering everything from handmade crafts to delicious local treats. Langegracht is a perfect spot to soak up the laid-back atmosphere of Amersfoort and the ideal way to end our visit to this beautiful city.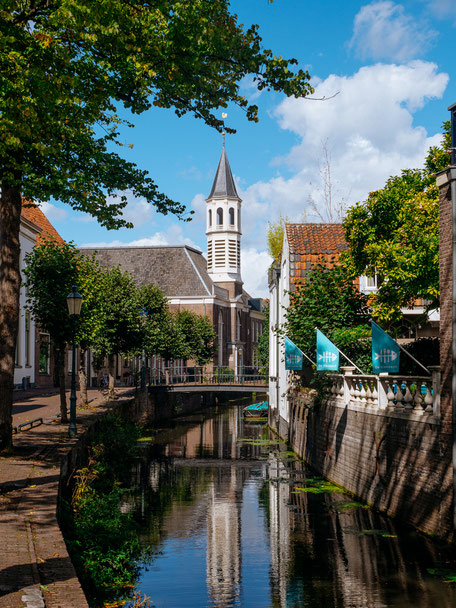 OUR FINAL THOUGHTS
As we say goodbye to Amersfoort, we can't help but reflect on what an incredible experience it has been! From its charming medieval architecture to its rich history and culture, Amersfoort has truly exceeded our expectations. We were struck by the friendly locals, the welcoming atmosphere, and the wide range of activities on offer. We felt that Amersfoort was the perfect destination for anyone seeking to explore the Netherlands beyond the tourist hotspots of Amsterdam and Rotterdam. The city is easily accessible by train, and its compact size makes it ideal for a day trip or a weekend getaway. We were left with a strong desire to return and explore more of what this beautiful city has to offer. If you're looking for an authentic Dutch experience, we highly recommend adding Amersfoort to your travel bucket list!
---
---
We would love to hear about your own experiences and thoughts on the charming city of Amersfoort. If you have had the chance to visit this wonderful destination, feel free to share your insights, tips, and recommendations in the comment section below.
---
---
YOU MIGHT ALSO LIKE..