---
Here we are: writing the first post of our blog (how exciting)! We decided to start our blog with our most recent trip, not only because the memories are still fresh but also because it was a magical location that we'd be happy to share with you.
Since Thomas was based in Frankfurt, we were looking for a nice location for a small winter getaway which we could possibly combine with a skiing day, since I am a bit of a snow lover (which does not necessarily mean I am a good skier). Therefore, the options available for us were either going to Bavaria or Swiss. For money constraints, we decided to go to Bavaria which is a region on the southeast part of Germany, near the Austrian border and its Tyrol region, a beautiful part of the Alps.
We had gone in an earlier trip to the northern part of Bavaria (you can check our post about it here), but we did not have enough time to go all the way to the south where there lies one of the jewels of Germany: Füssen and the Neuschwanstein Castle (check our post about the Neuschwanstein Castle here). So, we reckoned this was the right time to do it and booked our trip.
---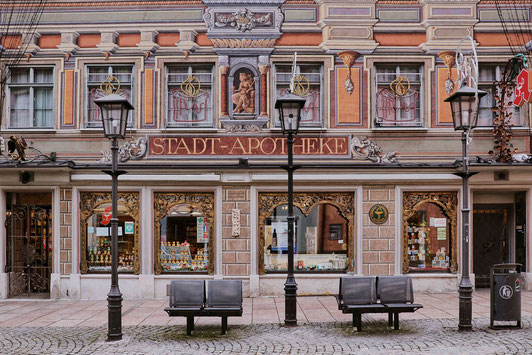 ---
---
GENERAL INFORMATION
As we wanted to avoid spending a lot, we decided not to rent a car this time and go there by bus. Our destination was Füssen, the colorful medieval city, which later on proved to be a very good decision since by staying in a hotel/hostel in this city, you are entitled to a Füssen card which allows you to take buses and several trains throughout the region for free and also gives some discounts to the main attractions nearby.
After a 6-hour trip on Thursday morning from Frankfurt, we arrived in Füssen and were already mesmerized by the beautiful combination of medieval architecture of the old-town and the snowy mountains serving as background. Füssen is the final destination of the German Romantic Road which comes down from Wurzburg.
While waiting for the check-in hour of our hostel, we had a small walk around the old town and went to the Information Center. The people there were very helpful explaining the different bus lines and attractions worth visiting in the surroundings as well as all the benefits from getting a Füssen card (which by the way has to be activated in the tourist center after you receive it, so no excuse not to go there!).
We were looking forward to see the Neuschwanstein Castle (even from afar) but unfortunately the view from Füssen is not possible since a hill gets in the way of admiring this beauty. Therefore, beholding the Neuschwanstein had to wait for the next day. In the meantime, we still had time to enjoy strolling around the colorful streets of Füssen.
HISTORY
Füssen's roots go back to the Roman era when a settlement developed on the Via Claudia Augusta, a road leading south to northern Italy and north to Augusta Vindelicum (now Augsburg), the former regional capital of the Roman province of Raetia. Füssen's original name was "Foetes", or "Foetibus", which derives from the Latin "Fauces", meaning "gorge", probably referring to the Lech Gorge. In the 8th century the Swiss monk Magnus laid the foundation for the Benedictine Abbey St. Mang.
It is only at the end of the 11th century that the name Fuzin first appeared (later Fiessen or Füssen), it was mainly because of the town's location at the foot of the mountain (Füße meaning "feet" in German). The three feet in the coat of arms also allude to this name. There are several legends about the meaning of the three feet.
A WALK ITINERARY - OLD TOWN, WATERFALL AND CASTLE
1. FÜSSEN MAIN STREET
If you're arriving at Füssen train station, be sure to take a leisurely stroll along the path that winds its way through the heart of the town! You'll be treated to a stunning display of colorful medieval houses that are sure to capture your imagination and transport you back in time. With a majestic mountain range looming in the background, it's the perfect setting for a fairytale adventure! Keep an eye out for the main street of Füssen, as it's one of the most iconic and picturesque in the entire city. With its charming architecture and vibrant hues, it's like something straight out of a postcard! Take your time to explore this charming corner of Füssen, and don't forget to snap some photos to capture the memories. It's a truly enchanting experience that you won't want to miss!
2. OLD TOWN
Füssen is a magical city bursting with energy and character, with a delightful mix of lively attractions and peaceful hideaways waiting to be explored. One of the must-see areas of Füssen is definitely the historical old town, which offers the perfect backdrop for a leisurely stroll. As you make your way through the maze of colorful and cute little streets, you'll feel like you've stepped into a storybook world. Take your time to savor the sights and sounds of this enchanting corner of the city, and don't be afraid to get lost in the narrow alleyways - it's all part of the adventure!
3. MEDIEVAL CASTLE
Prepare to be transported back in time as you explore the Hohes Schloss Füssen, a medieval castle that dominates the town's skyline. While it may not be as grandiose as the castles in Schwangau, the Hohes Schloss Füssen boasts a rich history that's just waiting to be discovered. In fact, this magnificent structure was built centuries before its more famous counterparts, which explains its unique architectural style. As you wander through its hallowed halls, you'll be greeted with fascinating remnants of Roman fortifications from the 12th century. But that's not all - the castle is also home to the branch gallery of the Bavarian State Painting Collections, making it a must-see destination for art lovers. Make sure you take the time to explore the courtyard, where you'll find a stunning array of illusion paintings that are sure to leave you in awe. As one of the most important secular buildings of the German late Gothic period, the Hohes Schloss Füssen is a true marvel that's just waiting to be explored!
| Opening hours - Monday to Friday - 11 a.m. - 5 p.m. |
| Admission - 6 EUR |
4. ST. MANG ABBEY
Prepare to step back in time as we journey to the Abbey of St. Mang, a true masterpiece that was founded by St. Magnus in the first half of the 9th century. This incredible structure boasts an incredibly symmetrical Baroque design that's sure to leave you in awe, and it was all thanks to the local architect Johan Jakob Herkomer. Herkomer was one smart cookie - he received most of his education in Venice, which is why the Abbey is blessed with a stunning Italian style. But the Abbey is more than just a pretty face - it was a major center of lordship, economy, cultural and faith life, exerting a powerful influence on Füssen and the whole region.
5. CHURCH OF THE Holy Spirit
This Church is a beautiful place of worship. Its impressively colorful rococo facade gets a lot of attention from visitors. The Church was built in 1748 by the hand of the architect Franz Karl Fischer. The artfully painted rococo facade shows the holy trinity and next to the entrance the holy figures of Florian and Christopherus can be found. The inner decoration of the church is mesmerizing: impressive baroque frescoes and paintings. Don't hesitate to enter this beautiful piece of architecture and devote around half an hour to enjoy all the artful details of the church.
| Opening hours - 8.30 a.m. - 6 p.m. |
| Admission - free of charge |
6. LEECHFALL WATERFALL
Don't miss the spectacular Leechfall Waterfall during your visit! As you walk towards it, admire the stunning gorge carved by the greenish-blue water flowing from the Alps into the Lech river. The river once served as a vital route for merchandise and a power source for Füssen's industries. The Lechfall consists of a 5-stage dam ladder built in the 18th century that flows into a narrow, curvy gorge and the Forggensee Lake. Let the magic of this natural wonder enchant you!
OTHER ATTRACTIONS TO SEE IN THE AREA
When we travel during winter, in order to enjoy the most out of the shorter days, we usually make some sandwiches or buy some snacks at the supermarket, so we do not to need to stop for lunch, losing some valuable hours of sunlight. These precious hours allowed us to visit some more sightseeings. Indeed, there are some options of what to do (apart from the castles), all of them depending on how much time you've got and how much you are willing to walk. We did not do all of this on the same day, but we will highlight them as options, so you can choose what you feel more like doing:
TEGELBERG - THE SKI STATION NEARBY
Getting out of the visit, we went down the main trail back to the bus stop (while attacking some sandwiches) to get the bus 78 heading to Tegelberg, the ski station nearby with a cable car that takes you to the top of the mountain. We were planning on skiing there on the following day but as there was not a lot of snow, we looked for another option (check our post here about a ski day in Austria). Nevertheless, we wanted to check it anyway since it offers different views of the Neuschwanstein castle. If you have time (we had an hour until the next bus arrived), there are some trails running on the bottom of the mountains offering a nice promenade.
After catching the next bus, we got off at Schwangau Rathaus (Townhall of Schwangau) and walked up Schloßstraße until the bus stop near the castles which took us around 20 minutes but offered different perspectives of the Neuschwanstein castle and the mountains around. Then we took the next bus back to the city center of Füssen.
FORGGENSEE - A MUST-VISIT LAKE OF BEAUTY
As we had to leave on a Sunday afternoon, we woke up early to be able to visit the big lake nearby, the Forggensee Lake. You can go by walk to the Musiktheater Füssen which is 30 minutes away from the information center or take the bus 56 and get off at the Festspielhaus stop. Though the weather was very cloudy and our pictures would have been better with a blue sky, we reckon that it provided us a nice panoramic view of the mountains and the castle.
There are some boat trips through the lake, bike tours and hike trails (available in brochures to download here) which seem very good options for when visiting Füssen in summer. We would definitely consider doing these activities next time!
And of course, one of the main attraction near Füssen remains the beautiful and mesmerizing Neuschwanstein Castle. You can read our post about this wonder of the Bavarian Alps Region (check it here).
---
TRAVEL ESSENTIALS
GETTING THERE
From Munich:

By 

bus

: 4 hours and approx. 15 EUR one way.
By 

train

: 2 hours and approx. 22 EUR one way. You can also get a 

Bavarian Regional Card

 which allows you to travel by train in Bavaria as much as you want for a whole day for 25 EUR for the first passenger and only 3 EUR per additional passenger;
Railroads and highways being good in Germany, it is easy to get to Füssen from any other big German city.
STAYING THERE
Accommodation in Füssen is quite expensive since there is not a lot of hostels. We thought we could stay in Schwangau (as the prices seemed cheaper and the castles closer), however, we do not advise you to stay there since Schwangau does not have the same structure or charm as Füssen;
Old Kings Hostel

: we stayed 3 nights in a (tiny) double room

for 150 EUR (or 50 EUR per night for two). I

t is a neat and well decorated hostel with friendly staff.  Well located in one of the cute streets of the old-town and only 10 minutes from the bus station. The only downsides are that there is no kitchen available and that there is only one toilet and two showers.
EATING THERE
We were surprised by the huge amount and variety of restaurants Füssen has to offer. From German traditional cuisine to Asian food, there are plenty different addresses to check;
Ritter-stub'n

: a German traditional restaurant

. The dishes were really good and the portions incredible, we highly recommend this place!
Pizza Pasta Americano

: a nice (and pretty cheap) pizza place

 

(around 6-7 EUR for one medium pizza), the pizzas were delicious and very tasty!
*All prices are referred to January 2018
---
---
And now it's your turn to let us know your impressions, thoughts and also tips to visit this region of Germany. Have you already been to Füssen? Which other attractions would you recommend? We look forward to reading your comments in the section below.
---
---
You might also like..