---
The Cinque Terre (which literally translates as "Five Lands") is named after five tiny villages which may be considered as one of the most heavenly places to be found in Italy. Located on the Ligurian coast and nestled in a series of coves between steep cliffs, this part of the Italian Riviera has become internationally famous over the last decades, arousing the curiosity of tourists from all over the world, and this is no surprise! The reason to this fame: its pastel-colored houses, its clear turquoise waters and its green vineyard cliffs. In this post, we covered the best things to do in Riomaggiore by creating a walking tour with a selection of curated tips.
---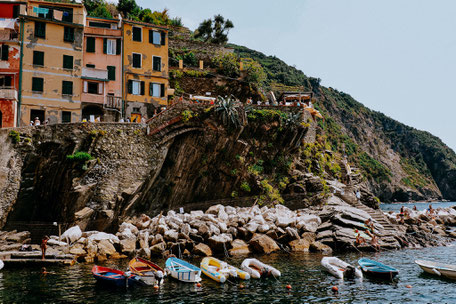 ---
---
GENERAL INFORMATION
The More Real Village of the Cinque Terre. Riomaggiore may be the most ordinary of the five villages in Cinque Terre, but it has its own unique charm. As the first village you reach when departing from La Spezia, Riomaggiore welcomes visitors with a more authentic and laid-back atmosphere. While it may not be as picturesque as some of its neighbors, it still has plenty to offer. Explore the colorful old town, relax by the tiny marina, and discover the hidden beach. For the most iconic view of the village, head to the wave breaker rocks and watch the sunset over the Mediterranean.
Riomaggiore is the perfect spot for those who want to experience the vibrant culture of a typical Italian seaside town while also finding a quiet spot for a swim in the sea. Take your time to wander up its main street, discovering colorful shops and restaurants along the way. With its unique blend of simplicity and charm, Riomaggiore is a must-see for anyone visiting Cinque Terre.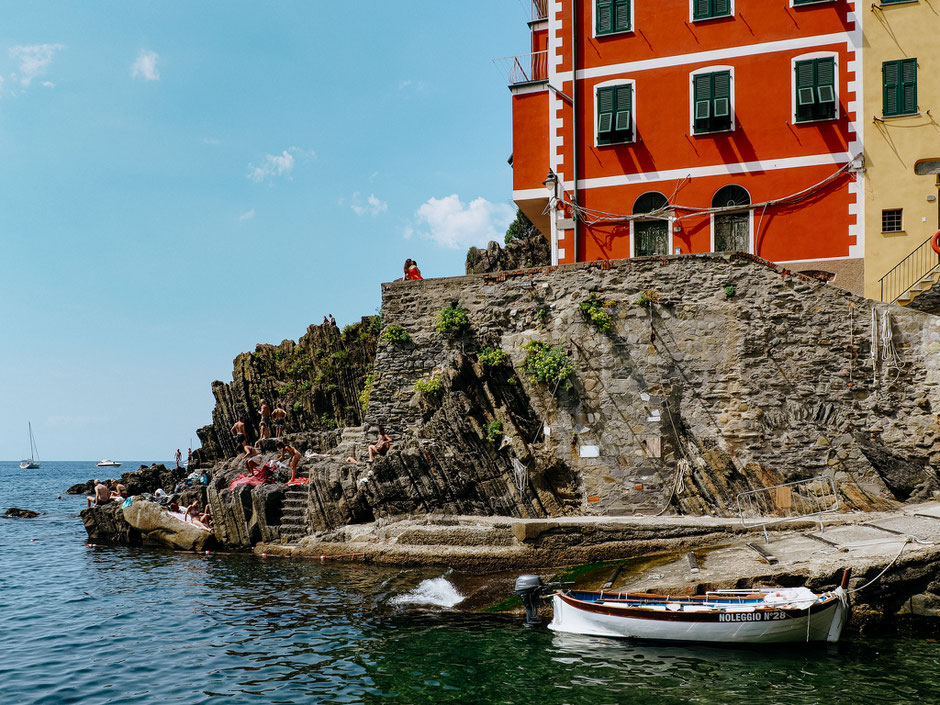 HOW TO GET TO RIOMAGGIORE?
GETTING THERE BY TRAIN
Located at the second most northern point of the Cinque Terre, Riomaggiore may be reached from larger cities of the Italian Riviera, and more generally from all the major cities of Italy. Like the other villages of the Cinque Terre, Riomaggiore is more easily accessible by rail. The train station is separated from the old town by a hill: from there, you can go through the tunnel to reach the marina which is located only a hundred meters away on foot. Below you will find some information on how to get there by train:
From Pisa: 

a stop in La Spezia is necessary, the trip lasts 

around an hour and a half

 and costs 

15 EUR

.

From La Spezia:

 direct train line to the 

Cinque Terre

; the trip lasts 

around 7 minutes

 and costs 

4

 

EUR

.

From Genoa:

 direct train line to Riomaggiore; the trip lasts 

around an hour and a half 

and costs

 14 EUR

.

From Sestri Levante:

 direct train line to Riomaggiore; the trip lasts 

around 50 minutes

 and costs

6.50

 

EUR

.
The Cinque Terre Train Card is the card you need! This card costs 16 EUR per day per person and includes unlimited train rides in the Cinque Terre area AND gives you access to all the hiking trails (more information here).
GETTING THERE BY BOAT
One of the best way to enjoy the Cinque Terre is to hop from one village to the other by boat. This allows you to see the villages from a different perspective, however, if you are on a rush (which we hope you are not), boat rides tend to be slow and therefore not ideal. The price for unlimited boat trips in the Cinque Terre costs 27 EUR per day per person (more information here).
GETTING THERE BY CAR
While it is possible to reach Riomaggiore by car, it is important to note that cars are not allowed in the village. Due to this restriction, traveling by car may not be the best option to reach these remote villages. In addition, the limited number of parking spots available can be a disadvantage for travelers coming by car, and the cost of parking is relatively high (about 2.50 EUR per hour and 25 EUR per day). However, for adventurous travelers who still decide to come to the Cinque Terre by car, below are some distances and approximate travel times from nearby cities: 114 km and approximately 1 hour and 30 minutes from Pisa, 94 km and approximately 1 hour and 40 minutes from Genoa, 34 km and approximately 45 minutes from La Spezia, and 45 km and approximately 55 minutes from Sestri Levante.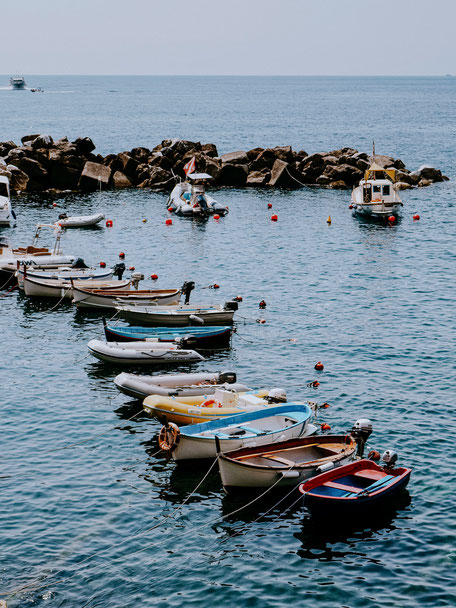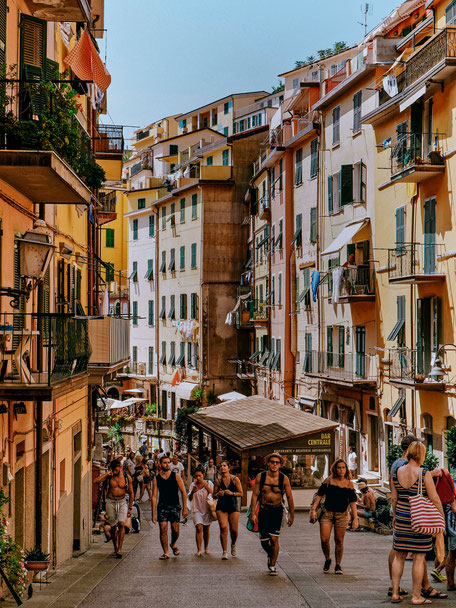 THE VILLAGE
1. PIAZZA VIGNAIOLI
This square is the nerve center of the village. The locals come here to chat, the children come here to play. Ideally located, the square offers a beautiful perspective on Via Colombo (Riomaggiore's main street).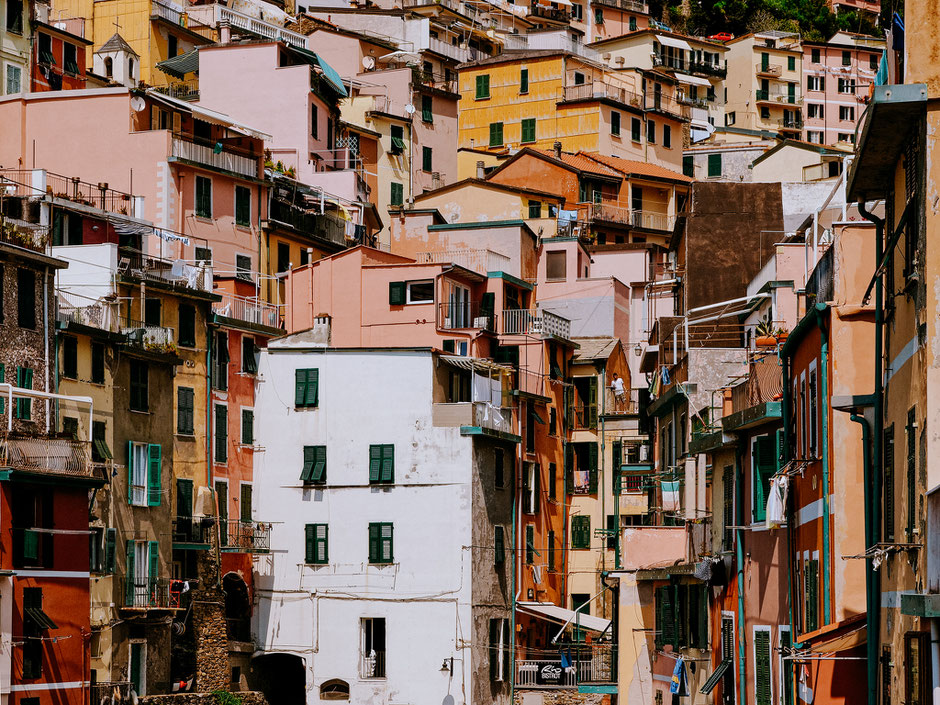 2. VIA COLOMBO
Like its sister towns, Riomaggiore has its own main street, via Colombo. In this street you can find most of the restaurants, bars, souvenir stores of the village. Of course, it climbs, so be prepared to sweat in the sun, you will certainly have to climb this street several times!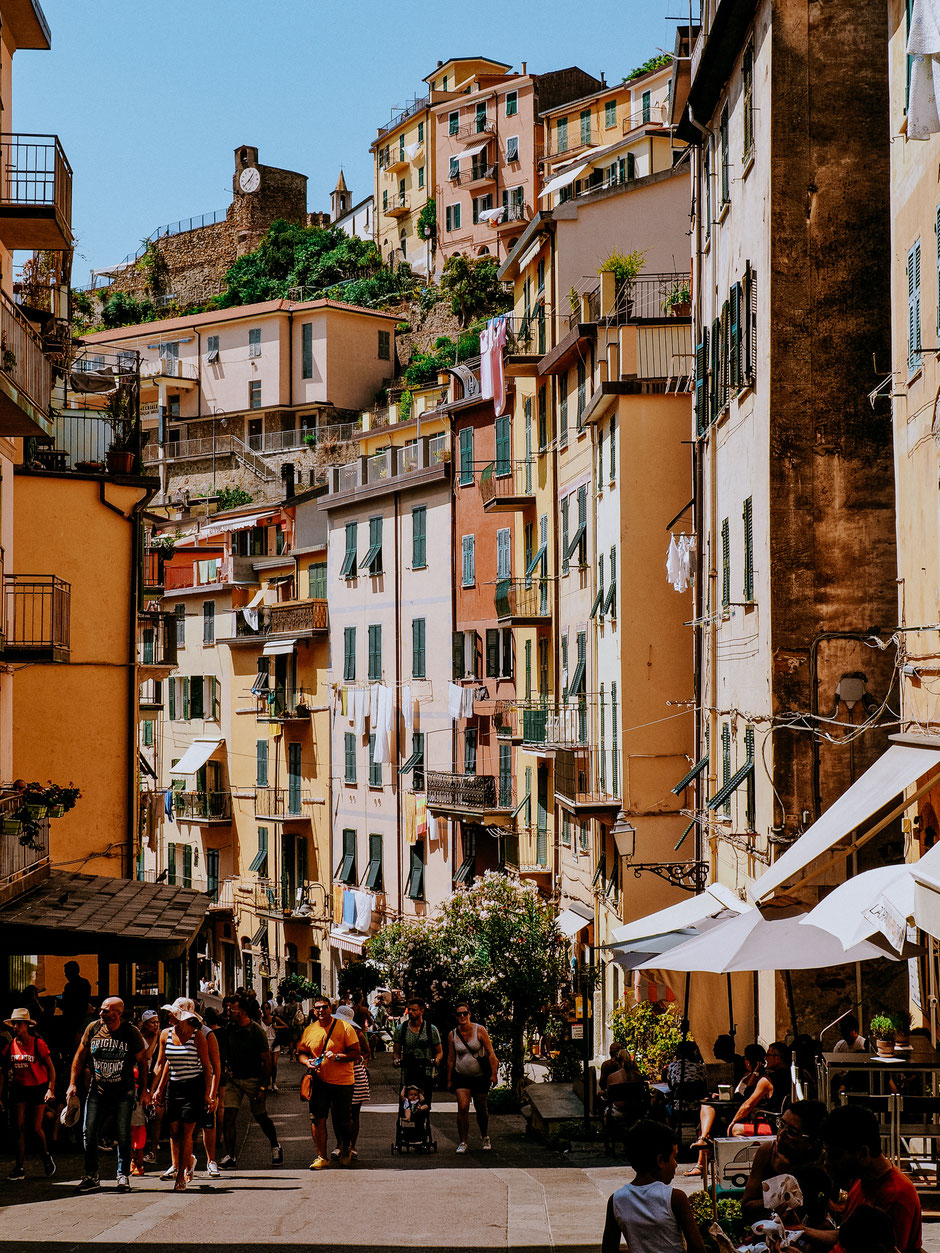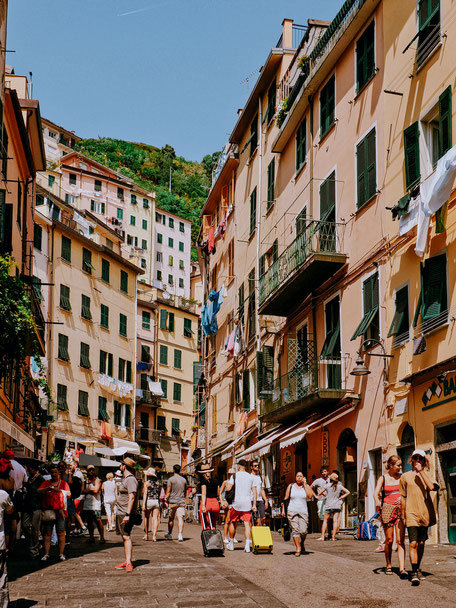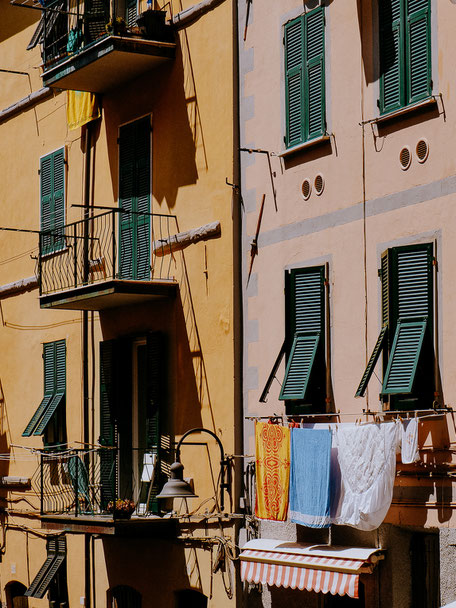 3. MARINA & VIEWPOINT
Without a doubt our favorite place in town, even more so in the evening, if you are lucky enough to stay in Riomaggiore and the day-trippers leave for La Spezia. It's quiet again. In our opinion, it is the perfect postcard of the Cinque Terre: colorful houses, small fishing boats, a cute little harbor. Everything is peaceful and the sunset is incredible!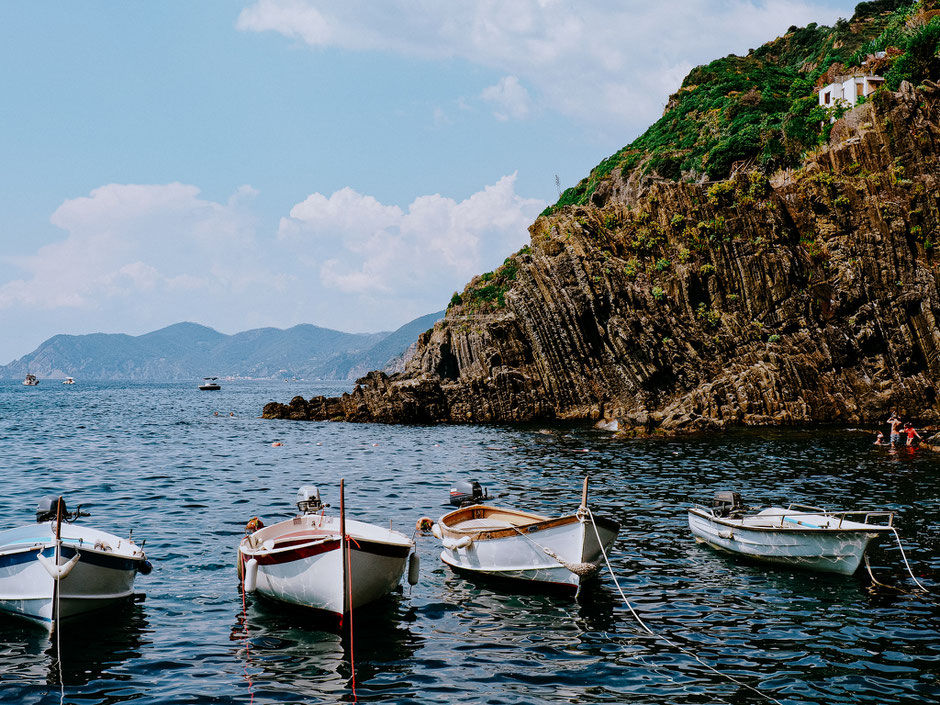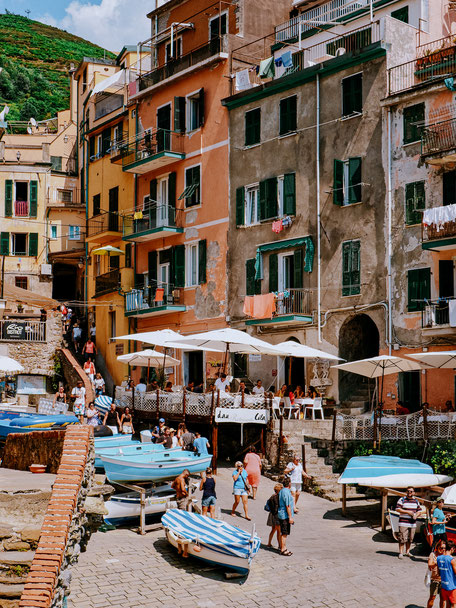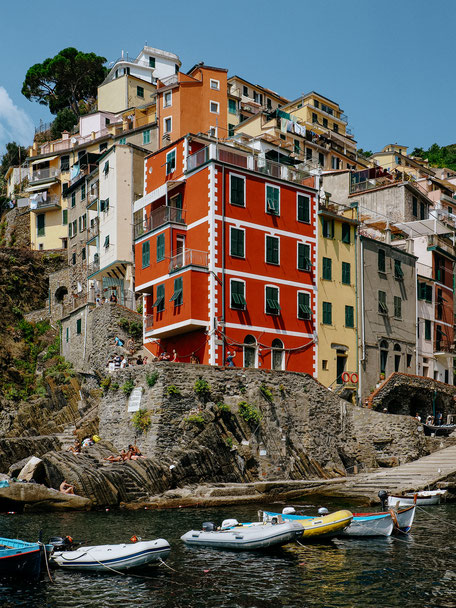 HIKING FROM RIOMAGGIORE
As previously mentioned, the five villages of the Cinque Terre are connected by hiking trails (marked with red and white paint), also known as the "Blue Trail" (Sentierro Azzurro), which have been used for centuries. In order to have access to these hiking trails, you need to either have the Cinque Terre Train Card (16 EUR per day per person; more information here) or buy the Cinque Terre Trekking Card  (7.50 EUR per day per person; more information here).
RIOMAGGIORE TO MANAROLA
This stretch of the coastal trail is one of the most famous! This path, called Via dell'Amore, is an easy romantic walk that takes only 20 minutes. We strongly advise you to walk from Riomaggiore and Manarola, especially if you are only visiting for a day! Keep in mind that this path is often closed so it is wise to check before visiting whether it is open!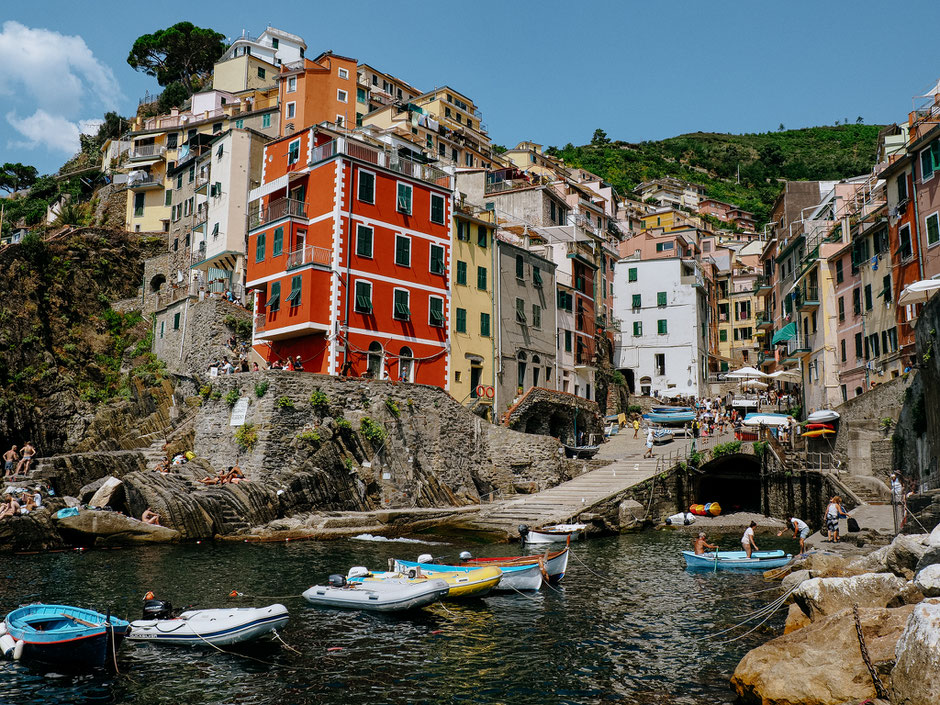 OUR FINAL THOUGHTS
When we visited the Cinque Terre, we chose Riomaggiore as our base for three nights. The village is not the most central, in fact it is the most easterly, but with the train connecting all five villages, it is relatively easy to explore all five villages. Riomaggiore has a good balance of all the villages of the Cinque Terre, although it is not our favorite! But don't get us wrong, it still is an amazing place to visit and to stay, especially because, as our title suggests, it is one of the most real villages of the Cinque Terre, meaning that locals still live there, whereas in some other villages it seems it is not the case anymore. What we preferred is when the day-trippers leave in the evening and that the village seems to be all yours!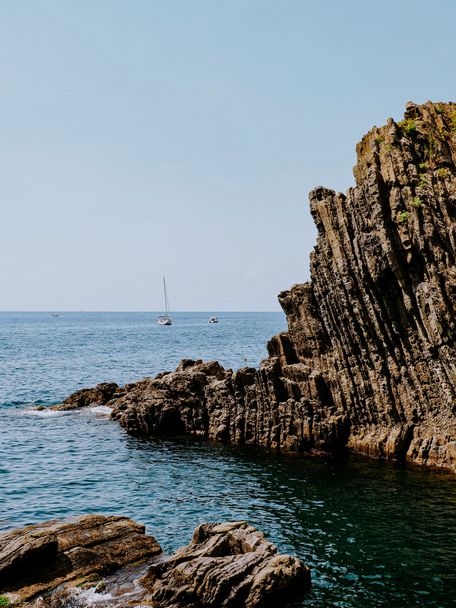 ---
 | For more information about the Cinque Terre, check our post here |
---
---
And now it's your turn to let us know what your impressions about Riomaggiore were. Which of the five villages is your favorite? We look forward to reading your comments.
---
---
YOU MIGHT ALSO LIKE..