---
Heading Down Under wasn't on our travel plans, but when Rafael's sister settled in Sydney a few years ago, we couldn't resist Australia's charm. Our family trip turned into an exploration of kangaroo-filled landscapes, and Sydney surprised us as an unexpected favorite (check our post about Sydney here). But our Aussie adventure didn't stop there. Drawn by tales of another fantastic destination, we headed south to Melbourne.
Melbourne, often overlooked compared to Sydney, pleasantly surprised us! Despite its reputation as Australia's cultural hub, we only truly understood its magic by wandering its lively streets. This post shares our experiences, shining a spotlight on 10 must-see places in Melbourne, from the captivating street art that adorns its streets to the charming arcades that weave through the city. Join us as we explore Melbourne, discovering hidden gems in its lively street art and traversing the unique arcades that contribute to the city's undeniable charm.
---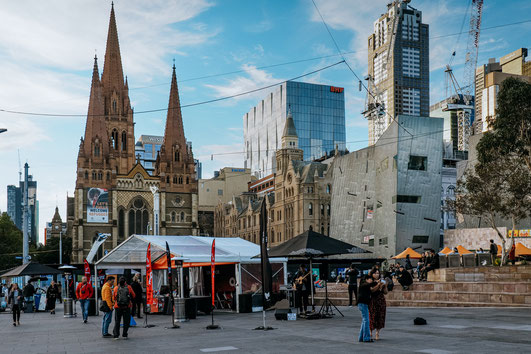 ---
---
GENERAL INFORMATION
Melbourne, a dynamic city on Australia's southeastern coast, stands as the cultural and artistic heart of the country. With its diverse population, vibrant neighborhoods, and a thriving arts scene, Melbourne offers a unique blend of modern cosmopolitan living and historical charm.
Home to a plethora of cafés, restaurants, and markets, Melbourne is a paradise for food enthusiasts. The city's culinary scene reflects its multicultural makeup, offering a wide array of international cuisines alongside innovative, locally-inspired dishes. Melbourne's commitment to the arts is evident in its numerous galleries, theaters, and street art displays that adorn its laneways. The city is a haven for those seeking cultural experiences, with festivals, live performances, and art exhibitions happening throughout the year.
As we delve into the heart of Melbourne, we'll guide you through the city's distinctive neighborhoods, showcase its culinary delights, and immerse ourselves in the vibrant atmosphere that makes Melbourne a must-visit destination.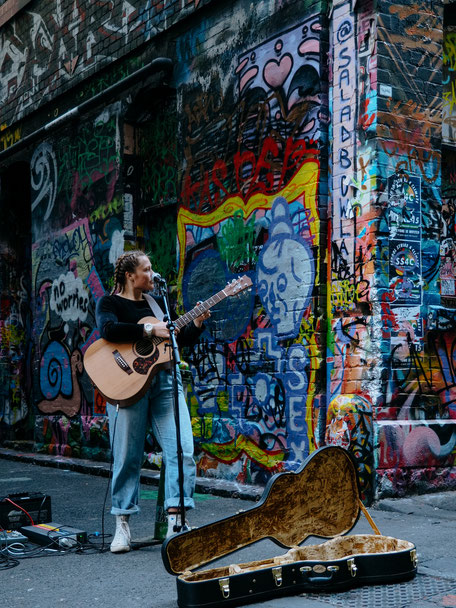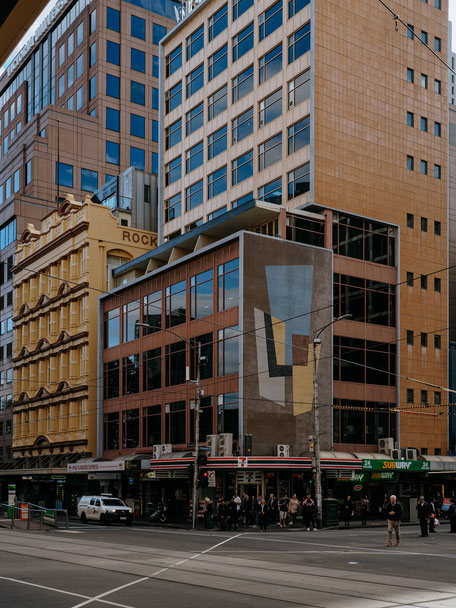 HISTORY
Melbourne's captivating tale unfolds like a vibrant tapestry, blending ancient beginnings with the pulse of modernity. Before European settlers arrived in 1835, the Wurundjeri people of the Kulin Nation shaped the region's heritage for thousands of years.
As the gold rush of the 1850s swept through, Melbourne transformed into a bustling hub, earning the moniker "Marvellous Melbourne." This era saw the rise of grand architecture and a flourishing cultural scene. Despite economic challenges, Melbourne evolved into a resilient city, playing a significant role as Australia's temporary capital in the late 19th century.
Stepping into the 20th century marked a new chapter for Melbourne, characterized by social changes and a rich multicultural blend. Today, as we stroll through the city's streets, remnants of its storied past come alive—landmarks like the Royal Exhibition Building and the Old Melbourne Gaol stand as living witnesses to Melbourne's journey.
Join us as we embark on a journey through Melbourne's history, unraveling the layers of time imprinted on its streets and landmarks. It's a fascinating exploration, revealing the unique narrative that has shaped this cultural gem on Australia's southeastern coast.
HOW TO GET TO MELBOURNE?
For an effortless journey to Melbourne, especially if you're starting from major cities like Sydney, flying is the go-to option. Sydney, being a major hub, provides numerous daily flights to Melbourne. Tullamarine Airport (MEL) in Melbourne is the main international and domestic airport, making your arrival smooth and straightforward.
With several airlines offering daily flights from Sydney to Melbourne, the travel time is typically a mere 1 to 1.5 hours. It's a swift and comfortable way to bridge the gap between these two vibrant Australian cities.
Upon touchdown at Tullamarine Airport, reaching Melbourne's city center is a breeze. Various transportation options, including taxis, ride-sharing services, and airport shuttles, ensure a seamless transition from the airport to the heart of Melbourne.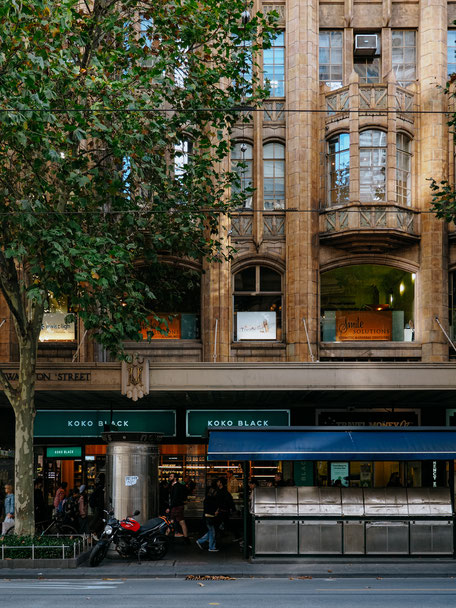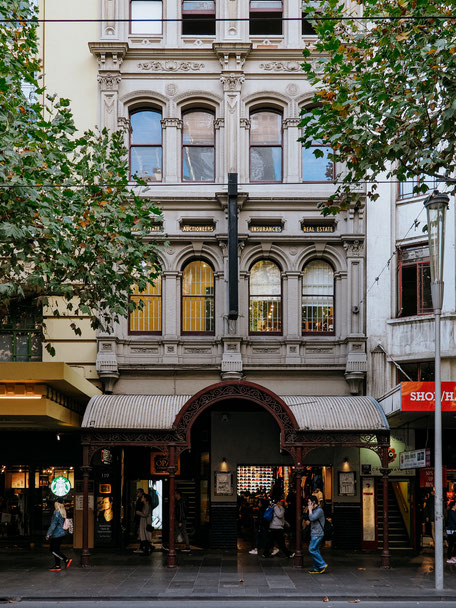 WALK ITINERARY
1. PRINCES BRIDGE
Our Melbourne walking adventure begins with a majestic welcome at Princes Bridge, an iconic landmark that gracefully spans the Yarra River. This architectural marvel, dating back to the 19th century, serves as a gateway to the heart of the city. As you step onto the bridge, the panoramic views of the Yarra River and the city skyline unfold before you. Named in honor of Edward, the Prince of Wales, the bridge stands as a testament to Melbourne's historical significance. Lined with elegant balustrades and adorned with timeless lampposts, Princes Bridge invites you to pause and absorb the energy of the city.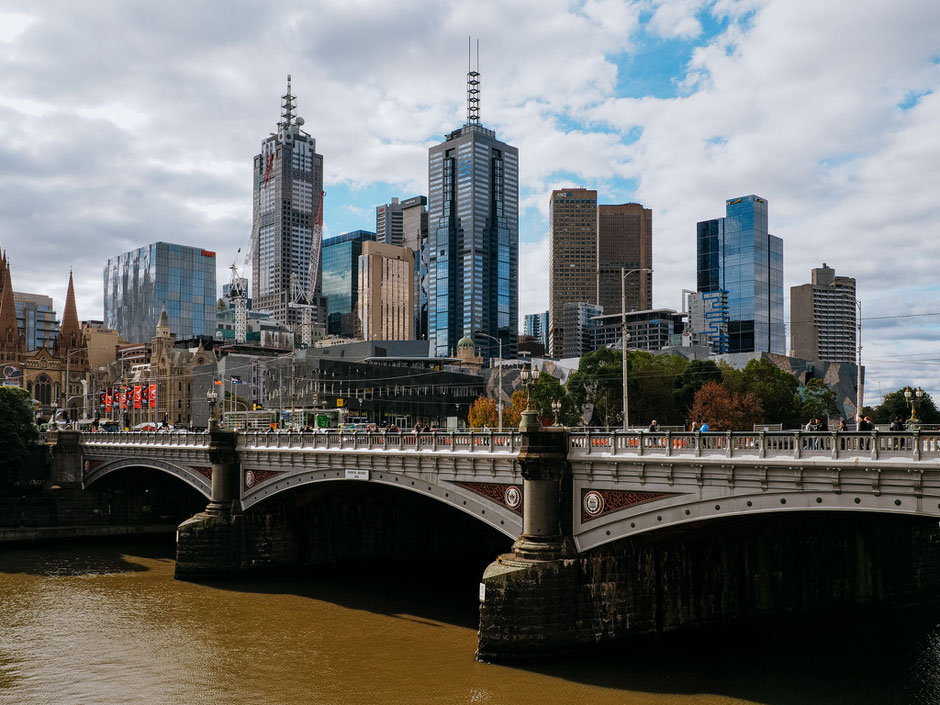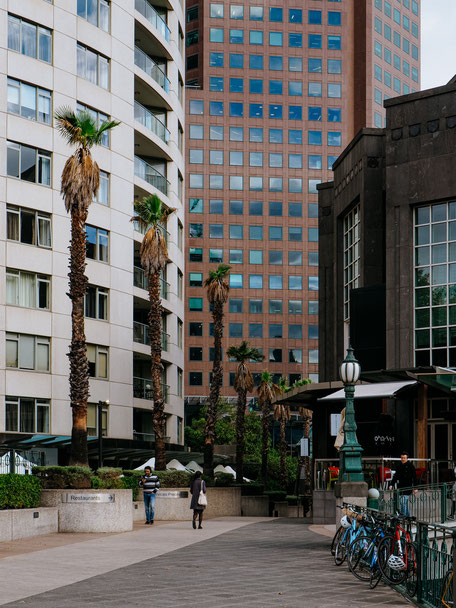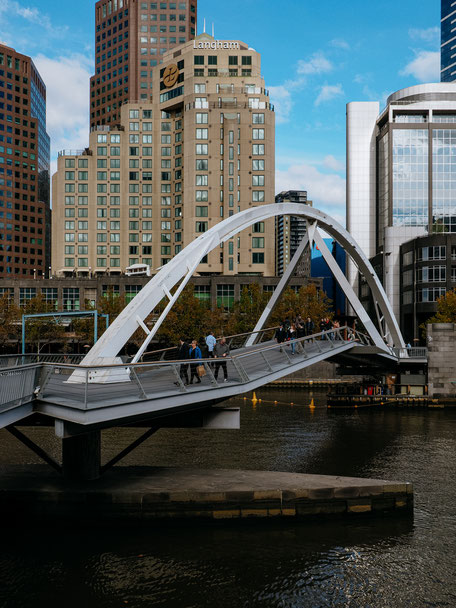 2. FLINDERS STREET STATION
Our stroll through Melbourne leads us to the iconic Flinders Street Station, a true masterpiece of Victorian architecture and a pulsating hub at the heart of the city. Dating back to 1854, this grand station is not merely a transportation hub but a symbol of Melbourne's rich heritage.
As you approach Flinders Street Station, the striking façade, adorned with intricate details and iconic clocks, commands attention. The bustling activity around the station, with commuters and travelers weaving through its entrances, creates a dynamic atmosphere that reflects Melbourne's vibrant energy.
Step inside, and you'll be captivated by the timeless charm of the station's interior. The majestic arched windows, soaring ceilings, and distinctive yellow-hued façade transport you to an era where railway travel was an elegant affair.
Adjacent to Flinders Street Station, St. Paul's Cathedral stands as another marvel of Melbourne's heritage. The cathedral's spires grace the skyline, contributing to the architectural grandeur that defines Melbourne's cityscape. Take a moment to absorb the rhythmic pulse of the city from this historic vantage point before we venture deeper into Melbourne's lanes and arcades.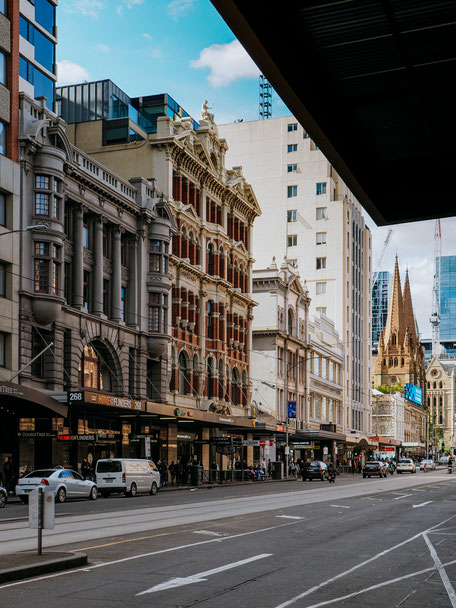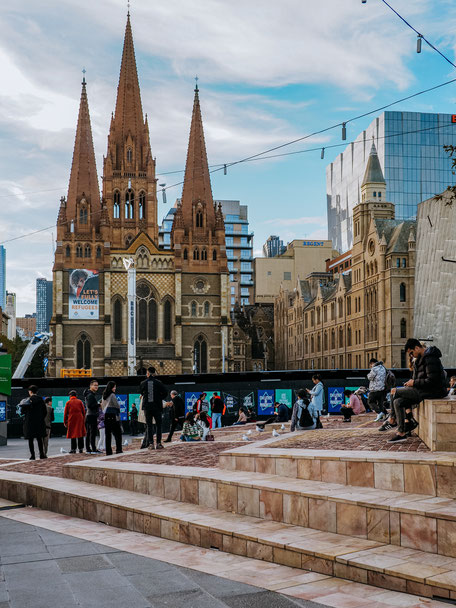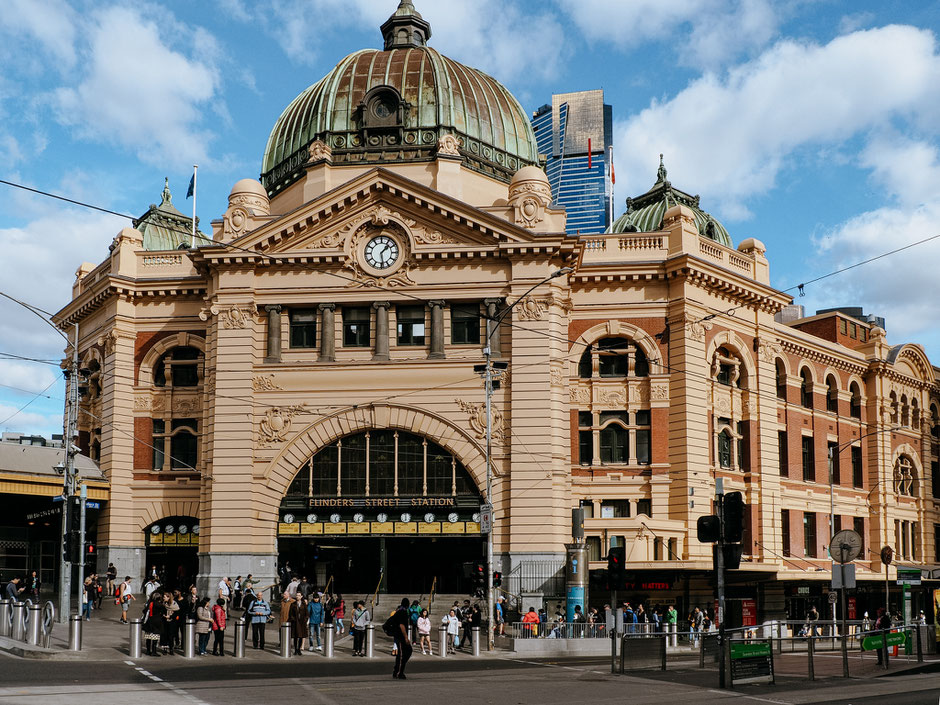 3. DEGRAVES STREET
Next stop is Degraves Street, a charismatic laneway nestled in the heart of the city. As you step into Degraves, you're immediately immersed in a lively atmosphere, with the aroma of freshly brewed coffee and the buzz of eclectic conversations.
Degraves Street is a mecca for food enthusiasts and culture seekers alike. Its cobblestone pavement is lined with an array of charming cafés, vibrant street art, and boutique shops, creating an intimate and inviting ambiance. The narrow lane, flanked by historic brick buildings adorned with colorful murals, exudes a distinctive Melbourne charm.
Cafés spill out onto the laneway, offering the perfect spot for a leisurely brunch or a quick espresso, surrounded by the rhythmic hum of the city. The diverse range of cuisines, from local delights to international flavors, ensures a culinary adventure for every palate.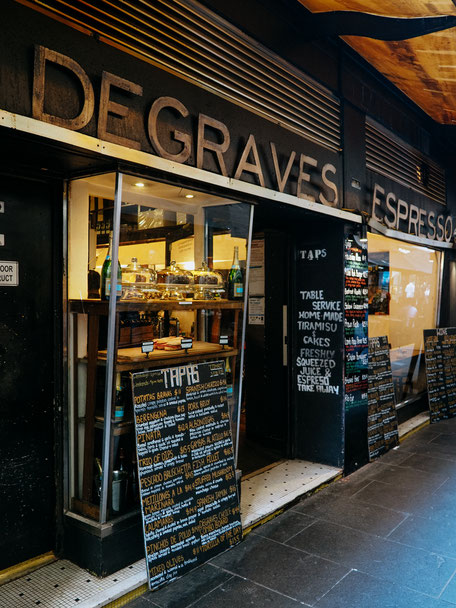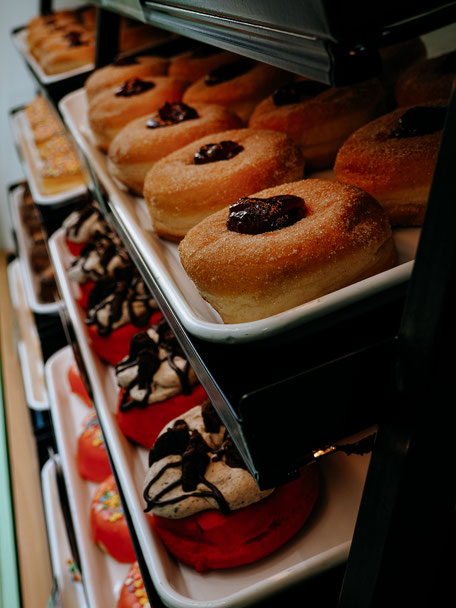 4. CENTRE PLACE
Our expedition through Melbourne's charming streets now brings us to the hidden gem that is Centre Place, a laneway that epitomizes the city's eclectic vibe. Tucked away between Flinders Lane and Collins Street, Centre Place invites you to wander through its narrow passage adorned with vibrant street art and an array of intriguing shops.
As you venture into Centre Place, the lively hum of conversation and the aromatic allure of diverse cuisines from the surrounding eateries create an immersive sensory experience. This laneway is a haven for coffee connoisseurs and food enthusiasts, with its boutique cafes and restaurants offering an array of delectable treats.
The walls of Centre Place serve as a canvas for ever-changing street art, showcasing the city's dynamic artistic spirit. Take a moment to appreciate the skillful murals and graffiti that adorn the brick facades, each telling a unique story and contributing to Melbourne's reputation as a street art capital.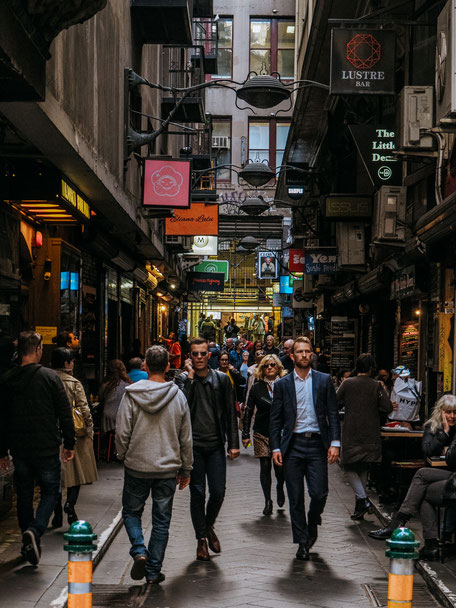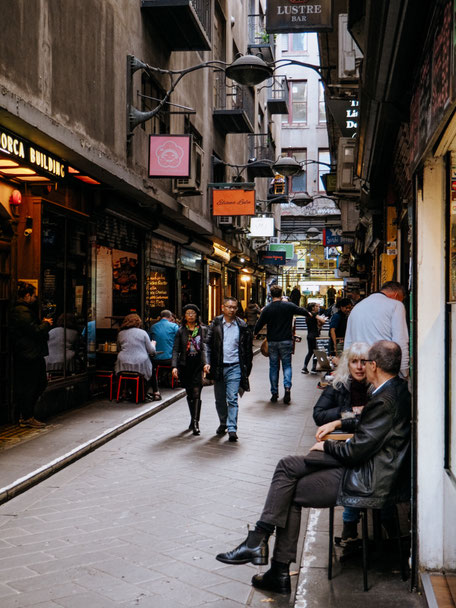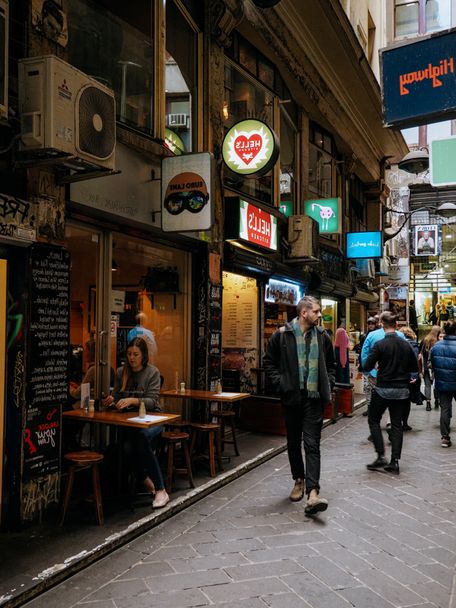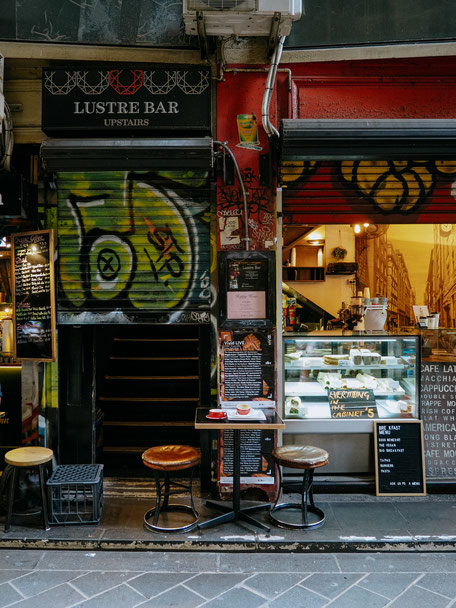 5. BLOCK ARCADE
We now make our way towards the iconic Block Arcade, a testament to the city's timeless elegance. As you approach, the allure of this historic shopping arcade becomes apparent, nestled in the heart of Melbourne's central business district.
Built in the late 19th century, the Block Arcade is a masterpiece of architecture, boasting a mosaic-tiled floor, intricate ironwork, and a glass canopy that bathes the arcade in soft natural light. Its charming boutiques, specialty shops, and charming tea rooms offer a unique shopping experience, where old-world charm meets contemporary style.
As you step into the arcade, you'll be transported to an era of sophistication and refinement. The high-end boutiques and artisanal stores lining the arcade showcase Melbourne's commitment to both tradition and innovation.
Wander through the Block Arcade, taking in the ornate details and the delightful aroma of freshly brewed coffee wafting from its cafés. The iconic Hopetoun Tea Rooms, with its decadent cakes and elegant atmosphere, beckons for a leisurely pause.
| Timetable - daily from 8 a.m. to 6 p.m. |
| Admission - free of charge |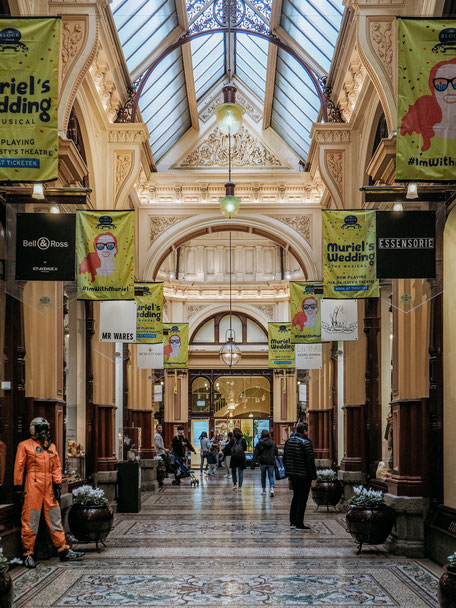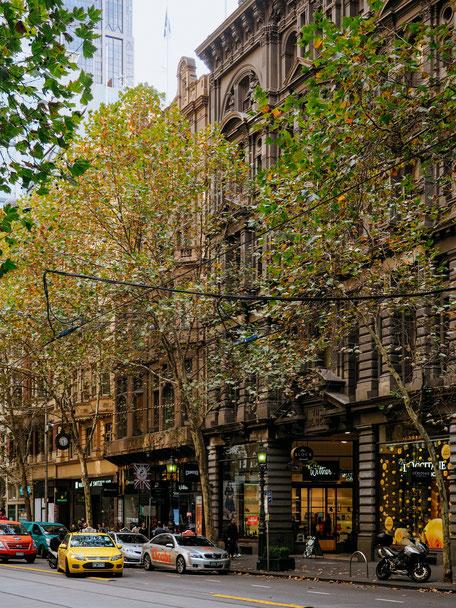 6. THE ROYAL ARCADE
Our exploration of Melbourne's enchanting lanes and arcades leads us to the Royal Arcade, a regal gem nestled in the heart of the city. As we embark on this short stroll, the promise of Victorian-era charm awaits.
Built in 1869, the Royal Arcade is a historical marvel, showcasing a stunning glass canopy, delicate leadlight windows, and iconic sculptures of mythical figures Gog and Magog. As you approach, the grandeur of its façade and the sense of stepping into a bygone era become palpable.
Upon entering the arcade, you'll be greeted by a charming array of boutiques, specialty shops, and cafes. The carefully preserved architecture and the famous Gaunt's Clock, where mythical figures reenact a medieval jousting match, contribute to the timeless allure of the Royal Arcade.
Take your time to explore the unique offerings of the Royal Arcade, from bespoke fashion to gourmet delights. As you stroll beneath the ornate arches and soak in the historic ambiance, you'll feel a connection to Melbourne's rich past.
| Timetable - daily from 7 a.m. to 7 p.m. |
| Admission - free of charge |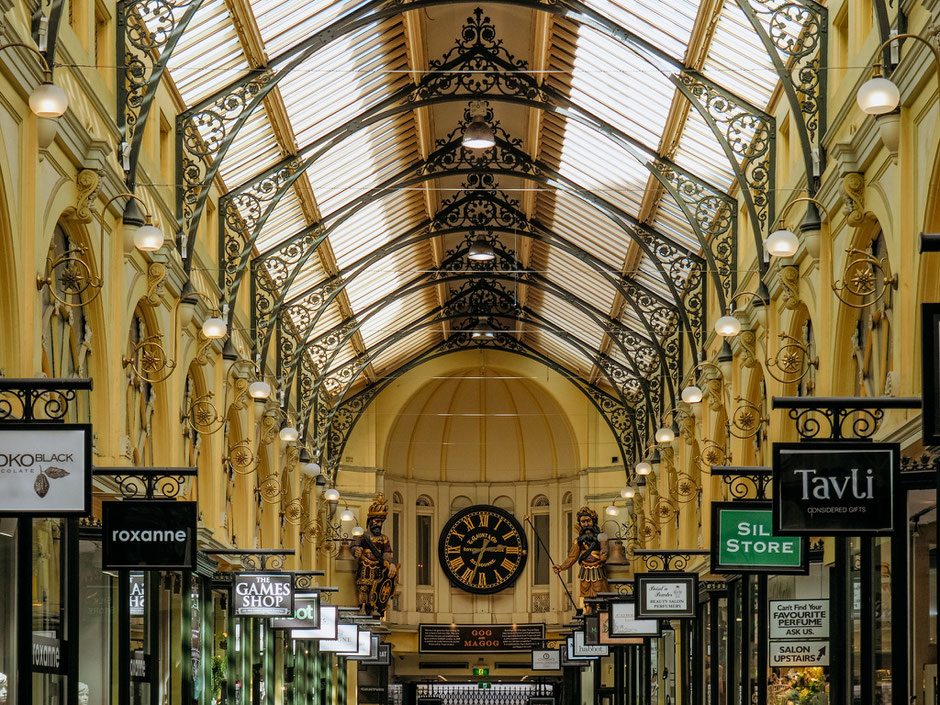 7. UNION LANE
Continue your artistic journey in Melbourne by strolling through the lively Bourke Street Mall. The bustling energy of this iconic shopping precinct sets the stage for a seamless transition into the vibrant world of Union Lane.
As you amble through Bourke Street Mall, absorbing the diverse sights and sounds, let the magnetic pull of creativity guide you towards Union Lane. The transition from the mall to the narrow, graffiti-adorned walls of Union Lane is like entering a portal into Melbourne's street art haven. The narrow lane comes alive with a riot of colors, showcasing an eclectic mix of graffiti and street art.
Take your time to explore, observe, and appreciate the unique blend of commerce and culture as you make your way from Bourke Street Mall to the vibrant canvas of Union Lane. This is where Melbourne's dynamic street art scene comes to life, offering an immersive experience in the heart of the city. Let the discovery continue through the captivating streets of Melbourne.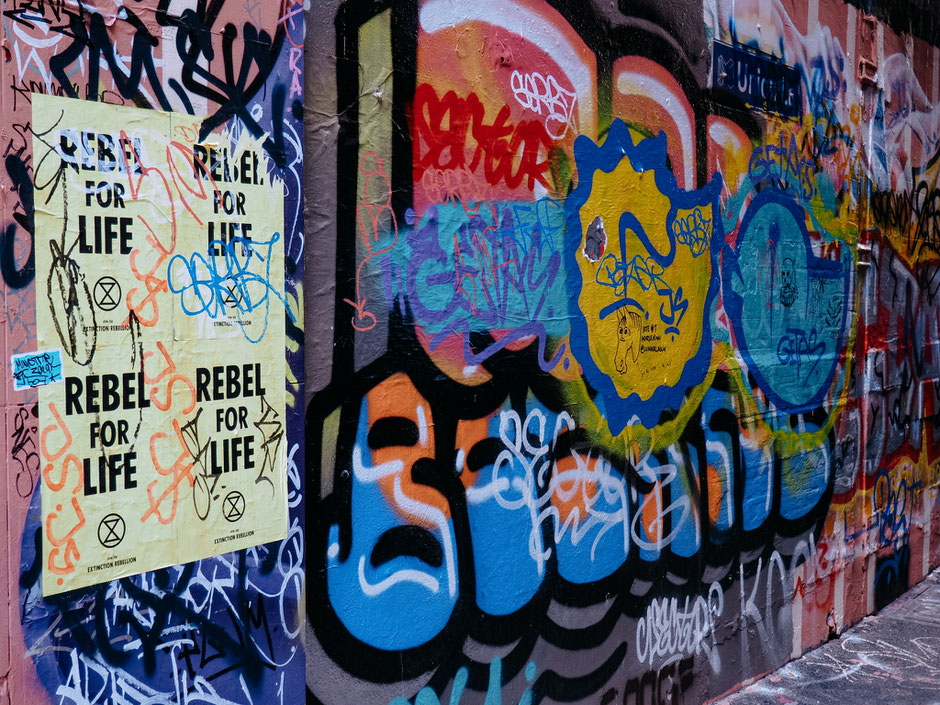 8. MELBOURNE TOWN HALL
Our Melbourne journey gracefully leads us to the Melbourne's iconic Town Hall. As we navigate the city's streets, the imposing façade of this historic building emerges, extending an invitation to step into a bygone era of architectural grandeur.
Moving from Union Lane, allow the city to guide you towards the heart of Melbourne's civic life. Melbourne's Town Hall, with its intricate detailing and commanding presence, stands as a testament to the city's enduring history. Approach the Town Hall's entrance and take a moment to marvel at the imposing clock tower, a symbol of Melbourne's civic pride. The forecourt, with its welcoming ambiance and occasional events, provides a serene interlude in the midst of the bustling city.
The Town Hall is not only an architectural masterpiece but also a cultural hub, hosting various events and gatherings. As you stand in its shadow, appreciate the harmonious blend of history and contemporary life that defines Melbourne. This landmark offers more than grand architecture; it provides a cultural sanctuary where the past and present gracefully converge.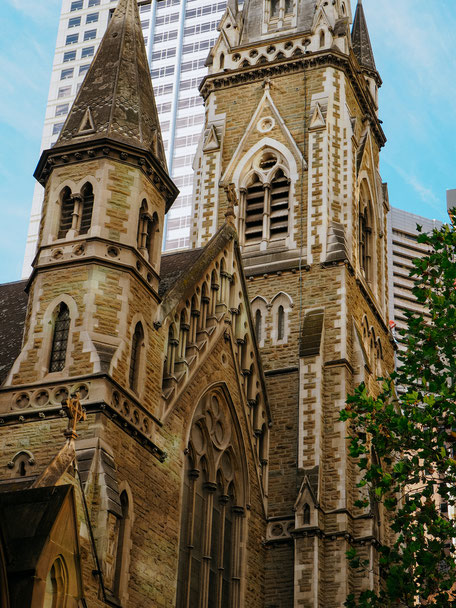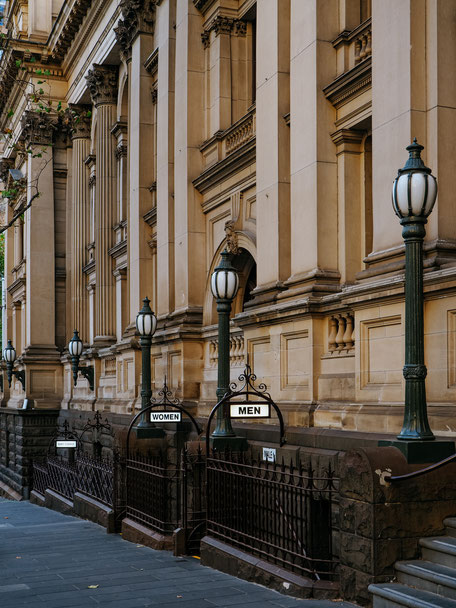 9. AC/DC LANE
Our Melbourne exploration takes a turn towards the rhythmic beats of AC/DC Lane, a rock-and-roll passage that pulses with the city's musical energy. As you venture into AC/DC Lane, the atmosphere transforms into a homage to musical history. The lane is adorned with vibrant street art paying tribute to AC/DC and other icons, creating an immersive experience for enthusiasts and casual passersby alike.
Marvel at the larger-than-life murals and the eclectic mix of cafes and bars that line the laneway. AC/DC Lane is not merely a passageway; it's a living tribute to Melbourne's dynamic music scene. Take a moment to soak in the artistic energy and the rhythmic spirit that defines this rock-and-roll haven.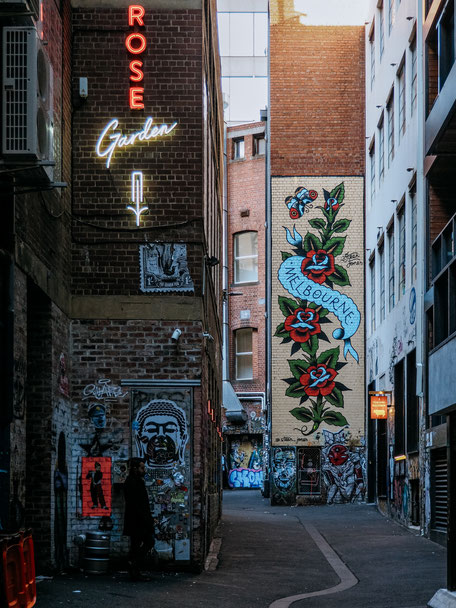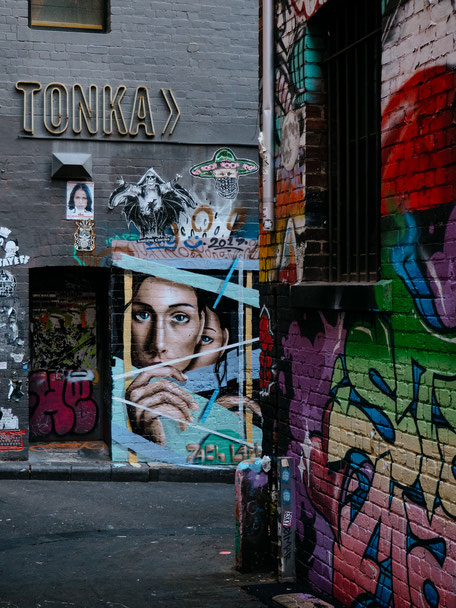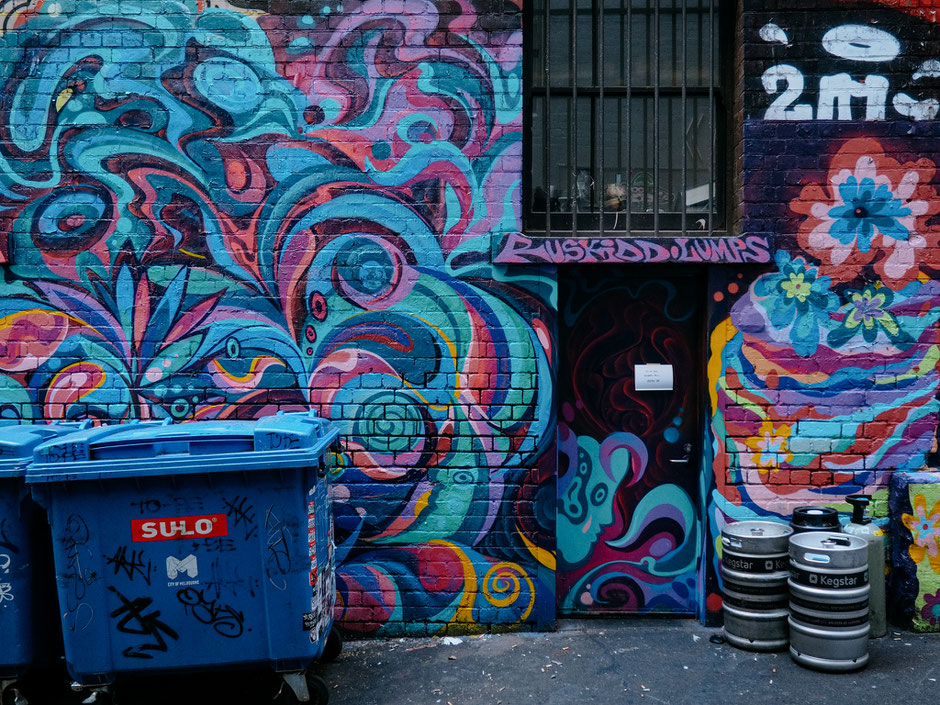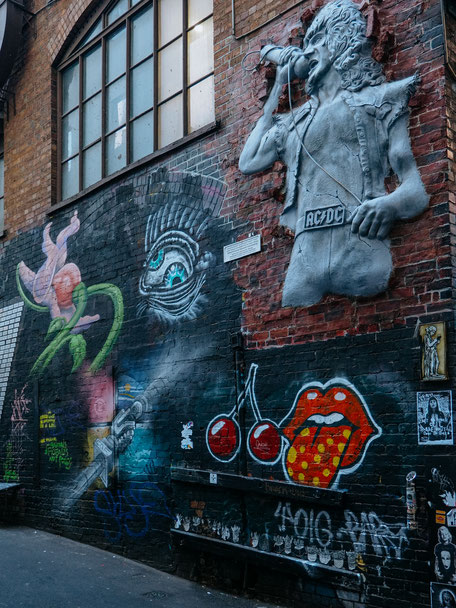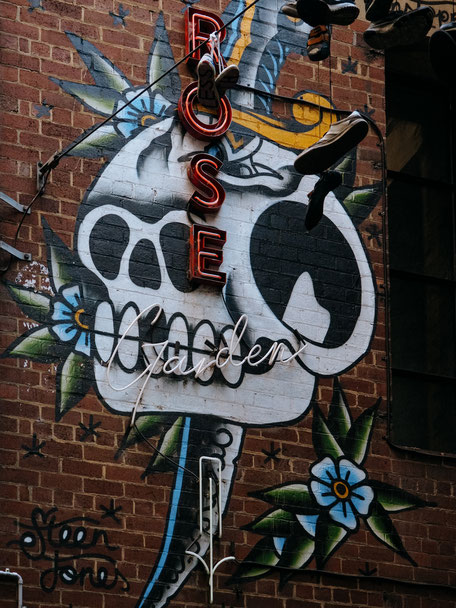 10. HOSIER LANE
We conclude this walking tour in the vibrant embrace of Hosier Lane, a graffiti wonderland that embodies the city's dynamic street art culture. From AC/DC Lane, follow the artistic currents that guide you to this iconic laneway.
Hosier Lane, adorned with ever-changing murals and tags, stands as a testament to Melbourne's global reputation as a street art capital. Each step through this alley of creativity unveils a new story, a burst of color, and a celebration of artistic expression.
Marvel at the skillful graffiti, stencils, and layers of paint covering every inch of Hosier Lane. As our journey concludes in this graffiti haven, reflect on the myriad stories told through the spray cans and brushes that have transformed this laneway into an open-air art gallery.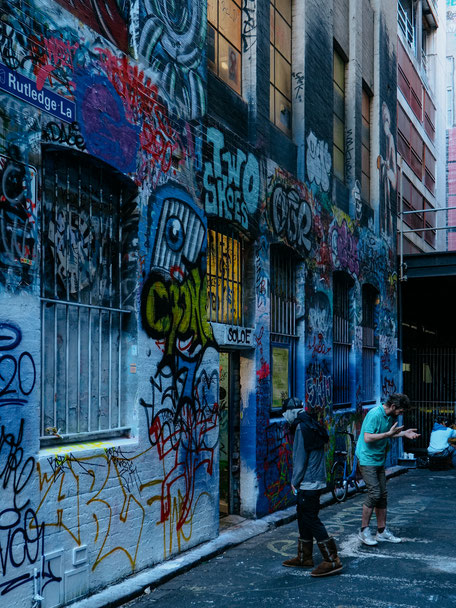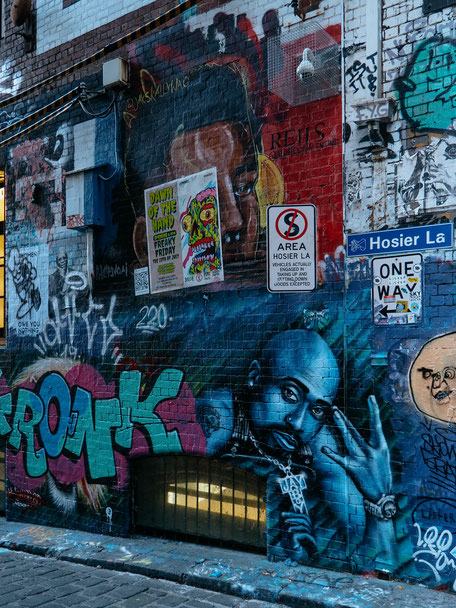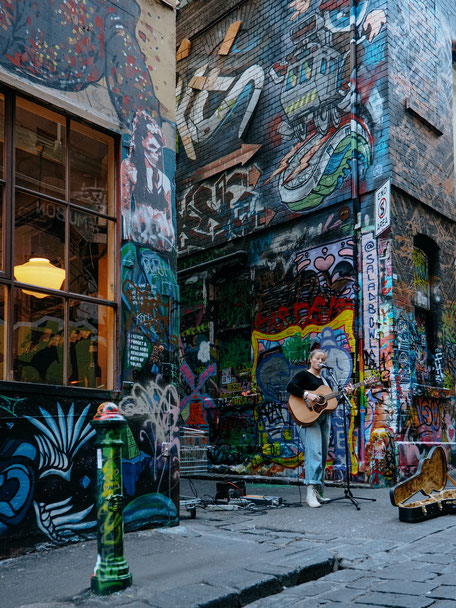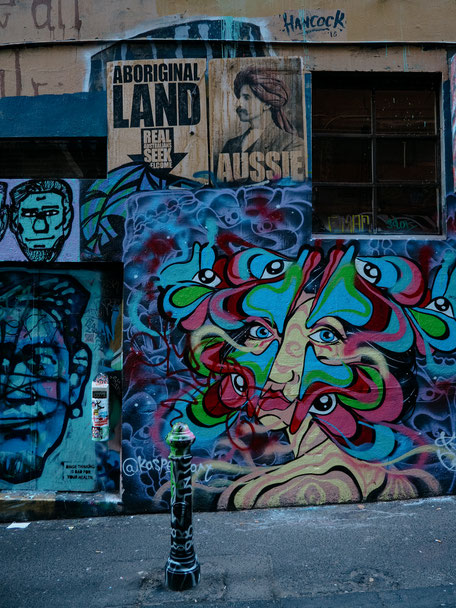 OUR FINAL THOUGHTS
As our Melbourne adventure concludes, the echoes of iconic landmarks and vibrant laneways linger. From Melbourne's Town Hall to AC/DC Lane and the graffiti haven of Hosier Lane, each step painted a unique stroke on Melbourne's cultural canvas. Melbourne's harmonious blend of history and contemporary vibrancy, epitomized in its street art, is a testament to its dynamic spirit. As we bid goodbye, may your own exploration of Melbourne be filled with captivating moments and the lively essence that defines this cultural gem. Until next time, Melbourne, your iconic laneways and rich history remain etched in our memories!
---
---
We're eager to hear your thoughts on Melbourne and its captivating wonders. Has this remarkable city captured your heart as well? Share your impressions with us in the comments section below — we look forward to reading about your Melbourne experiences.
---
YOU MIGHT ALSO LIKE..