---
So, it's the most wonderful time of the year... again! And despite the pandemic, what a better way to get into the Christmas spirit if not visiting food and alcoholic beverages stalls with bright lights and loud Holidays' songs? Yes, as worst as it may sound to some, we love going to as many Christmas markets in December as we can which we were not able to do in 2020; we visited the Antwerp Christmas Market and the Maastricht Christmas market in 2022, and the Ghent Christmas market in 2019. Since the Netherlands is handling the pandemic poorly, the biggest Christmas markets were closed but we heard they were still happening in Germany, so we decided to hop on a train and hit our old-base Frankfurt to check the Christmas treat it could offer us!
---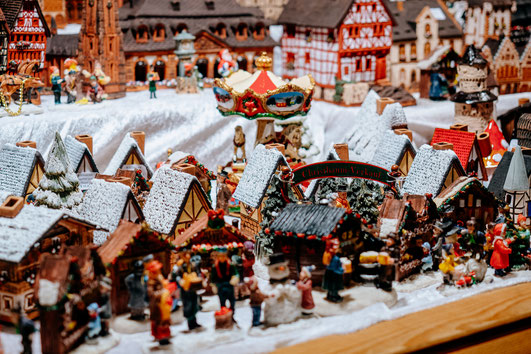 ---
---
GENERAL INFORMATION
Frankfurt is internationally famous for its Christmas market (it even has its own international branch taking place at Frankfurt's sister city of Birmingham) and it is not hard to see why! The downtown is taken by beautiful Christmas lights and well decorated wooden stalls selling traditional delicacies and various gift options: Christmas decoration, arts and crafts, leather goods, candles, knitwear and much more!
With all this jolly atmosphere around us, Frankfurt Christmas market will certainly impress any Christmas lover. Starting usually at the end of November and going until a couple of days before Christmas Day, it attracts people from all over the world. If you want to stay away from the crowds, avoid going on Fridays or Saturdays. You can find more information on Frankfurt Tourist Office website.
| Opening days - Nov. 22 until Dec. 22 |
| Opening hours - daily from 10 a.m. - 9 p.m. |
| Admission - free of charge |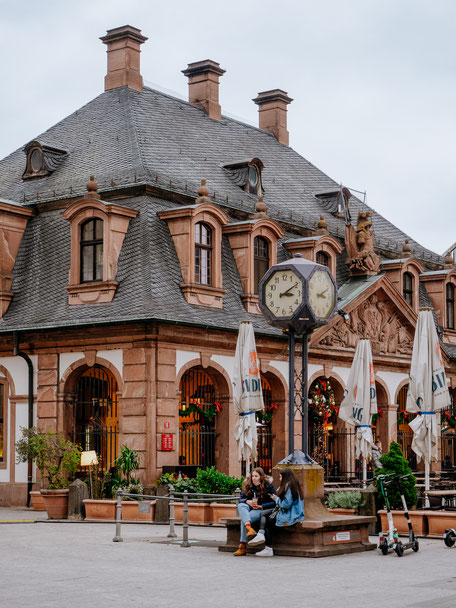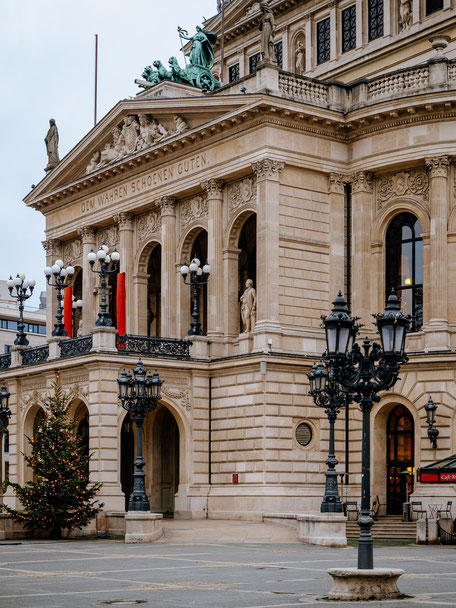 HOW TO GET TO FRANKFURT?
Frankfurt being one of Germany's biggest cities, it is very easy to reach, especially from other major European cities such as Berlin, Paris, Brussels or Amsterdam  whether it is by train, by plane or by car:
According to us, the easiest way to reach this bustling city is by train. The Hauptbanhof (Frankfurt main train station) is one of the busiest station in Europe and offers connection to other major German and European cities;
Frankfurt is also easily reached by plane as Frankfurt airport is one of the busiest airport of Europe (serving more than a 100 countries worldwide). Reaching the city center from the airport is something very easy to do, the airport is indeed equipped with its own train station (DB Rail Terminal which links the airport to other major German cities) and with a S-Bahn station that links the airport to the Frankfurt main train station in just about 10 minutes;
Coming by car to Frankfurt is also relatively easy as many autobahns intersects near Frankfurt airport (the A3 coming from The Netherlands and the A5 coming from Switzerland).
Thanks to Frankfurt's central location in Europe, the city constitutes nowadays one of the largest hub of the region, making it one of the easiest destinations to reach in Europe all year round!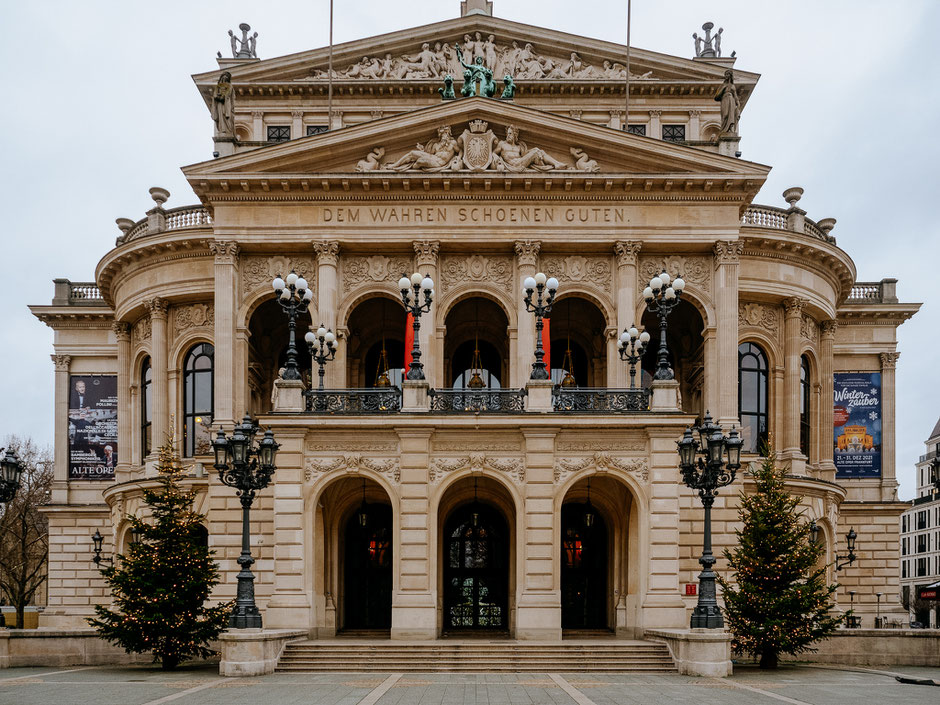 HISTORY
Although there are records of December's markets happening in Europe since the 13th century, the first editions of a market happening purposely for Christmas started in the German-speaking region of Europe (part of the once-great Holy Roman Empire) and the story is no different for Frankfurt. The first mention to its Christmas market dates back to 1393 in an official documentation. It started off as a one-day market on Christmas eve to supply the citizens of the city with meat and food for their Christmas meal after their fasting period during the Advent. However, it had also traditionally performances of ecclesiastical mystery plays.
Always taking place on the famous Römerberg, it has evolved throughout the centuries to embrace new traditions like selling also handcrafted wooden toys, gingerbread sweets and even the traditional big Christmas tree which became a decorative element only at the beginning of the 19th century. Nowadays, this tradition spread through the city with many Christmas markets offering traditional food, drinks and gift options around town for a no-longer fasting nor particularly religious crowd.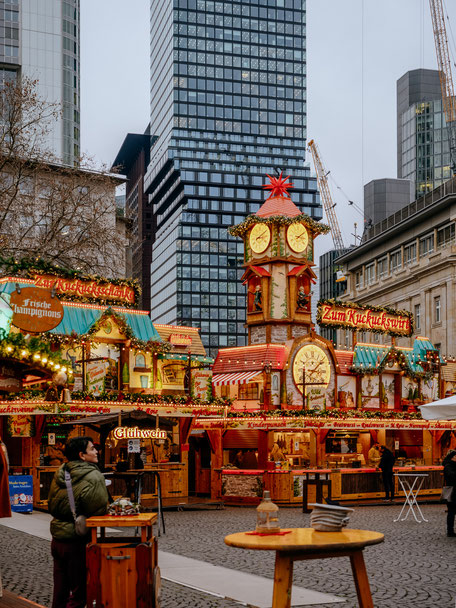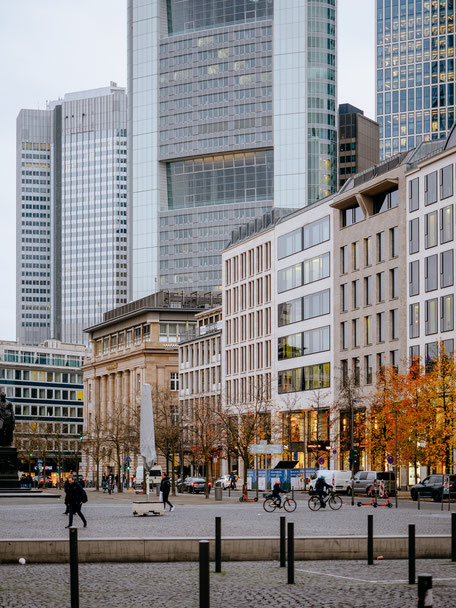 THE CHRISTMAS MARKETS
Frankfurt Christmas market takes place during the holiday season and is open every day. What characterizes the Frankfurt Christmas market is that there is not just one Christmas market, but several! These different markets are spread over several locations in the city, which gives Frankfurt a magical holiday vibe! Below we have listed the top three places where you can find the best parts of the Christmas market.
1. HAUPTWACHE
The Christmas market at Hauptwache, one of the largest and most central squares in Frankfurt, is one of the city's main Christmas markets. We highly recommend that you start your Christmas markets tour here. You will find mainly food stalls with traditional German sweets as well as typical seasonal cheesy dishes. If you have some time, we highly recommend you enter the Galeria store, whether to buy delicious chocolates on the basement level or to enjoy the iconic view of Frankfurt from the top of this huge department store (see photo below).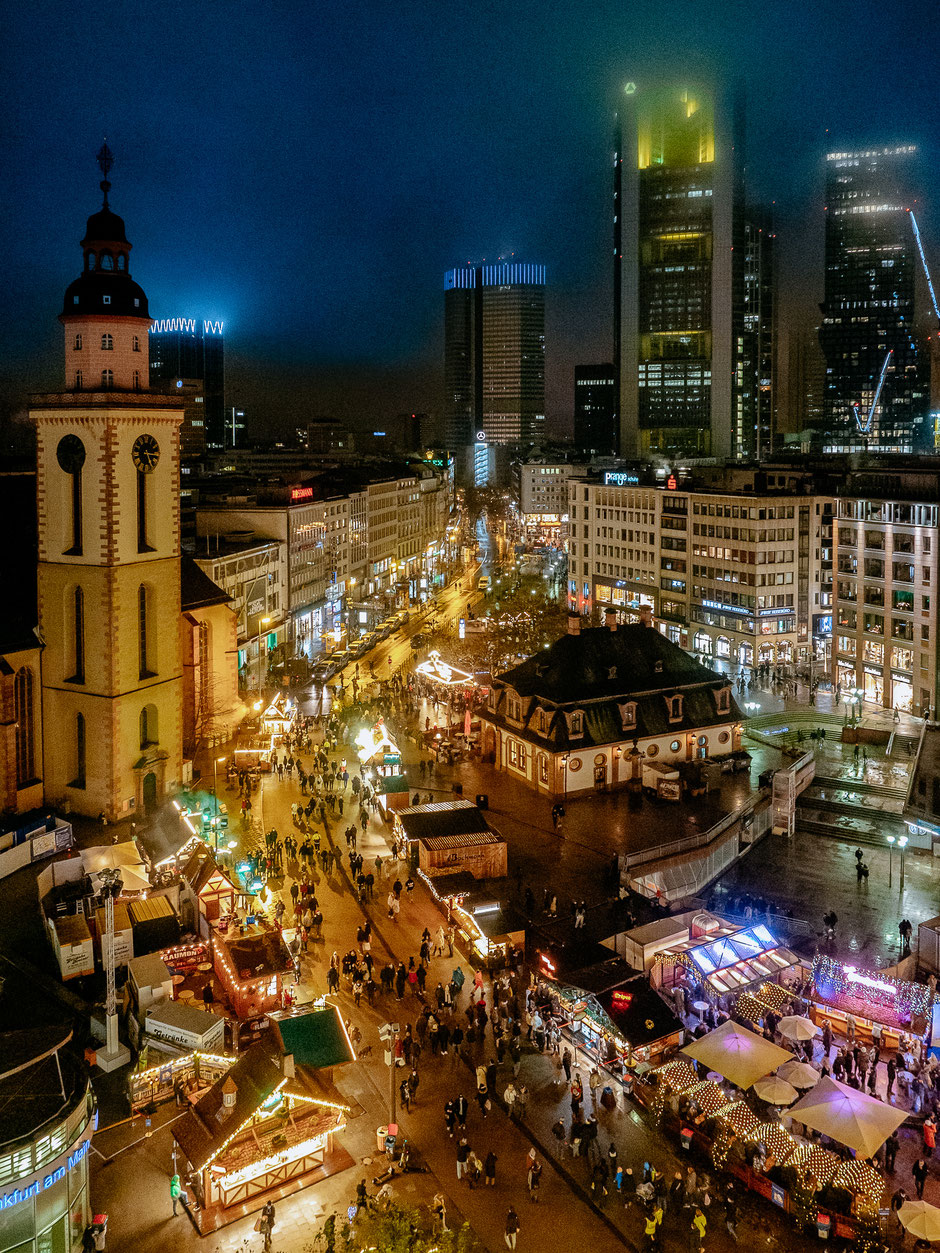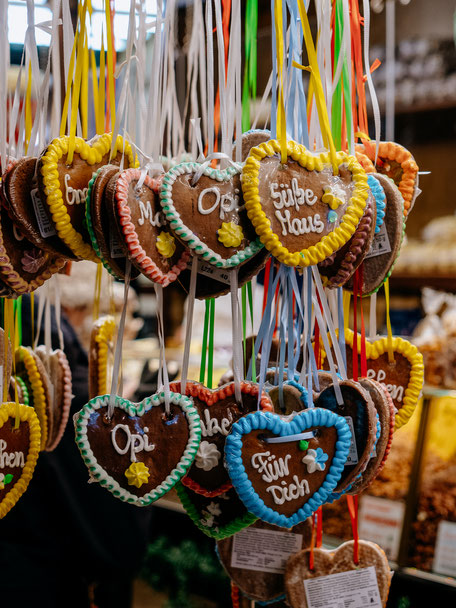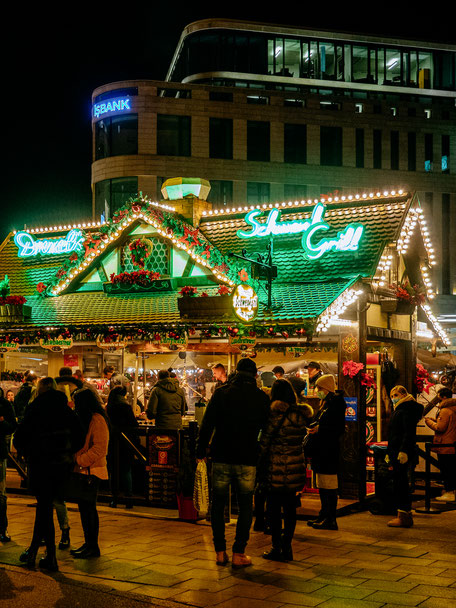 2. PAULSPLATZ
Paulsplatz is one of the largest squares in Frankfurt old town and is dominated by the imposing St. Paul's Church. This is the second stop we recommend you make during your walk through the Christmas markets. Here you will also find many rows of stalls, but this time not only food stalls, but also gift stalls. Here you can indeed buy traditional handicrafts from the region, which make nice gifts and souvenirs.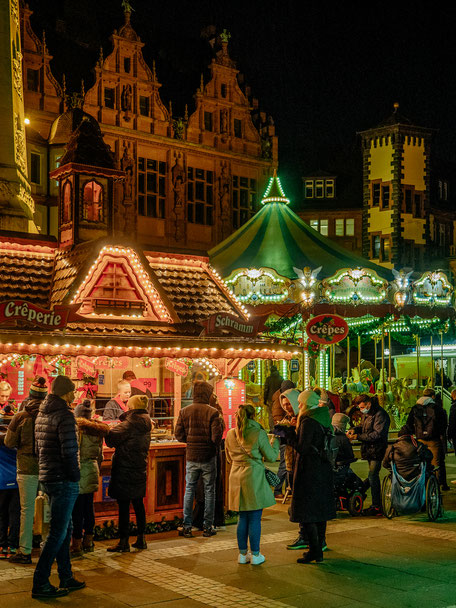 3. RÖMER
Römer is undeniably the most iconic square in Frankfurt and is certainly the place that comes to mind when you imagine Frankfurt during the holiday season! This is also the reason why we suggest to end your Christmas markets tour, so you can save the best for last! Römer (or Römerberg) is located in Frankfurt old town and is home to the city's main and largest Christmas market. The famous imposing Christmas tree in front of the city hall is located here, which will leave you speechless! Here again you will find many rows of stalls but also a vintage carousel where children (and many adults as well) love to take a ride. In short, Römer is the perfect place to get the perfect Christmas vibe while drinking some mulled wine (Glühwein) and eating some cheesy snacks!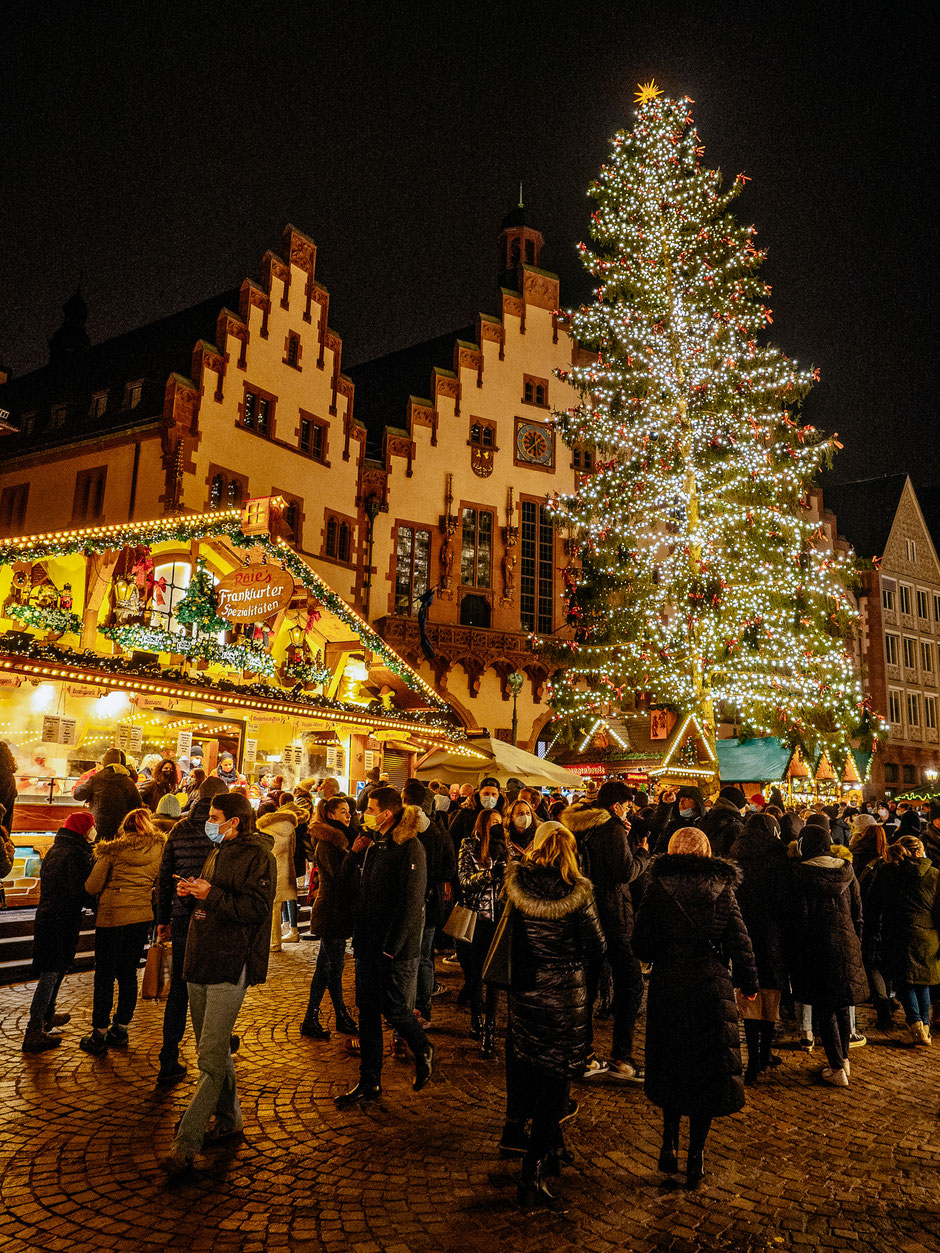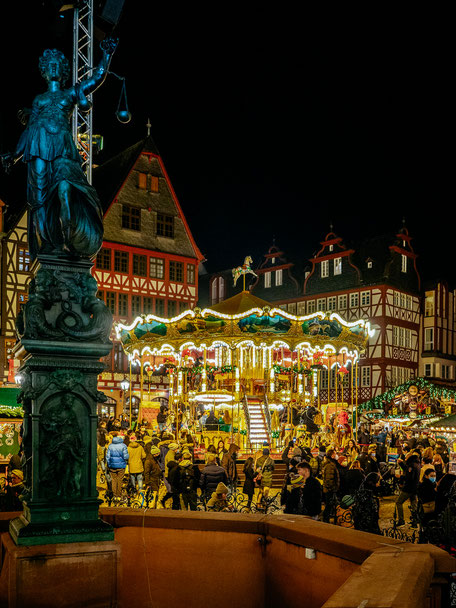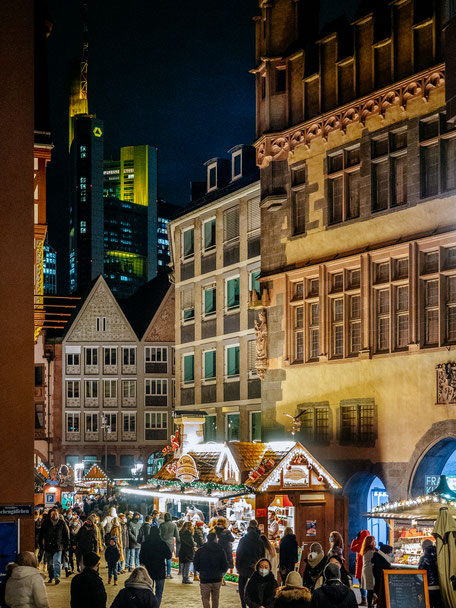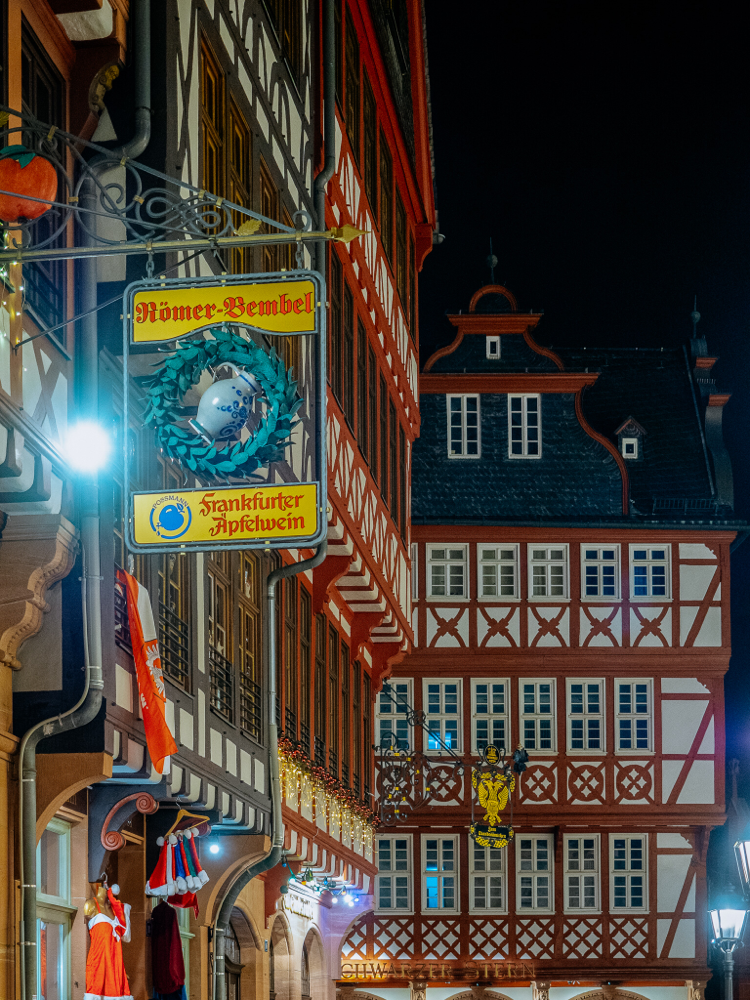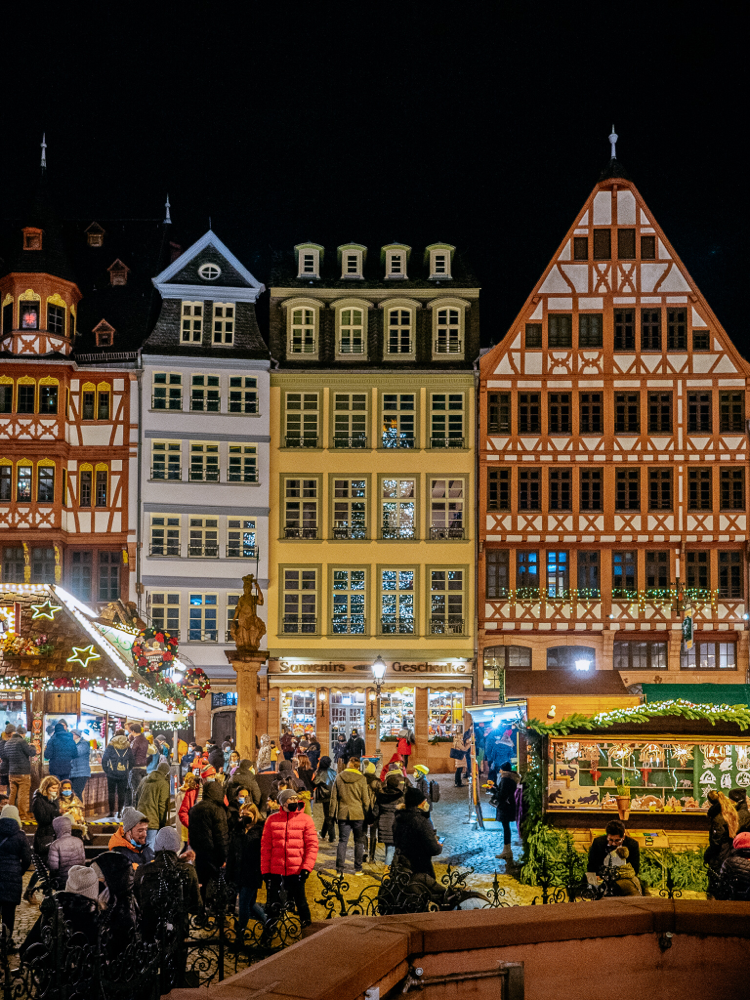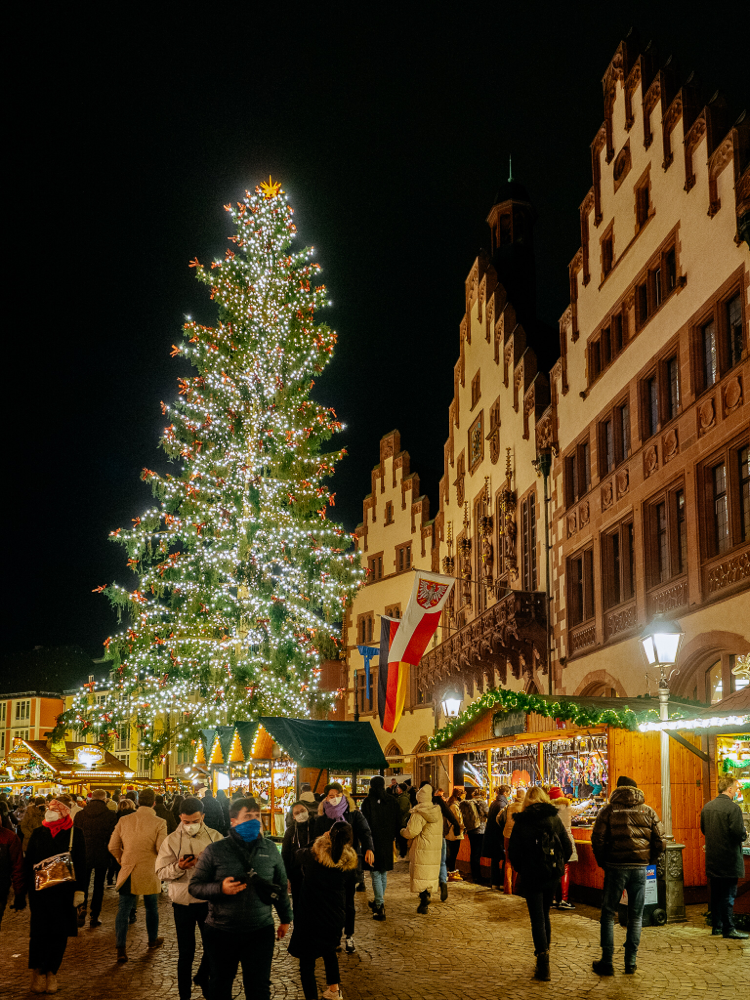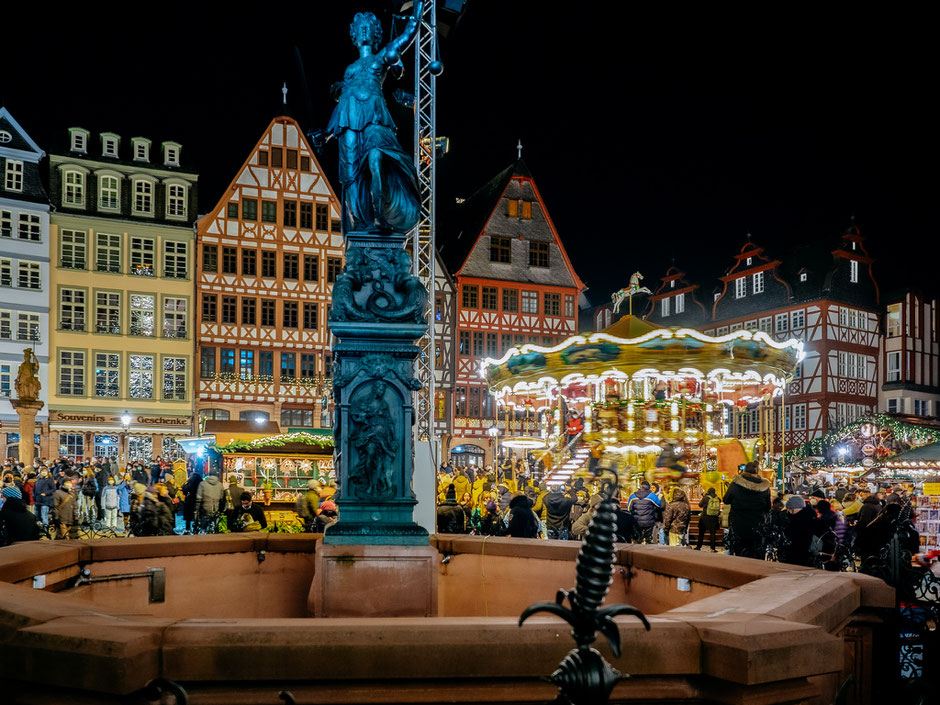 WHAT TO EAT AND DRINK
You can't leave a German Christmas market without trying some traditional treats. Germany is home to many specialties, which are all the more visible during the holiday season:
Mulled wine or Glüwhein as the Germans call it: this warm and comforting drink is made of red wine and many spices such as cinnamon, star anise and cloves.
Hot apple wine: in this part of Germany, locals love to drink the famous local drink called Apfelwhein (which literally translates into apple wine); needless to say that during the holiday season, locals drink a hot version of it with some spices, a bit like the mulled wine. This hot drink tastes like a hot version of an apple cider, you have to try it when in Frankfurt.
Snowball or Schneeball in German: this sweet is a pastry made of shortcrust pastry and is mostly popular in the Rothenburg ob der Tauber region. Its name comes from its round, ball-shaped form and its traditional decoration with white confectionary sugar. Unfortunately, we think that it looks more yummy than it actually tastes...
Pretzel or Brezel in German: this German snack by excellence is perhaps one of the most famous snack Germany has exported. It is a baked pastry made of dough that takes the shape of a knot. A must try on a German Christmas market!
Flammlachs (the German word "flammen" means "blazed" and "lachs" means "salmon"): this dish consists of a split salmon attached to a wooden board, which is placed vertically in front of a wood fire and sprinkled during the roasting with salt water. This dish originated in Finland but has become increasingly popular at German Christmas markets.
Bratwurst: who can leave a German Christmas market without getting a bratwurst mit brötchen (sausage in a bun). Sausages are an integral part of German culture, you can witness it by the number of sausages cooking on the grill! Another traditional dish in Germany is the currywurst (sausage served with a curry sauce), you can either eat it with fries on the side or in a bun.
In short, you can't leave a German Christmas market without trying some of these things. We highly recommend you to take some time to eat and drink as this is definitely a big part of German Christmas markets!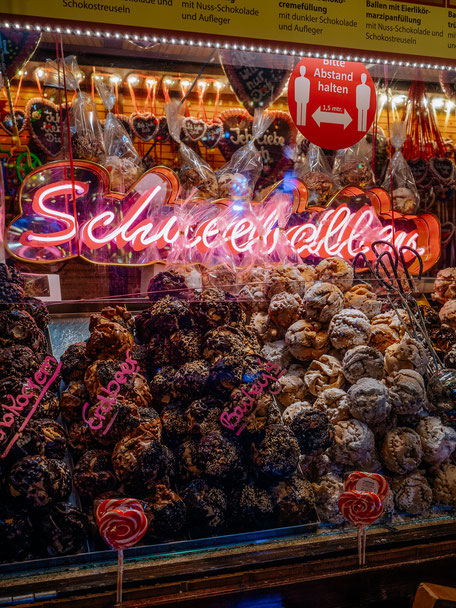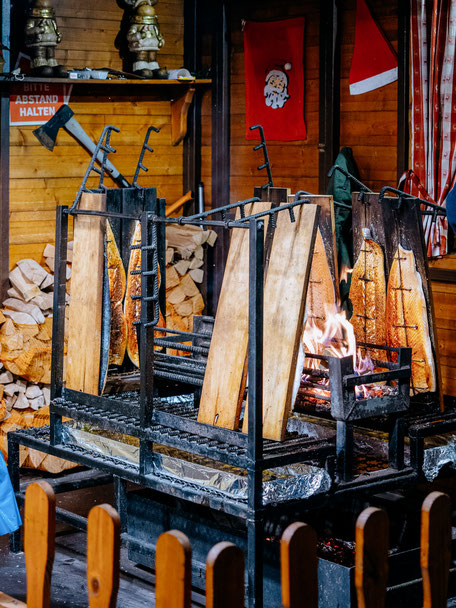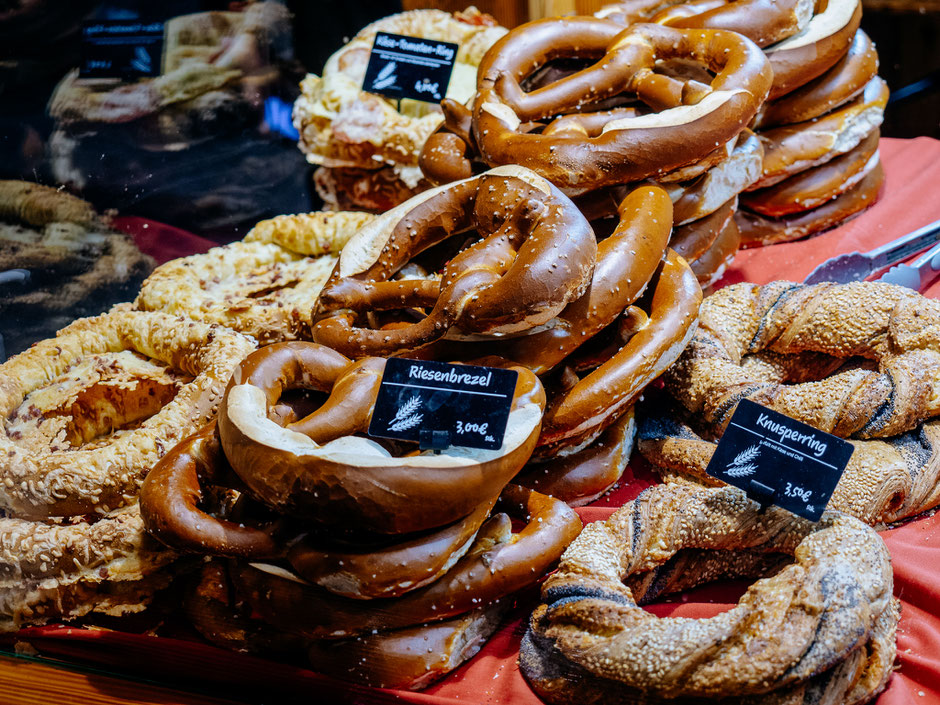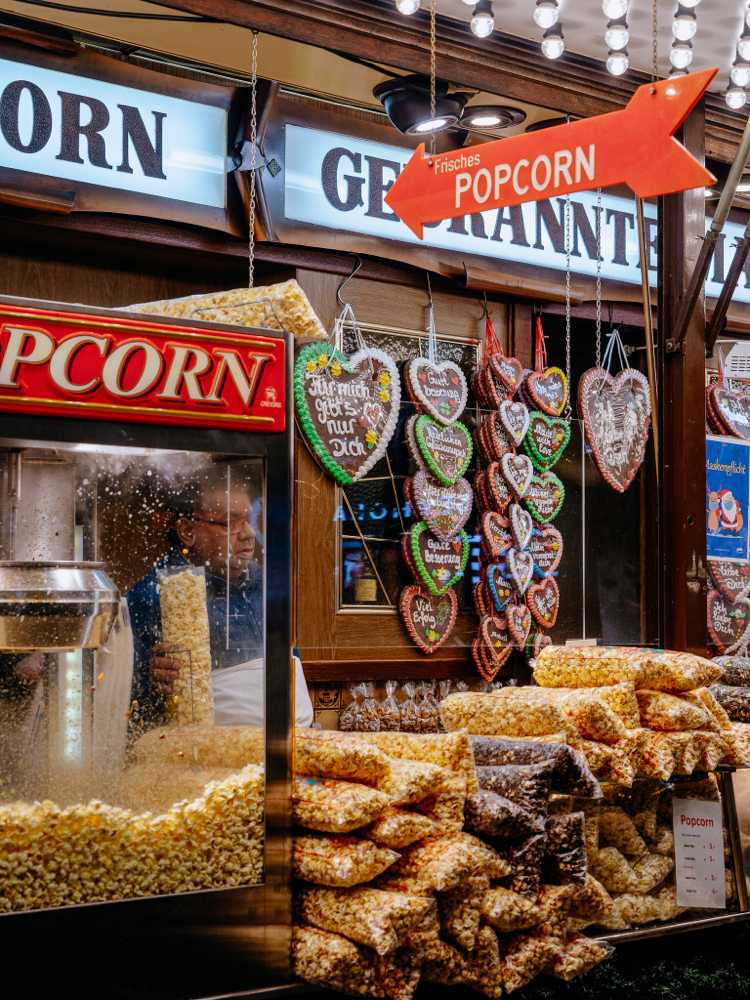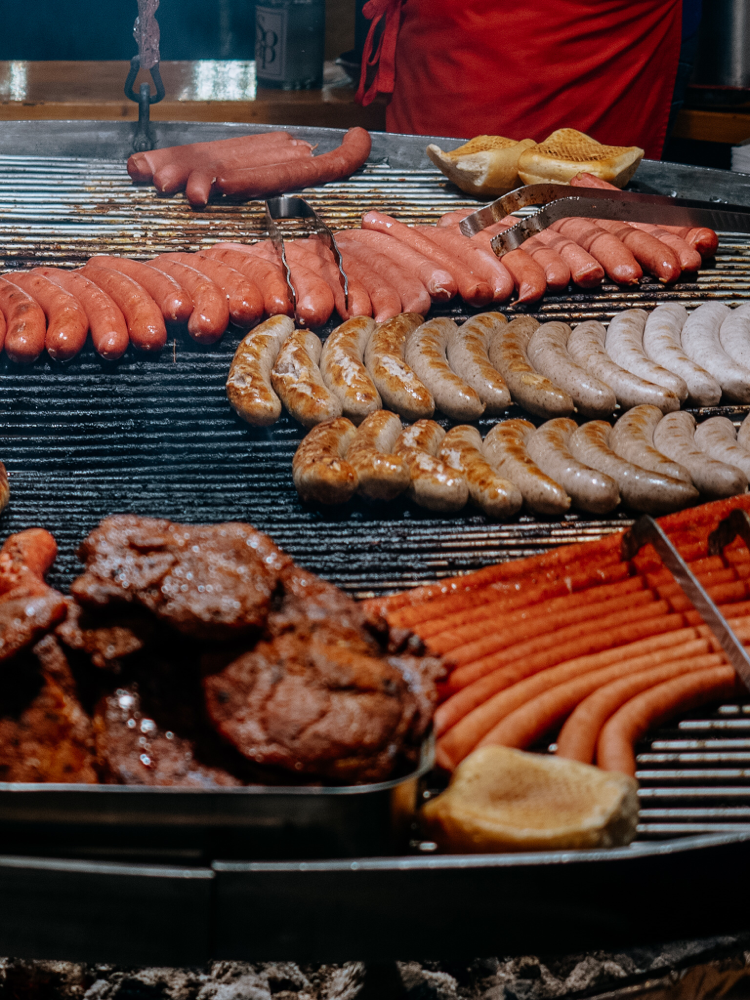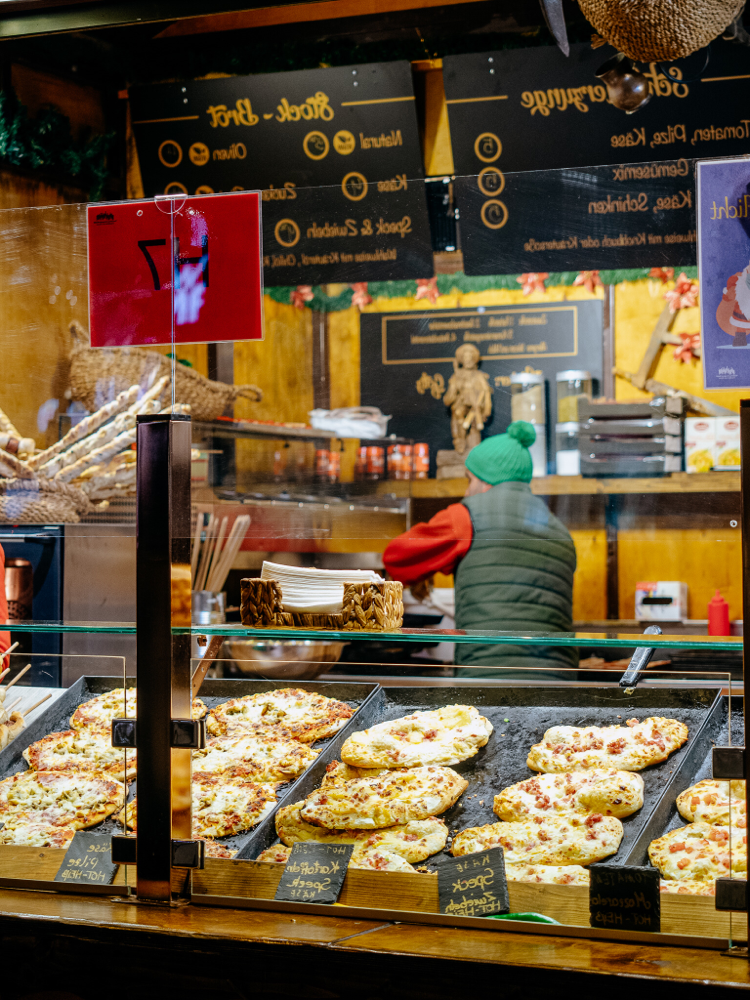 WHAT TO BUY
There are plenty of things to buy as gifts or souvenirs in a German Christmas market, and Frankfurt Christmas market is no exception to it:
Miniature Christmas houses: these make the perfect souvenirs of the Christmas market; they are made of ceramic and are real eye-catcher, especially during the holiday season! They represent typical German houses but since you're visiting Frankfurt Christmas market, we suggest you buy some replicas of the iconic town hall or some of the beautiful buildings located in Römer.
Bembel: this handmade pottery is a traditional jar typical of the region, usually used to serve apple wine.
Stollen or 

Weihnachtsstollen

 in German: you cannot leave a German Christmas market without buying one of these delicious fruit breads made of nuts, spices and dried  fruit, coated with powdered sugar and often containing marzipan.
Gingerbread hearts or Lebkuchenherzen in German: this sweet is yet another famous specialty of Germany. It is a honey-sweetened German cake that has become part of Germany's Christmas traditions and tastes like gingerbread.
As you can see, you won't leave a German Christmas market empty-handed! German Christmas markets are all about local food and handcrafted gifts and, most importantly, about traditions that have been around for centuries.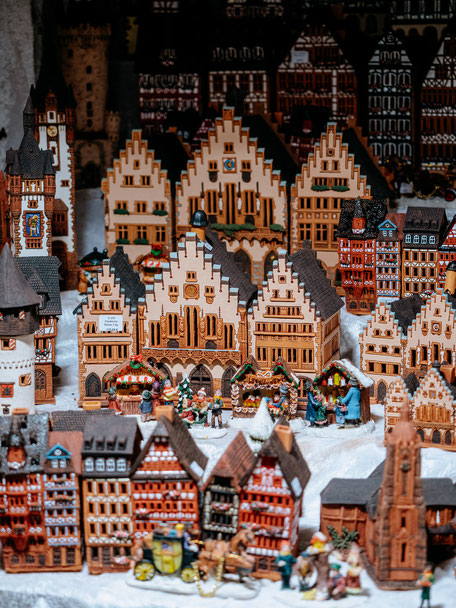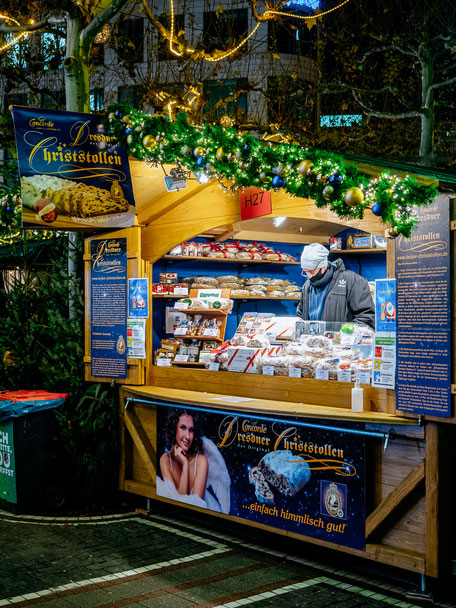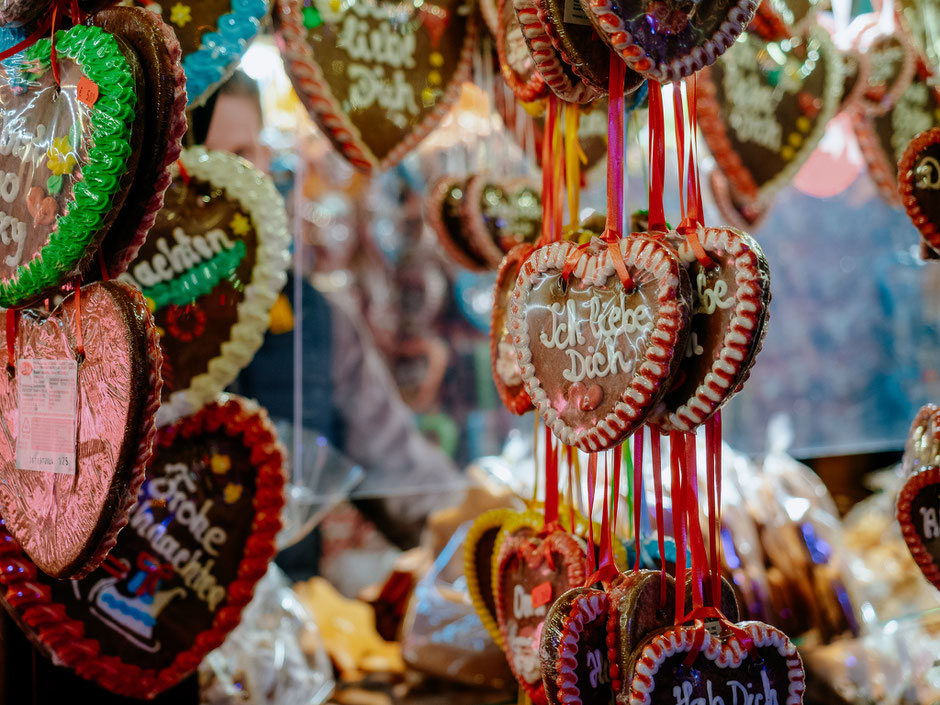 OUR FINAL THOUGHTS
So in a nutshell, we were really glad we had the opportunity to visit one of the most famous Christmas Market this year. Of course with the pandemic, it is scary to go to an overcrowded market but everything seems well controlled by the local police and everyone was using masks. In short, we think Frankfurt has managed to put together a very good Christmas market experience that is definitely worth a visit!
---
---
And now it's your turn to let us know what you think about the city of Frankfurt and its famous Christmas Market. Have you every ever been there? What else would you recommend doing in this city? We look forward to reading your comments in the section below.
---
---
YOU MIGHT ALSO LIKE..