---
I am sure I said this a thousand times before, but I am a winter maniac! I guess being born in Rio (Brazil) has turned snow into such an inaccessible weather that I cherish every snowflake I see falling! On the other hand, coming from a region where snows means chaos, Thomas is not as much of a fan as I am... Nevertheless, I managed to convince him to make the most out of travelling all year long and also planning at least one trip to a snowy place every winter. After Füssen and the Taunus Mountains in 2018 and Oslo in 2019, we decided to go to the Alps in 2020 and discover the very cute French mountainous town of Chamonix.
This Chamonix travel guide is intended to give you an idea of what to see in this mountain resort city in just two days. Whether you're looking for an unforgettable skiing experience, willing to taste some of the best local dishes or just stroll around town, we've got you covered! If you're staying an extra day in Chamonix and want to discover more, we highly recommend to check our other post in which we tell you everything you need to know to visit the Aiguille du Midi and the Mer de Glace (check it here).
---
---
---
GENERAL INFORMATION
Chamonix is a charming alpine town that won't disappoint you! It is a singular kind of place encircled with mountain tops which gives it a magical and enchanted atmosphere. It is located at the heart of the French Alps and is considered as one of the most beautiful places in the Alps. It is home to the highest point in Europe: Mont-Blanc which culminates at 4.809 meters (15.780 ft).
Though small in size, Chamonix is easy to get to know in just a day or so and is definitely not to be missed! As soon as you set foot in this little mountain village and look up to all the enclosing high peaks you will understand all the buzz around it. We definitely recommend strolling around the streets, popping into cafés to taste some hot chocolates and also basking in the warm sunlight on a freezing day. We loved it so much we think a whole day can be dedicated to having a nice and slow walk across town.
Mont-Blanc and the Valley of Chamonix being considered the roof of Europe, it would be a shame not to discover the more popular gems: the Aiguille du Midi and the Mer de Glace. Therefore, if you want to spend less time strolling around the village or even have an extra day in Chamonix, we strongly suggest you to visit these two top attractions.
---
 | For more information about the Aiguille du Midi and the Mer de Glace, check our post here |
---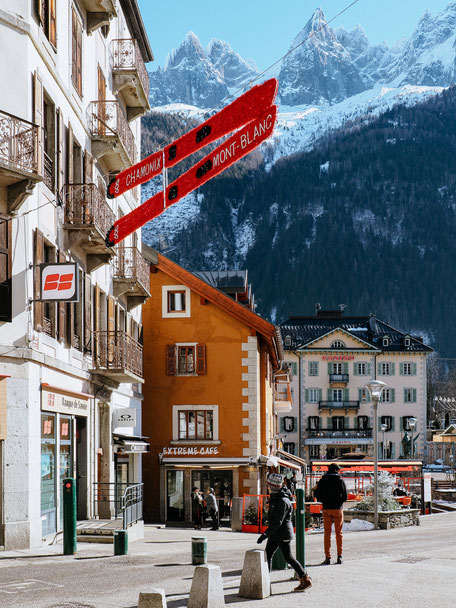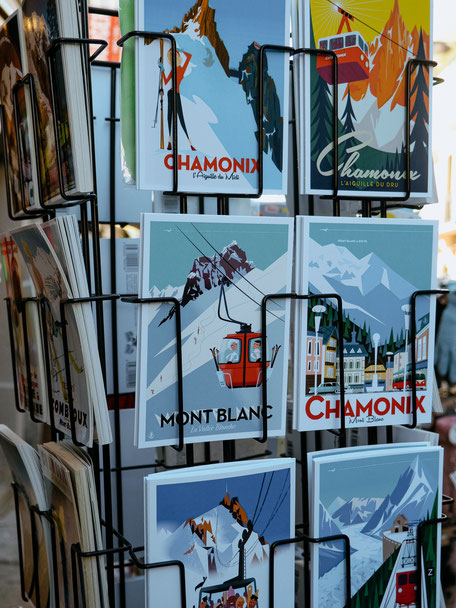 HISTORY
First mentions to the Valley of Chamonix date back to the 11th century when it was part of the feudal domain of the House of Savoy. However, due to its challenging weather, it was inhabited mainly by a few farmers and religious orders and did not have any historical importance until the 18th century when two English men helped putting Chamonix on the map for the rest of Europe. Richard Pococke and William Windham visited the valley in 1741 and published articles about the mountains and glaciers in different journals, starting a furor of visitors to explore this picturesque village. From this point on, tourism only grew to be the main local activity, first with Alpine mountain guides and later on with hotels and a ski station. In 1924, Chamonix hosted the first Winter Olympic games which helped to make it internationally famous and turn it into the classy old style ski resort we know today.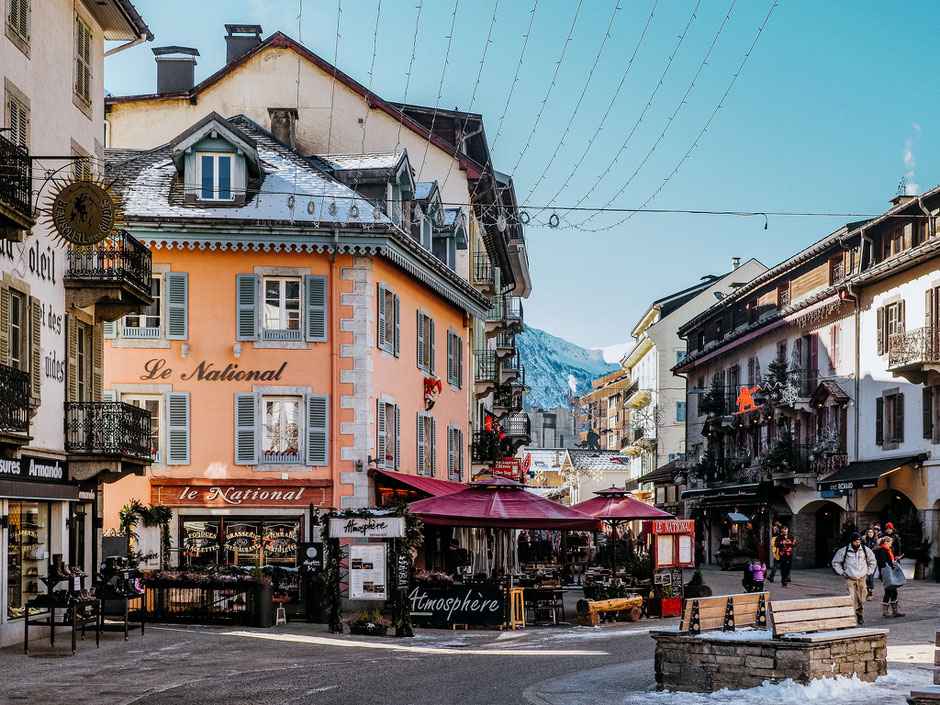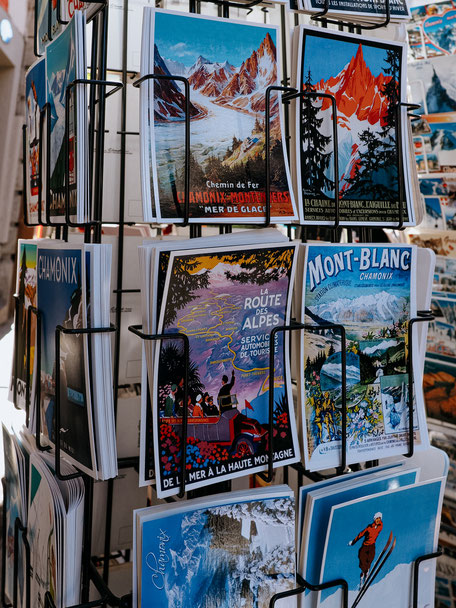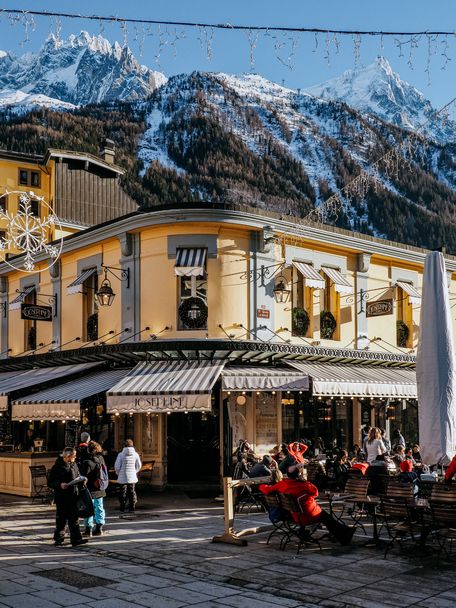 DAY 1 - WALK IN THE VILLAGE
1. PLACE BALMAT
This square is the heart of Chamonix with streets taking you everywhere you want to explore! Located just in front of the post office, the square is named after Jacques Balmat (more about him on the next point). All around it you'll see charming buildings in French alpine architecture style and the superb mountain peaks in the background. A splendid sight, we will definitely never forget!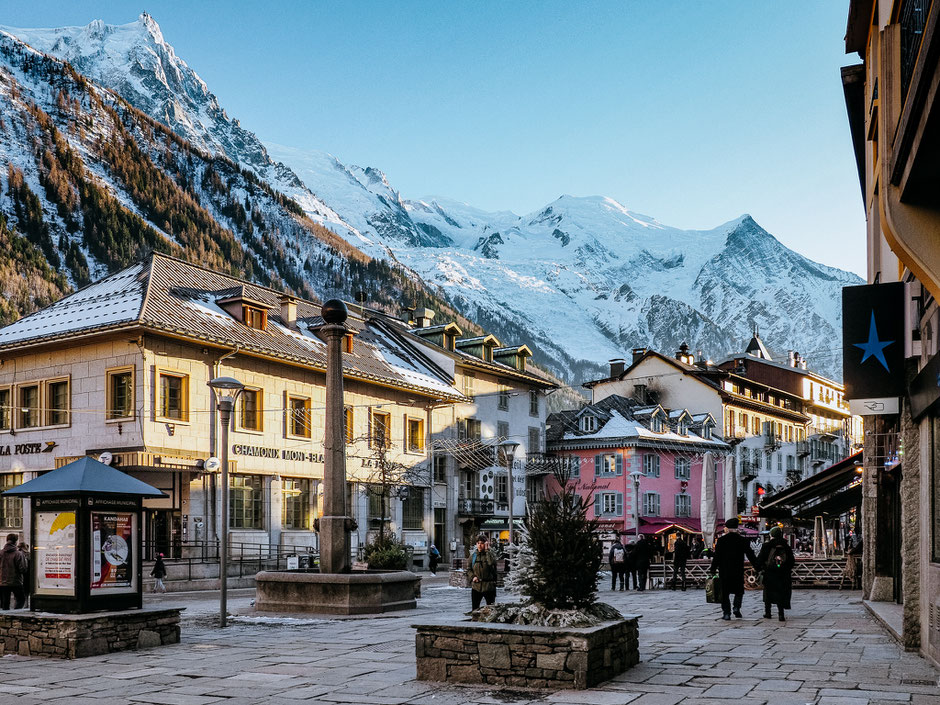 2. STATUE OF HORACE BÉNÉDICT DE SAUSSURE & JACQUES BALMAT
Located on Place Balmat, this statue tells us a bit of the story of how men first conquered Mont-Blanc and all the polemic involved. It depicts Jacques Balmat, one of the two locals who first climbed the Mont-Blanc in 1786, and Horace Bénédict de Saussure, a Genevan aristocrat who was passionated about alpinism and offered a financial reward for the bravery and determination of anyone who managed to first conquer the 4.809 m (15.780 ft) of the highest mountain in Western Europe. The bronze statue was inaugurated in 1887 to celebrate the centenary of the first ascent showing an excited Balmat pointing out to the top of Mont-Blanc and a valiant and well-equipped Saussure. However, though Saussure was able to reach the top in the following year, he only financed the journey of the first two men who did it. So who was the second men and why is he missing in the statue?
Balmat's partner on the first ascent to the top of Mont-Blanc was Doctor Michel Pacard, a physicist who was very interested to run weather measurements at the highest top of the region. Pacard had been trying to reach the top since 1783 and apparently was the leader of the successful endeavour three years later and set foot at the top moments before Balmat. Nevertheless, later reports on their achievement started putting Balmat in the role of the expedition leader and, though Pacard asked him to sign a document stating otherwise, this version caught on and Pacard's role was downsized so much that he was not included on this iconic statue.
Notwithstanding, with the celebration of the bicentennial of the first climb, a statue homaging Michel Pacard was erected a few meters away and he got his long due recognition. It is worth noting that both men deserve a huge appraisal since they succeeded reaching the mountain top without all the alpine equipment available today, unroped, only with iron batons and heavily loaded with meteorological equipments for Pacard's long awaited experiments.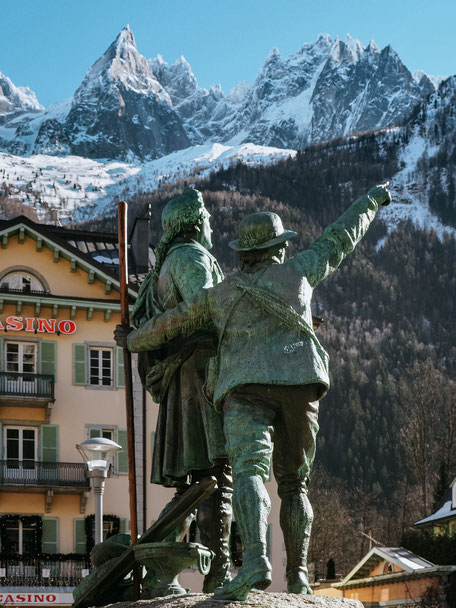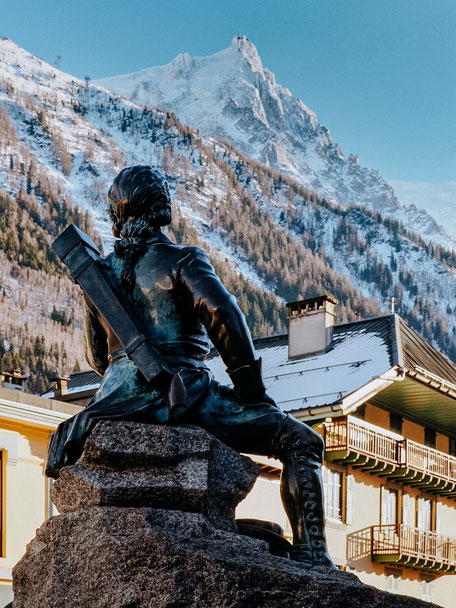 3. THE BRIDGE
Following the river Arve in the upriver direction, you will reach a cute covered wooden bridge taking to Place du Mont-Blanc, a more modern square with an almost building-free view to the mountains around. Sometimes decorated with flowers, this bridge offers a romantic sight with the snowy peaks making a magic winter scenery perfect for a picture.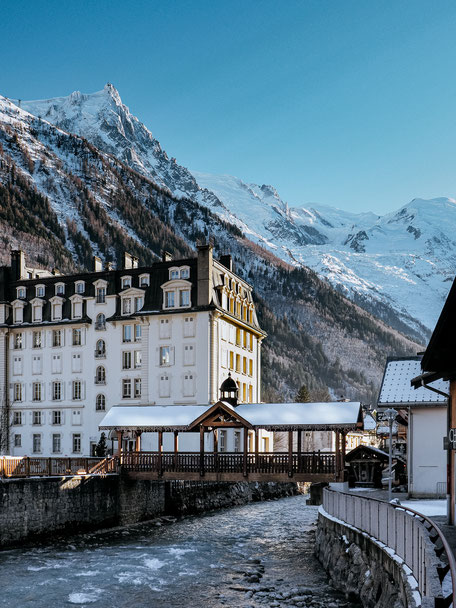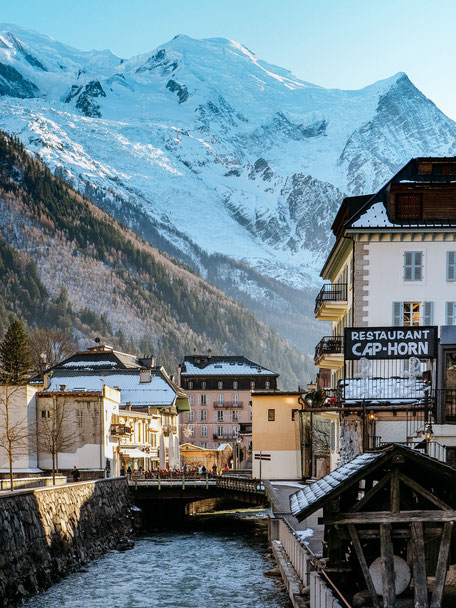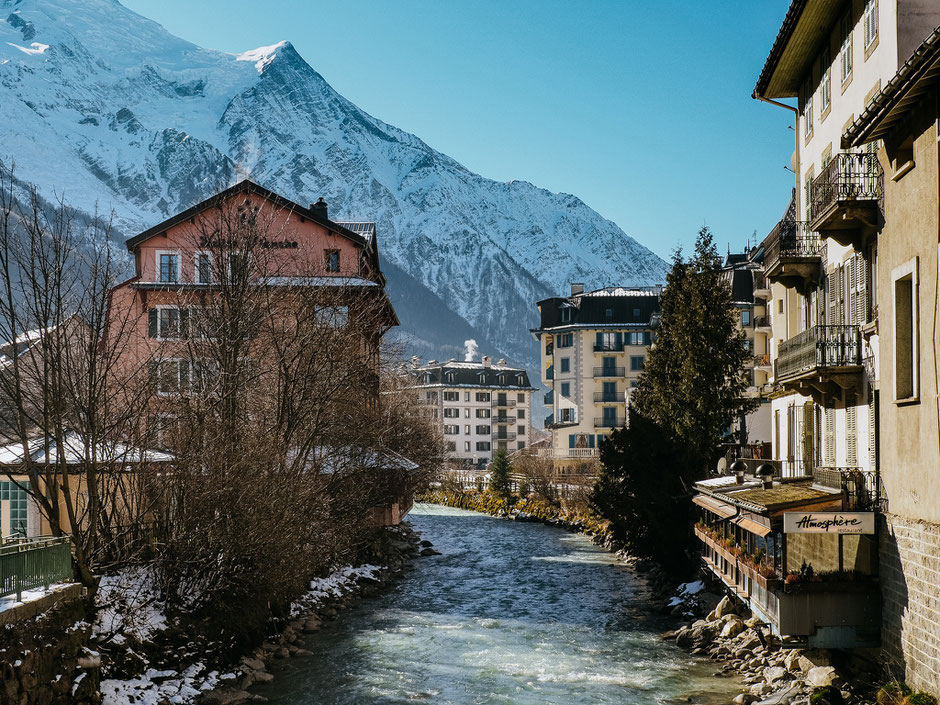 4. RUE JOSEPH VALLOT
This street is named after the 19th century French astronomer and alpinist Joseph Vallot. From there, you can admire one of our favorite views of town, with alpine style buildings in the foreground leading to snow-capped peaks on the background.
But let's go back to Joseph Vallot: Vallot started to have an interest in Mont-Blanc in 1875 when attending a congress about geology in Chamonix. At that time, despite the few scientific observations made by Horace-Bénédict de Saussure, everything about life at altitude and the movement of glaciers remained to be discovered. Vallot made his first ascent in 1881 and quickly decided to build an observatory where he could carry out scientific experiments. At that time, doctors considered that it was very dangerous for health to fall asleep at such a high altitude. In 1887, in order to prove that it was possible to live, sleep, eat and work at such a high altitude, Vallot spent three days and three nights in a tent on the summit of Mont-Blanc. What an achievement at the time!
A few years later, he worked on a train project that aimed at bringing tourists to the summit of Mont-Blanc. He also worked on the first project for the Aiguille du Midi cable car which was inaugurated in 1924, constituting the first cable car in France.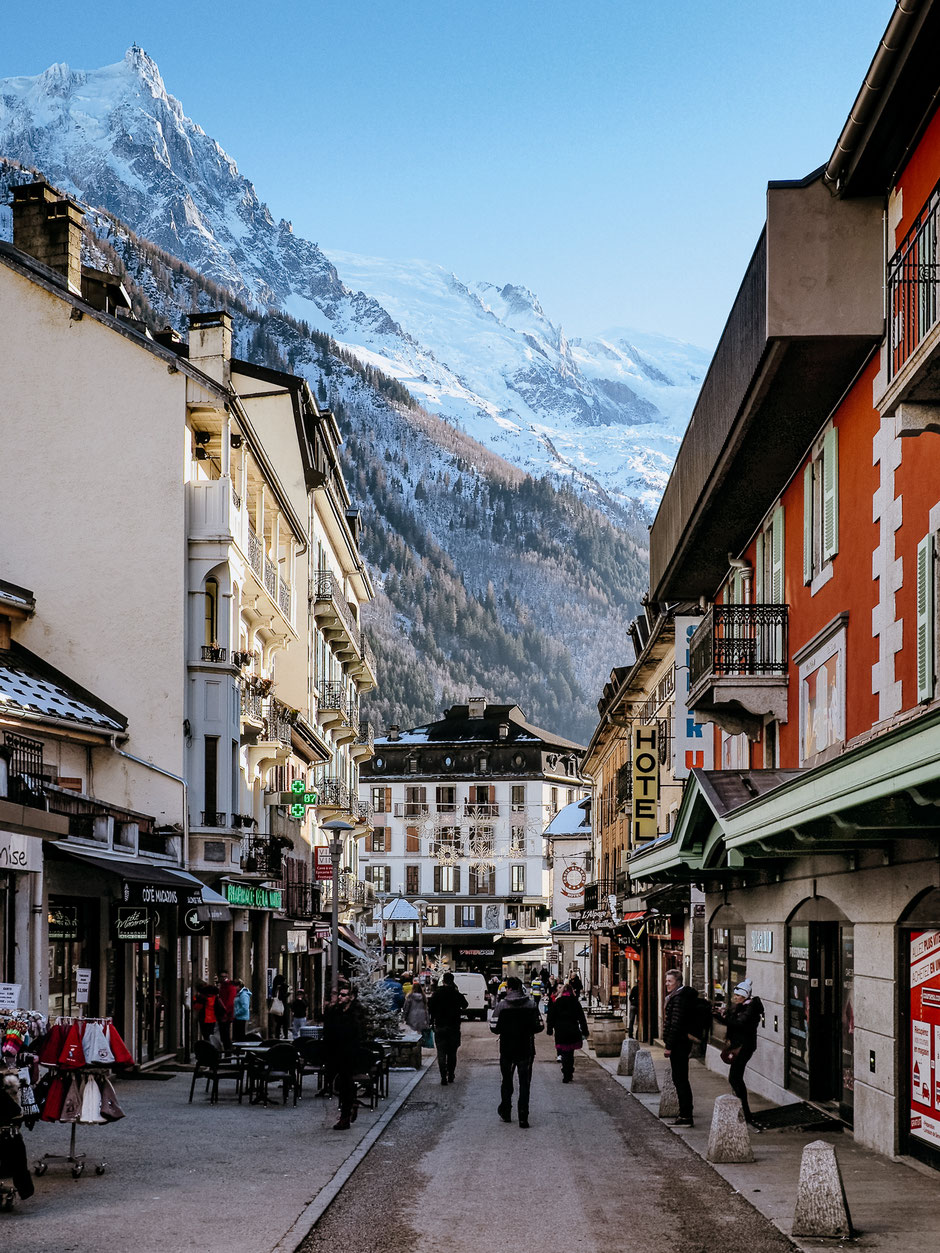 5. CATHOLIC CHURCH OF ST. MICHEL
The Church of Saint-Michel is a Savoyard Baroque (also called Alpine style) Catholic church with a bulbous bell tower, dating back to the 11th century. In 1099, Count Aymon I of Geneva endowed the Valley of Chamonix to the Abbey of Saint-Michel-de-la-Cluse in the Val de Suse (Piedmont). Monks settled on the right bank of the Arve river and founded the Priory of Chamonix in 1204. Every year, on August 15, the Church square hosts the traditional ceremony of the Fêtes des Guides: a call of the new guides, homage to those who have disappeared in the mountains.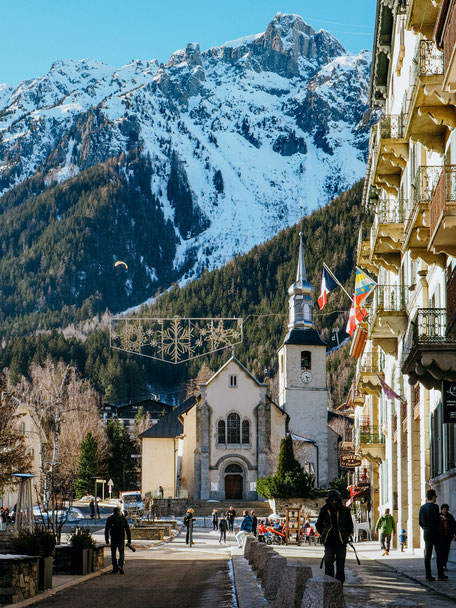 6. DINNER IN LE MONCHU RESTAURANT
After a whole day strolling around the amazing city of Chamonix, it is time to relax and enjoy a good traditional dinner in one of the many restaurant the city has to offer. Le Monchu would be our first pick. This alpine themed decor restaurant is warm and emanates a cozy mountain ambiance. The food is absolutely amazing! We opted for the 26.50 EUR menu and had the soupe à l'oignon for starters (after which we were already full),  we then had the delicious and huge tartiflette (a traditional French dish made of potatoes, bacon and a LOT of cheese) as main course and a chocolate mousse for dessert. We also tasted the delicious local beer: the Brasserie du Mont-Blanc which we highly recommend with such typical dishes.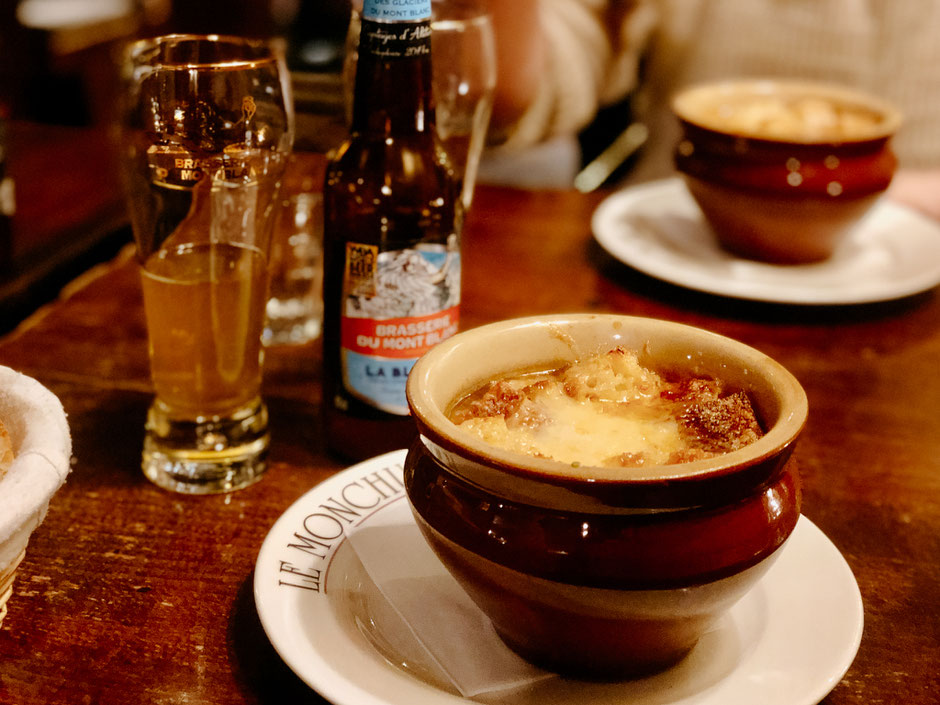 DAY 2 - A PERFECT SKI DAY
1. MONT BLANC NATURAL RESORT
Since the growth of tourism in the early 19th century, Chamonix received more and more tourists every year and in 1821 the Chamonix Guides Association, formed by local guides, started regulating the access to the slopes but this was mainly for mountain climbers. When skiing was introduced at the end of the 19th century, investments were made to build cable cars and lifts as the popularity of winter sports grew. Nowadays, the Mont Blanc Natural Resort comprises five ski resorts in the Valley of Chamonix with a total of 152 km of slopes (check map of the Brévent-Flégère ski area here).
Our golden tip for your stay in Chamonix: purchase the Mont Blanc Unlimited Pass. This pass is absolutely essential whether you want spend the day skiing or visit the Aiguille du Midi or the Mer de Glace. The one-day pass costs 65 EUR per person and gives access to all ski areas (incl. Brévent, Flégère, etc.) and all attractions in Chamonix, as well as all public transportation. At first, it might seem a bit expensive but considering all that's included, it is actual not that expensive! It is of course possible to get the pass for more than one day if needed. For instance, we bought the two-day pass (130 EUR per person) as we wanted to spend one day skiing and the other day going up the Aiguille du Midi in the morning and visit the Mer de Glace in the afternoon. If staying two days in Chamonix, we suggest you do the same!
Opening hours - daily from 8.50 a.m. - around 5 p.m. | Admission - 65 EUR (one-day pass)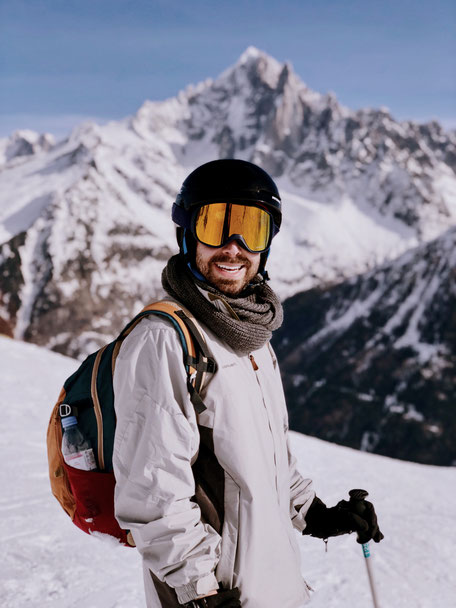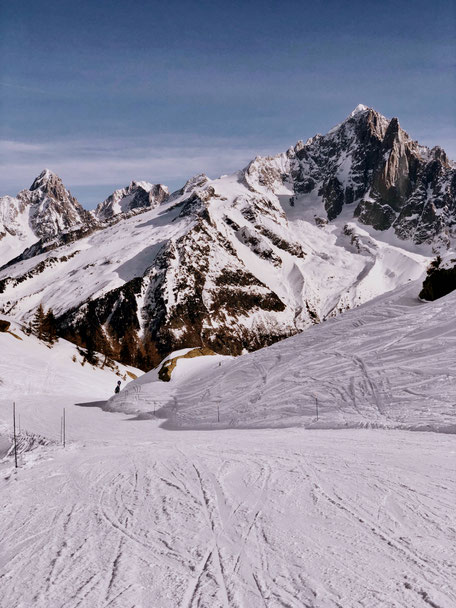 2. PLANPRAZ
The first cable car will take you from Chamonix to the 2.000 m (6.562 ft) level of Planpraz. This is the starting point for both the ski slopes in winter and various hiking routes in summer. It is also a famous take-off area for paragliding if you're in need of more adrenaline. There are restaurants and toilets available here as well if you'd like to just stick around to enjoy the marvellous view of the valley. For the rusty beginner skiers like us, you can take the Funi 2000 lift to quickly get to a couple of small green slopes so you can train your moves before hitting the bigger and more challenging ones.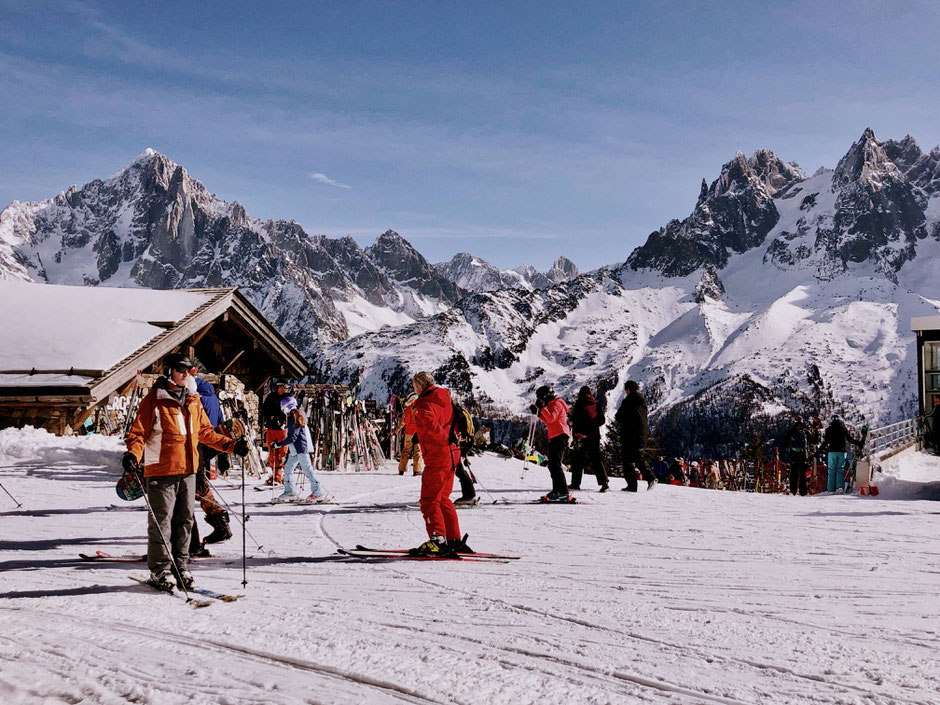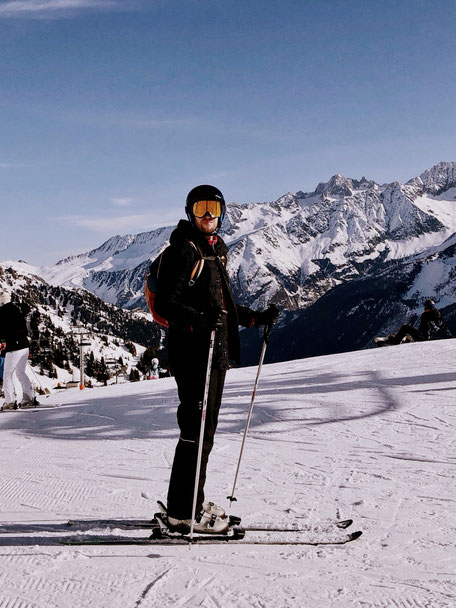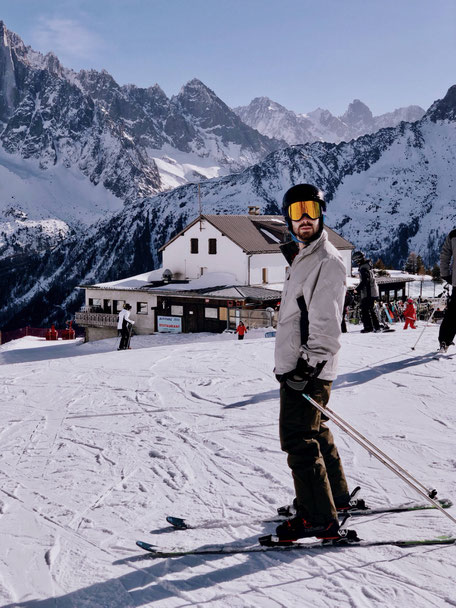 3. LE BRÉVENT
After a couple descends on the green slopes to practice our (very basic) skiing skills, we took the Brévent cable car to access the highest point of the resort in the south part of the valley. Le Brévent is situated at 2.525 m (8.284 ft) and boy, it is a breathtaking view! There is a restaurant up there with a terrace offering a stunning panoramic view over Mont Blanc. If you're looking for a cheaper option, a bit further ahead, there is a food truck selling hot and cold beverages, hot sandwiches and some desserts for a more reasonable price and you can sit in one of the beach chairs they lay down to have a quick meal with a view you won't ever forget! From there, you can either go down through a black ski slope or, if you're not up for it like us, descend in the cable car back to Planpraz.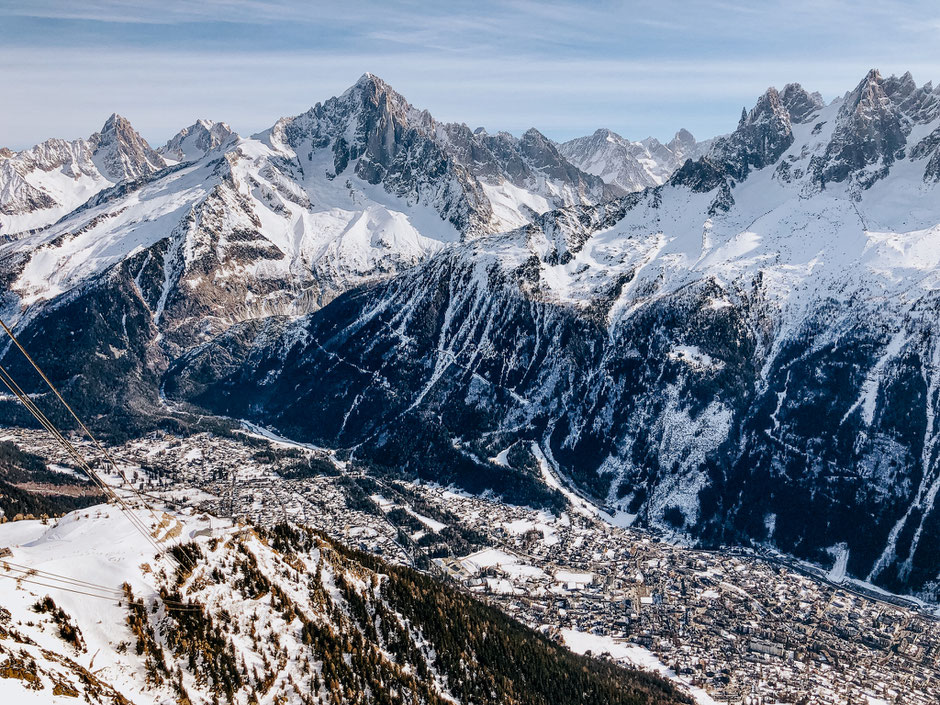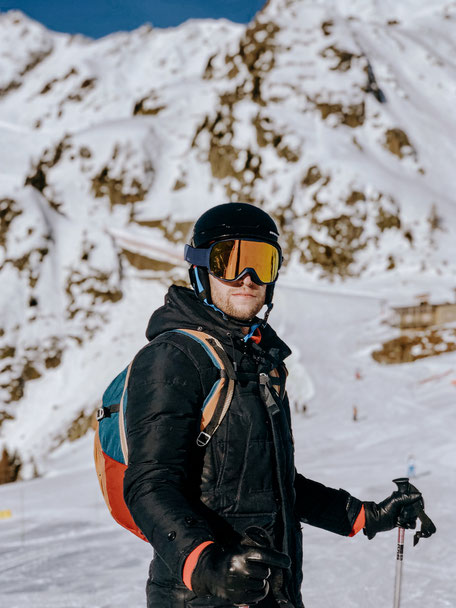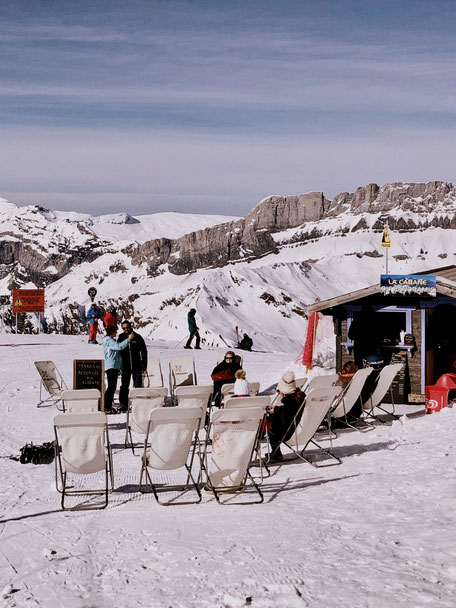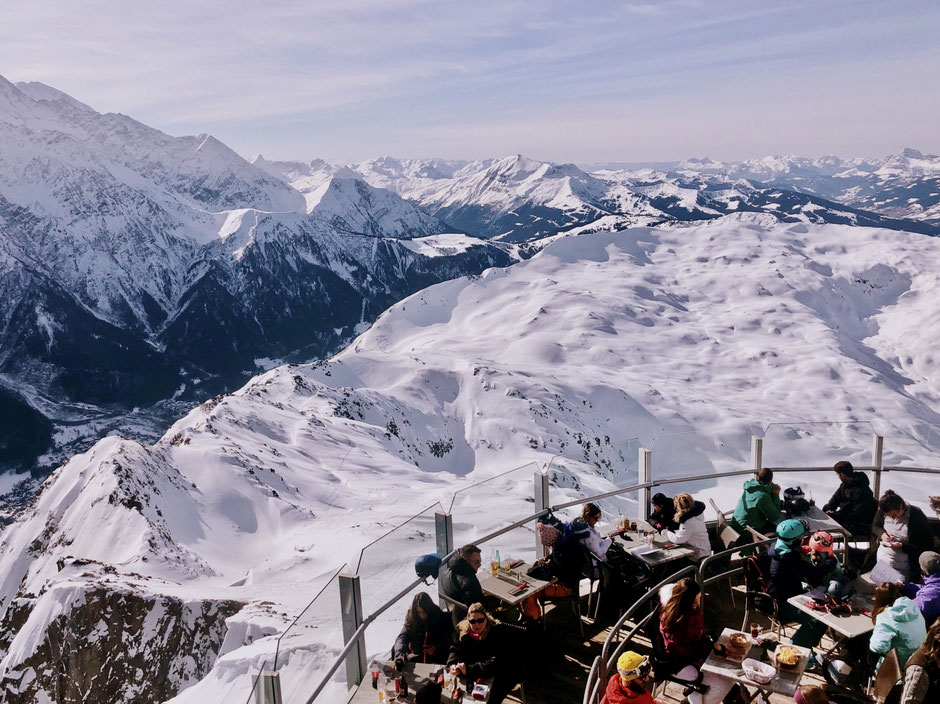 4. LA FLÉGÈRE
After a few runs on the green slopes and feeling more confident about our skills, we tried to find different trails to explore the ski station without endangering ourselves and others. We checked the map and saw there was another green slope at La Flégère, a neighbouring ski area linked by a cable car (check map here). Nonetheless, to get there we had to venture onto blue slopes. The problem is that there is a saying that in Chamonix the difficulty of the slopes is downsized so that a blue slope would actually be a red one, so needless to say we fell more than a couple times and had to descend a few meters sliding on our butts, but we succeeded to cross to the other side and it was super worthy! There, the green slopes were longer and more challenging and we also enjoyed a cold beer watching a different perspective of the valley. Also from this point you have a nice sneak peak of the Mer de Glace glacier on the other side of the valley. At the end of the day, we descended through the Flégère cable car with trembling legs but smiley faces.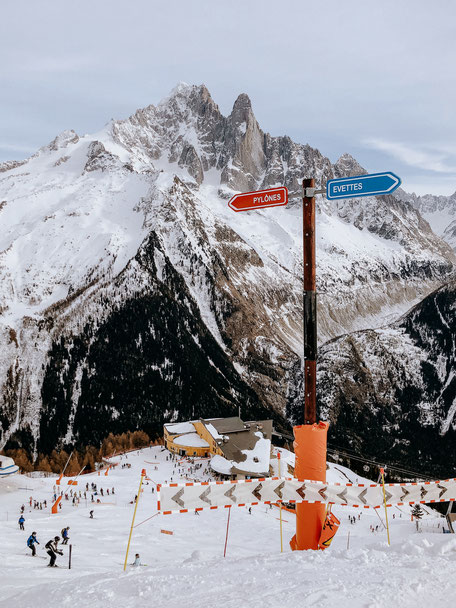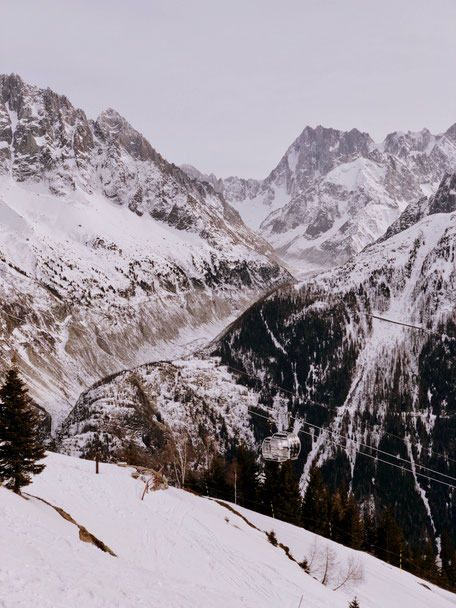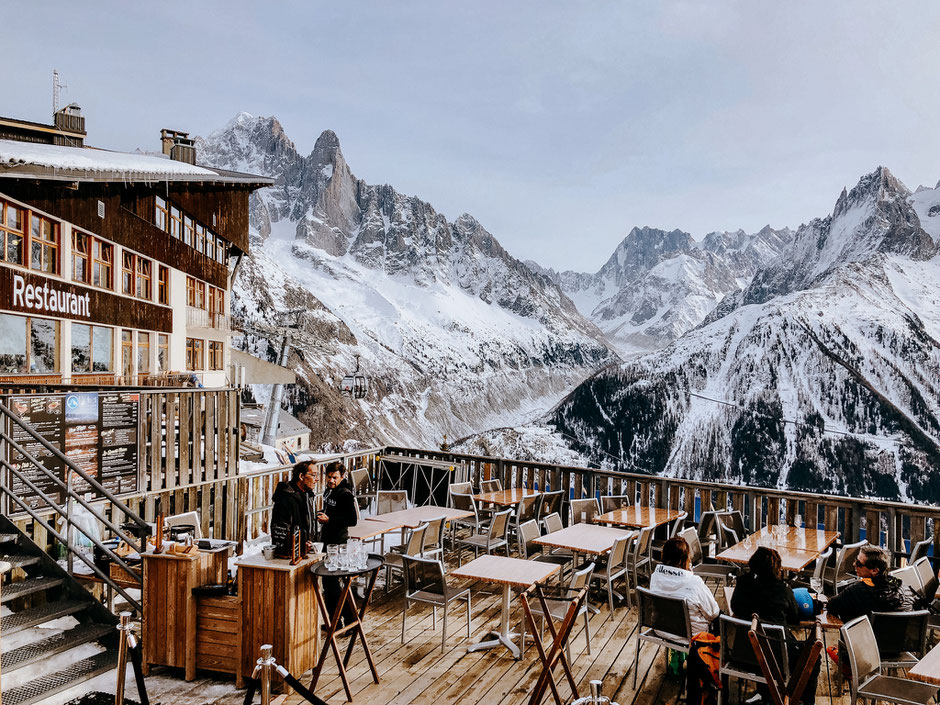 OUR VERDICT
We fell in love with Chamonix and it is hard not to! The views that this little village offers are absolutely magnificent! If you are looking for a mountain retreat and/or for a skiing destination, you can start booking your trip! We will never forget the days we spent there! To us, it is one of the most magical places in Europe and we hope to visit it soon!
If you're staying an extra day in Chamonix and want to see more, we highly recommend to check our other post in which we tell you everything you need to know to visit the Aiguille du Midi and the Mer de Glace (check it out here).
---
DETAILS OF THE TRIP
GETTING THERE
By plane

: the closest airport to Chamonix is located in Geneva (around 100 km).
By bus

: from Geneva Airport, several bus companies offers a transfer to Chamonix. We opted for Swiss Tours which has 4 departures per day. The cost varies from 10 to 15 EUR (one way). The trip lasts around 1h10.
STAYING THERE
Many options:  Chamonix has many options of accommodation. However, prices vary depending on the seasons. Please note that during peak season (i.e. Christmas and New Year), prices can get really high. Our advise is to book well in advance and, if possible, to avoid French school holidays.
Airbnb: we chose to stay in a cute little chalet close to the city center (10-min walk). The place is a real cozy nest and offers an amazing view on the Aiguille du Midi. Staying at this place costs around 100 EUR (per night). The minimum stay is 2 nights but we highly recommend you to stay at least 3 nights to make the most of Chamonix.
*All prices are referred to February 2020
---
---
And now it's your turn to share your experience, thoughts and also tips to visit the enchanted town of Chamonix. Have you already visited it? We look forward to reading your comments in the section below.
---
---
YOU MIGHT ALSO LIKE..