---
Embarking on a journey to the land Down Under wasn't initially on our bucket list, but when Rafael's sister made Sydney her home a few years ago, the allure of Australia beckoned us! Our trip to Australia became a family affair, with Rafael's parents joining us for an exploration of the land of kangaroo. Australia, while not a longstanding dream destination, quickly captured our hearts, and Sydney, in particular, became an unexpected love affair! For Rafael, the city resonated with his hometown, Rio de Janeiro, offering a unique blend of coastal beauty and cosmopolitan charm, minus the safety concerns. Sydney, in his eyes, felt like an upgraded, safer version of Rio. In this post, we're thrilled to share our firsthand experiences as we highlight eight must-see places during your initial moments in this captivating city, including iconic landmarks like the Opera House, the Royal Botanic Garden, and the majestic Harbour Bridge.
---
---
---
GENERAL INFORMATION
Sydney, the capital of New South Wales and one of Australia's most vibrant cities, is located on the southeastern coast of the continent. Nestled around the iconic Sydney Harbour, the city boasts a stunning geography that seamlessly integrates urban sophistication with natural wonders. With a population of over five million people, Sydney stands as a bustling metropolis and is recognized as the largest and most populous city in Australia.
What sets Sydney apart is not only its cosmopolitan lifestyle but also its abundant natural attractions. The city is synonymous with gorgeous beaches, including the world-famous Bondi Beach and the picturesque Manly Beach. These coastal havens offer residents and visitors a chance to enjoy the sun, surf, and scenic coastal walks.
Sydney's transportation system stands out for its diversity, boasting a comprehensive network of buses, trains, and ferries. The ferry services, in particular, offer a one-of-a-kind commuting experience, infusing daily travel with a touch of magic. As you glide across the water, the breathtaking views of Sydney Harbour unfold, revealing the city's iconic landmarks like the Opera House and the majestic Harbour Bridge, turning the routine into a truly picturesque journey.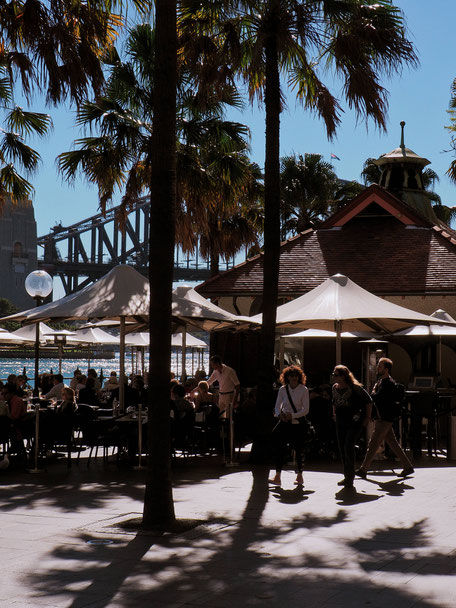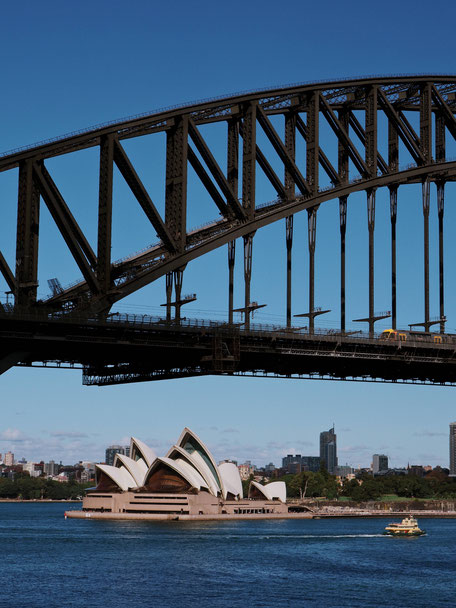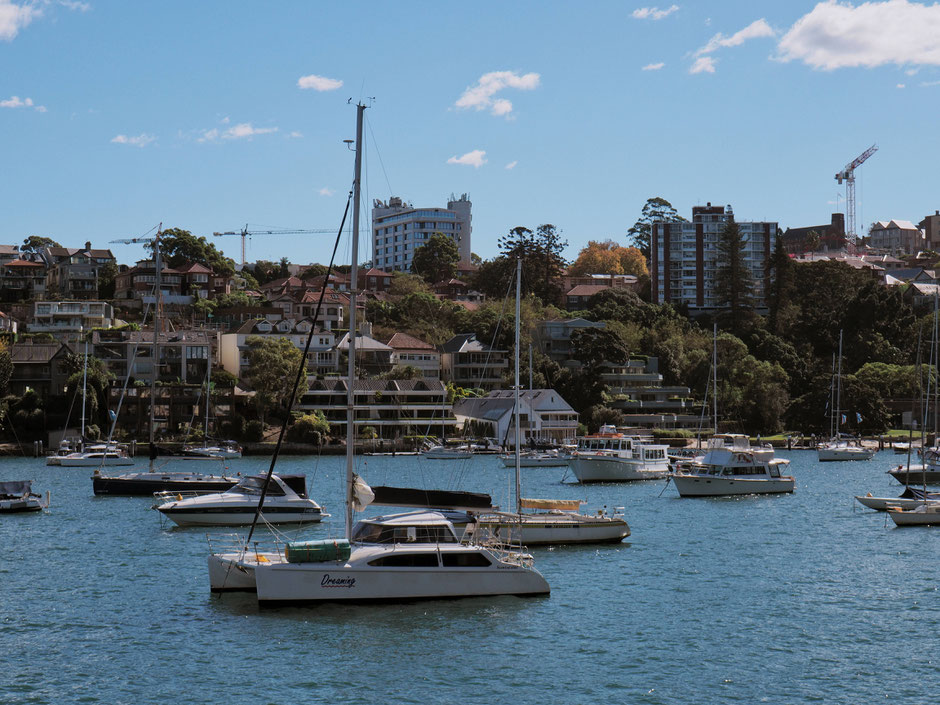 HISTORY
Australia's history is as diverse and captivating as its landscapes! Indigenous Australians, the continent's first inhabitants, have a rich cultural heritage dating back more than 65,000 years. These diverse Aboriginal cultures have left a lasting imprint on the Australian identity. The European history of Australia began with the arrival of British explorer Captain James Cook in 1770. The establishment of a British penal colony in New South Wales in 1788 marked the beginning of European settlement, with the first fleet led by Captain Arthur Phillip. Initially designed as a penal settlement, Sydney Cove became the birthplace of European Australia.
The 19th century saw the expansion of European settlement, driven by the quest for land and resources. The Gold Rushes of the mid-1800s brought a surge of immigrants seeking fortune, transforming the demographic and economic landscape. Sydney, as the hub of New South Wales, experienced rapid growth and development during this period. In 1901, Australia federated, becoming a nation with its own constitution. Sydney played a crucial role in the early years of the Commonwealth of Australia. Throughout the 20th century, the city continued to evolve as a major economic and cultural center. The post-World War II era witnessed a wave of immigration, contributing to the multicultural fabric of Sydney. The city's skyline transformed with modern architecture, and iconic landmarks such as the Sydney Opera House, designed by Jørn Utzon, became global symbols.
Today, Sydney stands as a testament to the confluence of ancient Indigenous cultures, European settlement, and waves of immigration that have shaped its dynamic and diverse character. The city's history is not only preserved in its museums and historic sites but also reflected in its vibrant neighborhoods, cultural festivals, and the everyday lives of its residents.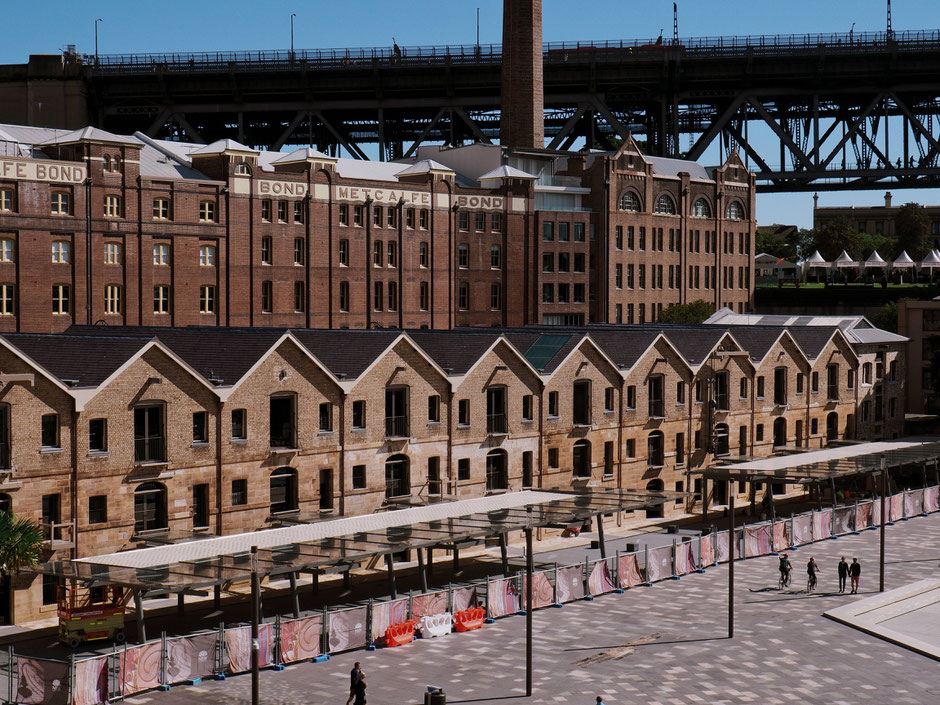 8 MUST-SEE PLACES
Dive into Sydney's charm with our top picks for the first day. Explore eight must-see places, including the iconic Opera House, Royal Botanic Garden, Harbour Bridge, and Circular Quay. It's the perfect start to your Sydney adventure!
1. SYDNEY OPERA HOUSE
Embark on our Sydney adventure with the first stop on our itinerary: the iconic Sydney Opera House. It almost felt surreal to see it in person. This architectural marvel, designed by the visionary Jørn Utzon, has become a symbol not only of Sydney but of Australia itself. As we stood before its distinctive sails, it was a pinch-me moment, having previously only seen this landmark on screens and in photographs.
The Opera House, inaugurated in 1973, is not just a performing arts venue; it's a cultural icon with a profound impact on the hearts of Australians. Its inclusion in UNESCO's World Heritage List underscores its significance as a masterpiece of human creative genius. The sweeping curves and shell-like structures embody both artistic innovation and engineering excellence. Walking along the waterfront, we marveled at the interplay of light on the white tiles, giving the Opera House an ethereal glow.
Venturing inside, the drama of the architecture extends to the performance spaces. The Concert Hall, Opera Theatre, Drama Theatre, and more offer diverse venues for artistic expression. Beyond its aesthetic appeal, the Opera House serves as a vibrant hub for the arts, hosting a myriad of performances, from opera and ballet to contemporary concerts. Exploring the Sydney Opera House was like stepping into a dream, bringing to life an iconic image that we had previously only seen on screens. This experience left an unforgettable impression on our journey through Sydney.
| Timetable - open daily from 8.45 a.m. to 5 p.m. |
| Admission - guided tours starting at AU$32 |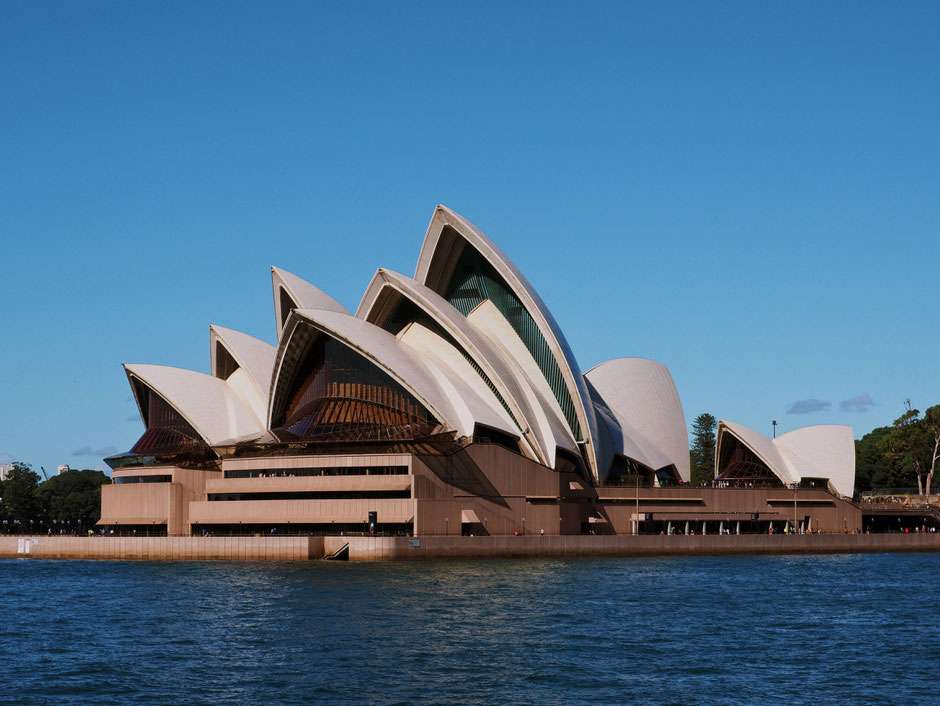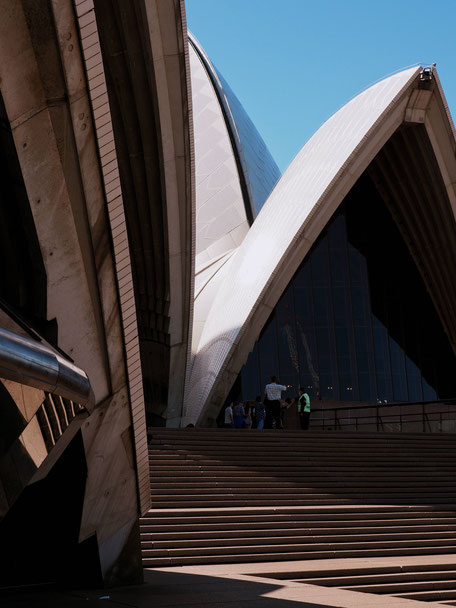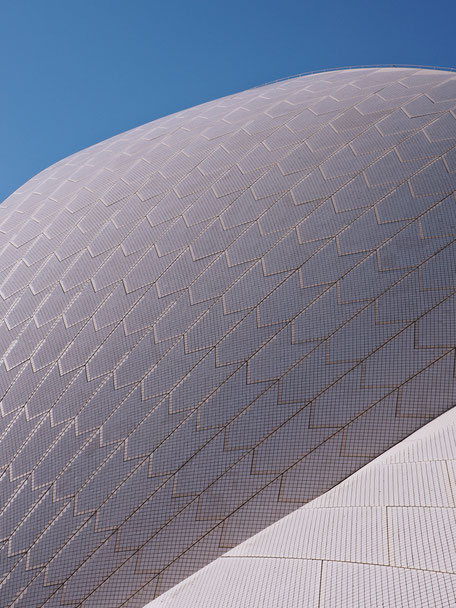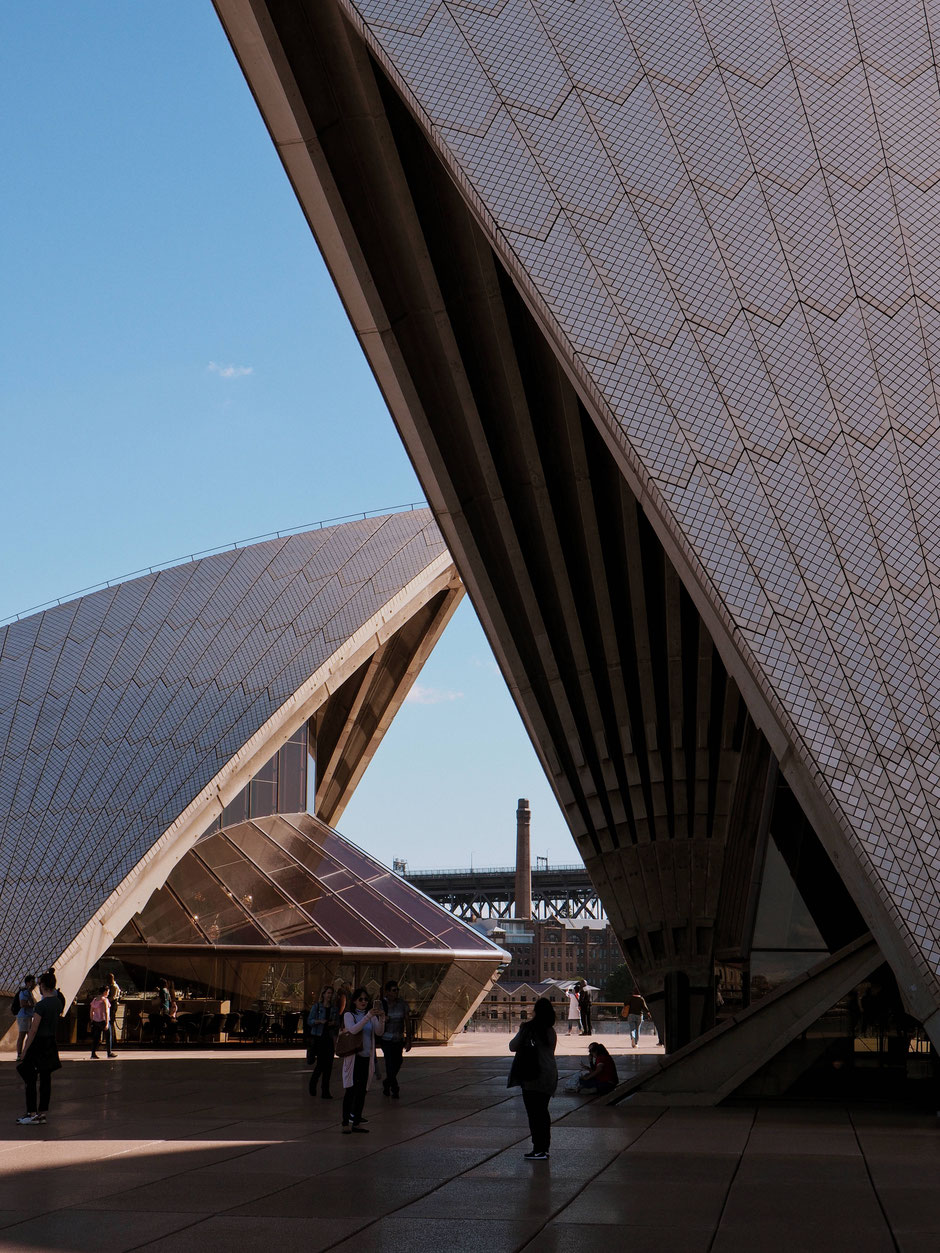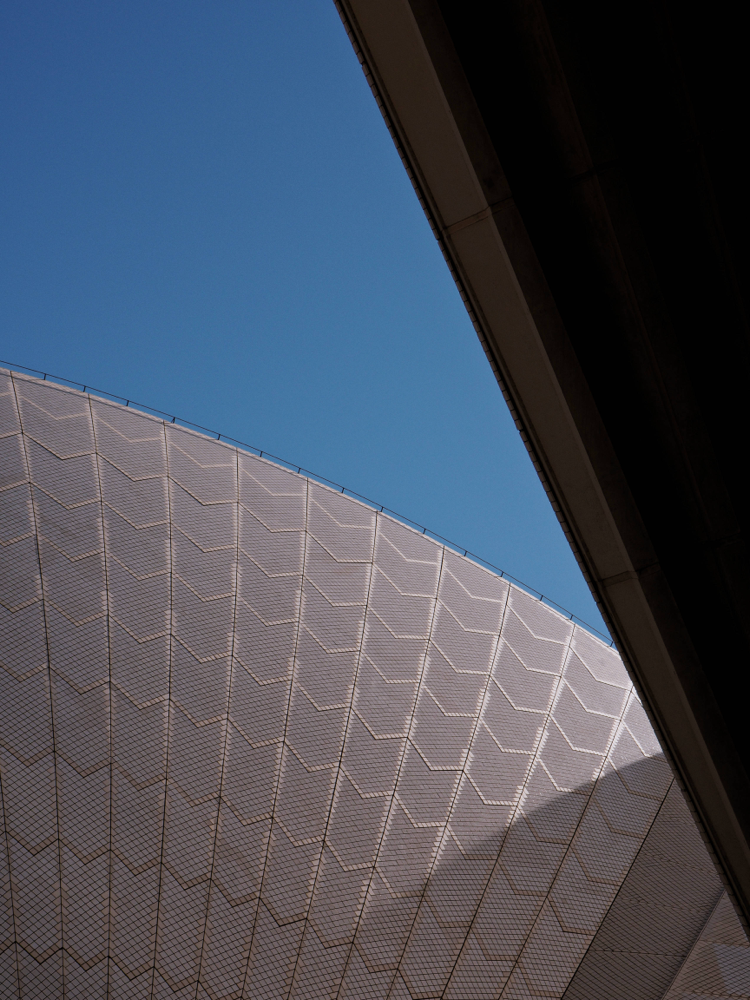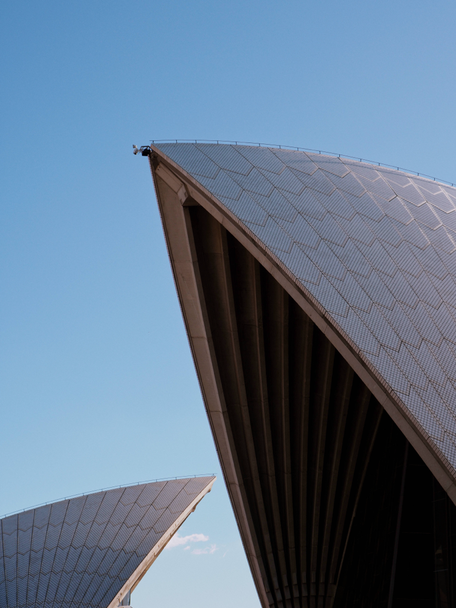 2. ROYAL BOTANIC GARDEN
Our journey through Sydney's highlights continues with the Royal Botanic Garden, a haven nestled in the heart of the city, offering a captivating blend of natural beauty and historical significance. Established in 1816, this iconic garden stands as a testament to the city's commitment to preserving biodiversity and providing a peaceful retreat for both locals and visitors. This enchanting oasis not only boasts a rich history but also stands as a testament to Sydney's dedication to preserving biodiversity and offering a serene escape.
With its sprawling 74-acre landscape, the Royal Botanic Garden showcases a diverse collection of plant species from Australia and around the world. Wander through themed gardens like the succulent-filled Cactus and Succulent Garden, the delicate beauty of the Rose Garden, or the ancient wonders of the Oriental Garden. The Calyx, a contemporary glasshouse, serves as a centerpiece for exhibitions, adding an interactive element to the garden experience. Aside from its botanical wonders, the Royal Botanic Garden holds historical treasures, including the iconic Sydney Tropical Centre, a Victorian-style greenhouse dating back to the 19th century.
| Timetable - open daily from 7 a.m. to sunset |
| Admission - free of charge |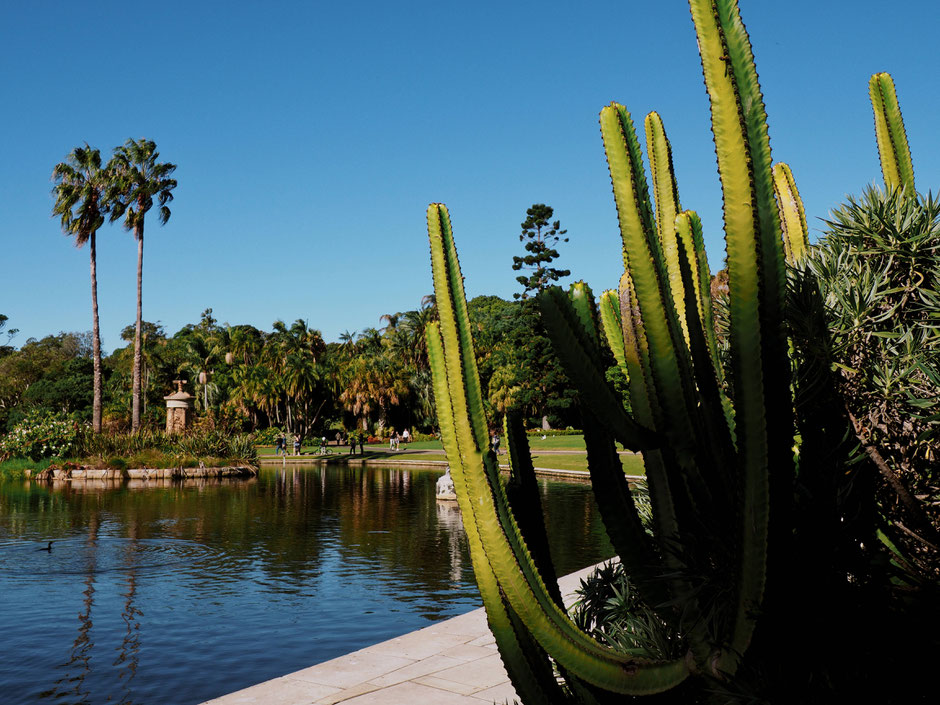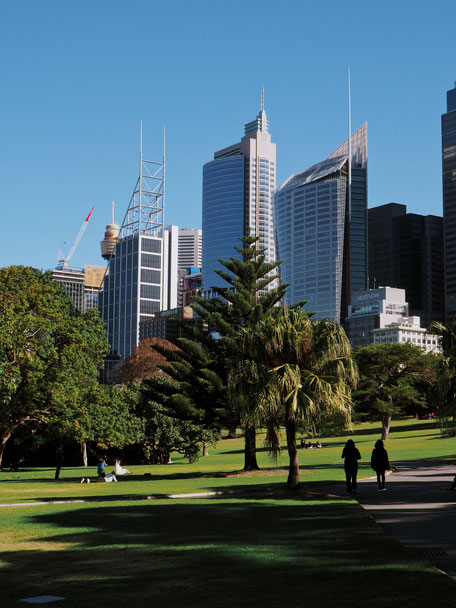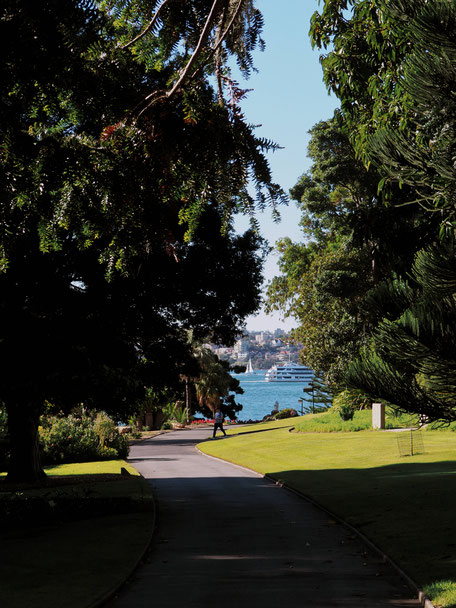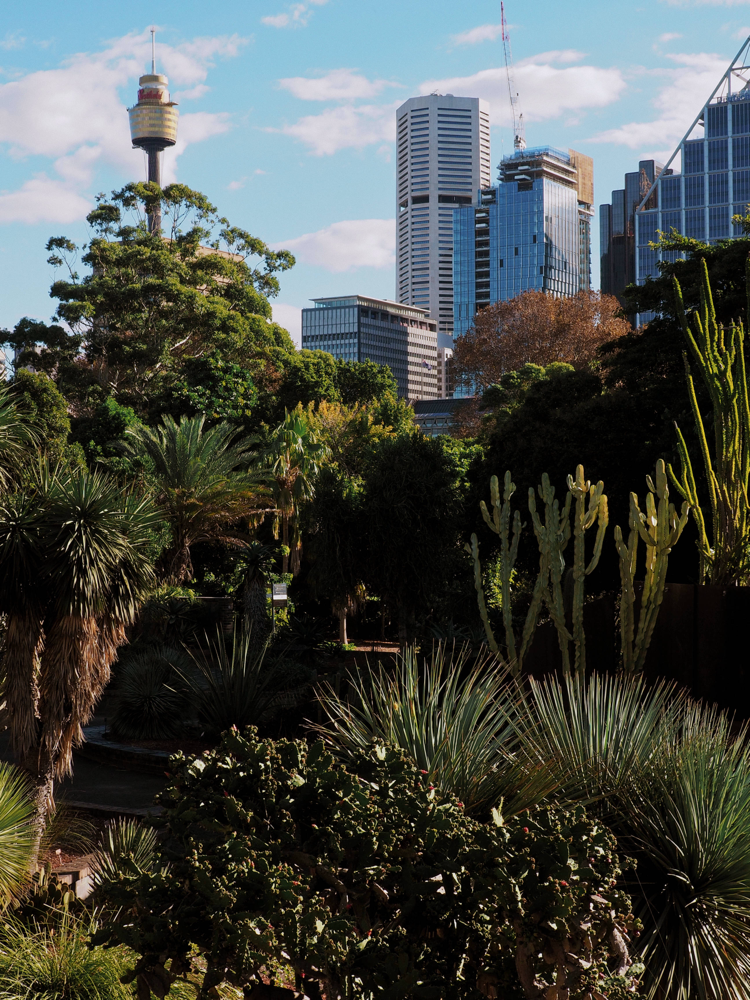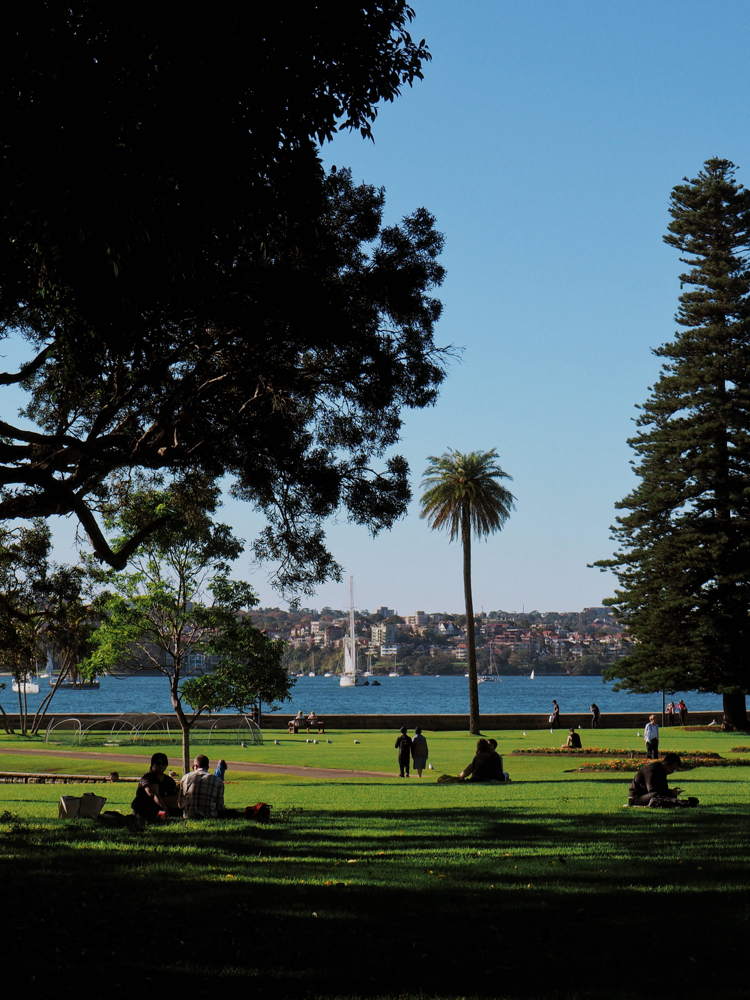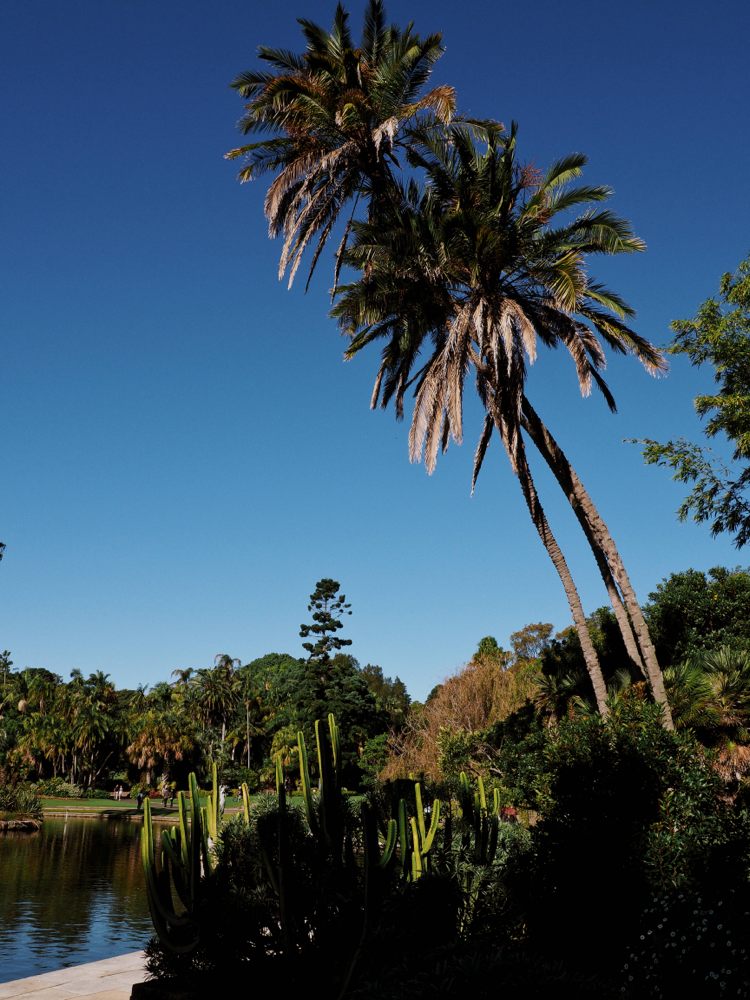 3. CIRCULAR QUAY
Circular Quay, our next stop, is a bustling harbor area that serves as a gateway to Sydney's iconic attractions. Nestled along the sparkling waters of Sydney Harbour, it provides stunning panoramic views of the Sydney Opera House and the Sydney Harbour Bridge. This vibrant precinct is a hub of activity, with ferries departing to various scenic spots, waterfront restaurants offering delectable cuisine, and street performers adding to the lively atmosphere. Circular Quay is not just a transportation hub but a picturesque and lively starting point for exploring the best of Sydney's waterfront.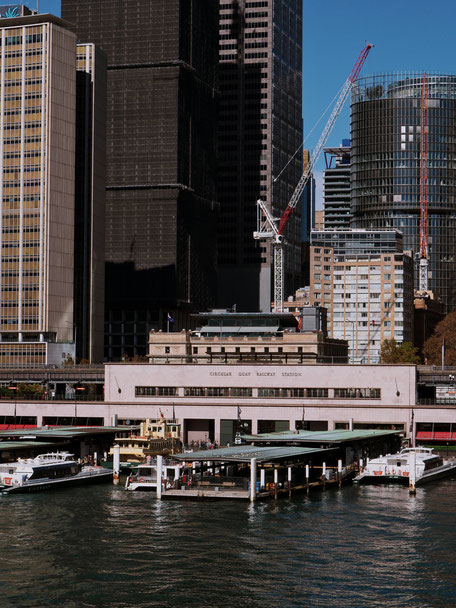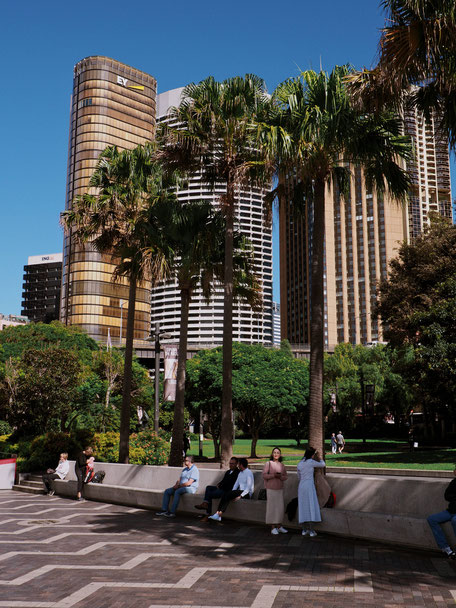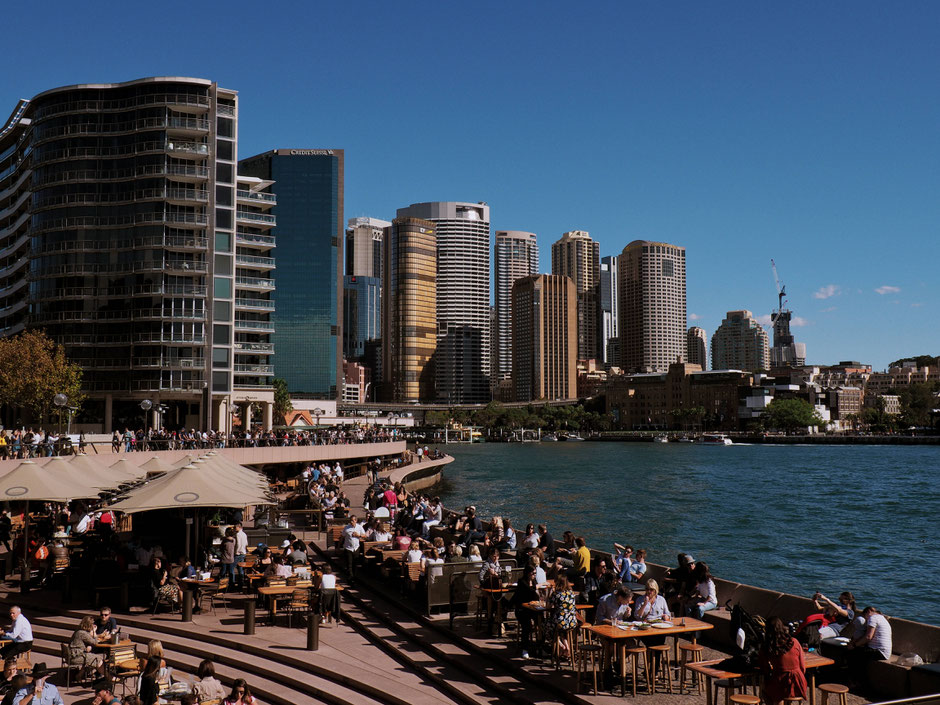 4. LUNA PARK SYDNEY
From Circular Quay, hop on a ferry to Luna Park, an iconic amusement park nestled on the northern shore of Sydney Harbour. This short ferry ride is a memorable experience in itself, offering breathtaking views of the Opera House and the Harbour Bridge. As you cruise across the harbour waters, you'll be captivated by the city's skyline and the sheer beauty of these renowned landmarks. The anticipation builds with each passing moment, making the ferry trip a unique and enjoyable prelude to the excitement that awaits at Luna Park.
Luna Park beckons with a rich history and a playful atmosphere on the northern shores of Sydney Harbour. Established in 1935, Luna Park has been a beloved destination for generations of locals and visitors alike. The park's iconic entrance, adorned with the grinning face of Mr. Moon, is a welcoming sight that exudes nostalgia and charm. Luna Park's thrilling rides, classic amusements, and lively entertainment make it a timeless attraction for families and thrill-seekers.
| Timetable - from 10 a.m. to 4 p.m. (weekdays) - from 10 a.m. to 10 p.m. (weekends) |
 | Admission - from AU$44 to AU$75 |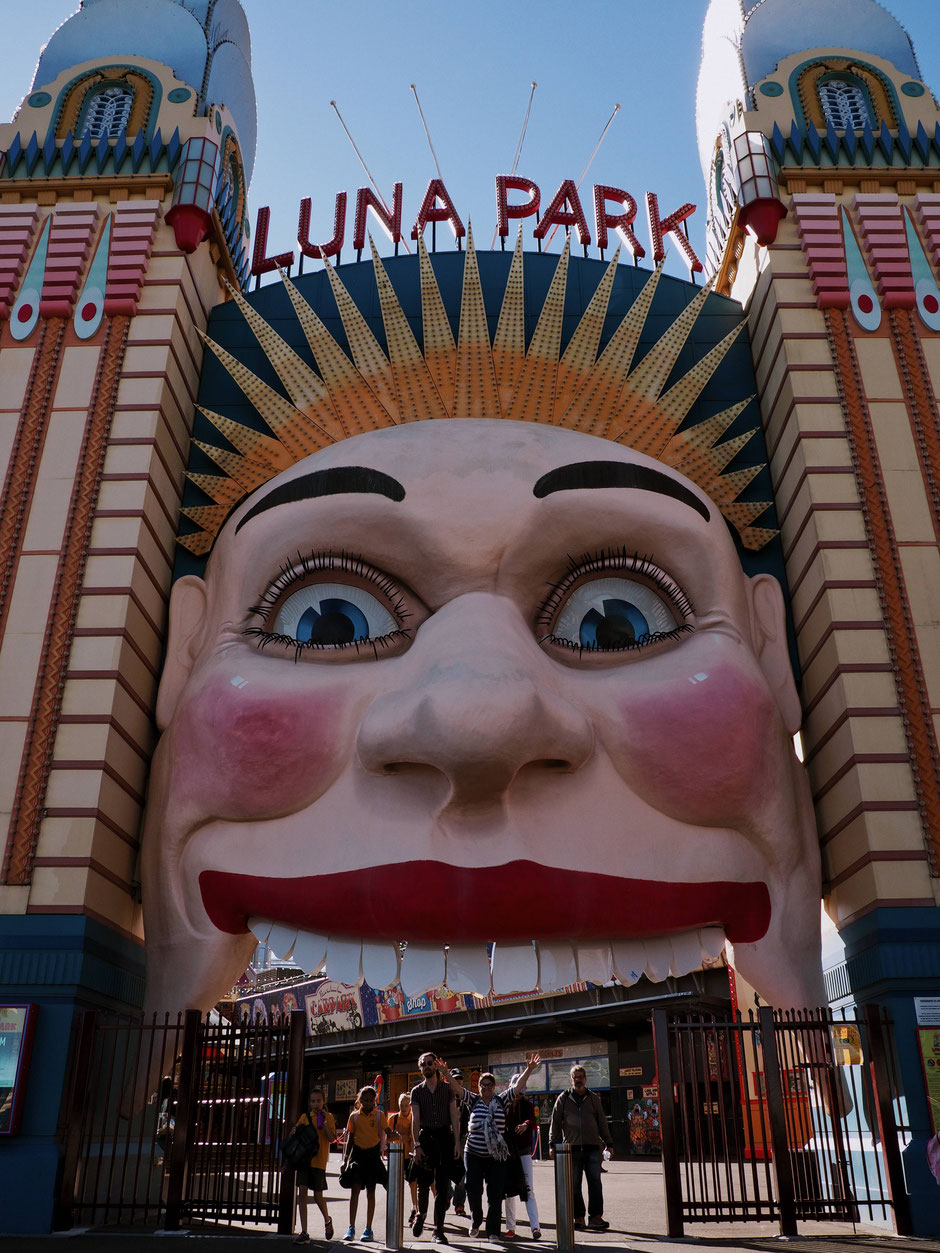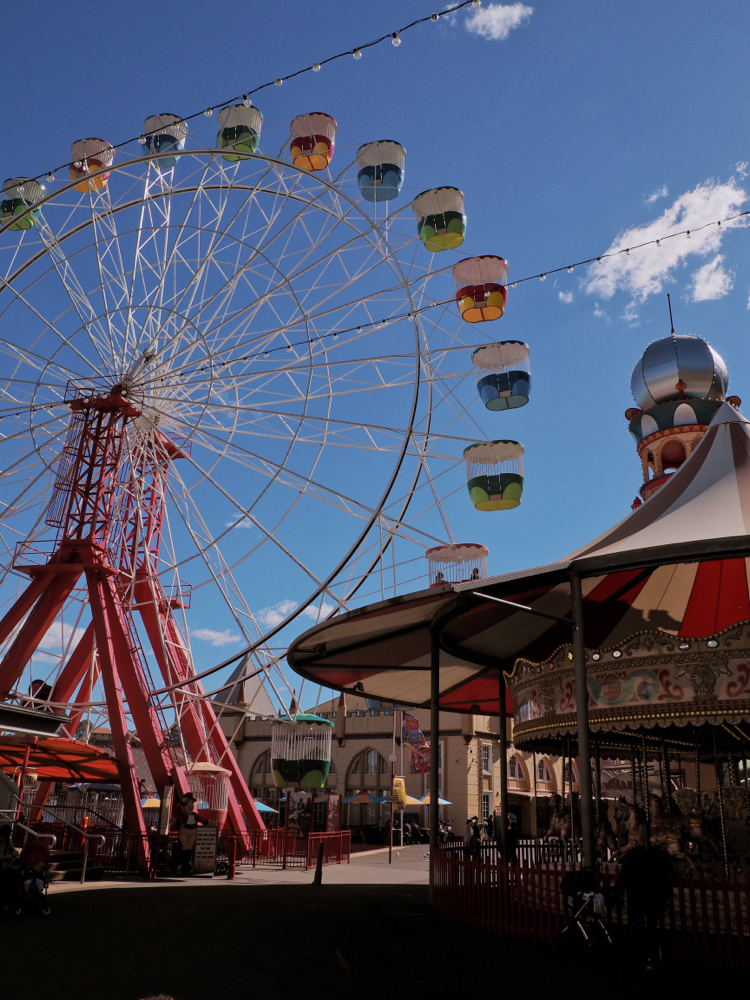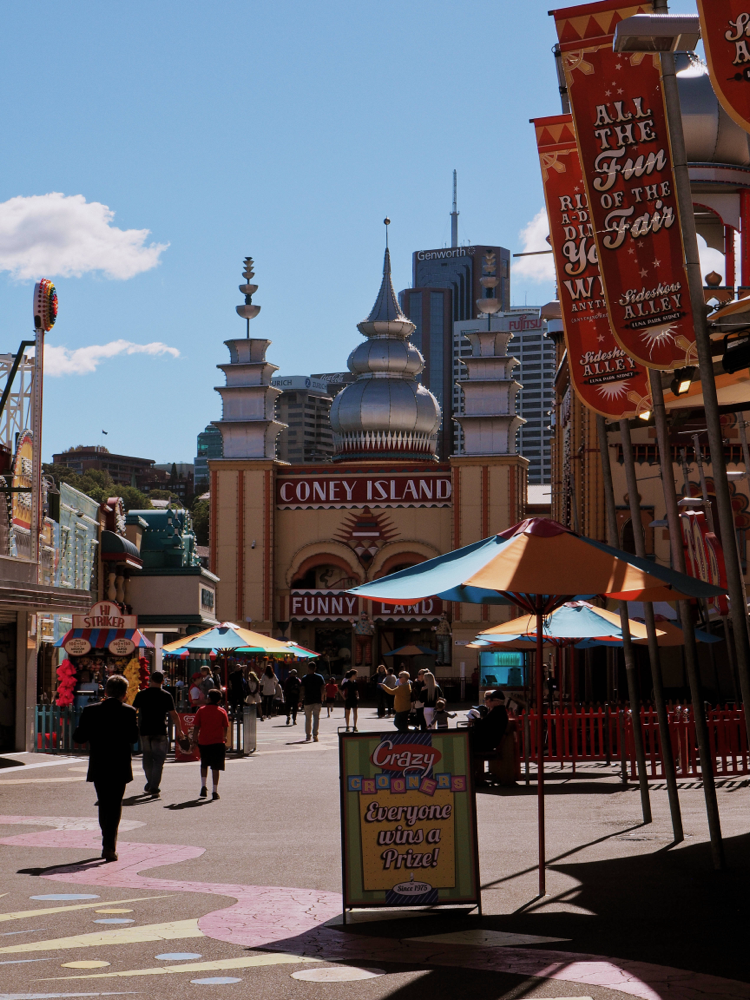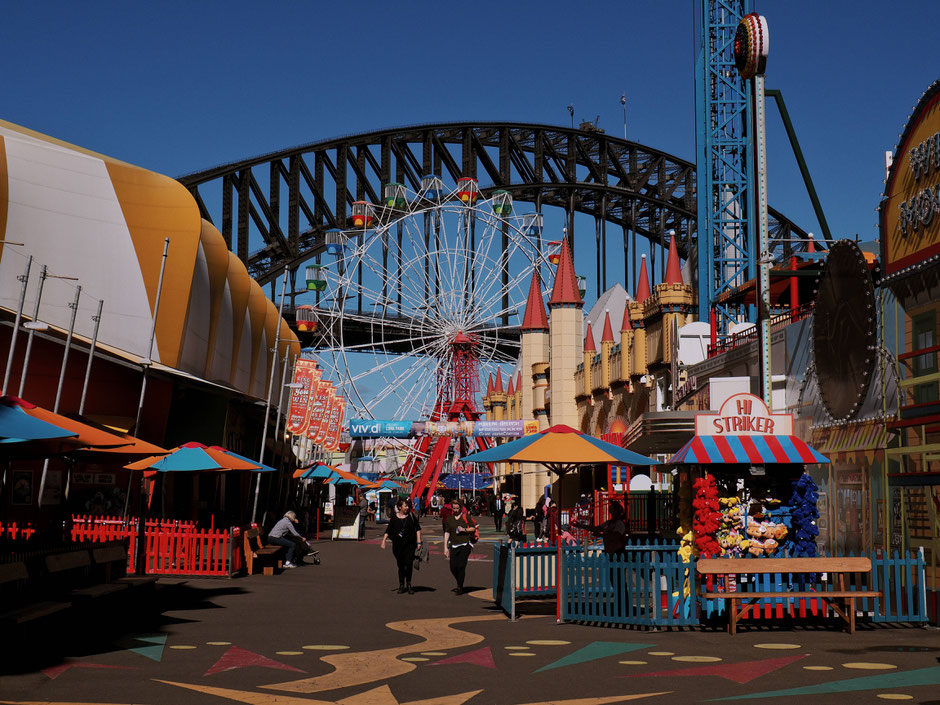 5. MILSON'S POINT
Heading towards Milson's Point unveils a hidden gem for capturing breathtaking photos of Sydney's picturesque harbor and its iconic landmarks. This vantage point, nestled on the northern side of the Sydney Harbour Bridge, provides an unparalleled perspective of the city's skyline, Opera House, and the bridge itself.
As you approach Milson's Point, the view begins to unfold, offering a panoramic spectacle that showcases the architectural marvels against the backdrop of the glistening waters. The juxtaposition of the Sydney Opera House's unique silhouette and the structural grandeur of the Sydney Harbour Bridge creates a captivating tableau. This scenic spot is a favorite among photographers and sightseers alike, providing an ideal setting to capture the essence of Sydney's iconic beauty.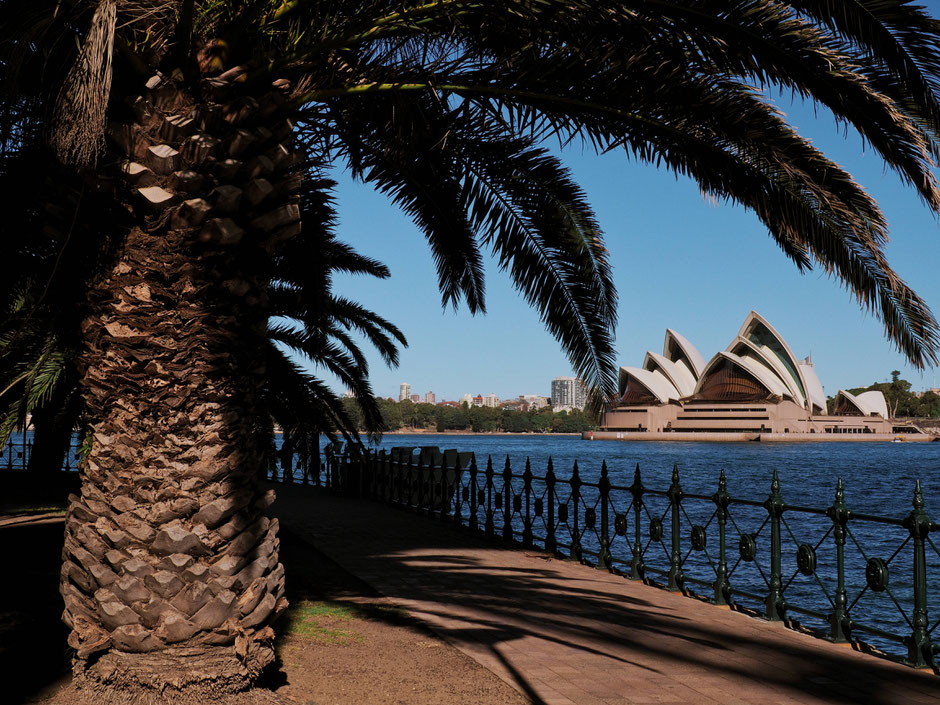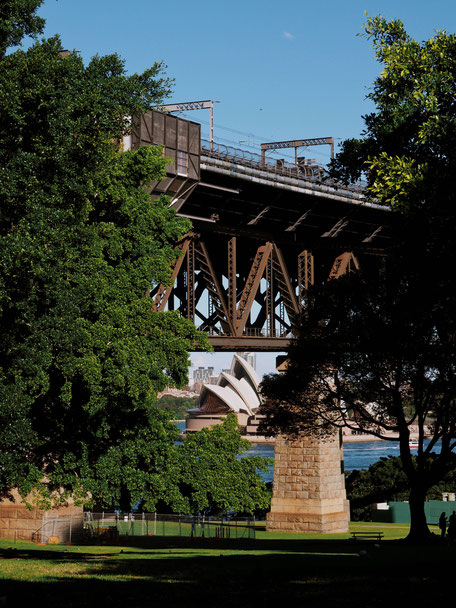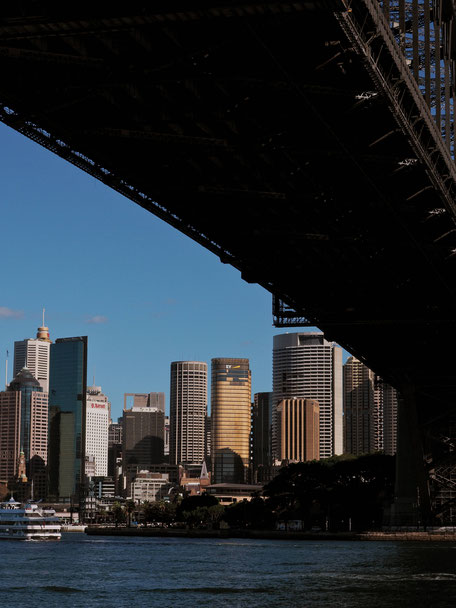 6. SYDNEY HARBOUR BRIDGE
Now, let's make our way to the Sydney Harbour Bridge, immersing ourselves in the heart of the city's engineering marvels and architectural splendor. This iconic structure, proudly standing since its inauguration in 1932, stands as a testament to both historical significance and contemporary allure. The Harbour Bridge, affectionately known as the "Coathanger," features a distinctive design characterized by its towering steel arches and intricate lattice framework. Stretching over 1,100 meters (3,600 feet) in length and reaching a height of 134 meters (440 feet) above the harbour, the bridge is a monumental feat of engineering. As we traverse its span on foot, the breathtaking views of the harbour, Opera House, and the city below unfold, making this pedestrian journey an absolute must-do for visitors.
For those seeking an even more exhilarating experience, the Sydney Harbour Bridge offers the unique opportunity to climb its arches. The Sydney Harbour Bridge Climb is a thrilling adventure that allows participants to ascend the iconic structure and enjoy panoramic vistas. Guided by knowledgeable experts and equipped with safety gear, climbers can marvel at the city's skyline from a perspective like no other.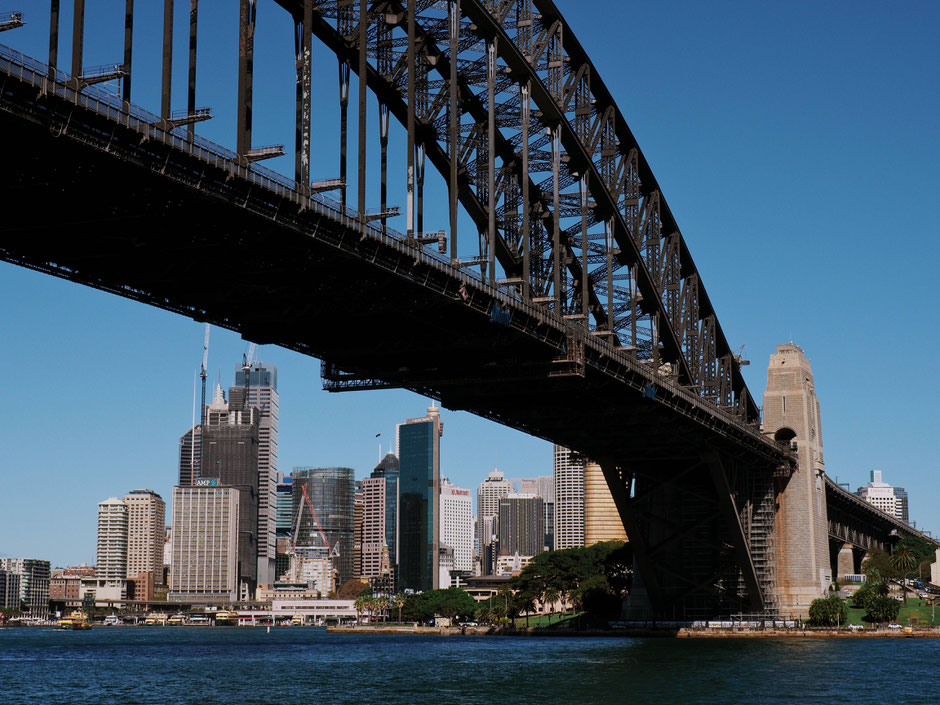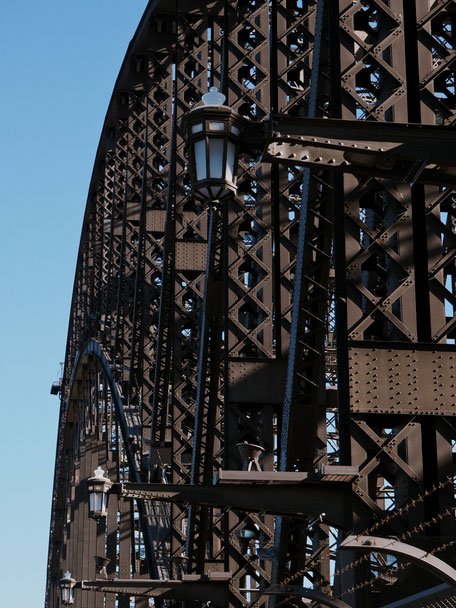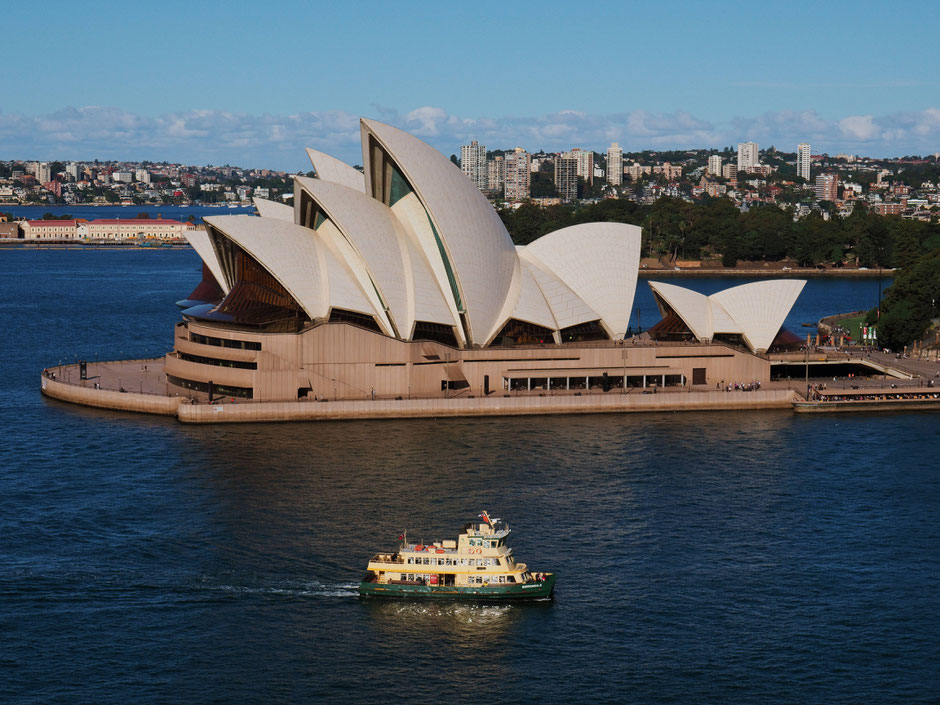 7. THE ROCKS
Upon crossing the Harbour Bridge, you find yourself in The Rocks, an iconic neighborhood that exudes history and charm. Steeped in rich heritage, The Rocks stands as a testament to Sydney's past and offers a captivating atmosphere that transports visitors back in time.
Originally established in the early days of the colony, The Rocks has transformed from a bustling convict settlement to a vibrant urban precinct. Its cobblestone streets, historic buildings, and lively markets create a unique ambiance that resonates with both locals and tourists. Wander through the narrow alleyways, where sandstone structures bear witness to centuries of stories.
Today, The Rocks is a dynamic hub filled with boutique shops, lively pubs, and diverse eateries. The weekend markets showcase local artisans and their crafts, adding a touch of contemporary flair to the historic setting. The juxtaposition of old and new, combined with the lively energy of street performers and the aroma of delicious cuisine, makes The Rocks a must-visit destination for those exploring Sydney.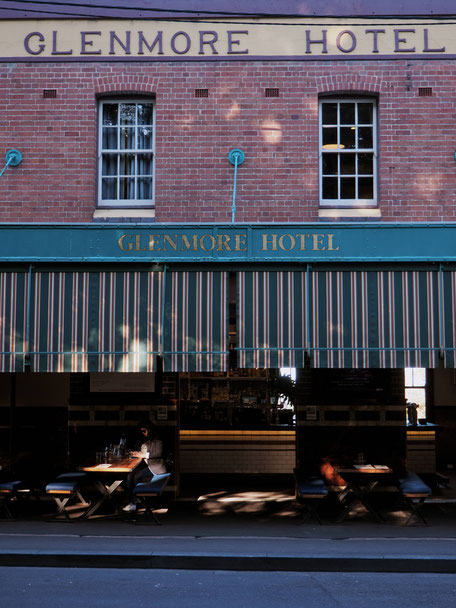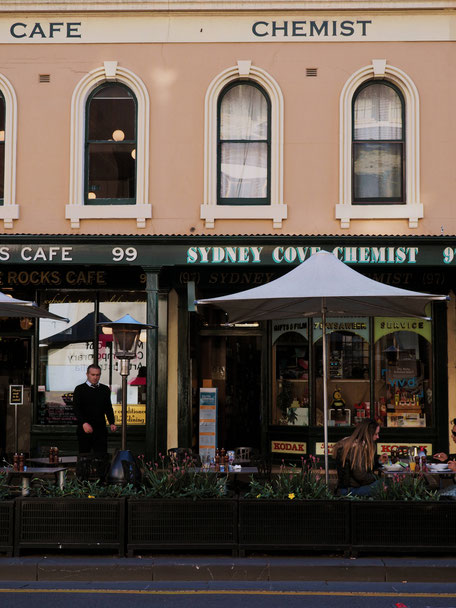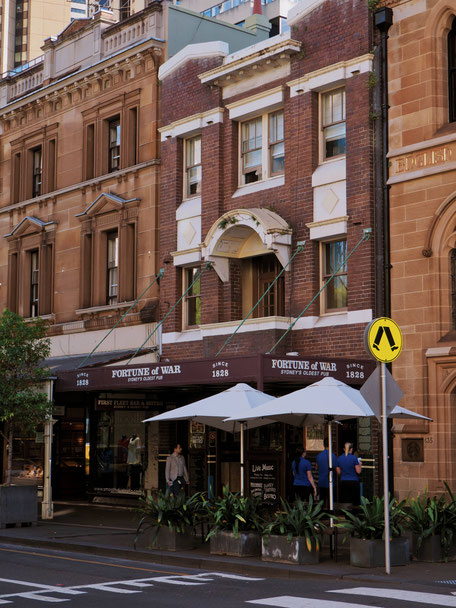 8. SYDNEY OBSERVATORY
Wrap up your adventure-packed day in Sydney at the Sydney Observatory, a celestial haven offering a spectacular vantage point to watch the sunset over the iconic Harbour Bridge. The Sydney Observatory, with its roots dating back to the mid-19th century, has played a crucial role in Australia's scientific history.
Originally built to observe and record the Southern Hemisphere's skies, the observatory has evolved into a public space where visitors can engage with astronomy and enjoy breathtaking views of the cityscape. The hilltop location provides an unobstructed panorama, making it an ideal spot to witness the transition from day to night against the backdrop of the illuminated Sydney skyline.
Stroll through the observatory grounds, which boast historical telescopes and astronomical instruments. As the sun sets, find a tranquil spot to marvel at the city lights coming to life. The Sydney Observatory encapsulates a harmonious blend of scientific legacy and natural beauty, making it a serene and fitting conclusion to a day filled with exploration and discovery in Australia's vibrant capital city.
| Timetable - daily from 10 a.m. to 5 p.m. |
| Admission - free of charge |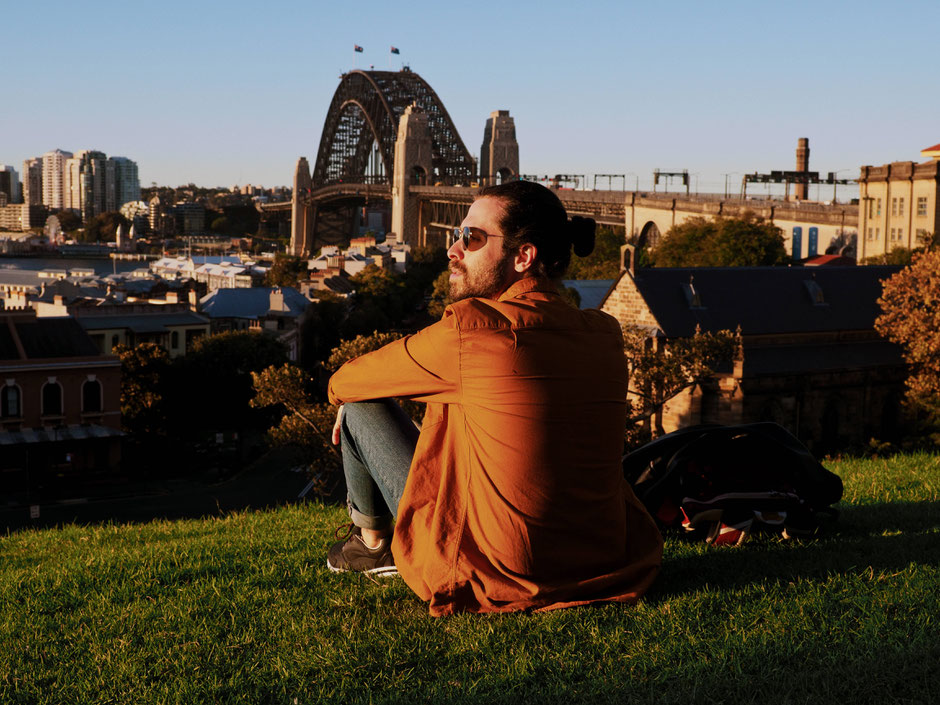 OUR FINAL THOUGHTS
As the sun set behind the Sydney Harbour Bridge, casting a warm glow over the iconic cityscape, we reflected on a day filled with wonder and discovery. Sydney, a city that initially wasn't on our radar, revealed itself as a captivating blend of familiar charm and unique allure. The connection Rafael felt, likening it to his hometown of Rio de Janeiro but with an added sense of safety, added a personal touch to our exploration. Sharing these moments with Rafael's sister, who now calls this vibrant city home, as well as his parents, brought an extra layer of joy. Sydney had woven its way into our hearts, and as we recounted our adventures amidst the city's architectural marvels and historic quarters, we eagerly anticipated what the next day in this enchanting city would unfold.
---
---
Share your favorite moments and insights from Sydney's first-day adventure in the comments below. We can't wait to hear about the highlights that made your experience unforgettable!
---
YOU MIGHT ALSO LIKE..